TORONTO (Dec. 27) — Once upon a time, and for a long time, there was fiery, unfiltered opinion about hockey on Canadian television. That custom teetered the day Don Cherry was ousted by Rogers Communications (Nov. 11, 2019) and all–but ended the day Brian Burke left Hockey Night In Canada to become an executive with the Pittsburgh Penguins (Feb. 9, 2021). For nearly two calendar years now, hockey commentary in our land — though credible and informative — has been generally homogenous. And, it appears we will not return to the day when viewers stood glued to their TV sets, in between periods, to see and hear what Cherry and Burke had to offer.
Again, and I stress, this is not an indictment of those we now watch on Hockey Night or TSN. None of Elliotte Friedman, Kelly Hrudey, Ron MacLean, Jeff Marek, James Duthie, Darren Dreger or Dave Poulin need my endorsement. Former Vancouver defenseman Kevin Bieksa brings an edge to the telecast; he's been a solid addition. I also applaud the inclusion of such female voices as Cassie Campbell, Jennifer Botterill and Cheryl Pounder; hockey broadcasting had forever blared with chauvinism. There's a good mix amid the panels on each network.
But, there's very little spice anymore. Nothing mentioned on a Saturday night that carries over to Monday work–place conversation or debate. As virtually always with Cherry on Coach's Corner. And, the way Burke was truly starting to command his between–periods segment To the Point (with Friedman at his side). I often wonder how captivating Burke may have become had he not left to join the Penguins. No successor to he or Cherry has surfaced. Not that such outspoken personalities grow on trees, but you get the feeling Rogers is much more content — as the National Hockey League's Canadian broadcast partner — in the absence of quarrel or controversy.

Much of this came to mind as I re–read the 2020 national bestseller Burke's Law, A Life in Hockey… Brian's memoir written with Stephen Brunt. At the time, Burke was seemingly ensconced in his role with Sportsnet and Hockey Night; after three decades in the game with Vancouver, Anaheim, Toronto and Calgary — sandwiched around a stint as the NHL's chief disciplinarian — it appeared that Brian was fulfilled and comfortable with his transition to media. No one, at the time, considered the prospect of an opinion vacuum on Canadian TV. Which transpired when the lure of hockey executive–ship got the better of double–B. Viewers on Saturday night were suddenly deprived of unequivocal straight talk, creating, in my assessment, an enormous void on the national airwaves.
I looked back at a column I wrote about Burke's memoir, re–posted for you here:
TORONTO — True confession: I enjoyed Brian Burke's autobiography. In fact, at times, I couldn't tear myself away from it. Neither, apparently, am I alone. According to the Chapters/Indigo website, BURKE'S LAW is the best–selling sports book in the country; several big lengths ahead of RAPTURE, the memoir of Nick Nurse, who coached the Toronto Raptors to the 2019 National Basketball Association title.
This doesn't surprise me. Hockey is still the number–one sport in Canada and Brian Burke is a far–more polarizing figure than Nick Nurse. He has also presided over three National Hockey League teams in our country: the Vancouver Canucks, Toronto Maple Leafs and Calgary Flames. Had Brian worked only for the Leafs, chances are the book would be flying off the shelves. His life story is rather fascinating. While reading, I did, occasionally, have to remind myself about the definition of a memoir… "a record of events written by a person having intimate knowledge of them and based on personal observation." The latter is the key. An autobiography is the sole domain of the story teller. Even more so, as in this example, when the subject is naturally opinionated. Memoirs, by denotation, are largely unbalanced. The age–old and irrefutable maxim of there being two sides to a story does not apply. As such, Burke could write at length about his former college friend, Ron Wilson, who he "inherited" as coach of the Maple Leafs in November 2008… and fired as coach of the Leafs in March 2012. Some notable examples:
On one level, I knew that Ronnie wasn't the right guy for the way I wanted my team to play. As much as I like him, our philosophies on how to play are completely different. He didn't value toughness the way I do… I told Ron he had to play Colton Orr every night — and added that I was embarrassed I had to have a meeting so I could order him to do something I thought was obvious. It was the only time I had to go to one of my coaches and tell him who to play. Orr was a fighter with very limited hockey skill.
By the time I got to Toronto, Ronnie had already been beaten up pretty badly by the media. He had become jaded and sarcastic. I talked to him about it — I told him that sarcasm doesn't work in Toronto. But, he'd been chewed up so much that he was already a shell. Wilson, and I say this endearingly, did not "become" sarcastic in Toronto. He brought with him an abrasive, at times disparaging comportment that did him no favors when the Leafs were struggling. I was among the reporters with whom he sparred. As with any coach, however, Wilson could merely deploy the players provided him by management.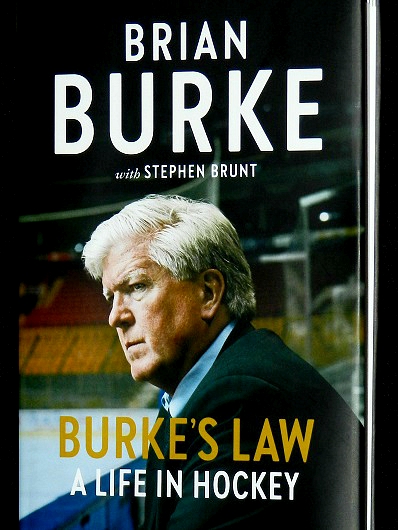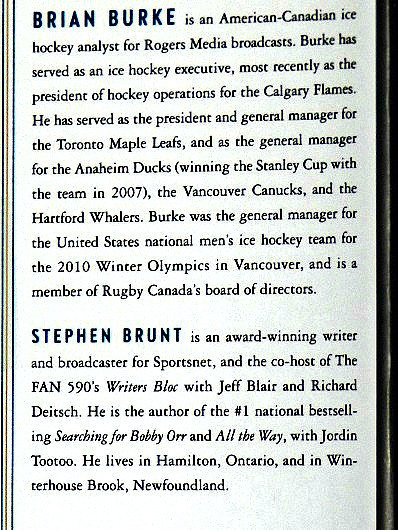 The first thing I asked Ronnie Wilson was whether we needed a goalie. He was convinced that Vesa Toskala could do the job. I was skeptical about that and, as it turned out, I was right. Burke may have been correct, but it was goaltending that ultimately led to his demise with the Leafs. Interestingly, there is not a single mention, in the book, of Jonas Gustavsson, who Burke moved heaven and earth to obtain from Sweden in his first summer as Leafs GM. "The Monster", as Gustavsson was known, arrived with much fanfare. "We are extremely pleased to have signed Jonas to a new two-year deal," Burke said in a statement on July 7, 2009. "He made very good progress as the season went along and we are really looking forward to seeing him reach his full potential."
Which never happened.
Hounded by arrhythmia that required a pair of cardiac ablations, Gustavsson did not rise above middling. In parts of three seasons with the Maple Leafs, he compiled a 39–45–15 record with a 2.98 goals–against average. In nearly four seasons at the helm, Burke primarily deployed, in goal, Gustavsson, Toskala, Martin Gerber, Jean–Sebastien Giguere and James Reimer. Giguere had won the 2007 Stanley Cup with Burke in Anaheim, but was on the downslope when acquired (Jan. 30, 2010) by the Leafs. Reimer, drafted by the John Ferguson regime in 2006, flashed occasional brilliance and nudged the Maple Leafs into the playoffs in the 48–game, lockout–shortened season of 2012–13. By then, Burke had been fired. Ultimately, Brian could not provide his Toronto teams playoff–caliber goaltending. No general manager, or coach, can win without it.
On firing Wilson: That was the winter the 18–wheeler went off the cliff. We were 11–15–3 after Christmas and 1–9–1 in that awful, 11–game stretch that convinced me Ronnie had to go… It was a really tough, sad day for me, having to fire my friend. It broke my heart. It still bothers me, but I knew it was the right thing to do. And, the truth is, staying loyal to Ron as long as I did was part of what ended up costing me my job.
I have remained in touch with Wilson since he suffered a debilitating stroke in December 2016. I always liked Ron, even when we were battling as reporter and coach. He hasn't fully recovered, yet he continues to enjoy life with his children and grandchildren in Hilton Head, S.C. After reading Burke's book, I emailed Ron and asked if he wished to respond to anything Brian wrote about him. Wilson's reply: "I haven't read the book nor do I intend to. You can write anything you want but I haven't spoken to Brian since he canned me!"
What I admired most about the book is that Burke remained steadfastly himself. Though he claimed he doesn't like to pick a fight, I was never exposed to a more combative hockey executive in my 17 seasons covering the Leafs and the NHL for The FAN–590… and that includes the two Pats: Burns and Quinn. No GM or coach of the hockey club, in my years, was more aware of everything written and said about him. That's why I contend Brian told an outright lie when he wrote that he never read the newspaper, or anything else, during his years in Toronto.
I've told the story about writing a blog, while covering a game at the Air Canada Centre, that was effusive with praise for Burke after his trade (Feb. 18, 2011) of defenseman Tomas Kaberle to Boston. In only one of roughly 14 or 15 paragraphs did I question a remark he made prior to the deal. I neither told Brian I was writing the blog nor emailed him a link. Yet, 15 minutes after I hit the SEND button, an email from Burke arrived in my in–box:
"Nice cheap shot."
Clearly, he'd read the entire column, yet saw only the one mild criticism.
Neither is Brian's book one that parents will likely purchase for their children at Christmas. Again, I applaud Burke for remaining wholly in character. Which necessitated the F–word to appear in virtually every page of the manuscript. Times have changed in the past 50 years, but I still have the book (below) on the Maple Leafs that my mother — God rest her soul — bought and signed to me in March 1970. With nary a concern about her 11–year–old son reading profanity. Foster Hewitt was Foster Hewitt. Brian Burke is Brian Burke.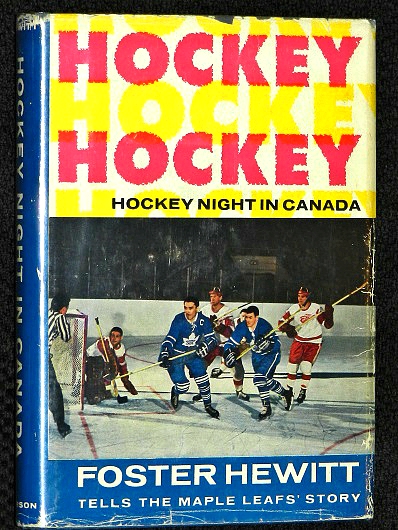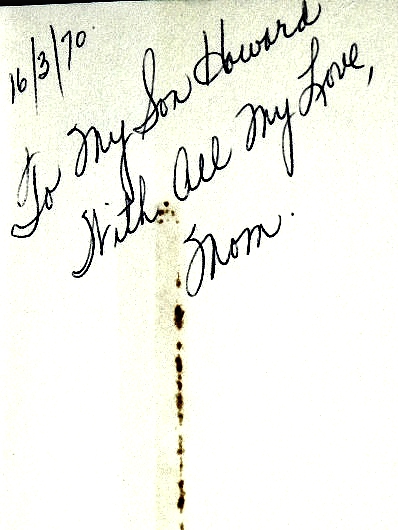 Brian's quarrel with members of the media is highlighted in the book.
I didn't warrant a mention, but he called my friend, Steve Simmons, a "dirt–bag." He also had choice words for old–timers Tony Gallagher (Vancouver Province) and Al Strachan (Toronto Sun).
Burke wrote that he chose to leave Anaheim for Toronto primarily because of the commitment he made to his children, as a divorced father, to spend every other weekend with them… a clause in his custody arrangement. I understood that part. It necessitated, initially, Brian to fly cross–continent (Vancouver to Boston) and back during his years running the Canucks. No one could maintain such a slog… and travel with his team to away games. I did, however, receive a pretty good tip more than 11 months before Burke came to Toronto. While having dinner with Detroit Red Wings executive Jimmy Devellano prior to a Leafs game against the Atlanta Thrashers on Oct. 23, 2007, I was apprised about the possibility that Brian may, eventually, migrate north. Jimmy D. made a fairly strong case. The next day, I flew to Pittsburgh for a Leafs game the following night. After checking into the Doubetree Suites across from the old Mellon Arena, I wrote this blog for the hockeybuzz.com website: https://bit.ly/2HMvqcV.
If there's any difficulty in seeing the link, my primary rub was this:
It is behind the scenes, and well beyond the scope of admission right now, where Burke is forming the blueprint that would eventually return him to a hockey–first environment — the sort he thrived in as GM of the Vancouver Canucks. People that know Brian far better than I do… have told me he is determined to work again in one of the NHL's media capitals and that — yes — the thought of managing the Maple Leafs has crossed both his mind and his lips. "Brian's a sharp cookie; he knows he's accomplished the ultimate in a casual hockey market like Anaheim, and he senses, as do many of us, the instability of the situation in Toronto," a very well–placed and well–known NHL source told me. "Burkie loves the spotlight and there is no brighter light than the one that shines on the Leafs. It is something to keep an eye on."
More than 13 years later, I have revealed the "well–placed and well–known" NHL source. Devellano could not have been more spot on. John Ferguson was fired by the Leafs in January 2008. Cliff Fletcher stepped in as interim GM. Burke came east for a legitimate family reason. But, also to ply his trade in the NHL's most–rabid market. After the blog I wrote in Pittsburgh, speculation never ceased about Brian ultimately replacing Fletcher.
It happened on Nov. 29, 2008.
No chapter in the book was more poignant or moving than the one entitled "Brendan".
I'll never forget receiving word after a Leafs game in Ottawa — Feb. 5, 2010 — that Brendan Burke, 21, had died in an automobile mishap in Ohio. I couldn't believe it. Only a few weeks earlier had I met Brendan in the press box at Air Canada Centre. Brian's courageous son, manager of the Miami University men's hockey team, had revealed he was gay. And, that nothing about his sexual persuasion was a factor in his role with the club. Honestly, I had never seen Brendan's father quite so proud — not even after managing the Ducks to the 2007 Stanley Cup win.
That Brian was somehow able to execute his role as GM of the United States men's hockey team at the 2010 Winter Olympics in Vancouver — less than a week after Brendan's death — remains the most gallant, heroic and selfless act during all of my 23 years in sports radio.
EMAIL: HOWARDLBERGER@GMAIL.COM