TORONTO (Dec. 1) — I know… it isn't nice to poop on a party. But, someone has to do it.
While those in the mainstream Toronto media — so predictably — try to one–up each other in glorifying Mitch Marner, let me remind you that the Maple Leafs "November to Remember" bore a stunning resemblance to another such month: last November. In fact, the Leafs (11–1–3 this past month) paled a bit in comparison to the club of a year ago, which twice compiled a 13–2–0 record between Oct. 27 and Dec. 1. As expected, reverential local scribes tripped over each other in virtually fellating Auston Matthews en route to a franchise–record 60 goals — paying no heed to the five–year stretch of first–round playoff defeats involving Matthews, Marner and William Nylander. It is no different, right now, with Marner and his club record–tying 18–game points streak. The Pope has rarely been viewed as piously as the little Toronto winger. No other storyline evidently exists in Leafs Land.
Former Toronto winger Nick Kypreos, who I have always respected as a tough player and forthright analyst, actually suggested (in his Toronto Star column) that Marner is an "undervalued superstar"… the same Mitch Marner, at $10,903,000 per season, that has perennially come up meager in Stanley Cup competition. Wouldn't a player, as described by Kypreos, be earning a smaller salary while in possession of a playoff resume? I would think so.
But, typically, everyone in the Toronto puck media is going hog–wild, yet again, over individual accomplishment during the regular season. To the near exclusion of, now, a half–dozen Stanley Cup failures. It never changes.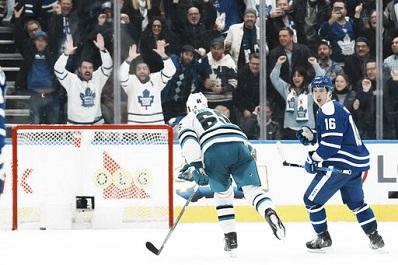 MITCH MARNER'S EMPTY NET GOAL AGAINST SAN JOSE ON WEDNESDAY AT SCOTIABANK ARENA EXTENDED HIS POINTS STREAK TO A FRANCHISE RECORD–TYING 18 GAMES. IT ALSO EARNED HIM A HUG FROM LINE–MATE AUSTON MATTHEWS. CHRIS YOUNG THE CANADIAN PRESS
At least Steve Simmons had the gall to approach balance in his Toronto Sun column:
"Marner has tied a Toronto mark, but he has a place to go as an all–time great. Even an all–time Leafs great," wrote Simmons. "What made Doug Gilmour so special was his ability to score, to make plays, to accumulate points when it mattered most. Darryl Sittler has similar post–season accolades. The bigger the game, the greater the opponent, the more he seemed to shine. Sittler and Lanny McDonald matched up brilliantly against Bryan Trottier and Mike Bossy, against Bobby Clarke and Bill Barber. Marner has yet to have a signature post season, which is partly why Leafs fans are still back and forth on him. He seems to love and hate playing in Toronto, depending on the day. This is his hometown team. This is his only team. He seems forever conflicted by being a small man expected to do giant things in this city. Once this record is put to bed, the next step for him to take, for his team to take, is to do his Gilmour thing. To dance when everyone is watching. To make himself a figure for the ages. Not a November figure for the ages, but a figure who lasts forever. He has played more seasons for the Leafs than Gilmour managed, but without similar post–season results. That's what matters most in hockey."
For such candor and sacrilege, I would expect Simmons to become victim of a media coup… with Kevin McGran, Luke Fox, Mark Masters, Chris Johnston, Jonas Siegel, Jeff O'Neill and others that say nary a critical word about the Leafs girding to have Steve banned from the dressing room. How dare he venture outside the lines of puffery.
Yes, of course Marner is one of the premier hockey talents in the world and — as I have written on several occasions — the most indispensable Maple Leaf. No one in blue and white can dazzle like No. 16. Neither has the club performed, amid what should be crippling injury, as structured in the defensive zone since the Pat Quinn era, which ended in 2006. For that, Sheldon Keefe deserves abundant credit. Not the brown–nosing submission by Sportsnet's Fox, entitled HOW SHELDON KEEFE IS JAMMING IT TO ALL HIS CRITICS. Such a headline should be supplied by Steve Keogh, the club's director of publicity. Not an alleged "reporter." But, loads of acclaim is due Keefe for somehow inspiring his team to continue winning in the absence of its top three defensemen.
Before going beyond gaga, however, let's look at the ten best records over a span of 15 games in Leafs history (and ensuing playoff results). You'll note that the current 11–1–3 mark is merely tied for ninth place, even if it ended in a Stanley Cup championship 72 years ago (1950–51). Of greater significance, and as mentioned, are the pair of 13–2–0 runs the Leafs put together last November that ultimately led to nowhere (yet another first–round elimination). Even the all–time club mark of 13–0–2 in late 2003, under Quinn, ended in a second–round failure.
13–0–2 (Nov. 26 to Dec. 23, 2003) LOST IN SECOND ROUND, 2003–04
13–1–1 (Dec. 9, 1970 to Jan. 10, 1971) LOST IN FIRST ROUND, 1970–71
13–2–0 (Nov. 9 to Dec. 15, 1940) LOST IN FIRST ROUND, 1940–41
13–2–0 (Oct. 27 to Nov. 28 / Nov. 2 to Dec. 1, 2021) LOST IN FIRST ROUND, 1921–22
12–1–2 (Oct. 7 to Nov. 6, 1993) LOST IN THIRD ROUND, 1993–94
12–2–1 (Nov. 8 to Dec. 20, 1935) LOST STANLEY CUP FINAL, 1934–35
12–2–1 (Feb. 11 to Mar. 12, 1993) LOST IN THIRD ROUND, 1992–93
12–2–1 (Nov. 24, 1946 to Jan. 2, 1947) WON STANLEY CUP, 1946–47
11–1–3 (Jan. 18 to Feb. 18, 1951) WON STANLEY CUP, 1950–51
11–1–3 (Nov. 2–30, 2022) 2022–23
So, I ask again: Why should this season, beyond blind hope, end differently than any of the previous six? It's the same core of players performing wondrously five months prior to the start of the Stanley Cup tournament. The Leafs, in the second month of the past three seasons, are an otherworldly 32–5–4. Shouldn't such a prolific club have made it, at least once, to the second round of playoff toil? Which is merely halfway toward winning a championship for the first time since 1967? These are questions once again being ignored by the starry eyed local media. Only Simmons, evidently, has the chutzpah to point out, during this lengthy points streak by Marner, the Toronto playoff blight. The others, as mentioned, cannot find enough superlatives in a thesaurus. I'll say it once more: these Maple Leafs have used up all their regular–season mulligans. Everything other than points accrued for playoff seeding is completely irrelevant. And, it matters not whether you wish to read such blatant veracity.
BORJE SALMING, THE ROOKIE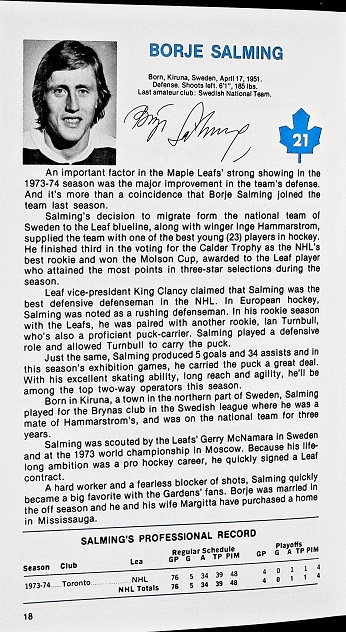 THE LEGENDARY MAPLE LEAFS DEFENSEMAN, WHO DIED LAST WEEK AT 71 OF ALS, DEBUTED IN THE NHL IN 1973–74, THE LONE YEAR IN WHICH THE CLUB DID NOT PUBLISH A MEDIA GUIDE. BORJE SALMING'S FIRST BIO, THEREFORE, WAS IN THE 1974–75 EDITION (ABOVE).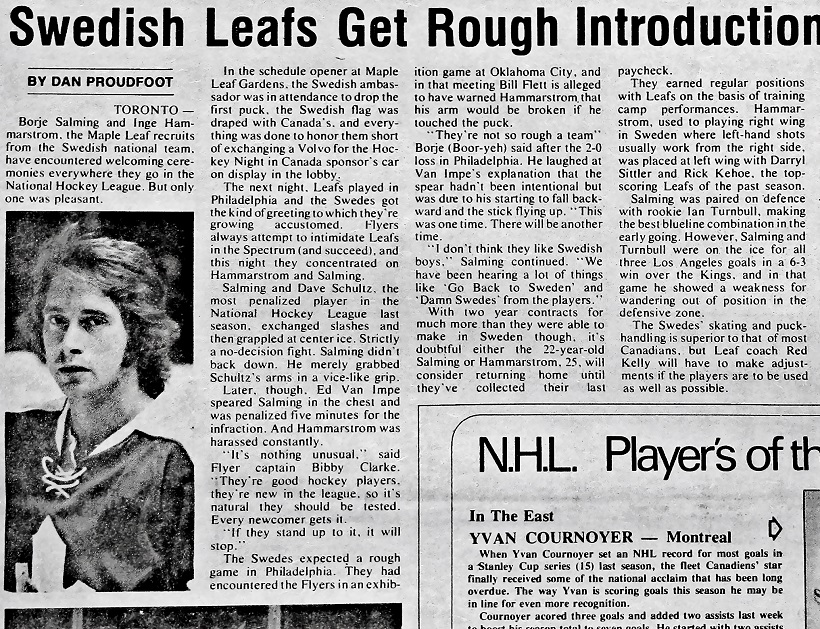 SALMING AND SWEDISH TEAMMATE INGE HAMMARSTROM WERE FIRST FEATURED IN THE NOV. 2, 1973 EDITION OF THE HOCKEY NEWS (ABOVE). BORJE SCORED HIS FIRST OF 150 NHL GOALS (ASSISTED BY FELLOW ROOKIE LANNY McDONALD) IN A 4–3 LOSS TO THE CANADIENS AT THE MONTREAL FORUM ON JAN. 23, 1974. HE SCORED HIS FIRST GOAL AT MAPLE LEAF GARDENS JUST MORE THAN TWO WEEKS LATER (FEB. 9, 1974) DURING A 4–1 WIN OVER THE MINNESOTA NORTH STARS (HOCKEY NEWS COVER AND GAME SUMMARY, BELOW).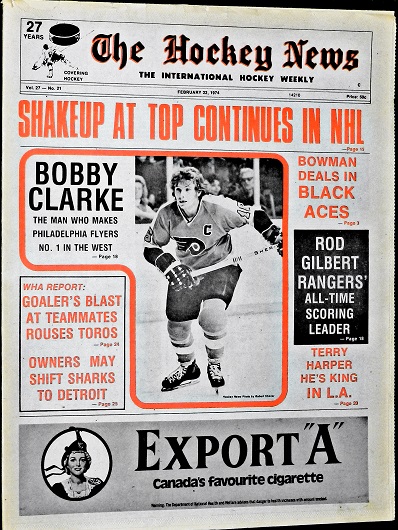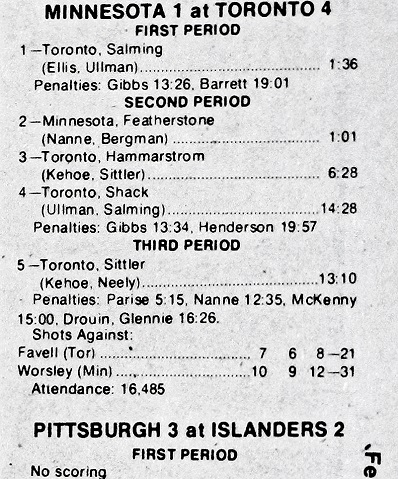 EMAIL: HOWARDLBERGER@GMAIL.COM