TORONTO (Dec. 3) — Yes, they have the best record and winning percentage in the National Hockey League (19–3–0 before tonight's home date with Colorado). And, a perfect 13–0–0 record at TD Garden. They possess several of the most–accomplished players of recent ilk (Patrice Bergeron, Brad Marchand, David Pastrnak). And remain among the most–consistent teams of the new millennium, with three Stanley Cup final appearances between 2011 and 2019, winning against Vancouver in their first try. But, the Boston Bruins — born to the NHL in 1924 — have become rather soulless in the past few months; first signing a teen bully named Mitchell Miller, only to recant the move when commissioner Gary Bettman refused Miller admission to the league. And, then, making news, reprehensively, earlier this week when TV play caller Jack Edwards body shamed Patrick Maroon of the Tampa Bay Lightning. As with Miller, Edwards also reversed course, issuing an apology for his boorish behavior.
Maroon, a three–time Stanley Cup winner, has a large frame and is considered slightly overweight by NHL standards. Which prompted Edwards, in all his wisdom, to say (on the air): "[Maroon is listed] at 238 pounds. That was Day One of training camp and I've got a feeling he's had more pizzas before then and now. Inadvertent fasting for Maroon is going four hours without a meal. But, hey, with three Cups in a row, who can argue with his formula?"
Edwards is a good broadcaster and probably a decent guy. But, he talks like an idiot more often than any person entrusted with his coveted role. "Why would he say something so personal and insensitive?" asked former Bruin Derek Sanderson over the phone today. Sanderson spent 11 seasons (in the 1980's and 90's) as the TV color–man for the Bruins, alongside legendary Boston play caller Fred Cusick. "I could shoot off my mouth with the best of them, but I'd never make fun of a player's appearance. It's just so unnecessary. I spoke up most often when I felt a player was dogging it; not giving an honest effort. But, if a guy was ugly or fat, that was totally off limits."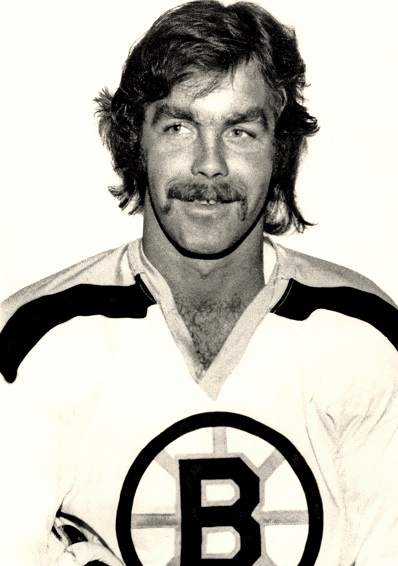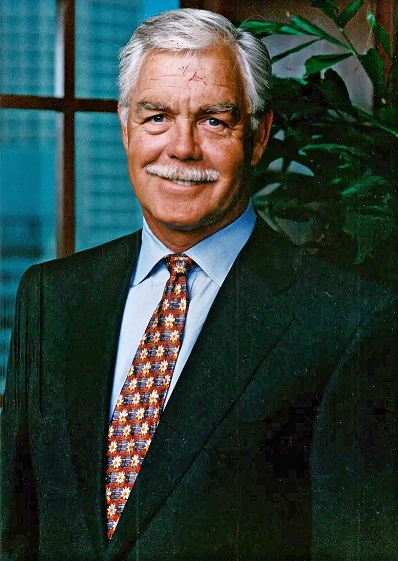 FORMER BRUINS WINGER DEREK SANDERSON — THEN AND LATER.
Not unlike most team broadcasters, Edwards is a raging homer for the Bruins. Which is perfectly acceptable on a local telecast with on–air personnel approved by the team. Edwards, nonetheless, consistently borders on obnoxiousness and often appears to use his public forum as a release for deep–seated anger. The comments about Maroon were simply childish and immature; the type that grade–schoolers would giggle over during recess. No such comportment belongs on the air in professional sport. Yet, the Bruins, under the direction of Hall–of–Famer Cam Neely, seem unperturbed over embarrassing themselves. "Edwards isn't a bad guy but he gets carried away when the Bruins are winning," said Sanderson, best–remembered for setting up Bobby Orr's famed overtime goal that won the 1970 Stanley Cup. "I was also a homer, but I tried to remain professional at all times. And, Freddy (Cusick) would never even consider making a personal remark. So, it was very disappointing this week."
MORE FROM DEREK: Sanderson, 76, has been close friends with Orr since they skated on the Bruin Stanley Cup teams of 1970 and 1972. He says that Orr recently underwent delicate back surgery aimed at repairing several bulging discs. "Bobby hasn't responded well to the operation and it's tough to see him in pain. He spends his winter in Florida and loves to play golf, which he isn't able to do right now. But, he's still hopping around with his charity work. I say to him 'Bobby, take a rest once in awhile' but he's too good natured to go back on a commitment. He was the greatest hockey player in our day; probably ever, and he hasn't changed one bit as a person."
After returning to the NHL from a brief stint in the old World Hockey Association, Sanderson played against a young and maturing Borje Salming. The Maple Leafs' Hall–of–Fame defenseman died of ALS on Nov. 24. "God, that was such a shame," said Sanderson. "Borje was one of the most naturally gifted players I ever faced in the game. I remember how quick he was with his first skating step. He had great reach and terrific lateral mobility. He also had to withstand all that 'chicken Swede' bullshit early in his career. But, I never found him to be at all timid. If you f**ked with him on the ice, he'd give it back just as hard. It's so unfortunate that he got sick and died young."
CANADA'S HOCKEY AUTHOR… AGAIN
He's done it once more — by his count for the 99th time. Yes, Canada's hockey author, Brian McFarlane, has a book on the Christmas shelves, penning a memoir in his 91st year. For those unaware, Brian worked Maple Leafs home TV games on Saturday and Wednesday nights in the 1960's and 70's alongside play caller Bill Hewitt. As such, he became a national media icon in the days long before the Internet, social media and cable packages that provided every NHL match to consumers. No memory from my youth is more vivid than laying in bed at 8 p.m. on a Saturday and listening to Foster Hewitt call the first period of the hockey game from his famed gondola at Maple Leaf Gardens… on the radio station for which I would one day be employed. Just before 8:30, I would take up position at the foot of my parents' bed for the start of the Hockey Night In Canada telecast — Bill Hewitt opening the show as his dad, Foster, did on radio: "Hello Canada and hockey fans in the United States." Typically, two or three minutes remained in the first period when the telecast started. Bill would introduce McFarlane, who promptly offered a summation of what viewers had missed since the opening face off. In the first intermission, host Ward Cornell showed the scoring highlights. This became a weekly routine as I grew up north of the city.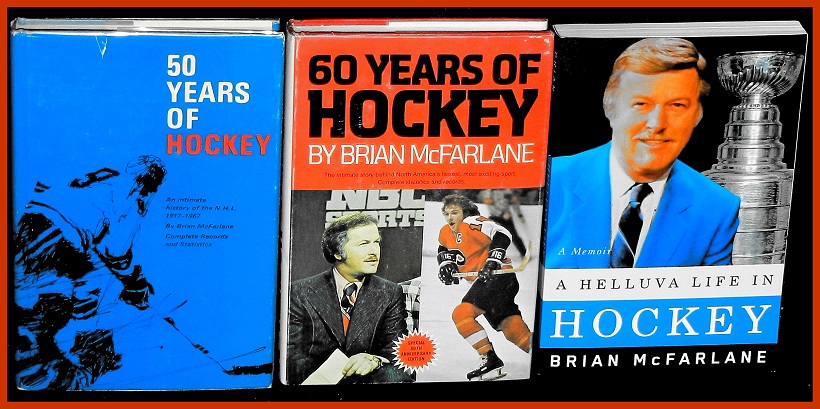 It was in 1967, when the NHL doubled in size to 12 teams, that McFarlane penned his first book: 50 Years of Hockey (top–left). He added an updated edition (middle) 10 years later. And, today, has A Helluva Life In Hockey (far right) available for fans across the country (published by ECW Press). It is a compilation of stories from his decades covering, broadcasting and writing about the sport. And, well worth the $24.95 price tag in Canada ($19.95 in the United States). There are few friendships I covet more than the one with Brian, who I got to know during my years covering the Leafs on radio. Though I could never attain his stature in Canadian media, he has always treated me as an equal, with the same cordiality and respect as his peers. It is no exaggeration to say he has forever been among the true media heroes in my life. And, I'm so grateful that he's still happily spry beginning his tenth decade. Here's where you can order your copy of Brian's latest book: https://amzn.to/3un1n0g.
MY FIRST LEAFS GAME
Saturday, December 3rd will forever have a hockey ring for me. It was on this date — and this night — in 1966 that Dad took me to my first NHL game at Maple Leaf Gardens. We sat on the east side of the arena, low down in the second level of seats (they were Blues at the time and became Reds in 1974). Sec. 57, if I recall. Gordie Howe and the Detroit Red Wings were in town. The Leafs still had most of the stars from their Stanley Cup dynasty of the decade — Johnny Bower, Dave Keon, Tim Horton, Red Kelly, George Armstrong, Frank Mahovlich, etc. I had never seen their dark blue home jerseys in color; both TV's in our house were black and white models. To accommodate the recent advent of color television, the Gardens, beginning in 1966–67, featured a line of bright lights on a girder above the west side of the arena that stretched the length of the ice surface (now painted white). On this night, those lights were shining in our eyes. Still, the blue home jerseys and the white uniform of the visitors, with red pants, stripes and the famed winged wheel on the front, were clearer than ever.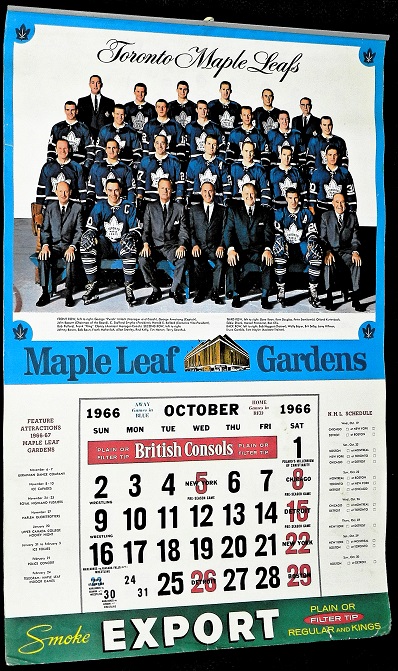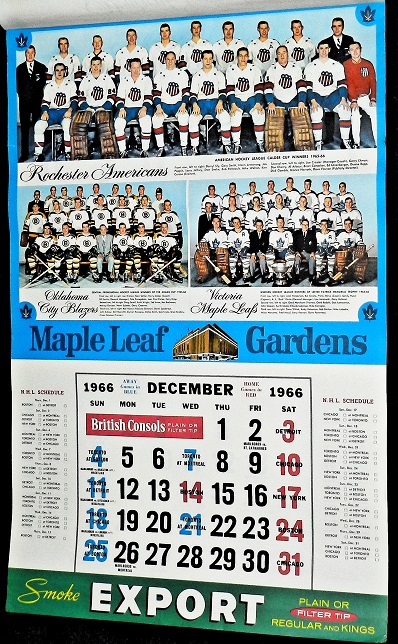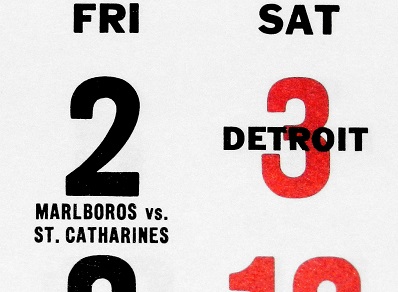 As per my cherished EXPORT Maple Leaf Gardens calendar from 1966–67 (above, front and December pages), it was 56 years ago tonight that Toronto defeated Detroit, 5–2. It required only 52 seconds for my first live NHL goal: Kelly (assisted by Larry Jeffrey) scoring on Red Wings goalie Hank Bassen. Keon (at 6:48) and Jim Pappin (on the powerplay at 12:08) provided the home side all the tallies it would need. Bob Pulford made it 4–0 at 6:11 of the middle frame before Detroit scored consecutive goals (by Ted Hampson and Ray Cullen) on Leafs starter Terry Sawchuk. Armstrong, the captain, rounded out the night on a powerplay at 9:11 of the third period. With 1:29 left to play, Brian Conacher of the Leafs slashed Detroit defenseman Gary Bergman to instigate my first live hockey fight. Yes, Conacher received an extra minor penalty on the play. The Red Wings outshot the Maple Leafs, 37–35. Vern Buffey was the referee working with linesmen Matt Pavelich and Pat Shetler. And, no, I didn't have a clue that I would begin, 28 years later, a 17–season run of covering the Leafs for Canada's first all–sports radio station (The FAN–590). But, I suppose we all have a destiny. That, rather delightfully, was mine.
EMAIL: HOWARDLBERGER@GMAIL.COM