***NOTE: THIS BLOG WAS WRITTEN AND POSTED BEFORE THE DREADFUL SCENE ON THE FOOTBALL FIELD TONIGHT IN CINCINNATI. PERSPECTIVE ENTERED THE PRO SPORTS WORLD. PRAYERS FOR DAMAR HAMLIN OF THE BUFFALO BILLS. IT'S POSSIBLE HE SUFFERED FROM THIS RARE AILMEMT: "Commotio cordis is a phenomenon in which a sudden blunt impact to the chest causes sudden death (or cardiac arrest) in the absence of cardiac damage." SOURCE: WIKIPEDIA***
TORONTO (Jan. 2) — There it was, in all its irrelevant glory; even italicized in the Sportsnet submission by the Maple Leafs most–devoted and zealous fan, Luke Fox: the club won 60 games in the calendar year 2022.
Is it possible, I ask rhetorically, for there to be a more–pointless, inconsequential stat in hockey?
Perhaps even in all of professional sport?
In what season has the National Hockey League begun its schedule on Jan. 1 and concluded on Dec. 31? And, if a reporter insisted on writing about a figure during that 365–day span (Fox wasn't alone), wouldn't the numeral '3' provide at least some credibility and pertinence? As in the number of playoff games captured by the Maple Leafs. While losing in the first round, yet again, this time, against Tampa Bay. Of course it would. But, not if it doesn't fit the happy narrative virtually all Leaf reporters are compelled to follow (implicitly or otherwise) in today's mushy media environment. Far–more important to talk, instead, about the "positives". Emphasize, for the third or fourth consecutive season, why these Maple Leafs are different from the others (disclaimer: yes, they are much better, defensively, to this point; full credit to coach Sheldon Keefe). Be sure to focus on that ultimate of Toronto sports accomplishments: the club advancing to Round 2 of the Stanley Cup playoffs for the first time in 19 years.
Sadly, young fans of the Maple Leafs have not been exposed to anything but this nonsense. They wouldn't know of a time, not that long ago, when the media wasn't an extension of the team. When reporters and columnists weren't afraid to venture beyond lionizing the players or frothing over absurd statistics… and actually ask questions that truly mattered. Such as: What happens, in this year of contract significance for Auston Matthews and Mitch Marner, if the Leafs lose again in the first round of the playoffs? Extending their North American pro sports record to a seventh consecutive season? Most in the local media would awaken with night sweats merely pondering such an outcome. Tackling the issue in print, or on TV? Not even a consideration. How would that dovetail with the "branding" of Maple Leaf Sports and Entertainment on the networks that own 75 percent of the hockey club?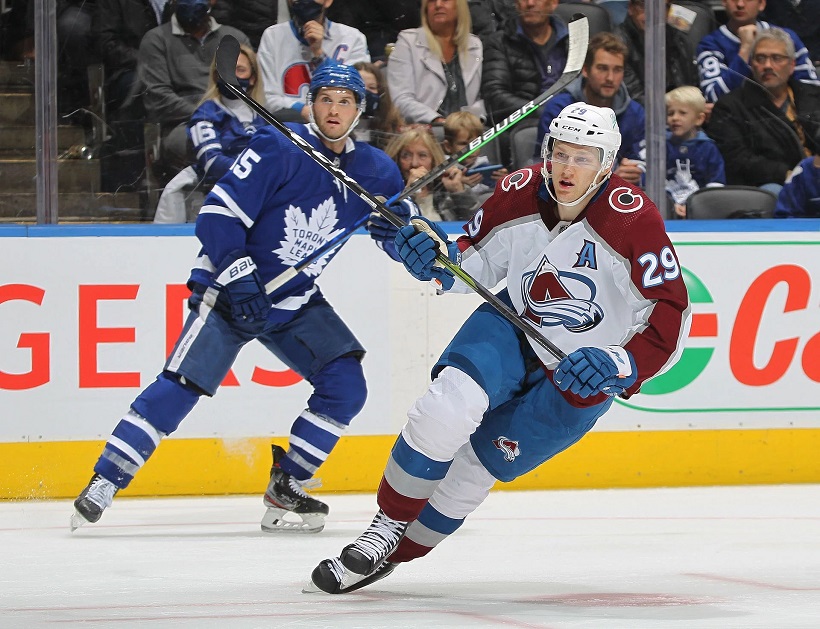 Here's another question: Do Matthews, Marner and Nylander not carry the dreaded 'C'–word into the playoffs this spring? And, what happens to that choke label if the Leafs again go one–and–done? Not even the unaffiliated newspaper folks will touch that one… let alone the TV "reporters", who would encounter a firing squad. But, if Willie and the double–M boys prove, once more, they cannot win a single playoff round, let alone challenge for the Stanley Cup, does MLSE blindly open the vault to keep them together? Or, does the parent company finally make a change where it matters — at the top — and allow a new and impartial voice to re–shape the future of the team?
Don't you think these issues impact victory starved fans of the Maple Leafs more than the 60 regular–season victories in a calendar year? Or, perhaps how the Leafs, as productive as they've been in the first half of the 2022–23 schedule, can pose a Stanley Cup threat without a kingpin (yet again) on the blue line? In the absence, once more, of players that can physically bash and grind their way past opponents over four grueling playoff series? You don't hear or read about any of that stuff. It's clearly out of bounds. The entire media cabal has again been sucked in by regular–season accomplishment. There is neither the willingness nor the capacity to look beyond what is happening at the moment, to what cannot happen with the current roster when the chips are on the table.
No club wins the Stanley Cup with a talented, turnover machine as its number–one defenseman; a player (Morgan Rielly) who has above–average skill but cannot ascend to the ranks of Norris Trophy consideration. No team wins a championship with slick but passive second and third–line forwards such as Pierre Engvall, Pontus Holmberg, Zach Aston–Reese and Calle Jarnkrok. Or, whatever fillers general manager Kyle Dubas assembles with his leftover cap space each summer. You need messy muckers in that part of the roster to gut out playoff rounds, particularly when the big–money boys have long proven they aren't particularly interested in getting their hands dirty.
Will you be exposed to any of this amid reporters and commentators today that either worship the ground on which the players walk… or are not permitted, as the result of team ownership, to even approach topics of such relevance? You know the answer. And, that's why there is so much grief and consternation when the Maple Leafs lose again in the opening playoff round. Without fail, the media routinely convinces itself — and, therefore, its audience — that regular–season artistry is a precursor to Stanley Cup success. It happens EVERY YEAR with the Leafs. It fully enables MLSE to sit back lazily, with all of its multi–millions in ticket and merchandise revenue, and do absolutely nothing from one summer to the next. Other than promise that the following year will be different.
It's a vicious cycle that cannot be disturbed until there is fundamental change.
And, good luck waiting for that.
NOTHING LIKE IT — BEFORE OR SINCE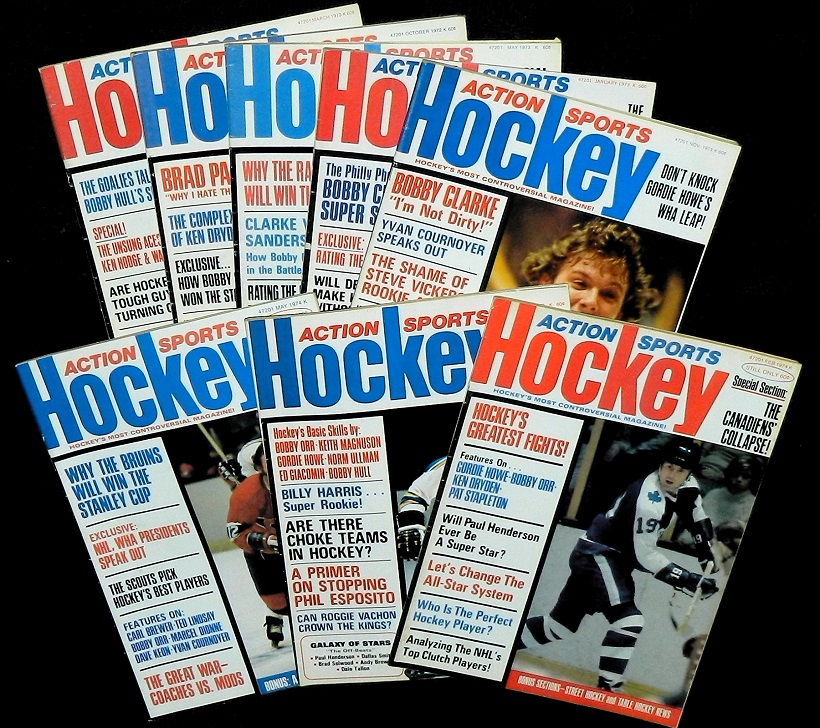 Why was this the greatest hockey magazine ever published? For all the reasons I've pointed out in the above paragraphs. Rather than flirting with the NHL establishment, as did all other periodicals in the 1970's, ACTION SPORTS HOCKEY tackled real issues. Offered unfiltered commentary. And, didn't care whose feathers it ruffled. The brainchild of Robert Stampleman and famed author Stan Fischler, with former defenseman/hatchet–man Larry Zeidel as a consultant, ACTION SPORTS out–ventured all rivals of its era. I have, in my collection, almost every issue of the monthly magazine, published between 1971 and 1980. Look at some of the headlines, above. No issue was untouchable. Even the concept of "choke" playoff teams, into which the current Leafs have evolved, warranted exploration (as below). ACTION SPORTS outsold all competitors in hockey's most–tumultuous decade.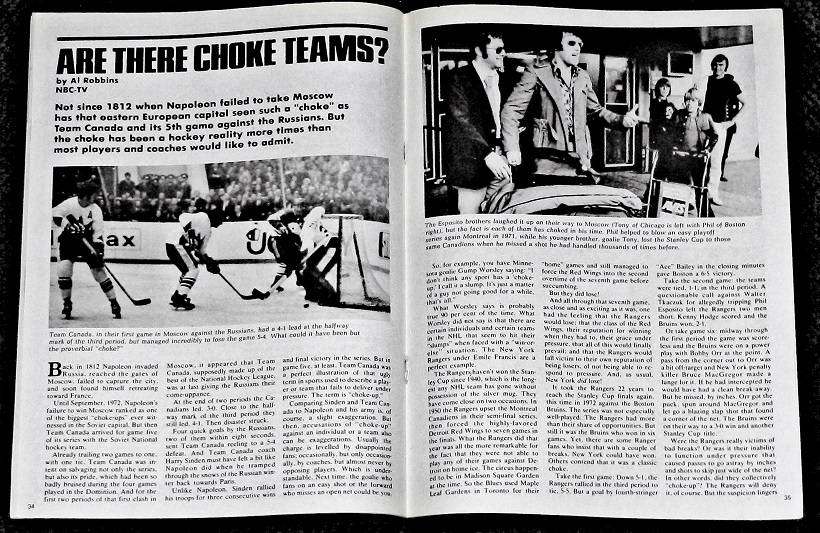 MORE ACTION SPORTS COVERS…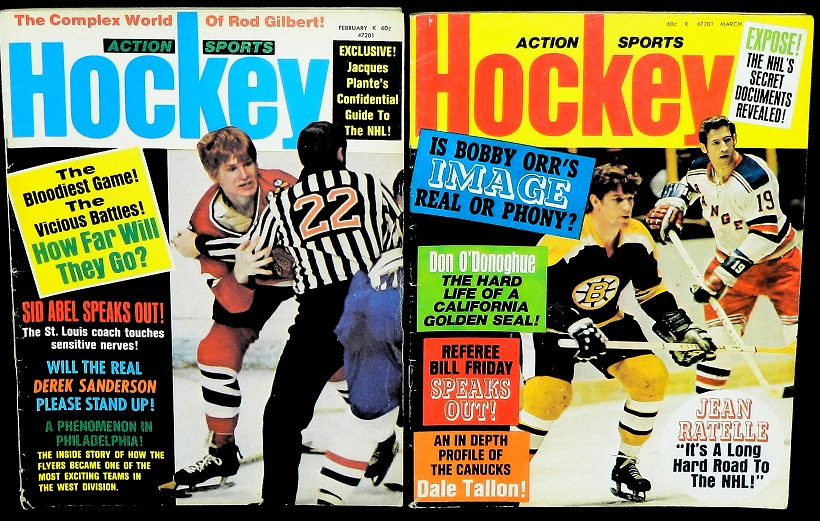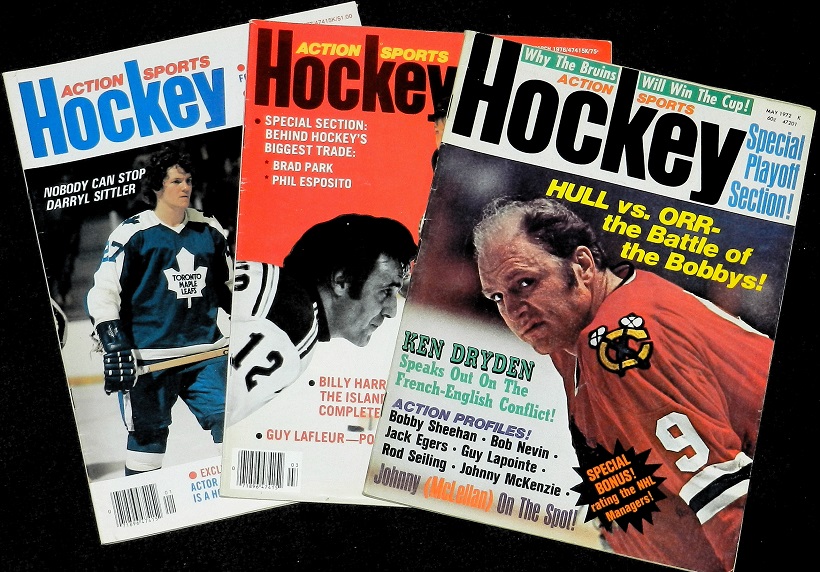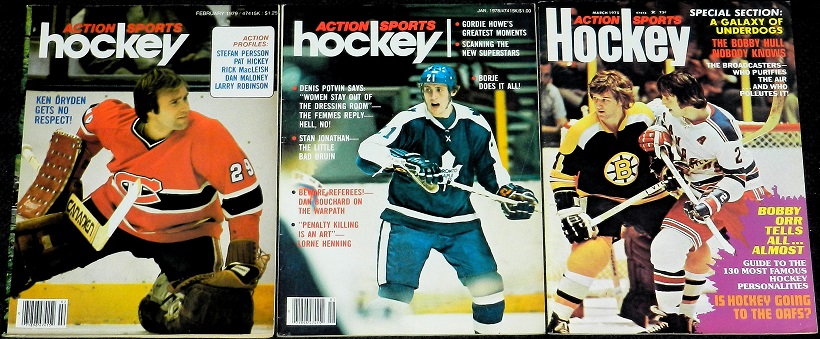 EMAIL: HOWARDLBERGER@GMAIL.COM