TORONTO (Jan. 10) — While chatting with a fellow worker the other day, I recalled some of the youthful escapades that directed me toward covering the Toronto Maple Leafs for 17 years at The FAN–590, Canada's first all–sports radio station. Not all of them are in the HOW TO BUILD A MEDIA CAREER handbook. In fact, several could have landed me across the desk from the truant officer in my neighborhood. Yet, there I was — stationed in press boxes all over the National Hockey League between 1994 and 2011. Here are some recommendations:
In order to realize your hockey dream, it's important to play Batman with a street friend. Like I often did… but never so memorably as during a hot, summer afternoon in 1967. The TV series starring Adam West and Burt Ward was all the rage back then. With such villainous characters as The Riddler (Frank Gorshin), The Joker (Cesar Romero), The Penguin (Burgess Meredith) and Catwoman (Julie Newmar). I wore a Batman mask and cape while my good friend, Mitchell Miller, sported the outfit of Robin. Mitchell lived four houses east on Kennard Avenue in the Bathurst Manor neighborhood of north–Toronto. During that rather primitive era, families had a telephone, a radio, and a black–and–white television with four or five stations whose signal strength depended on the wind direction. The husbands went to work during the day and the wives kept house. All the neighbors knew each other and were friends. During the summer months, when not in day camp, we kids would roam around the front and back yards of the street. The adults would often meet in front of their homes and enjoy leisurely conversation.
Which brings me to Mitchell's mother, Mildred Miller.
Back then, women frequently wore a one–piece sun dress that was kept in place with a rear zipper extending from neck to rump. On this sweltering afternoon, as Mitch and I romped hither and yon in our Batman costumes, I noticed that Mildred was talking with the lady across the street. Both were standing at the tip of their driveways. For some reason, Mildred's zipper appeared rather tantalizing; an opportunity awaiting mischievous hands. As Mitchell ran around his backyard, I broke away and slowly; silently crept upon Mildred from behind. With deft precision, I yanked at the full length of the zipper. Gravity quickly prevailed and her dress fell to the pavement. She was standing in the middle of our street with white underpants and a brassiere. "Ohhh! Ohhh!," she squealed, and I can still see her hands alternating from top to bottom. She couldn't cover both at the same time. I ran quickly toward my house down the street, glancing backward once or twice to see poor Mildred scampering up her driveway; the unfastened dress still in a heap near the road. My late mother, Sandee, was outside as well. To this day, I swear I noticed her trying to conceal a belly laugh (hey, it was funny). But, whooo, did I get sh**. Mom sent me to my room for, like, two weeks. She then ran down the street to Mildred, profusely apologetic for her zany child.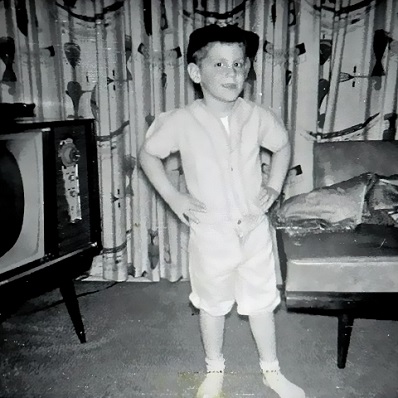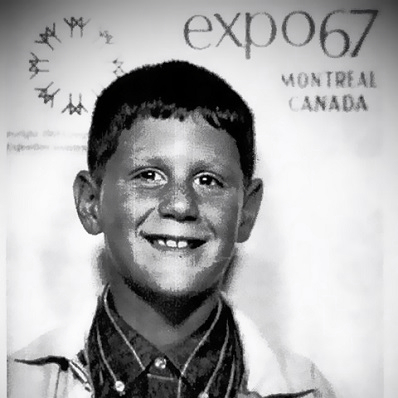 I WAS YOUNG AND INNOCENT AS A KID. WELL… YOUNG, ANYWAY.
Another time, Mitchell and I were playing "doctor" in the basement of my house. Poor Mitch was practically blind as a kid. He wore the horn–rimmed glasses of that era with lenses so thick, you could see Halley's Comet. Being the good doctor, I asked Mitchell to remove the glasses and lay on his back with his eyes closed. A blanket covered the floor. I fetched my "medicine" and told Mitch to open his eyes. Whereupon I shook pepper into them. Even with 20/20 vision, poor Mitch would have been howling in agony. His yelps of pain were primal. I found it all rather humorous. Mom ran downstairs and noticed poor Mitch bouncing clumsily off the walls of our rec room.
"What's wrong with Mitchell?" she asked.
"Nothin'," I replied. "I just put some pepper in his eyes."
"Pepper?!" she exclaimed.
After rushing Mitchell to the sink and rinsing his burning sockets, I was sent back to my room… which became an increasingly familiar spot for me. Mom took Mitchell home and, again, found herself profusely apologizing to Mildred. Somehow, Mitch and I remained friends during our boyhood before drifting. I saw him for the first time in eons when working the 2018 funeral service of his older sister, Wendy. And, yes, he recalled the pepper incident.
As a young, Jewish kid, I attended Hebrew school at the Beth Emeth synagogue, around the corner from our house. These were two–hour classes that began at 4:30 or 6:30 p.m. After a full day at "regular" school, the last thing we wanted was another round of instruction. In the late–1960's and early–70's, the Hebrew teachers were European men and women; most of them, Holocaust survivors (we could see the prison numbers inked on their arms). Of course, what did pre–teenagers know of the Holocaust? We were more interested in creating some benign mischief. One of the teachers was a kindly, old man, Mr. Jacobs. He was short, probably no more than 5–foot–5. Prior to class, he would step up into a narrow, wooden closet; stand on his toes, and fetch the religious prayer books from a top shelf. Ever the class clown, I saw an opportunity to get a laugh from my school–mates.
One day, as Mr. Jacobs strained to reach the books, I lightly flipped the door, expecting it would bounce off the teacher's rear end and entertain the masses. But, I underestimated how far he had burrowed inside… and the lousy door locked. From behind, we could hear Mr. Jacobs yell "Berger! Berger! Get me out of here!" My school friends were rolling on the ground in hysterics. There was a little, round hole cut into the area near the lock. I watched as Mr. Jacobs stuck out his index–finger and rattled the door, hoping it would open. "Berger! Berger!" he wailed, as if a rabid claustrophobic. I ran into the hall to try and find the synagogue janitor that always had 100 keys dangling from a belt chain. He came back with me and tried ten or 12 of them before finally releasing the teacher. By that point, my classmates had lifted themselves off the floor and knew I was in major heck.
As punishment, I went upstairs to the disciplinary teacher, a man named Mr. Monk. He was a German–Jew with a good sense of humor… and a wicked temper. When you caused trouble, Mr. Monk would instruct you to place your hand on top of the desk, palm down. He would then whack your fingers with a wooden stick–pointer he carried around. Of course, you would instinctively pull your hand away when he lashed out, causing Mr. Monk to hit the desk several times. He would then hold down your hand with one arm… and whack with the other. My black–and–blue fingers reminded me to never again fool with Mr. Jacobs outside the closet.
Another sure–fire method to get a laugh in school — and there's no delicate way of putting this — was to fart.
We would either wait for a quiet moment and let out a little toot… or until there was just a bit of noise, then lean to one side and rattle a monster off the hard, plastic chair. Either way, if caught by a teacher, you'd be immediately sent to the principal's office. This happened to me once or twice, creating a dilemma. What would I tell the principal? That I just farted up the class? You didn't talk like that to authority figures back then. One time, a friend sitting across the aisle unleashed a loud, vile blast, shocking all of us. He was instantly sent to the principal, whose office was on the next floor and down the far end of the hallway; easily a one–minute walk. After closing the classroom door, my gaseous pal pivoted and returned no more than five seconds later. "The principal isn't in," he said.
Good Lord, did we laugh.
I'm not here to suggest you try these approaches while dreaming about your favorite NHL team.
Even if they did, somehow, work for me.
MY VINTAGE NHL JERSEYS — Part 1
Former designs that I collected through the years…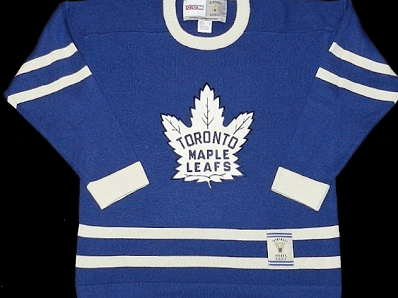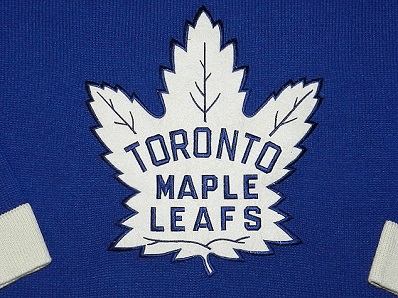 Sweater replica and logo (above) of the Maple Leafs blue uniform worn between 1948 and 1958.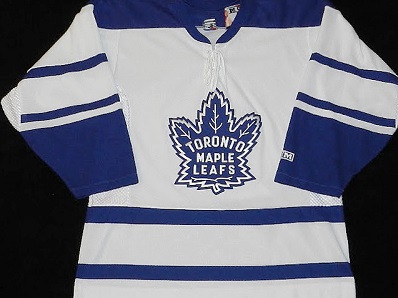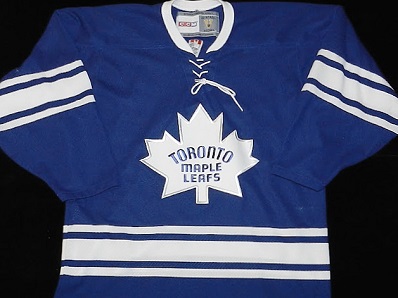 The white road jersey (top–left) worn by the Toronto Maple Leafs from 1964–65 to the end of the 1966–67 regular season. The blue home jersey (right) adopted for the 1967 Stanley Cup playoffs, then worn for home games in 1967–68, 1968–69 and 1969–70. This was the jersey the Maple Leafs sported the night (May 2, 1967) they last won the NHL championship.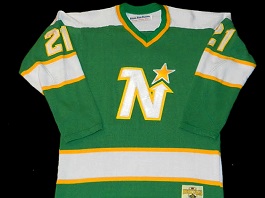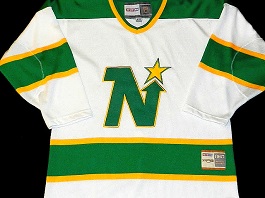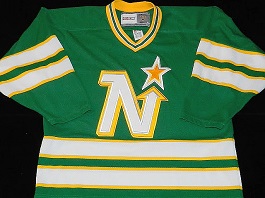 The green home (top–left) and road white (middle) jersey worn by the Minnesota North Stars between 1968–69 and 1974–75. The green road design (right) of the North Stars, circa 1975–78.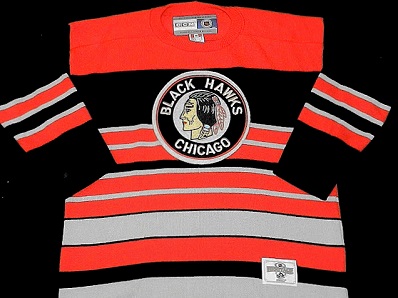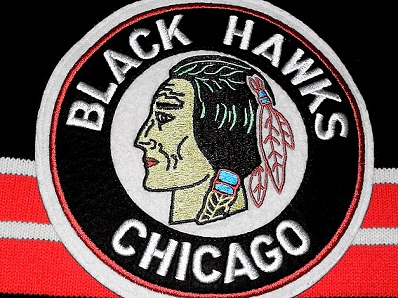 Multi-colored jersey and logo worn by the Chicago Black Hawks from 1937 to 1955.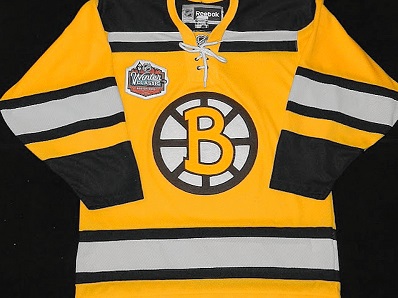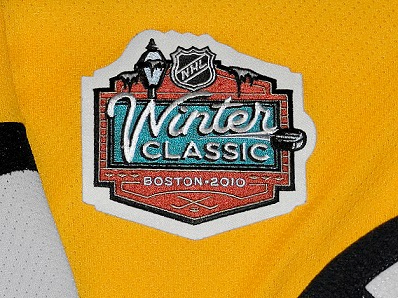 The Boston Bruins wore this jersey (and patch) for the Bridgestone Winter Classic at Fenway Park on Jan. 1, 2010. Boston beat Philadelphia, 2–1, in overtime on a goal by Marco Sturm.

The Kansas City Scouts wore these jerseys (white at home) for their two–year existence: 1974–75 and 1975–76. The club re–located to Denver in 1976 and New Jersey, as the Devils, in 1982.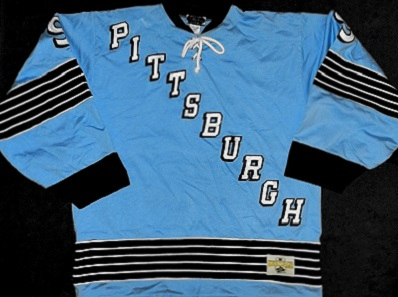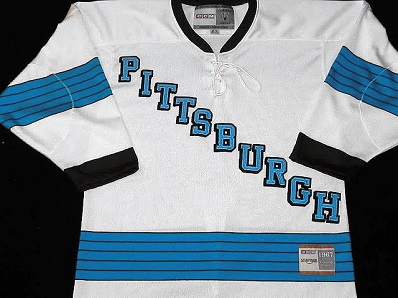 The home (left) and road jersey of the Pittsburgh Penguins in the expansion season of 1967–68.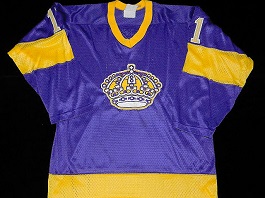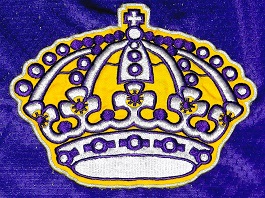 The Los Angeles Kings wore this purple–and–gold jersey design from their inception in 1967–68 through the end of the 1979–80 season. The crown logo is arguably the best in NHL annals.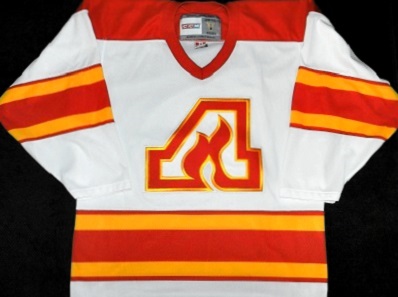 Home white and road red jersey of the Atlanta Flames, worn from 1973–74 to 1979–80.
EMAIL: HOWARDLBERGER@GMAIL.COM