TORONTO (Jan. 15) — Here are words you will neither read nor hear from any person in the mainstream Toronto media: Auston Matthews is not performing nearly as well as he did last season. This is sacrilege; an opinion that cannot — or will not — be expressed by those that currently follow the Leafs in print, or on radio and TV. Certainly the electronic media will shy from any such posture, given that Rogers (Sportsnet) and Bell Canada (TSN) own 75 percent of Maple Leaf Sports and Entertainment. For the umpteenth time, I will call it like it is: the most–glaring, egregious and damaging conflict–of–interest in the annals of Canadian sports media. That print journalists, with no–such affiliation, have (for the most part) also become averse to sincerity is puzzling and contemptible.
The only media figures that would dare to touch the off–limits issue did so this weekend… though delicately. In his Sunday notes package, Toronto Sun columnist Steve Simmons ranked Leaf players according to pre–season outlook. Among those performing below expectation: "Auston Matthews (because expectations for him have been extraordinarily high)." There was no reason for Simmons to add his bracketed clarification. Any player that scores 60 goals in a season positions himself for a tough act to follow. If producing at a 39–goal pace midway through the following season, he is not performing as well. Period. End of story. In the Toronto Star, Dave Feschuk led his game story from Boston on Saturday night by writing, about Matthews: "The statistical dip has been startling." But, Dave then justified his accurate observation by consigning the "dip" to an undisclosed injury that prevented Matthews from appearing in the previous two matches… the only two he has missed in the entire half–season.
I don't buy it. And, here's why:
Throughout the schedule, thus far, Leaf apologists in the media have couched Matthews' scoring decline as a conscious effort to improve defensive performance. After the 4–3 loss to the Bruins at TD Garden, Auston sported a plus–18 figure in even–strength situations; more–than decent for a player that averages 20 minutes and 16 seconds of ice time. But, last year, while breaking the franchise record for goals in a season, Matthews finished at plus–20. So, what has changed, other than his production? And, even if there had been a significant improvement, the Leafs are not paying Matthews $11.6 million a year to have a good plus–minus number. He is paid to snipe — at or close to the level he established the past two seasons while winning the Rocket Richard Trophy as the top goal–getter in the National Hockey League (Feschuk also pointed out that Matthews, while netting 41 goals in the COVID–shortened, 56–game schedule of 2021, produced at a rate of 64 goals over a full, 82–game slate).

AUSTON MATTHEWS TIED SATURDAY'S GAME IN BOSTON, 3–3, IN THE THIRD PERIOD… AND WAS THE ONLY SCORER ON THE NIGHT TO SHOWBOAT AFTERWARD. GETTY IMAGES/TORONTO STAR
So, the math is easy: No. 34 is currently just more than half the player he's been the past two years. Writing or saying so isn't an insult to the athlete or a slight toward the team. It is simply fact. If Matthews were at the scoring level of Connor McDavid (37 goals), David Pastrnak (33) or Tage Thompson (31), reporters and commentators would be falling over themselves to exclaim, without pretext or rationale, how he's on pace to eclipse his team standard of a year ago. Why, then, the apparent necessity to interpret and somehow justify his decline in production? Auston's a big boy. He makes a lot of money and is accustomed to the blinding spotlight of the Toronto hockey market. It's doubtful he'd fold up or lapse into emotional distress were he to read or hear the truth — that he's not performing close to the level of the past two seasons. No reporter's job should be threatened by candor.
Neither is the scoring abatement difficult to comprehend. If you watch Matthews closely, it's simple to recognize that he isn't generating the number of high–quality chances of the past two years. Last season, in particular, it seemed that every time he was on the ice, a laser would be directed toward the opposition goal. Usually from a prime scoring location. Auston connected 60 times. With a smidgen of luck, that total could have approached 80. There had never been a Toronto marksman — not Frank Mahovlich, Lanny McDonald or Rick Vaive — that proved so lethal on virtually every shift. Are we witnessing the same abundance this season? Not to these eyes… nor I suspect to many others. That's not to suggest that a 39–goal pace is an embarrassment. Ninety percent of forwards in the NHL would be thrilled to encounter such a "struggle". But, neither is it the anticipated nor required attainment from an elite player on the cusp of a no–movement clause that will either re–sign with the Maple Leafs for close to $15 million a season, or become the most–coveted unrestricted free agent of all time in the NHL.
And, certainly not from a player yet to show any real jam when it matters: in the Stanley Cup playoffs.
There was a time when Leaf players being held to standard by the media was commonplace. No one batted an eyelash when reading or hearing that Mahovlich, Darryl Sittler, Mats Sundin or even Phil Kessel was slogging through a rough patch. Today, such observation is virtually imperceptible. Excuses and rationale, by comparison, are rampant… among those that have the fortitude to even approach such a matter. The business alliance between the two sports network and the hockey club has immeasurably defrauded the fan base. That nationwide commentary about the Maple Leafs must be filtered through the prism of team ownership is a pitiful shame.
Exemplified, more than ever, by the overt sheltering of Auston Matthews.
THE LIFE OF RIELLY: Given that Morgan Rielly is the highest–paid Toronto defenseman and considered the club's No. 1 blueliner, these numbers must be difficult to fathom — and to swallow — for fans of the team: When Rielly missed 15 games with injury, the Maple Leafs compiled a 12–2–1 record with a 2.53 goals–against average and three shutouts. Since Rielly's return, the club is 4–4–0 with a 3.13 GAA. This cannot be pinned, of course, on a single player but neither do I recall Morgan performing as ineffectively as he has this season. And, that doesn't bode particularly well for a deep playoff run in the spring. The noticeable side–effect of Rielly's absence is that 39–year–old Mark Giordano, who compensated so brilliantly during that month, is low on fuel right now.
Lost Tickets at Maple Leaf Gardens
Jan. 10, 1973: Leafs vs. New York Islanders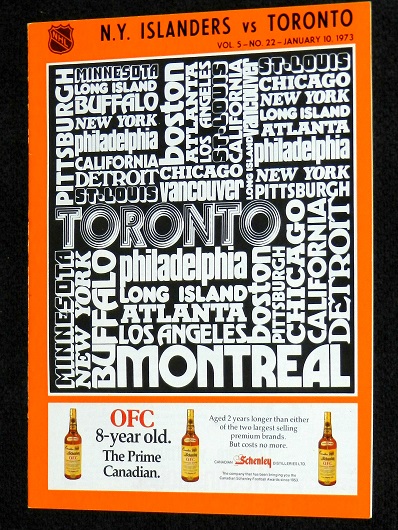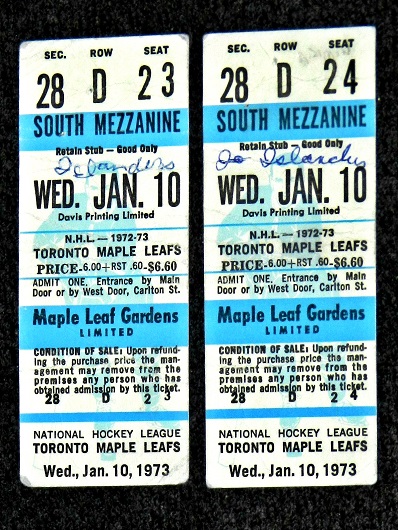 It happened 50 years ago this week, but I remember it like yesterday. The expansion New York Islanders made their first–ever visit to Maple Leaf Gardens at the midway point of the 1972–73 NHL schedule. Dad brought home a pair of tickets for the game in the south–mezzanine Blues (top–right, gawk at the price) and I made plans to go with my across–the–street neighbor, Ralph Wolfe. As we prepared to leave for the Gardens on that Wednesday night, I was having a conniption. No matter where, or how diligently, I looked, I couldn't find the tickets.
Face–off was set for 8 p.m. At 7:15, Ralph decided to drive down and plead our case to someone in the Special Ticket Office (up a winding stairwell in the main lobby off Carlton Street). Thankfully, a man named Ed Renick took rachmones on us (that's "pity" in Yiddish) and issued a paper substitute (below) — with the stern warning that we'd be ushered from the building if someone showed up with the tickets. Given they were surely in my house, I figured we were okay. The Leafs doubled the lowly Islanders, 4–2. Ralph drove us home after the game. As I took off my jacket and shook out the right sleeve, the damned tickets fell onto the floor. After losing my mind searching every nook and cranny of the house, they were caught up, all night, in the webbing of my coat.
It wasn't my last "Mr. Magoo" moment, but it's one that I remember most.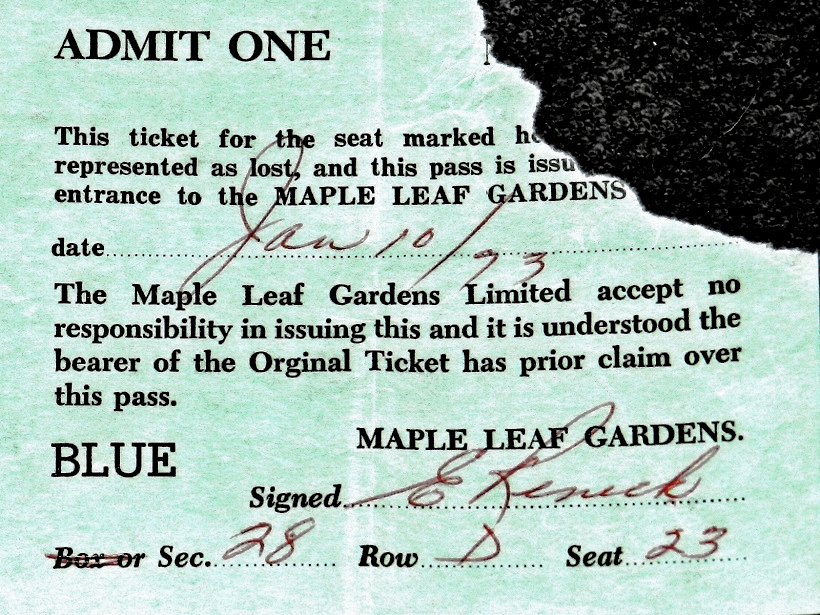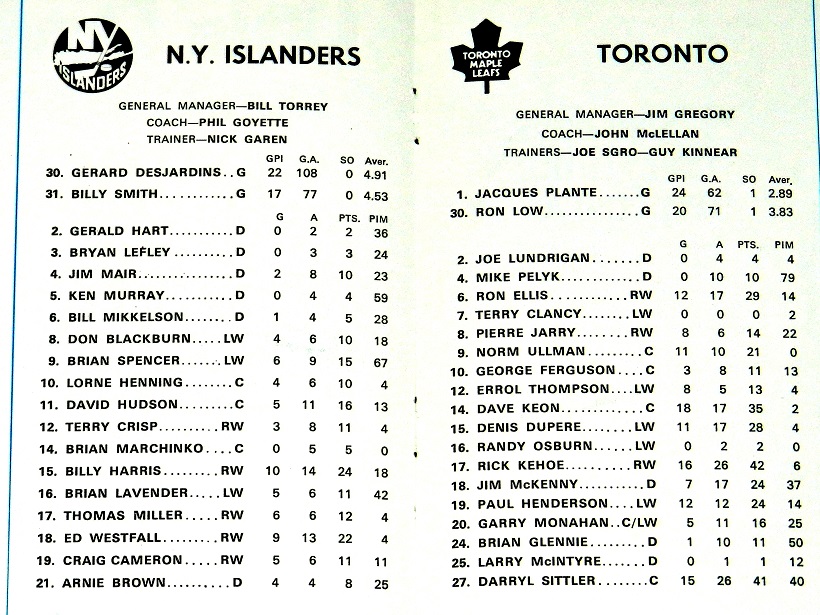 Among the original New York Islanders (roster, above), only two players — goalie Billy Smith and center Lorne Henning — would still be with the club on May 24, 1980 when it won the first of four consecutive Stanley Cups. General manager Bill Torrey built the Cup dynasty, starting in the 1973 NHL draft with defenseman Denis Potvin (No. 1 overall). Torrey later drafted Clark Gilles (No. 4 in 1974); Bryan Trottier (22nd in 1974) and Mike Bossy (15th in 1977). After Phil Goyette and Earl Ingarfield split the coaching chores in '72–73, Torrey hired Al Arbour for the club's second season. The rest, as they say, was history.
EMAIL: HOWARDLBERGER@GMAIL.COM