TORONTO (Jan. 22) — There has been nothing overly special about the Toronto Maple Leafs during the past six weeks. Since mid–December, when the club sported a gaudy 19–5–6 record, it has built a rather pedestrian 9–6–2 mark in 17 games. Losses have occurred against supposedly inferior teams such as Arizona, Seattle, St. Louis, Detroit and Montreal. Victories over top rivals Tampa Bay, Colorado and Winnipeg have prevented a slide, but the Leafs are not performing as they did while breezing through November for a second consecutive year. Of particular concern, at the moment, are veteran stalwarts John Tavares and Mark Giordano, who are running on fumes.
This has been a mid–season pattern for Tavares, 32, as captain of the Leafs, while Giordano, 39, is laboring after a much–increased workload during Morgan Rielly's 15–game absence (Nov. 23 to Dec. 27) with a knee injury.
A quirk in the club's schedule, however, could be advantageous.
During the All–Star break, the Leafs have a long and unusual respite. After hosting Boston on Feb. 1, the team does not play again until a road match at Columbus, Feb. 10. This should allow for oldsters Tavares and Giordano to recharge their batteries. Which will be required before a stretch of 10 games in 21 nights (Feb. 11–Mar. 2).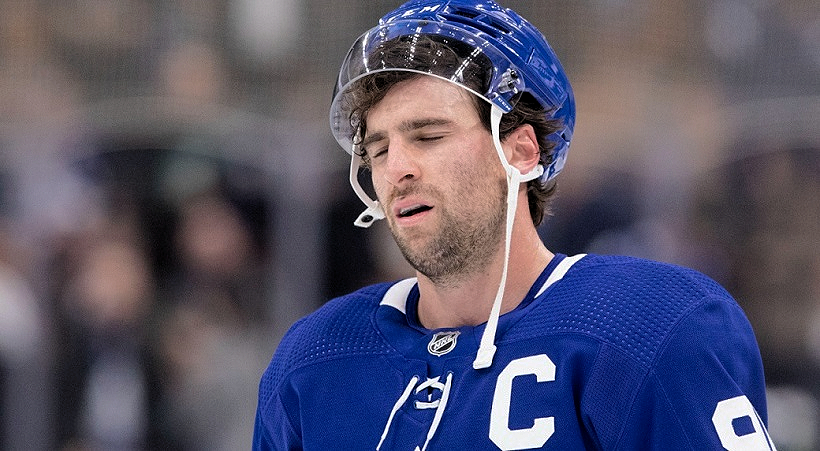 LEAFS CAPTAIN JOHN TAVARES IS SCUFFLING RIGHT NOW. HE NEEDS SOME REST. GETTY IMAGES
The Leafs travel outside the Eastern time zone for only six of their remaining 35 games; most during a final western swing (Feb. 26–Mar. 4) through Seattle, Edmonton, Calgary and Vancouver. The others are single road matches at Chicago (Feb. 19) and Nashville (Mar. 26). Of further benefit, given the club's excellent 17–3–4 record at Scotiabank Arena, should be eight of the next nine matches on home ice, beginning Monday night against the New York Islanders. The Rangers, Ottawa, Washington, Boston, Columbus, Chicago and Montreal also come to town, with only that Feb. 10 game against the Blue Jackets on the road. This, of course, will balance out over the concluding eight weeks of the schedule, with the Leafs playing 17 of their final 26 games on foreign ice — seven of eight between Feb. 19 and Mar. 7, then 10 of 14 to end the season. So, any opportunity to make a run at Boston for first place in the Atlantic Division will likely occur during the spate of home encounters beginning Monday through Feb. 18 (the Bruins will need to cooperate by cooling off for the first time this season; at a sizzling 37–5–4, the Beantowners are still on pace to eclipse Montreal's NHL record of 132 points, set in 1976–77).
IT CAN'T BE BRENDAN'S DREAM
In the midst of this schedule maelstrom will occur the NHL trade deadline (on Mar. 3). Further evidence during Saturday night's overtime defeat (and blown 2–0 lead) at Montreal should behoove general manager Kyle Dubas to beef up before the trade embargo. As is custom when the Leafs and Canadiens clash at the Bell Centre, the home side laid on the body in the first half of the game, even while being outskated in the opening period. This again served to expose the soft underbelly of the visitors, eliminating Auston Matthews, Mitch Marner and William Nylander as factors in the final 40 minutes. There remains no more–certain way to neutralize the talented Maple Leafs than by a physical assault on their gifted forwards. Neither is there a lot of muscle in the mid–to–lower portion of the roster… nor, of greatest concern, on the blue line. But, these are the age–old issues of the Dubas era.
Though improvements can be made, adroitly, at the trade deadline, it's not so much a matter of what the Leafs might add. Rather, the problem continues to be what they already have. Which compels such detractors as yours truly to marvel over the same nucleus being granted, astonishingly, a seventh opportunity to achieve the Stanley Cup minimum: winning a single round. While enormously skilled, Matthews, Marner and Nylander haven't shown enough fire in their bellies to match playoff precondition through the course of seven games. To envision the same group answering the call over two months and four grueling rounds is mere fantasy. Particularly amid the notion of likely having to conquer Division rivals Tampa Bay and Boston just to advance 50 percent toward a championship.
Such is the on–going impotence of the Shanaplan, soon to embark on its second decade. And, which I contend was not blue–printed for passive skaters that are the playing antithesis of the Maple Leafs president — in his time (1987–2009), the quintessential power–forward; a hostile, at times churlish winger who compiled 2,489 career penalty minutes and multiple suspensions while riding 656 goals into the Hall of Fame. No person that watched Brendan Shanahan bluntly patrol the boards can comprehend this Toronto team being a likeness or reflection.

BRENDAN SHANAHAN (LEFT) RODE SHOTGUN WITH STEVE YZERMAN ON THREE STANLEY CUP TEAMS IN DETROIT.
Yet nothing changes… from one aborted playoff adventure to the next.
This happens largely because the issue–avoiding Toronto media examines such irrelevant topics as whether Matthews, if he "heats up", can strike the 50–goal plateau this season. Like that matters one iota in the grand scheme. Such perpetual soft–soaping — consumed virtually every day by hopeful fans — allows for ownership and the front office to sit back and fantasize about different results with the same, placid foundation. And, it foreshadows continued misstep given that all the playoff culprits are up for contract renewal by the summer of 2025.
FROM THE VAULT — Maple Leaf Gardens programs in the late–1960's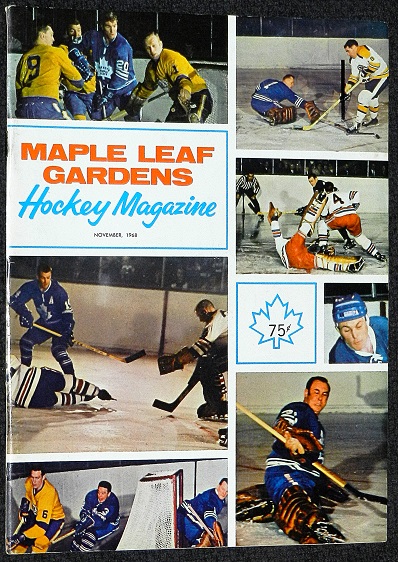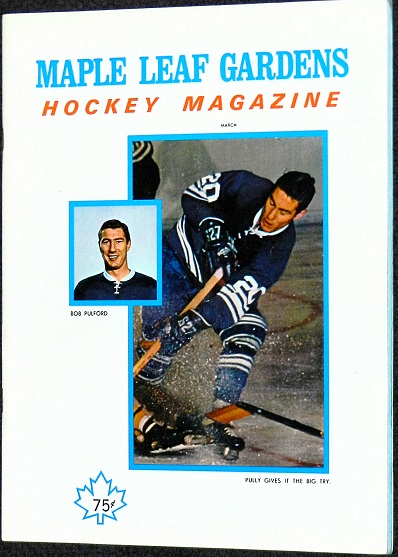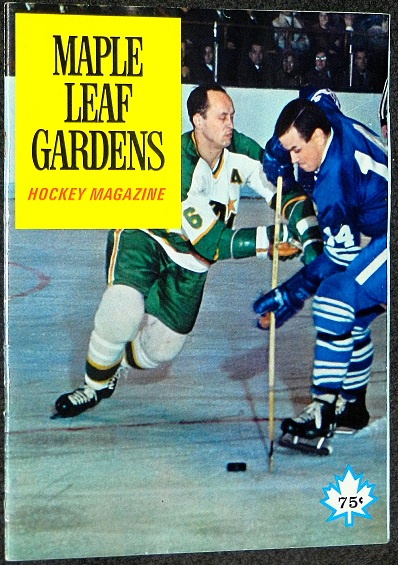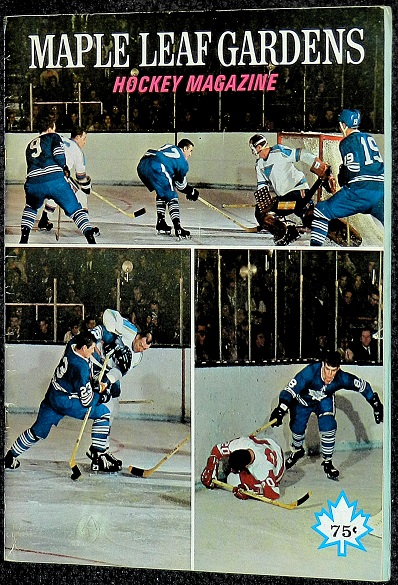 As part of my hockey collection are program covers (above) from Maple Leafs home games in 1968–69 and 1969–70. The line–ups, below, are from the home opener to the '68–69 season, a night that remains part of franchise lore for rookie defenseman Jim Dorey of Toronto — in his second NHL game — going berserk against the Pittsburgh Penguins and earning a then–record 48 penalty minutes (Dorey's total now stands 11th, all time; the current mark of 67 minutes dates to Mar. 11, 1979 when defenseman Randy Holt of the Los Angeles Kings erupted against the Flyers at the Spectrum in Philadelphia). Eight members of the Maple Leafs on Oct. 16, 1968 would go on to become head coaches in the NHL: Marcel Pronovost, George Armstrong, Murray Oliver, Bill Sutherland, Floyd Smith, Bob Pulford, Pat Quinn and Rickey Ley.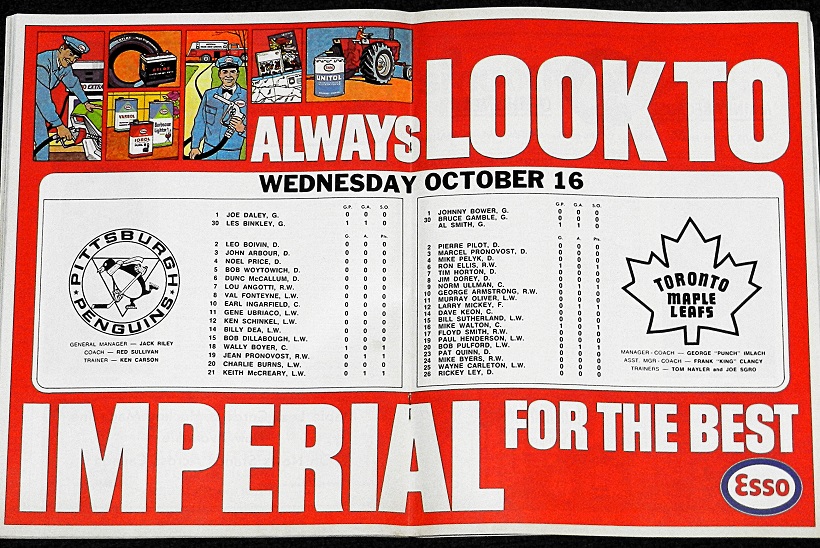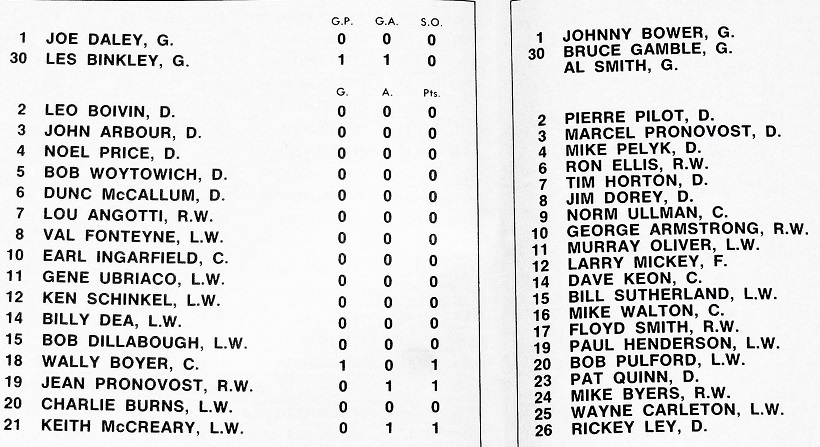 EMAIL: HOWARDLBERGER@GMAIL.COM