TORONTO (Jan. 20) — From its earliest days in the middle–1980's as Canada's first all–sports television network, TSN has valued the presence of female voices. This may be disputed by Sheri Forde and Natasha Staniszewski, both of whom, in recent years, were unfairly and unceremoniously cast aside by the parent company, Bell Canada. But, the network continues to employ a number of the top female broadcasters in North America.
The topic of inclusion became paramount again this week upon the refusal of Philadelphia Flyers defenseman Ivan Provorov to partake in a Pride Night tribute. Clearly, it was his prerogative to decline involvement, even if it created a firestorm of controversy. For those unaware, here is the dictionary definition of inclusion: the practice or policy of including and integrating all people and groups in activities, organizations, political processes, etc., especially those who are disadvantaged, have suffered discrimination, or are living with disabilities. Whether that translation involves women in sports broadcasting is a matter of opinion, but TSN had always been on the cutting edge.
Incidentally, and by comparison, the National Hockey League, which, in my view, correctly concluded that "players are free to decide which initiatives to support, and we continue to encourage their voices and perspectives on social and cultural issues", has not demonstrated such inclusivity. In the 23rd year of the 21st century, is there a female head or assistant coach in the NHL? No. Is there a female referee or linesman (as in the National Football League and National Basketball Association)? No. Does a woman hold a dominant position in the league's head office? No. Is there a female Governor in the NHL? No. This is not to imply that the NHL has avoided the issue — under commissioner Gary Bettman, diversity, inclusion and Pride are burgeoning staples — but, hiring practices still lag rather enormously. Not so in broadcasting north of the border; from Day 1, a proponent of gender equality.
Those of vintage (or, older people) will remember Diana McDonald, Teresa Hergert (now Kruze) and Terry Leibel among the pioneering voices of TSN, which launched on Sep. 1, 1984. In the ensuing years, the network has employed such outstanding broadcasters/reporters as Forde, Staniszewski, Jennifer Hedger, Lisa Bowes, Linda Moore, Kate Beirness, Kayla Gray, Sarah Davis, Lindsay Hamilton, Tessa Bonhomme, Andi Petrillo, Laura Diakun, Nikki Reyes and Kara Wagland. The latter, in my view, is underutilized, as proven by her appearance, Thursday afternoon, on the network's signature Overdrive show, simulcast on TV and radio. Subbing for Jamie McLennan, Wagland offered her expertise and easygoing manner alongside Bryan Hayes and Jeff O'Neill. It was a wonderful performance by the Cambridge, Ont. native, who cut her teeth at the nearby Kitchener affiliate of CTV. Today, she hosts TSN and CTV's coverage of the NFL. Her appearance on Overdrive provided much more than the gimmicky elements of the leading afternoon–drive program — Al's Brother, Fred's Uncle, Irving's Grandmother — or whatever else the show concocts. Yes, Bryan and the boys like to have fun… but, credibility is paramount, and Wagland provided superb content in her three hours of work. The program should call on her more often.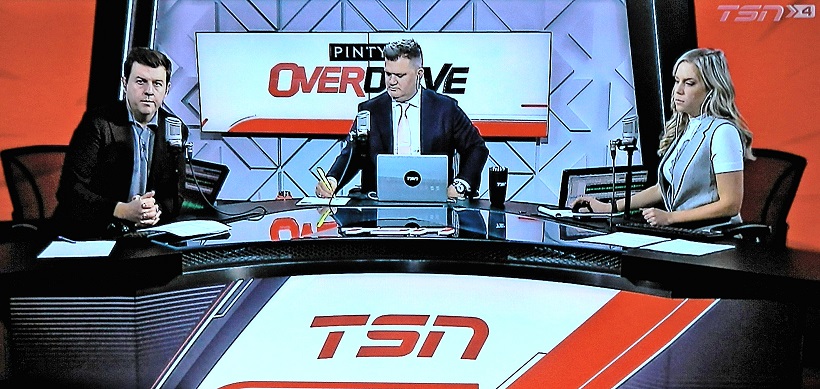 KARA WAGLAND STRUCK ALL THE RIGHT NOTES IN HER APPEARANCE, THURSDAY AFTERNOON, ALONGSIDE BRYAN HAYES AND JEFF O'NEILL ON TSN's SIGNATURE OVERDRIVE PROGRAM.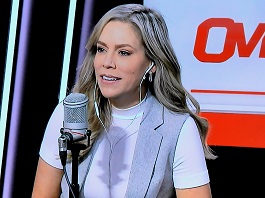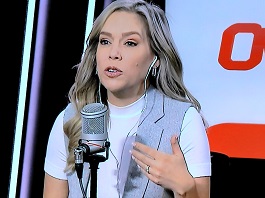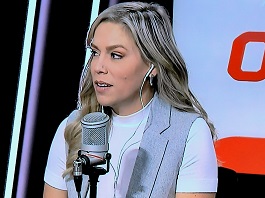 FRIDAY THOUGHTS: Barring a miracle, the Maple Leafs and Tampa Bay Lightning will clash for a second year in the opening round of the Stanley Cup playoffs. Still to be determined is home–ice advantage, which may be more theory than principle. On one hand, the Leafs, after years of frittering away points at Maple Leaf Gardens and the Air Canada Centre, have finally become dominant in their home arena: 48–11–6 in 65 games over the past two seasons; 17–3–4 this year. Only Boston, with 21 home victories, is better (the Lightning almost equal at 17–4–1). Problem is, the Maple Leafs have lost a decisive playoff match on home ice in the past three attempts; two of them against inferior opponents Columbus and Montreal. Toronto's best performance — still not good enough — was the 2–1 defeat against Tampa Bay, last May 14, that established a North American pro sports record of six consecutive eliminations in the first playoff (or qualifying) round. So, does it truly matter which of the Maple Leafs or Lightning secures the extra home date this spring? Neither is there much to choose from in road records: Toronto is 11–8–3; Tampa Bay 12–10–0. Rather, it appears the survivor will be dependent, as usual, on superior goaltending and the ability of its star players to perform in the clutch. And, this is where the Lightning, until proven otherwise, holds a demonstrated edge over the Leafs. No NHL team would hope to encounter Andrei Vasilevskiy in a playoff round, even if Colorado dispatched the two–time defending champs in the Cup final last spring. Can Matt Murray or Ilya Samsonov be expected to outduel Vasilevskiy in a seven–game series? Not by any objective measure. Nikita Kucherov, Steven Stamkos, Brayden Point, Victor Hedman and Corey Perry have routinely adapted to the post season much better than Auston Matthews, Mitch Marner, William Nylander, John Tavares and Morgan Rielly. The presence of Hedman, alone, is an established prerequisite for Stanley Cup success; the Leafs haven't had a Norris Trophy candidate since the late Borje Salming, 45 years ago. There's been lots of bitching and moaning from Leafs Nation about how "unfairly" the divisional playoff format impacts the team. Yet, Boston and Tampa Bay have thrived in the identical situation. In the end, and barring injury, a Toronto opening–round triumph for the first time in 19 years will be contingent on Matthews, Marner, Nylander and Rielly outperforming Kucherov, Stamkos, Point and Hedman. With particular emphasis on Murray or Samsonov outclassing Vasilevskiy. Recent history is not on Toronto's side, regardless of home–ice "advantage"… Matthews may have played his best game of the season on Thursday night, scoring twice in a dominant, 4–1 victory over Winnipeg at Scotiabank Arena. But, how many of us would have collected money on a bet that the reigning Hart Trophy winner would trail his former teammate, Zach Hyman, in points past the midway mark of the schedule? Hyman has 52 points in 46 games for Edmonton; Matthews, 51 in 44 for the Leafs… Also incredible is anyone — including Matthews — claiming the Hart Trophy in the Connor McDavid era. As per usual, McDavid is on a planet of his own this season, leading the NHL in goals (39) and points (86) after 47 starts, 14 more points than line–mate Leon Draisaitl and a whopping 35 more than Matthews… Ultimately, and for whatever it's worth, "best team in Canada" honors will likely come down to the Leafs or the Oilers… I agree with the NHL: Ivan Provorov had every right to refuse wearing a Pride jersey in the warm–up at Philadelphia this week. Just as Alex Ovechkin chose to not condemn Russian leader Vladimir Putin after his country's uncontested and cruel invasion of Ukraine. And, as the greatest player in NHL history, Bobby Orr, threw his public support behind Donald Trump in the 2020 U.S. federal election. These stances were not popular. But, our forefathers battled and died for freedom of choice and expression. Which, under no circumstance, should be overridden… By the way, Sportsnet has also done very well in the female host/reporter category, with Martine Gaillard, Evanka Osmak, Caroline Cameron, Christine Simpson, Hazel Mae, Cassie Campbell–Pascal, Jennifer Botterill, Carly Agro, Emily Agard and others. I'm particularly impressed by the huge step Botterill has taken as an intermission analyst on Hockey Night In Canada…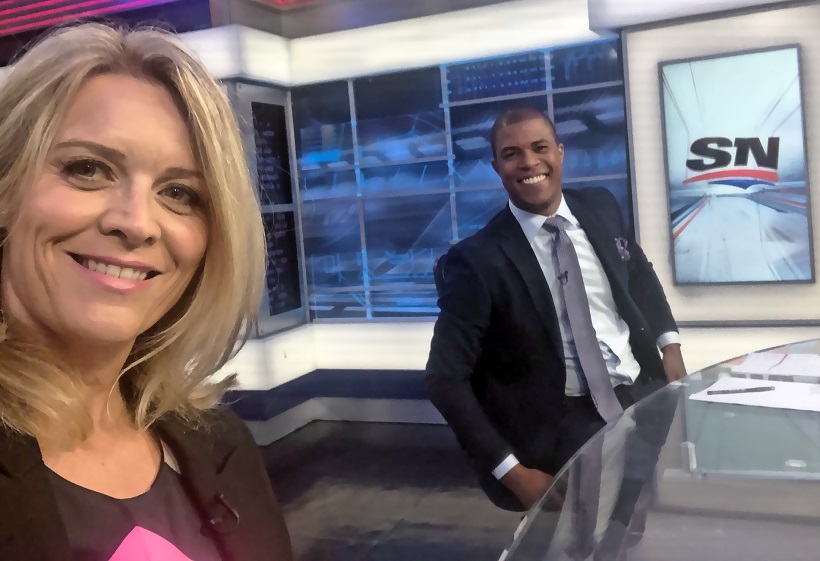 MARTINE GAILLARD, HERE, ALONGSIDE SPORTSNET COLLEAGUE ERIC THOMAS, IS AMONG THE FEMALE SPORTS BROADCASTING PIONEERS IN THIS COUNTRY. ALWAYS ON TOP OF HER GAME.
I am often critical of the soft–soap handling of the Maple Leafs by the local Toronto media. No team with a 55–year void of playing for the Stanley Cup should be accorded kid gloves. But, I was impressed with Kevin McGran's catchy and appropriate lede to his Toronto Star game story after the contentious Leafs–Florida match on Tuesday night here in town: "It was two imperfect teams playing an imperfect game with imperfect officiating," Kevin wrote. "In other words, it was a perfect game. Chaos. Offence. Snarl. It even had a penalty shot. Then came overtime." An excellent and succinct summation by the veteran beat writer… Many observers think differently, but I suspect the Buffalo Bills will straighten out their issues and easily subdue the Cincinnati Bengals in Sunday's NFL Divisional playoff clash at Highmark Stadium. Something on the order of 34–20… Perhaps this is the year the Bills and Maple Leafs both get over their humps (or mountains) — Buffalo into the Super Bowl and Toronto past Round 1 of Stanley Cup toil. Anyone else looking to a Bills–San Francisco fracas for the NFL championship?… Kara Wagland did make a good point on Overdrive, suggesting the Bills, minus injured defensive stalwart Von Miller, may have difficulty matching expectation… I wonder if Von Miller knows that the late Van Miller was voice of the Bills during the club's four consecutive Super Bowl appearances (1990–93) with Jim Kelly, Thurman Thomas, Bruce Smith and Co.?… No documentary or movie about the late Leafs owner, Harold Ballard, can be boring. Offside: The Harold Ballard Story airs this Sunday at 8 p.m. on CBC. Though Ballard had a love/hate relationship with reporters (he loved to hate most of them), I somehow remained in his good graces during the few years before his death (on Apr. 11, 1990). It was early in my radio career — still long before the all–sports format — and my boss from 1988 to 2003, Scott Metcalfe, liked my propensity to stir the pot. He made sure I covered the messy soap opera involving Ballard's partner, Yolanda MacMillan, and his combative children: Bill, Mary–Elizabeth and Harold Jr., all of whom fought against MacMillan over Harold's estate. What a donnybrook that was. I'll never forget running through courthouse parking lots in 1989 and '90 with my trusty tape recorder alongside the frantic and dramatic Yolanda, hoping for a catchy quote. Throughout 1989, I read sportscasts from 8 a.m. to 1 p.m. on Saturdays and Sundays for CJCL AM–1430 (to become The FAN–590 in 1992). On a slow morning, I would occasionally telephone Ballard at his Georgian Bay cottage. Invariably, Yolanda would answer the call and ensure me that her bombastic partner was unavailable. Virtually every time, I would hear Ballard, in the background, bellowing, "who is it on the line?" Yolanda would reply "It's Howard Berger, dear" and Harold would instruct her to "give me the Goddamned phone!" Seconds later, he'd ask "what do you want today, pest?" I always came up with loads of sound for my shift. I'll never understand why Harold took my calls. But, I enjoyed chatting with the old bear.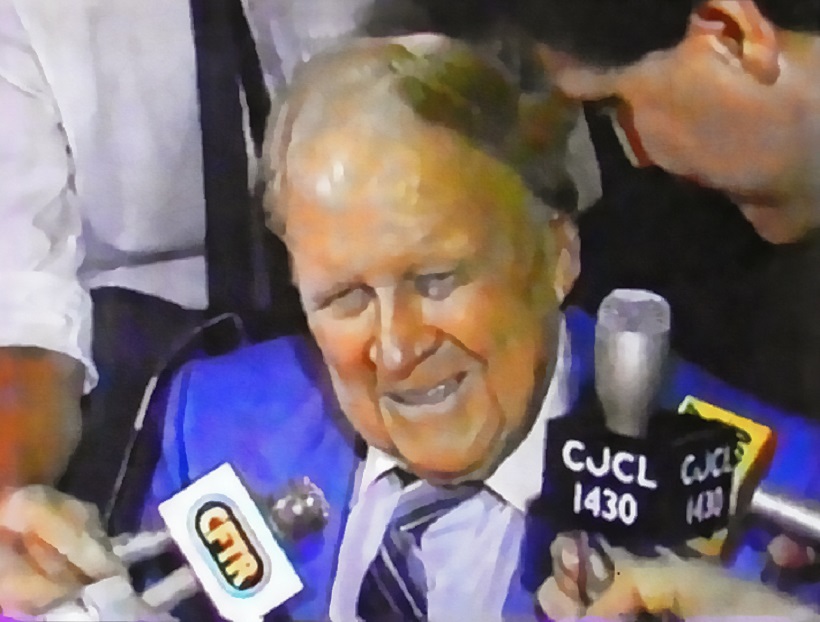 TV IMAGE OF ME, WITH MY CJCL–1430 MICROPHONE, INTERVIEWING HAROLD BALLARD IN 1989.
END OF A MUSIC ERA
A bit off the usual topic, but I was saddened, on Thursday night, to learn about the passing of rock–music legend David Crosby, in his 82nd year. My favorite band of all time included David and his cohorts Stephen Stills, Graham Nash and (occasionally) Canadian icon Neil Young. I saw the four of them at the most–memorable concert of my life: an outdoor, evening show in July 2006 at the famed Hollywood Bowl in Los Angeles. During my married years, when I'd spend much of the hockey off–season at my in–laws' house in southern California. Crosby, Stills, Nash & Young performed for the first time in front of a large gathering at the Woodstock Music Festival (August 1969) in upstate New York, debuting their classic hit Suite: Judy Blue Eyes, which remains among my top–three favorite songs. I also saw CS&N (without Young) here in Toronto; in Niagara Falls, New York, and on one of the early dates with my future wife, Susan, at the Greek Theater in Los Angeles. May David Crosby rest in peace.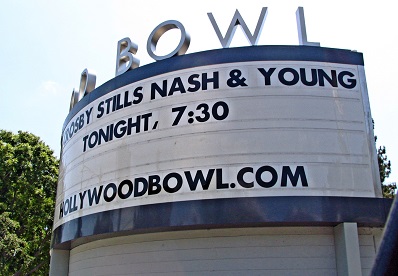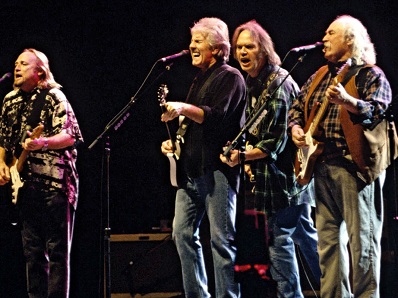 WHAT A CONCERT IT WAS IN JULY 2006, UNDER THE LIGHTS AT THE FAMED HOLLYWOOD BOWL.
EMAIL: HOWARDLBERGER@GMAIL.COM