TORONTO (Feb. 2) — It was the night of Dec. 2, 2014. I had arrived home from the Air Canada Centre after watching the Toronto Maple Leafs beat the Dallas Stars, 5–3. Turning on my computer, I saw the heartrending news that hockey's all–time gentleman, Jean Beliveau, had passed away at 83. The bulletin was less–than shocking as the great captain of the Montreal Canadiens was in declining health. Still, it occurred just more than a week after the Big Irishman, Pat Quinn, had succumbed to a liver ailment, thereby engendering double sadness. And, it began the inevitable pattern of lost heroes from my youth — a steady and mournful progression that continued this week when the Golden Jet, Bobby Hull, joined the pantheon of stately souls gone… but never to be forgotten.
The list, in fact, is rather staggering. Several have departed well before their time, including the immaculate shooters Mike Bossy and Guy Lafleur, who left us last April, precisely one week apart. They combined for 1,133 National Hockey League goals and nine Stanley Cup championships with the New York Islanders and Montreal.
Just more than two months ago came the gut–punch of Borje Salming choosing to end his life peacefully, before encountering the sequential ravages of Amyotrophic Lateral Sclerosis (or Lou Gehrig's Disease). The most–stylish and gifted defenseman in Maple Leafs history had been diagnosed with ALS late last summer. He was only 71; until the end, a magnificent physical specimen. Tragedy struck fans of the original Winnipeg Jets when Dale Hawerchuk died of stomach cancer in the midst of the COVID–19 pandemic (Aug. 18, 2020). He was only 57; remembered for playing in the long shadow of Wayne Gretzky during the mid–1980's, yet a remarkable talent who posted seasons of 130 and 121 points. Tony Esposito and Rod Gilbert faced one another in numerous big games while starring, in the late–1960's and most of the 70's, for the Chicago Blackhawks and New York Rangers. Tony O., the Hall–of–Fame goalie and brother of Phil Esposito, fell to pancreatic cancer on Aug. 10, 2021, only nine days before cancer took Gilbert; the latter having just turned 80. On the same day in May 2016 came news that two gifted forwards had died well before their 70th birthdays: Rick MacLeish, a lightning–quick 50–goal shooter and two–time Stanley Cup champion with the Philadelphia Flyers, then Tom Lysiak, drafted second overall (behind Denis Potvin) by the Atlanta Flames in 1973; with seasons of 82 (twice), 81 and 77 points on his NHL ledger.

Fans of the early Buffalo Sabres remember the "French Connection" line of Gilbert Perreault, Richard Martin and Rene Robert, which combined for an astonishing 291 points (131 goals) in 1974–75, leading the club to the Stanley Cup final in its fifth NHL season. Today, only Perreault remains. Martin, 59, died while driving his car on Mar. 13, 2011. He suffered from Hypertensive heart disease, a complication of high blood pressure. Robert, just 72, suffered a heart attack on June 18, 2021 and was taken off life support four days later in Port Charlotte, Fla.
Hockey's premier star in the years prior to expansion died on Aug. 7, 2018 at 78 years of age. Stan Mikita won the Art Ross Trophy as the NHL's leading scorer in four out of five seasons beginning in 1963–64. He added the Hart Trophy as MVP in 1967 and 1968. Riding shotgun with Bobby Hull, Mikita compiled 1,467 points in his 21–season career, all of it spent with the Blackhawks. In June 2015, while encountering Lewy Body Dementia, it was written that Mikita had no memory of his former life, including his stellar hockey career. A post–mortem found that he had suffered from Stage 3 Chronic Traumatic Encephalopathy (or CTE), a scourge that has stricken many former hockey and football players. The captain of the Blackhawks during most of the 60's, defenseman Pierre Pilote, died of cancer on Sep. 9, 2017. He was 85 and the precursor to Bobby Orr among gifted offensive blue–liners, with a record 59 points in 1964–65. The man that preceded Orr as winner of the Norris Trophy (in 1967) — and famously predicted that no one but No. 4 would cop the prize in the ensuing years — died on Mar. 9, 2019. Harry Howell was 86, having spent 18 years (1952–69) on defense for the New York Rangers. He was also prophetic, as the Boy Wonder from Parry Sound, Ont. reeled off eight consecutive Norris Trophy wins, beginning in 1968.
Two NHL stars from the 50's and 60's have died in recent years. Andy Bathgate was a constant scoring threat, leading the Rangers in goals for eight consecutive seasons (1956–57 to 1962–63). Dealt to the Maple Leafs in a controversial, multi–player transaction, Bathgate helped Punch Imlach win his third consecutive Stanley Cup, scoring the decisive goal against Detroit in 1964. He died of Alzheimer's on Feb. 26, 2016, at 83. No player has won the Stanley Cup more often than the Pocket Rocket, Henri Richard, who played on 11 championship teams with Montreal; the first five (1956–60) alongside his famous brother, Maurice. It was Henri who slid into the Detroit net with the puck beneath him to win the 1966 title at Olympia Stadium. The overtime marker remains among the most–contentious of Cup winners. Richard died on Mar. 6, 2020, at 84, after a long struggle with Alzheimer's.
No hockey death in the past 10 years has resonated like that of Gordie Howe, who passed, at 88, on June 10, 2016. Considered alongside Orr and Gretzky as the greatest performer in NHL history, Mr. Hockey played a full, 80–game season in 1979–80 (with the Hartford Whalers) at a spry 52 years of age. It stands, in the opinion of many, as the most–remarkable individual achievement of all time. Nearly 45 years after suiting up for the last time, Howe trails only Gretzky, Jaromir Jagr and Mark Messier in career points; only Gretzky and Alexander Ovechkin have eclipsed Gordie's total of 801 NHL goals. How sadly appropriate it was that Howe died exactly one week after another iconic sports figure, heavyweight boxer Muhammad Ali. Legends of yesterday; today… and for all time.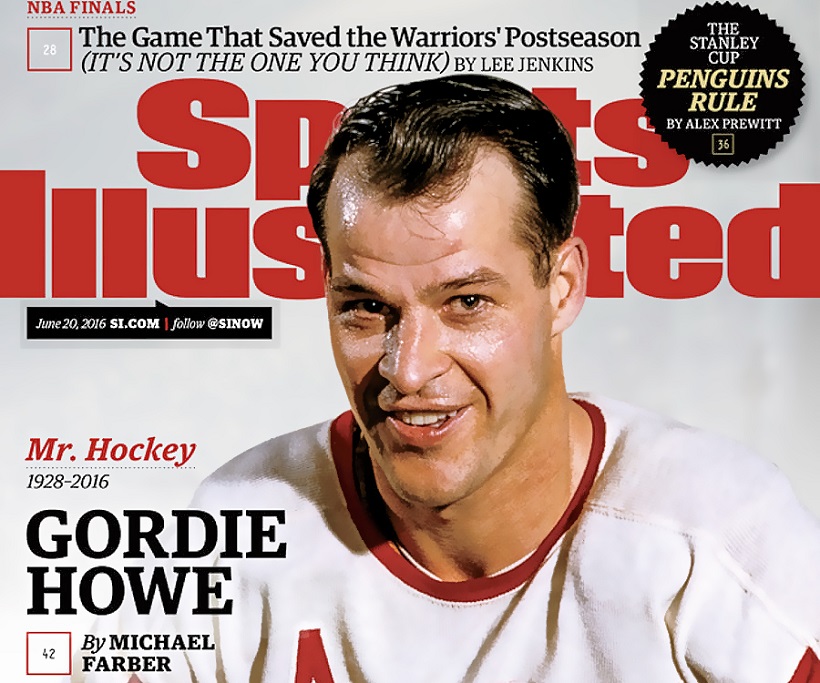 The departures that have most impacted me, of course, are those involving the Maple Leafs. Particularly the former players I had the privilege of coming to know during my 17 seasons (1994–2010) covering the hockey club, home and away, for The FAN–590, Canada's first all–sports radio station. I was terribly saddened, last June, to learn that Jim Pappin died shortly after incurring cancer. He was 82. Pappin had a wonderful sense of humor; we shared many laughs during his years as a pro scout for the Blackhawks, to whom he was dealt in a terrible trade by Punch Imlach. The old–school general manager/coach acquired the aforementioned Pierre Pilote at the end of his Hall–of–Fame career. Pilote spent one mediocre campaign (1968–69) on the Leafs blue line, before retiring. Pappin, conversely, enjoyed seasons of 41,36,32 and 30 goals in Chicago while skating on the top forward unit with Pit Martin and Dennis Hull. I will always remember the great chats I had with Jimmy during my time covering the Blue and White. The Entertainer, Eddie Shack, died of cancer at 83 on July 25, 2020. Eddie was a character unlike any in the modern NHL, remaining in the public eye long after his playing career. I remember needing an interview subject during the 1987–88 season for an intermission segment on the Leafs radio broadcast; it was the year before CJCL AM–1430 hired me. Feeling pressure two days before my deadline, I got in the car with my tape recorded and drove to Shack's residence on Oriole Pkwy. in midtown Toronto, knocking on his door unannounced. I told Shack of my predicament and he readily invited me in for a chat — a gesture I'll not soon forget.
The sadness was overwhelming on Oct. 30, 2019 when news came that Jim Gregory had died at 83. The general manager of the Leafs during my youth (from 1969 to 1979) was universally regarded among the most–revered figures in the game — a genuinely nice man. At the 2011 NHL draft in St. Paul, Minn., Gregory looked haggard after being diagnosed with Amyloidosis, a rare blood disorder. He had bruises on his face and arms. I wasn't confident I'd see him again after the event. But, Jim recovered and lived for more than eight years. In January 2019, nine months before his death, we bumped into each other on Super Bowl Sunday while picking up dinner at Dante's, an Italian restaurant in north–Toronto. I thrust out my arm to greet him, only to have Jim say "what's this shaking hand business?" Whereupon he wrapped me in a bear hug. It was a special moment that I'll always remember.
Red Kelly died with anniversary flair on May 2, 2019, 52 years to the night he and the Maple Leafs last won the Stanley Cup. Kelly was a key figure on all four championship teams under Imlach, who adroitly converted him from defense to center after a trade with Detroit in 1960. The first winner of the Norris Trophy had also won four titles with the Red Wings. He later coached a promising Leafs team that featured such stars as Salming, Darryl Sittler, Lanny McDonald, Ian Turnbull, Dave (Tiger) Williams and Mike Palmateer. His revelation of "Pyramid Power" in the 1976 playoffs became rather Herculean after Sittler, as instructed, placed his stick–blade under a makeshift edifice in the Toronto dressing room… then scored a record–tying five goals against Philadelphia. Kelly had also been behind the Leafs bench when Sittler, 2½ months earlier, erupted for 10 points against the Boston Bruins at Maple Leaf Gardens. It remains, nearly half–a–century later, the single–game standard in the NHL.
No two deaths impacted me more than Johnny Bower and George Armstrong, the Stanley Cup stalwarts of the 60's that I came to know best during my radio career. Bower, the most–beloved figure in Maple Leafs history, died after a brief illness on Boxing Day 2016. He had turned 92 the previous month. In May of that year, I visited Johnny and his wife, Nancy, at their Mississauga, Ont. home. It ranks among the most–memorable hockey afternoons of my life. The former goalie, hunched over from his nearly two decades between the pipes, took me for a short walk to a park that had been named in his honor. He looked on with such pride and gratitude toward the wooden sign at the entrance to the grassy field. His bride lived for nearly five more years before passing in November 2021. John and Nancy were such a marvelous couple — so friendly and engaging. I miss them.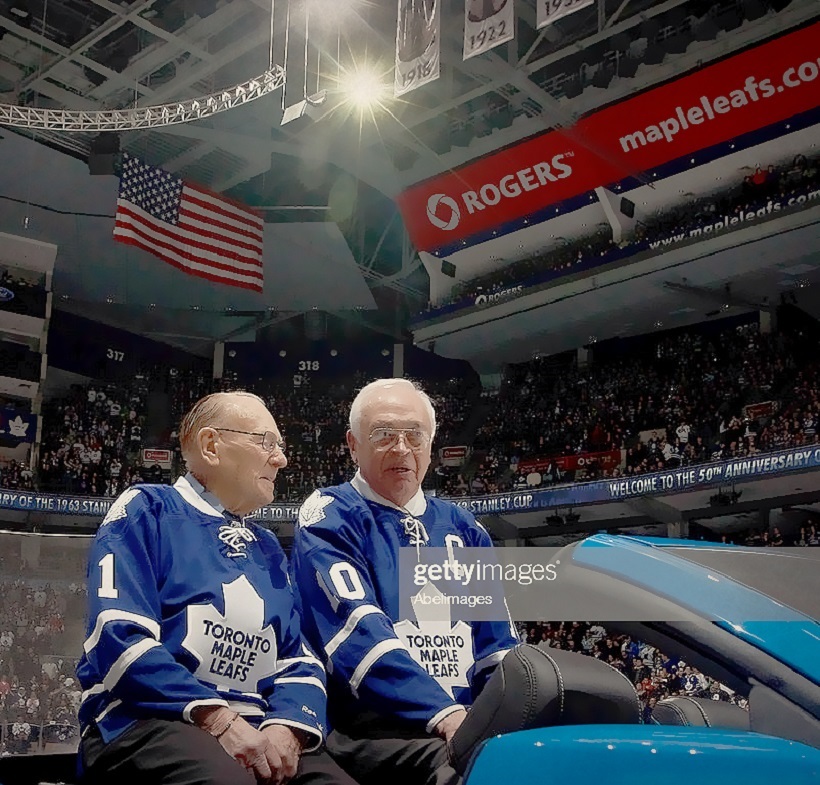 In my current capacity at Benjamin's Park Memorial Chapel, I was working a graveside funeral service when a message on my Android device informed me that Armstrong had died. It was Jan. 24, 2021. I briefly stepped away and cried. For his 90th birthday, just more than six months earlier, I'd been on the phone with The Chief, captain of all four Leafs Stanley Cup teams under Imlach. We chatted for a blog in this space (https://bit.ly/2Cfzn6T). He sounded so happy and full of life, regaling me with his wicked memory and sense of humor. George was such a character. In his long–time capacity as a Junior scout with the Leafs, he would sit in a private booth directly above and behind my perch in the Air Canada Centre press box. I knew he arrived when bits of popcorn began falling on the table in front of me… or on my head. I'd look up and over my shoulder at the great Leafs captain grinning like a mischievous school boy. On many occasions, I would join The Chief in his lair between periods. Just to gab.
He was such a wonderful man.
EMAIL: HOWARDLBERGER@GMAIL.COM