TORONTO (Feb. 18) — Champagne corks are popping in Leafs Nation today… led, of course, by the cheerleading, club–owned media. General manager Kyle Dubas has finally "swung for the fence" in executing the most–remarkable trade for the club since Cliff Fletcher acquired Doug Gilmour 31 years ago. Ryan O'Reilly is "exactly the player the Leafs need" for a deep playoff run. The GM has finally "gone all in" to push his team over the top.
And, other–such platitudes, most of them predictable (or nauseating).
So, now the truth: Unless the long–failed nucleus of the Maple Leafs catches fire in a bottle for the first time, this trade will not only seal the fate of Dubas, but go down as one of the most–destructive since Brian Burke sold the farm for Phil Kessel. In O'Reilly, the Leafs have obtained a player four years past his prime, which is the median juncture for most Toronto acquisitions (Mark Giordano being last season's example, but the list is long). Though he authored an impressive playoff narrative with St. Louis in 2019, O'Reilly evidently wanted to stay with the Blues; is almost certainly a rental component; is having, far and away, the worst season of his career… and does nothing to solve the Leafs' glaring issues on defense and in goal. For that, Dubas relinquished whatever is left of the club's immediate draft future: a first and second–rounder this year. Toronto doesn't have a pick until Round 5.
Only in our daft hockey market, where fans and media are pleading for a smidgen of playoff success and want so–desperately to believe the club is moving in an upward trajectory, could this be a "swing for the fence."
From my perspective, it's more like an infield single, in which the runner will soon be picked off first base.
As for those who suggest Dubas isn't done before the trade deadline… well, it's difficult to comment on a deal that hasn't been made. But, not nearly as difficult to dread, from a Leafs perspective, what might come next.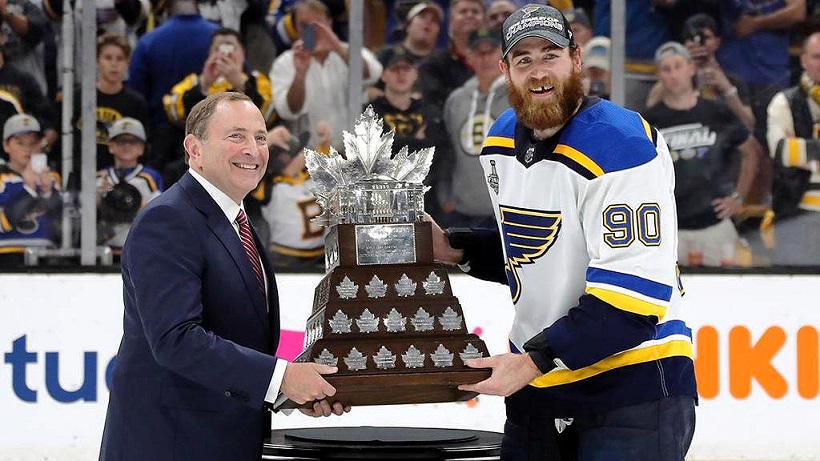 RYAN O'REILLY ACCEPTS THE CONN SMYTHE TROPHY FROM NHL COMMISSIONER GARY BETTMAN AFTER HELPING LEAD ST. LOUIS TO A SEVEN–GAME STANLEY CUP VICTORY OVER BOSTON IN 2019. 
Part of the illusionary belief system here in Toronto is that the Maple Leafs have traded for the Ryan O'Reilly of 2019: the player who amassed a career–high 77 points in the regular season, then put up 23 more in 26 playoff games, winning the Conn Smythe Trophy and leading the Blues to their lone Stanley Cup title. Actuality would suggest, however, that Dubas has no more acquired that O'Reilly than he did the Norris Trophy version of Giordano a year ago. O'Reilly sustained a fractured foot while blocking a shot against Minnesota on Dec. 31. He missed 14 games and returned last Saturday for a 6–5 overtime victory at Arizona. In 40 appearances this season, he has 12 goals and 19 points. Most–astonishing for the former Selke Trophy winner is a pitiful minus–24 on a team that has thrown in the towel, but is hardly an embarrassment at 26–25–3… on a three–game win streak.
Bryan Murphy follows the Blues for The Sporting News website. He recently wrote this about the new Toronto player: "O'Reilly, 31, has been one of the team's top centers since joining the organization back in 2018, but is in the middle of a down year, along with the team. [He is] averaging 18:16 time on ice, the lowest in his five–year career in St. Louis. In addition, he has not been as efficient in the faceoff dot, which is typically one of his strengths. His 53.4 faceoff win percentage is the lowest mark in his time with the Blues."
How, may I ask, do the abovementioned paragraphs translate into Kyle Dubas "swinging for the fence?" And, how can he not have harmed the Maple Leafs, long–term, by trading first–round picks in 2019, 2022 and 2023 — the first two as mistake covers for the club signing Patrick Marleau and Petr Mrazek? Unless the Leafs pose a Stanley Cup challenge this spring, Dubas will not be retained and his term as GM will be viewed among the worst in franchise history. To wit: an inability, despite inheriting William Nylander, Mitch Marner and Auston Matthews, to craft a playoff resume while draining the club, virtually every year, of its top draft choices. Matthew Knies remains the No. 1 Leaf prospect as a modest, point–per–game winger at the University of Minnesota. If, however, there's a Maple Leafs fan who can remind me of the last American college draftee to star for the club, I'd appreciate the info.
So, buy in, if you wish, to the media love–fest in the wake of Friday night's deal. But, understand that Dubas again tinkered with the fringe of the roster… and that any form of playoff success (here in Toronto, clearly a first–round victory) remains contingent upon the big–money boys up front finally coming through when it matters.
O'Reilly is a character player and will obviously not hurt the Leafs; not as much, to be sure, as Dubas yielding his first and second–round draft picks in June. But, neither has the Clinton, Ont. native (now 32) shown, this season, to be anywhere near the player that helped lift St. Louis to the 2019 Stanley Cup. Ignore that at your own peril.
EMAIL: HOWARDLBERGER@GMAIL.COM