TORONTO (Feb. 25) — God help the tortured soul that replaces Kyle Dubas as general manager of the Toronto Maple Leafs. For that person's sake, the sooner it happens, the better, as the current GM hasn't yet unloaded his first–round draft picks beyond 2023. Given, however, that survival is a primal instinct, how much longer can Dubas hold off before relinquishing whatever remains of the club's immediate future? That Kyle has been allowed to loiter in "draft schmaft" territory while not under contract beyond this season is a blemish on president Brendan Shanahan, who evidently cannot make up his mind about the young executive he chose over Lou Lamoriello.
Anyone, therefore, who contends the Leafs are being managed functionally right now should take a closer look.
Never in the 106–year history of Toronto's National Hockey League team has it prospered from a wave of depleted draft selections. Not once. Eras have come and gone in the NHL, but even that of unrestricted free agency cannot flourish in the absence of prudent scouting and drafting. When the Leafs understood they would place in the bottom–quarter of the standings, they held onto their elite draft selections, procuring William Nylander, Mitch Marner and Auston Matthews in consecutive years. That was easy. Far more challenging is to unearth a top prospect in the lower portion of the opening round… or in Rounds 2 and 3. Still, there is no demonstrated value in tossing away such opportunities, as done repeatedly in the Dubas era. Last week provided a glaring example.
Dubas traded his 2023 first–rounder and a thwack of lower picks to acquire Ryan O'Reilly and Noel Acciari from St. Louis. Both are good players. That move, however, was completely offset when the Boston Bruins — the NHL's runaway top team this season — dealt for defenseman Dmitry Orlov and rugged winger Garnet Hathaway from Washington. The Bruins markedly enhanced their blue line, adding Orlov to Charlie McAvoy and Hampus Lindholm; any of the three arguably better than what the Leafs currently possess. And, they upgraded their long–held capacity to control the boards during the playoffs, for which the Leafs have neither the nerve nor the ambition. Dubas remains fatally attracted to forwards, somehow believing centers and wingers can compensate for deficiency behind center ice. His scheme hasn't engendered a smidgen of playoff prosperity… only in our always–forgiving hockey market could a GM be accorded a sixth consecutive opportunity to escape the first round (and, don't look now, but it appears the New York Rangers are about to add Patrick Kane to their arsenal. Gulp!).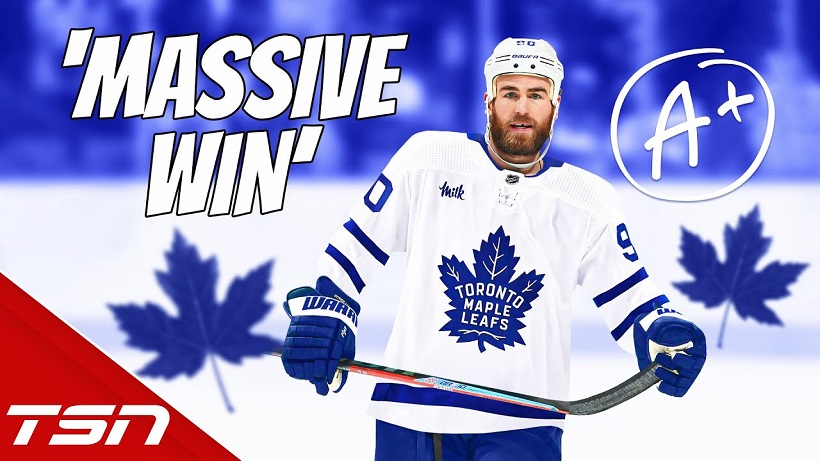 Neither can fans of the Maple Leafs properly express their inclination. They've been so force–fed by the team and cheerleading media on the virtues of Nylander–Marner–Matthews — with no tangible evidence — that confusion and contradiction prevail. After a victory, they marvel at the skill and preeminence of the forward flock. After a loss, they sulk into a "this team will never get it done" posture. Often in the span of 24 to 48 hours. When pressed, however, for culture change, they cower. On one hand, the fans want the team to go "all in" for a deep Stanley Cup run this year. On the other, it absolutely must occur with the same cast that can never escape the opening round. When presented with a strategic "all–in" trade that would easily improve the club — Auston Matthews for Erik Karlsson — the confused followers shudder. "What? A 25–year–old entering his prime for a 32–year–old having one good year?" they ask, incredulously (and ignorantly). As if age is the lone factor in Matthews' inability to elevate performance when it matters. After all, how could the runaway Norris Trophy favorite help a team that is middle–of–the–pack on the blue line? Leafs fans want to win now… but not at the cost of a nucleus that always fails.
Yet, the fanbase can be blamed only to a point. Most Leaf supporters want to believe what the team offers up for public consumption. Despite knowing better. "We like our group… this group will get it done" has been the mantra of the Shanahan–Dubas era. Even with nothing to show. So, why ultimately question "the group?" This leads to resignation, such as the prevailing hope that Dubas will be fired after another first–round exit. But, why waste a further playoff opportunity just for that to happen? This lopsided club is screaming for balance. Would that not occur by sacrificing some talent up front for the most–skilled defenseman in the NHL this season? Particularly after acquiring a "playoff–type" performer (O'Reilly) from St. Louis? Evidently not, once the cycle begins anew: "But, we can't trade Auston Matthews; he scored 60 goals!" they say, forgetting the chagrin of Tampa Bay gutting the Maple Leafs so soon after the 60–goal colossus. Isn't it easy to detect and observe the incongruity within Leafs Nation?
Bottom line is, the Leafs and the media have coerced fans into falling — and staying — in love with the highly imperfect core comprised during the "Shanaplan" era. So, the loyal subjects lapse into a form of surrender. "All of this talent has to come through eventually," they tell themselves, unfailingly. Even while turning away from their TV sets every time Morgan Rielly or Justin Holl touches the puck in the defensive zone.
Don't try to figure it out. Chances are you'll go insane.
EMAIL: HOWARDLBERGER@GMAIL.COM