TORONTO (Feb. 22) — Never in the modern history of the National Hockey League has a player about to win the Norris Trophy become available at the trade deadline. And, never has there been an opportunity for the team that most–requires such a figure: the Toronto Maple Leafs. According to Chris Johnston of the Toronto Star, defenseman Erik Karlsson would be willing to waive the no–movement privilege in the final four years of his contract if the San Jose Sharks could trade him to the Edmonton Oilers. Would Karlsson do the same for the Maple Leafs?
Unlike Edmonton, the Leafs have options that allow for strategic and financial parity. It would be difficult for any general manager to trade Auston Matthews or Mitch Marner; all–but impossible, of course, for the current Toronto GM, given his aversion to dabbling with the core of his roster, even after a half–dozen consecutive playoff flops.
But, wouldn't the Leafs of 2022–23 stand an improved chance of posing a Stanley Cup threat with the first defenseman in 31 years to record 100 points — since Brian Leetch amassed 102 with the New York Rangers in 1991–92? Karlsson has 76 points in 58 games this season and is on pace for 110. No blueliner has accomplished that since Paul Coffey put up 113 points with Pittsburgh in 1988–89. Moreover, Karlsson is having his best NHL season with a team that is miles out of playoff contention and cannot match the Maple Leafs in accumulative skill.
Let's say Kyle Dubas had an epiphany and dealt Matthews to San Jose for Karlsson before the Mar. 3 deadline. Would the Leafs of Mitch Marner, Ryan O'Reilly, John Tavares, William Nylander, Michael Bunting, Noel Acciari and Karlsson not be a more–balanced club than the current iteration? Would the Leafs, with Karlsson, still not possess enough firepower? More vexing for Dubas would be to trade Marner, who is enjoying a far–better season than Matthews. But, neither would that snuff out the attack. What's wrong with a team that features Matthews, O'Reilly, Tavares, Nylander, Bunting, Acciari and Karlsson? Bottom line is Karlsson would provide the Leafs the essential "triangle" — a minimum two elite forwards and a Norris Trophy type. Which the Leafs do not possess today. And, which post–expansion NHL history overwhelmingly suggests must be in place on a Stanley Cup winner.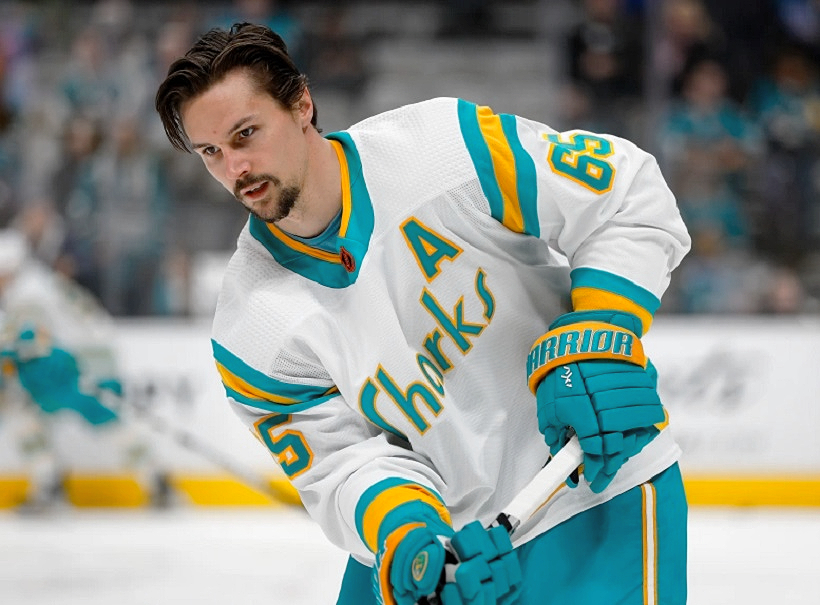 Again, be it the Leafs or another NHL team, this is an opportunity that almost never materializes: a future Hall–of–Famer, still only 32, and having the best offensive season of any blueliner in more than three decades, coming available at the trade deadline. Toronto hockey fans were overjoyed at O'Reilly, also 32, being obtained last Friday. Why, then, not Karlsson? If Dubas remains convinced he can build a championship team backward from center ice rather than the conventional way — frontward, beginning in goal — he'll be out of a job by the summer. This extremely rare circumstance allows Dubas to trade money in for money out, as Marner, Matthews and Karlsson earn nearly identical salaries. Neither the Maple Leafs nor San Jose would have to retain money. In the blog I wrote last week suggesting a Marner–for–Karlsson swap, the thought was Karlsson would need to waive his no–movement clause after two more seasons, or half the remainder of his contract. If, as Chris Johnston wrote, Karlsson is willing to waive all four years of his pact to join a contender, that's plainly twice as good for Toronto.
Standing, primarily, in the way of such a trade is the risk–averse Leaf management, which would "frighten" its nervous–Nellie fan base by unloading either of the M & M boys. Far easier to stay the course and cross fingers yet again. After all, the Leafs merely have to survive a single playoff round for the first time in 19 years to detonate city wide euphoria… and likely preserve jobs. Which indicates that such a stop–gap as Luke Schenn will join the Blue and White. Long–deluded fans of the club — and, of course, the adoring media — will cheer the acquisition, chortling over Schenn winning a pair of Stanley Cups with Tampa Bay. Yet, conveniently overlooking that no–such triumph would have occurred in the absence of all–world teammate Victor Hedman. Luke is one of the finest people I met during my years covering the Leafs for The FAN–590. But, he couldn't do much for the hockey club at 23 years of age. What can he possibly contribute to a middling blue line at 33? It's a fair question, isn't it?
Also a reminder that just more than four months remains until Matthews and Marner take full control of their contracts. Were a Karlsson type available at the deadline a year from now, the Leafs would be spectators. Only now do they have an opportunity to properly balance and distribute skill throughout the roster. Given his no–movement clause, some might say the Sharks won't accept Matthews in a one–off for Karlsson. I disagree. Auston was born in California and grew up in Arizona. San Jose GM Mike Grier would have all of next season to coerce him into a long–term extension. Perhaps a better strategic move would involve a couple of first–round picks. But, the Sharks still need to sell tickets, which is a challenge (in a non–traditional hockey market) without a marquee attraction.
But, does anyone truly expect the inert Leafs management, having spent virtually all of its elite draft positions in the Dubas administration, to take a chance with a roster player? Sadly, we know the answer.
EMAIL: HOWARDLBERGER@GMAIL.COM