TORONTO (Feb. 20) — I'm disappointed in Kevin McGran. The beat–writer at the Toronto Star has covered the Maple Leafs longer than I did (17 seasons) for The FAN–590. And, while I think he walks on eggshells too often, not unlike most in the Toronto hockey media, I've never questioned his knowledge of the Blue and White. Additionally, when Kevin chooses to write with a critical eye, he's among the most–adroit observers.
Why, then, McGran authored a story, on Sunday, entitled MAPLE LEAFS HAVE FOLLOWED THE BLACKHAWKS' FRANCHISE–BUILDING BLUEPRINT is baffling. As much as anyone, Kevin should know that his claim is nonsense. In the triangular pattern of virtually all Stanley Cup champions — two elite forwards and a franchise defenseman — the Leafs have been the polar opposite of the Chicago Blackhawks, who captured the National Hockey League title in 2010, 2013 and 2015 with two–time Norris Trophy winner Duncan Keith anchoring the blue line. Yes, the Leafs have equaled; in fact, surpassed Chicago in accumulative skill up front with William Nylander, Mitch Marner, Auston Matthews and John Tavares. At the interminable cost, however, of the established most–essential component of a Stanley Cup winner: a Top–5 NHL defender. Which, as you know, is a broken record in this corner. And, which the Leafs have not possessed since Borje Salming at the end of the 1970's.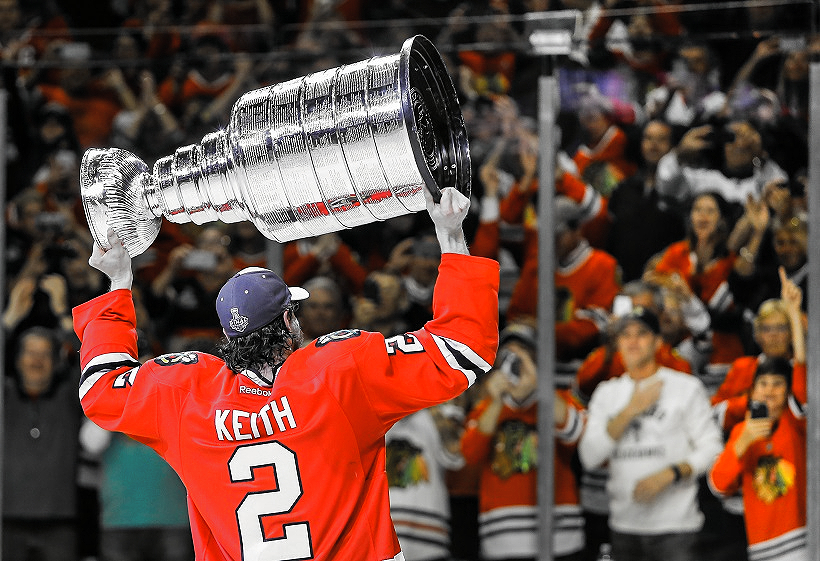 Chicago won its Cups with Jonathan Toews, Patrick Kane and Keith forming the triangle. It can be argued the Hawks' second–best defenseman during that era, Brent Seabrook, was superior to anything the Maple Leafs possess today. And, it should preclude a respected, veteran journalist from making such an absurd comparison.
The triangle has existed almost exclusively among Cup winners in the post–expansion era: a lengthy lest that includes Nathan MacKinnon–Mikko Rantanen–Cale Makar (Colorado 2022); Nikita Kucherov–Steven Stamkos–Victor Hedman (Tampa Bay 2020, 2021); Alex Ovechkin–Nicklas Backstrom–John Carlson (Washington 2018); Anze Kopitar–Jeff Carter–Drew Doughty (Los Angeles 2012, 2014); Patrice Bergeron–Brad Marchand–Zdeno Chara (Boston 2011); Sidney Crosby–Evgeni Malkin–Kris Letang (Pittsburgh 2009, 2016); Henrik Zetterberg–Pavel Datsyuk–Nicklas Lidstrom (Detroit 2008); Brendan Shanahan–Sergei Fedorov–Lidstrom or Chris Chelios (Detroit 2002); Mark Messier–Adam Graves–Brian Leetch or Sergei Zubov (New York Rangers 1994); Mario Lemieux–Jaromir Jagr–Paul Coffey (Pittsburgh 1991, 1992); Wayne Gretzky–Mark Messier–Coffey (Edmonton 1984–85–87); Bryan Trottier–Mike Bossy–Denis Potvin (New York Islanders 1980–81–82–83); Guy Lafleur–Steve Shutt–Larry Robinson or Serge Savard or Guy Lapointe (Montreal 1976–77–78–79); Phil Esposito–John Bucyk–Bobby Orr (Boston 1970, 1972). Despite the occasional hiccup, this evidence is powerful and overwhelming.
A few times, the triangle has featured one forward and two defenseman: Patrick Elias–Scott Stevens–Scott Niedermayer (New Jersey 1995, 2000, 2003); Teemu Selanne–Niedermayer–Chris Pronger (Anaheim 2007); Joe Sakic–Raymond Bourque–Rob Blake (Colorado 2001); Mike Modano–Zubov–Darien Hatcher (Dallas 1999).
Without exception, however, these teams have possessed at least one franchise–type blueliner.
Which the Leafs of the Brendan Shanahan–Kyle Dubas era have been exclusively devoid of.
To be fair, McGran did mention the Keith–Seabrook tandem of the Blackhawks. But, not until the 15th paragraph of his story, and almost in passing. Under no circumstance would Chicago have won its three titles without Keith.
It's the reason such an expensive addition as Ryan O'Reilly lacks Stanley Cup relevance (yes, he won the 2019 Cup in St. Louis, but with Alex Pietrangelo on defense). Until, God forbid, the Maple Leafs unload one of their precious core forwards to create salary cap space for an elite defender — if, in fact, one is available (such as Erik Karlsson) — ten Ryan O'Reilleys won't push the team over the top. Again, this is demonstrated fact. Not theory.
IT HASN'T ALWAYS BEEN THIS WAY
The unrestrained platitudes from the local and national media after the trade for O'Reilly on Friday lacked balance and logic. They were mainly a symptom of the preposterous environment created by Sportsnet (Rogers) and Bell (TSN) co–owning 75 percent of the Maple Leafs… and the always bewildering reluctance of "independent" newspaper (or on–line) reporters to break from the pattern. In a different era, no–such hesitancy existed. I grew up (and into the media industry) with such newsmen as Frank Orr, Jim Kernaghan, Jim Proudfoot, Milt Dunnell (Toronto Star); John Iaboni, Scott Morrison, Al Strachan, Steve Simmons (Toronto Sun); Rex McLeod, Jim Christie, Alan Abel (Globe and Mail) unafraid to criticize the Maple Leafs, when warranted (which was often). Even George Gross, the first sports editor of the Sun, would call it straight. Gross covered the Leafs as a beat–writer with the old Toronto Telegram (forerunner to the Sun) during the Stanley Cup dynasty of the 1960's. At a time when Leaf reporters were (literally and figuratively) in the pocket of GM/coach Punch Imlach; when the hockey club paid for newsmen to travel with the team, and when all losses by the Maple Leafs were the result of biased officiating.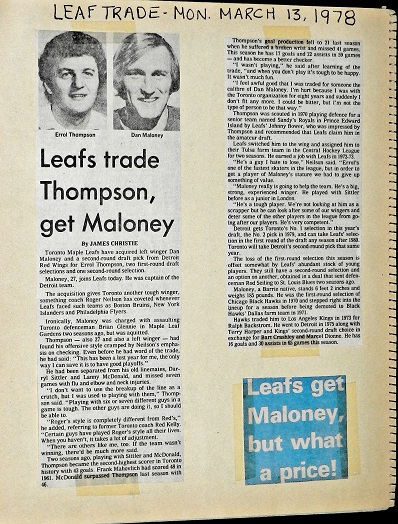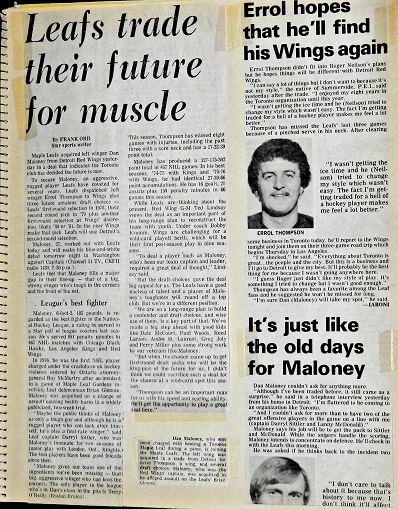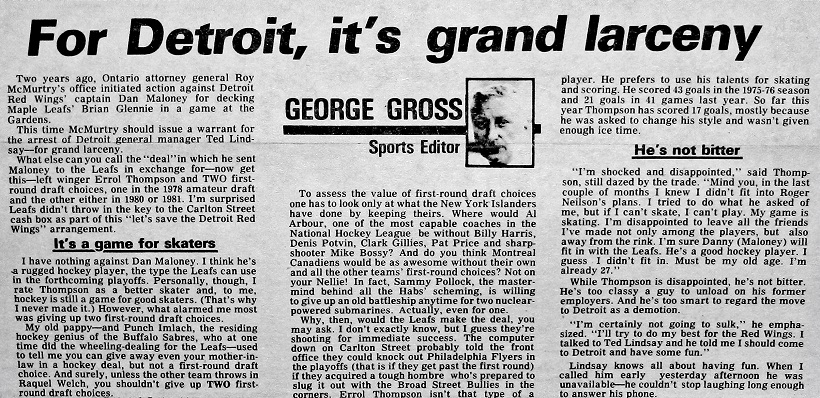 As you will notice, however, in the above images from a Leafs scrapbook I kept during the 1977–78 NHL season, The Baron, as he was known, could take off the gloves. His column of Mar. 14, 1978 excoriated Toronto general manager Jim Gregory for trading a pair of first–round draft picks (sound familiar?) to Detroit for rugged, but plodding, winger Dan Maloney. This was the observation of a team that would go on to upset the New York Islanders in the playoffs and advance to the Stanley Cup semifinals for the first time since the 1967 championship. Other headlines — LEAFS GET MALONEY, BUT WHAT A PRICE!… LEAFS TRADE THEIR FUTURE FOR MUSCLE — indicated how differently Toronto's hockey team was covered in a more authentic and substantial media era.
The Maloney acquisition ranks among the biggest pre–deadline deals for the Leafs in the past 50 years. Errol Thompson, also traded to Detroit, had scored 43 goals for Toronto in 1975–76, skating on a prolific forward unit with Darryl Sittler and Lanny McDonald. As for the first–round draft picks included, only the ineptness of Detroit management saved the Maple Leafs from massive embarrassment. The Red Wings botched the deal by choosing mediocre forwards Brent Peterson in 1978 (Al Secord, 273 NHL goals, was still available) and Mike Blaisdell in 1980 (Jari Kurri, Bernie Nicholls and Steve Larner, a combined 1,517 NHL goals, were still up for grabs).
The record shows there has been no long–term benefit to the Leafs relinquishing first rounders.
A serial act that will probably cost current GM Kyle Dubas his job.
EMAIL: HOWARDLBERGER@GMAIL.COM