TORONTO (Feb. 17) — I've written this before and I'll repeat myself: It's as if executives in the media wing of Rogers Communications deliberately settle on matters they know will cast scorn upon the company and annoy the general public. There's almost a perverted undertone to decisions that are made, and largely inexplicable.
The latest, albeit anticipated blight on the company was confirmed today by veteran reporter Greg Strong of The Canadian Press, who wrote that the Toronto Blue Jays, fully owned by Rogers, again did not budget to have a radio broadcast crew on site for all 162 games. As with virtually every other team in Major League Baseball. Instead, Ben Wagner, the forever–faithful voice of the club, will call its 81 road matches remotely, off a television feed, from the Sportsnet studio. This was a practice necessitated by the COVID–19 pandemic, which is now mostly under control. While there is likely some added risk of contracting the virus upon airline travel, an elevated or acute danger has been suppressed by vaccination. As such, the decision to keep Wagner at home for the Blue Jays road schedule is strictly financial — an unrelenting misdeed by a company that grossed $4.917 billion in profit in 2022.
You may also be aware that Rogers recently devoured rival Shaw Communications for a paltry $20 billion.
If Rogers committed even a tiny fraction of the job–slashing bonuses awarded its callous administrators, Wagner could not only fly in Business Class, commercially, to the Blue Jays' road games, but travel in the comfort of a private jet. Instead, the company will save pennies on the dollar by confining him to a studio microphone and TV monitor. Which is petty and irresponsible. As would any trusted reporter, Strong tried to obtain an explanation from Rogers for its astonishing frugality. Naturally, to no avail. "Requests to speak with Wagner and network executives Rob Corte and Greg Sansone were declined by Sportsnet's senior manager of communications," wrote Strong. As if he, or anyone else, should have been surprised. It's much easier to see no evil and speak no evil. Which I say with mild endearment; Sansone, a good guy, cut his media teeth as a radio colleague of mine at The FAN–590.

BLUE JAYS RADIO VOICE BEN WAGNER AT THE CLUB'S SPRING TRAINING SITE IN DUNEDIN, FLA.
With very few exceptions, media companies accumulate profit from TV. Radio is primarily an adjunct. This did not apply in a couple of instances during my 23–year career at Canada's first all–sports station. During the late–1980's and early 90's, while the Blue Jays were building toward their consecutive World Series championships, radio broadcast rights were extremely lucrative. My employer, originally CKFH–1430 ('FH' the initials of station founder Foster Hewitt, the legendary Maple Leafs play caller), held the rights from the team's inception in 1977.
When the contract came up for renewal, in 1988, several other companies (most notably, Standard Broadcasting, with the powerful CFRB–1010 signal in Toronto) tendered bids to wrest control of the radio pact. Among the reasons I came aboard was that CKFH could enhance its sports profile, as per a command from the Blue Jays. At the time, we were playing music during the day and turning to baseball at night. The station needed an errand boy to hold its microphone–flash at various sports–related events and conferences. Enter hapless (and jobless) Howard, at 29, who has never assumed a smidgen of credit for CKFH retaining the Blue Jays contract (I kid, of course).
This tiny move began the ball rolling toward the all–sports format. The major contributor became Prime Time Sports, a 50–minute–long magazine show launched on Oct. 2, 1989 and hosted by Bob McCown (with Bill Watters in the co–host's chair). I had the privilege of producing the show for the first two years. It quickly grew into a viable local product which the Telemedia Sports Network began to air nationally in 1991. The artistic and financial success of Prime Time prompted Telemedia to approve our country's first all–sports radio entity — The FAN–1430, later relocated to the AM–590 band — which launched on Sep. 2, 1992 (Rogers purchased The FAN–590 in 2002). The points being, here, that the Blue Jays' contract and Prime Time Sports were remarkably profitable; the latter turning into a national program simulcast on TV and radio that endured for more than three decades.
So, sports radio hasn't always been an adjunct to sports TV in our land.
Times, of course, have changed. In the late–80's, many Blue Jays games were not televised; available only on radio through the dulcet and legendary tones of Tom Cheek and Jerry Howarth, who became iconic sports figures from coast to coast in Canada. Baseball, with its relaxing tempo, has forever catered to the radio audience. Stories abound of Blue Jays fans, in the pre–Sportsnet era, lounging on their backyard decks with dusk becoming night… radio blaring; beer in hand. It was a simpler time. Rogers, in 2000, purchased the Blue Jays from Interbrew, a  Belgian–based company, largely so that its television network (Sportsnet) would obtain 162 nights of programming between April and October. That changed the radio dynamic, but not as much as in hockey, basketball and football, which are conducted at a more–frenetic pace. To this day, a well–packaged baseball production on radio, featuring announcers that become synonymous with the team, can make money. Perhaps not to the extent of a generation ago, but more–so than in the other sports. It's the reason that the vast majority of Major League teams have put their crews back on the road for the full, 162–game schedule. Just not at Rogers.
Sportsnet, of course, will continue to travel its full broadcast and support crew for all Blue Jays games, with Dan Shulman and Buck Martinez calling most of the action. Which is far preferable to executing a remote telecast. The same applies to radio, as Howarth told Greg Strong: "You're at the batting cage [on a road trip], visiting with players; getting a glimpse of what happened the day before and what might happen in this game," offered Howarth, now 76, and half of the Blue Jays radio crew from 1982 to 2017. "Then you go to the umpires' quarters and have a visit with them… or maybe (discuss) a call that happened the day before. You are always gathering information and stories that you share with people on the radio. I'm very disappointed in [Rogers] for making that decision."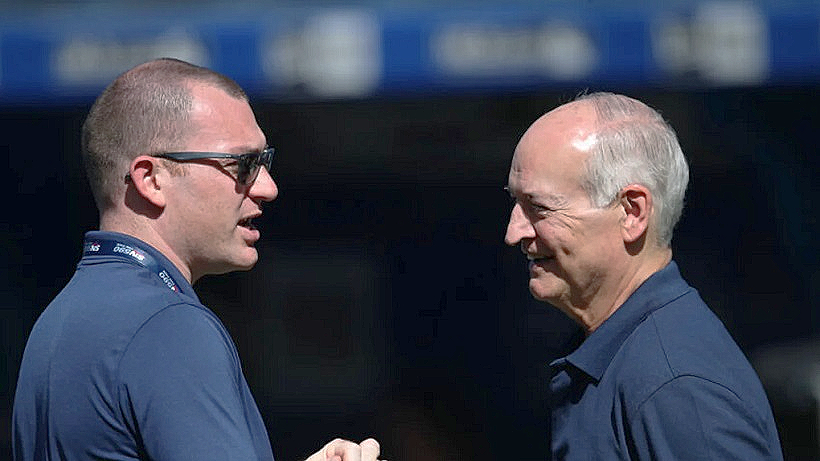 BEN WAGNER (LEFT) CONFERS WITH LEGENDARY BLUE JAYS BROADCASTER JERRY HOWARTH.
Direct, in–person access to the team is vitally important in broadcasting baseball, especially given the length of two and three–city road swings. Wagner, for example, will be away from the Blue Jays when they begin the 2023 regular season with a 10–game, 11–day journey to St. Louis, Kansas City and Anaheim. Also, from May 1–10 when the Blue Jays travel to Boston, Pittsburgh and Philadelphia. There are later examples, as well.
I asked Dave Perkins for his view on the matter. Perkins, 69, covered the Blue Jays during their championship years as a beat–reporter and columnist at the Toronto Star. He is hardly averse to sharing opinion.
"Yeah, but I don't know if I'm the right guy to ask anymore," confessed Perky over the phone today. "I've grown completely disinterested in the utter bullsh– I watch on TV with regard to Toronto teams, all of which are owned by the companies that broadcast their games. Much of baseball today is a tired recitation of arcane statistics that have no particular relevance. But, I guess if the TV viewers want to know how many times the third–baseman scratches his ass each hour, that's what they'll get. When I covered the Blue Jays, there was personality on the radio broadcast. Listeners knew that Tom and Jerry were with the club all the time. How could there not be an advantage in that, over sticking a broadcaster in a studio with a TV? But, neither do I have any idea what contributes to the decisions at Rogers. Obviously, this one is all about money… as is spending $300 million to put new bars and restaurants in the stadium. We're in a far–different era than when I wrote about the Jays. It's not even close."
EMAIL: HOWARDLBERGER@GMAIL.COM