TORONTO (Feb. 14) — What happens if the Toronto Maple Leafs refuse to show up, on Wednesday night, against the second–worst team in the National Hockey League? It is hardly out of the question after a humiliating performance at home against Columbus, which resides in the basement of the 32–team circuit. And, which continued a troubling, season–long pattern for the Blue and White. Would a loss against Chicago at Scotiabank Arena intensity calls for dramatic change before the Stanley Cup playoffs this spring? Particularly given that the Blackhawks are in action tonight, at Montreal, while the Leafs have been idle since Saturday's no–show?
Remember, this is no longer about another pretty regular season for the Toronto side. The Leafs of Brendan Shanahan, Kyle Dubas, Auston Matthews and Co. have used up all–such mulligans. It is now entirely about the Stanley Cup tournament… and not just squeezing past the opening round for the first time in 19 years. Rather, it's time for a championship bid from a club whose ownership and management has remained on its collective duff for half a decade. There's been no dallying with the vaunted nucleus, even after repeated failure in the opening playoff volley. As such, jobs are squarely (and belatedly) on the line. The result of Wednesday's home game against Patrick Kane, Johnathan Toews et al will not influence the playoff match–up for the Maple Leafs. Barring an absolute miracle, it will be Tampa Bay for the second consecutive spring. Home–ice advantage is still to be determined… and the Lightning can pull percentage points ahead of second–place Toronto in the Atlantic Division with a victory tonight in Denver. Even if the ice pad on Bay Street has been anything but beneficial for the Maple Leafs, who have lost at SBA in the past three decisive playoff matches (against Columbus, Montreal and Tampa Bay).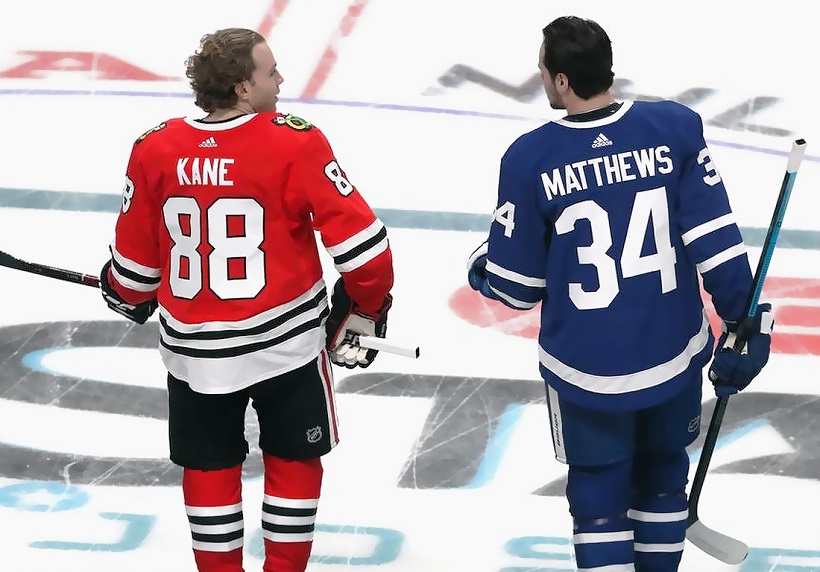 PATRICK KANE IS IN TOWN WEDNESDAY NIGHT AND COULD FACE TORONTO'S AUSTON MATTHEWS, WHO HAS APPARENTLY RECOVERED FROM A KNEE INJURY. BRUCE BENNETT GETTY IMAGES/NHL
There is, however, added significance to the Chicago game. The Leafs simply cannot continue to perform lifelessly and without resolve against the NHL's bottom feeders. Every mail–in speaks volumes about a group that hasn't come close to playoff fruition… and portends disaster, once again. On Monday, veteran columnist Damien Cox called for the head of coach Sheldon Keefe in the Toronto Star. And, for Keefe to be replaced by Bruce Boudreau, recently deposed in Vancouver. Whether or not you agree with Damien, it was a stance that not a single member of the current Leafs media would dare assume. Cox is now a "guest" columnist at the newspaper, where he once routinely followed the Leafs with a critical eye. The social media reaction to Damien's column was predictable: he's a "hack" and belongs in the same dungeon as Star colleague Dave Feschuk and the Toronto Sun's Steve Simmons. Leaf fans rail against their team after such wreckage as the Columbus game… but the precious few that do it for a living are implacable louts (I remember the feeling from my days at The FAN–590).
It's all quite amusing.
If you think for a moment, however, that a blunt newspaper opinion does not impact the Leafs and their parent company, you're a fool. The haughty ownership and management at Maple Leaf Sports and Entertainment will pretend to disregard such an offering. But, Rogers, Bell, Shanahan and Dubas understand that the Leafs — to borrow a soccer term — are in "injury time". And, that every no–show against an inferior team in the regular season points toward enduring playoff disappointment. The Vancouver Canucks are proving, under new coach Rick Tocchet, that they have virtually no character or drive to succeed. As the club did under Boudreau. A hockey executive cannot wiggle his nose and reverse the narrative; it must be gnawing at president Jim Rutherford, a three–time Stanley Cup winner. Same with the Leafs and the Shanahan/Dubas tandem, which hasn't celebrated a first–round triumph, let alone a title. Toronto's passive and forgiving hockey market allows for hollow promises after each opening playoff fiasco. But, trust me, the tall thinkers know better, even if unwilling to share their concern.
In my view, and I doubt I'm alone, the Maple Leafs are Vancouver–East, with more top–end skill. The obvious talent of the players drafted and signed by Toronto since 2014 cannot be matched by ambition and zeal when it counts. That's why every truant performance against a non–playoff opponent creates such an uproar. The Leafs have already lost, this season, to Columbus, Anaheim, Arizona (twice), San Jose, Montreal (twice), St. Louis, Ottawa and Detroit. Which, today, comprises eight of the bottom 11 teams in the overall standings. Another flop against the Blackhawks on Wednesday would make it nine of twelve. How much more evidence will the decision makers on Bay St. require before contemplating some form of significant change? Perhaps, a rhetorical question.
So, watch closely when Bobby Hull's former team skates onto the Scotiabank ice.
The tolerance for a futile effort has to be dwindling. Doesn't it?
THE WAYNE–TRAIN GONE: The Leafs today waived veteran forward Wayne Simmonds, an honest soldier the club acquired three years after it should have. Which is another perpetual hockey trend in our city.
25 YEARS AGO — in Nagano, Japan
Hard to fathom it's been a quarter century since NHL players first appeared in the Winter Olympics. I had the privilege of covering the 1998 Games in Nagano, Japan for The FAN–590 and will never forget the mob scene when Wayne Gretzky, Eric Lindros and Co. arrived in the far east 25 years ago this week. From a scrapbook I've kept: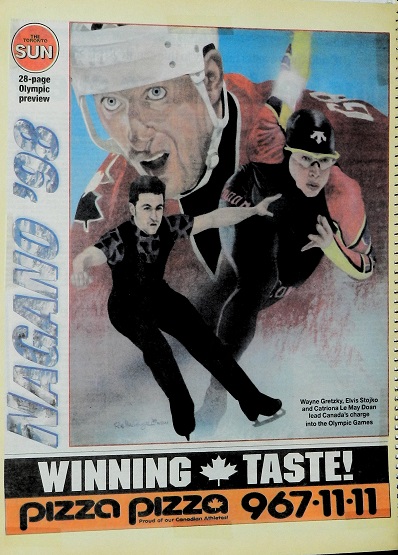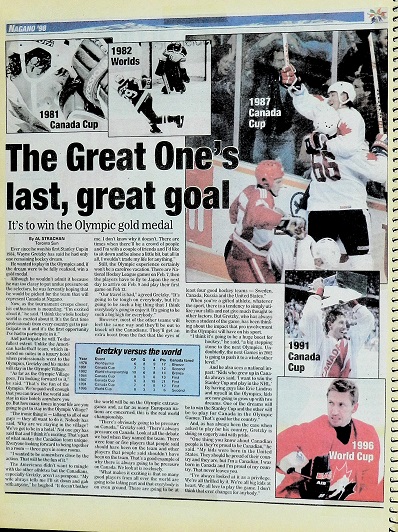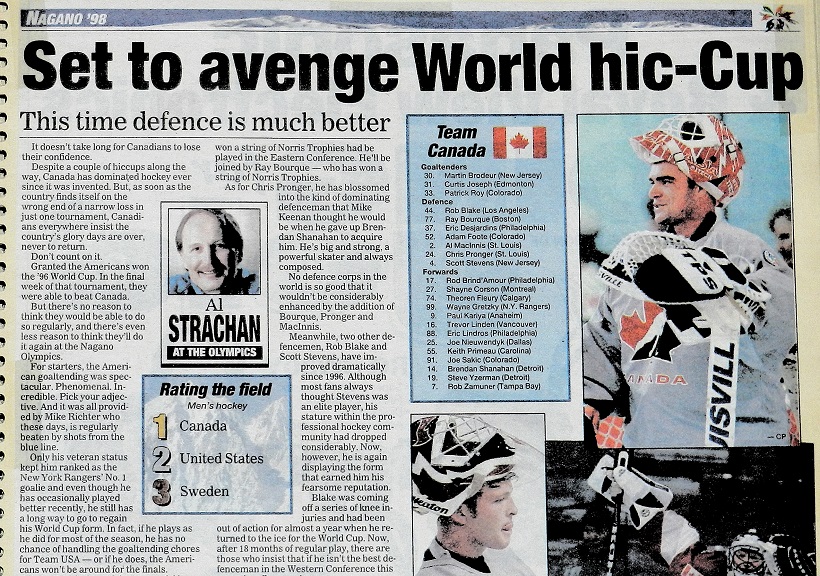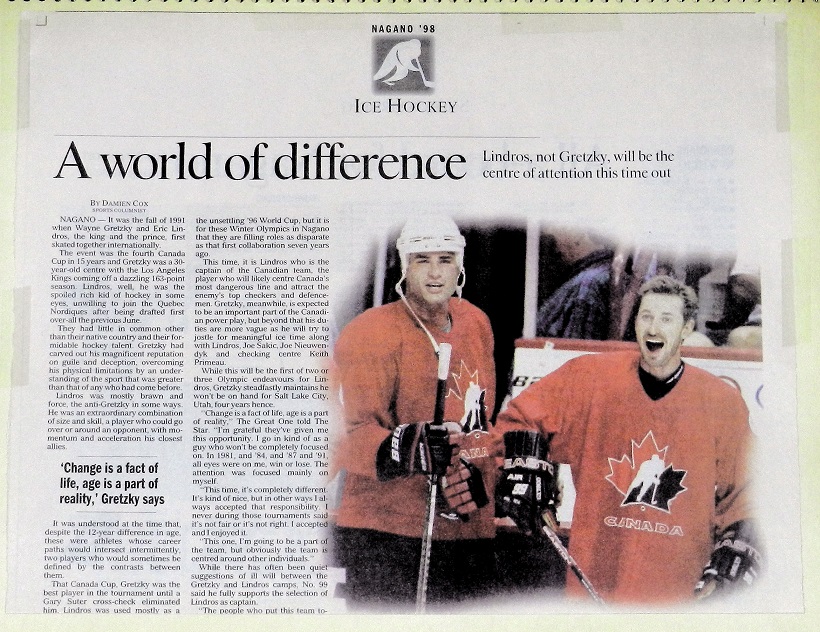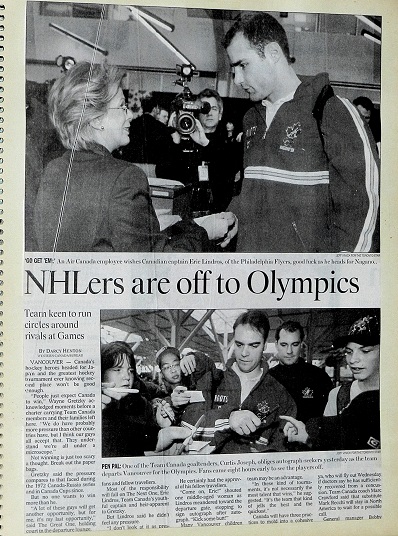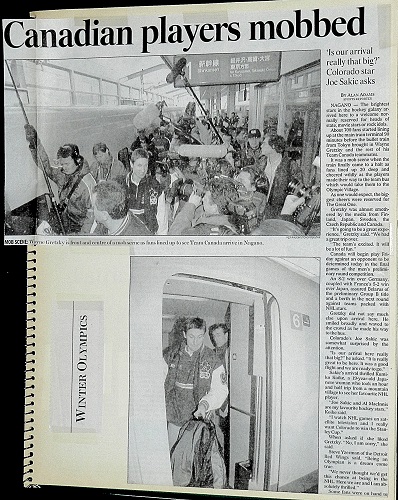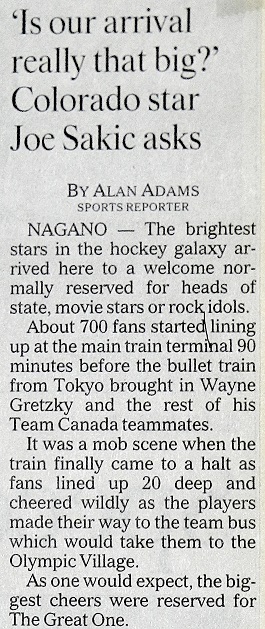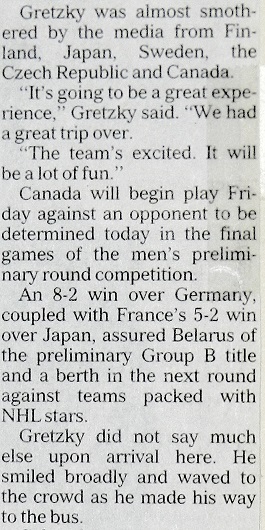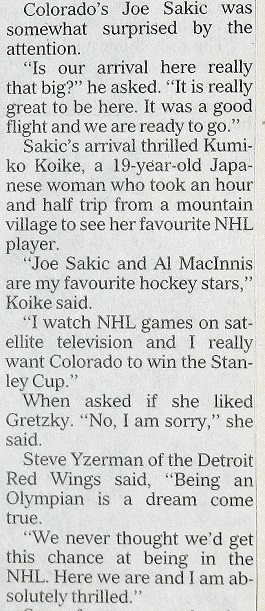 EMAIL: HOWARDLBERGER@GMAIL.COM