TORONTO (Feb. 28) — Never in the modern history of the National Hockey League trade deadline has a general manager gone quite as berserk as Kyle Dubas. Time will tell whether his stunning, 24–hour makeover of the blue line can help lift the Maple Leafs into Stanley Cup contention. But, it's crystal clear this was not the result of a carefully planned, long–term approach. Rather, it screamed of desperation and panic. In my view, for two reasons.
The most obvious, of course: a madcap attempt at preserving employment. Maybe this is what Brendan Shanahan was hoping for when he refused to lengthen the GM's tenure beyond the current season. As for the criteria, we can only guess. It is that elusive one playoff round? Or, might there be some concealed urgency here… such as Auston Matthews having indicated to management that he will not rush into signing a long–term contract extension when immediately eligible — on July 1, the same day his no–movement clause kicks in? If I were Matthews, granted unrestricted free agency in my mid–20's, I would most–surely avail myself of the open market next summer. Not to avoid remaining with the club that drafted me first overall in 2016, but to explore the innumerable options that are certain to be presented. Almost never is a player up for grabs merely two seasons after winning the Hart Trophy, and still approaching his biological prime. What could possibly compel No. 34 to forego such a rare opportunity? No matter where he chooses to play, the money and term will be astronomical; likely in the $13–$15 million range over eight seasons. So, why not position himself for the most–appealing circumstance?
I maintain that the Leafs can win without Matthews, simply because there's no evidence the club can prevail with him when it matters. Not in two or three tries, but half–a–dozen. Problem is, I don't think Dubas concurs in even the slightest way. I believe the GM is so emotionally and strategically addicted to his forward nucleus that the mere notion of Matthews fleeing after next year has sent him into such a wild flurry of short–term, mostly past–their–prime acquisitions (save for Jake McCabe). All evidence points to Kyle planning for this spring, and nothing beyond — to save his own backside and to win the Stanley Cup while Matthews remains in blue and white.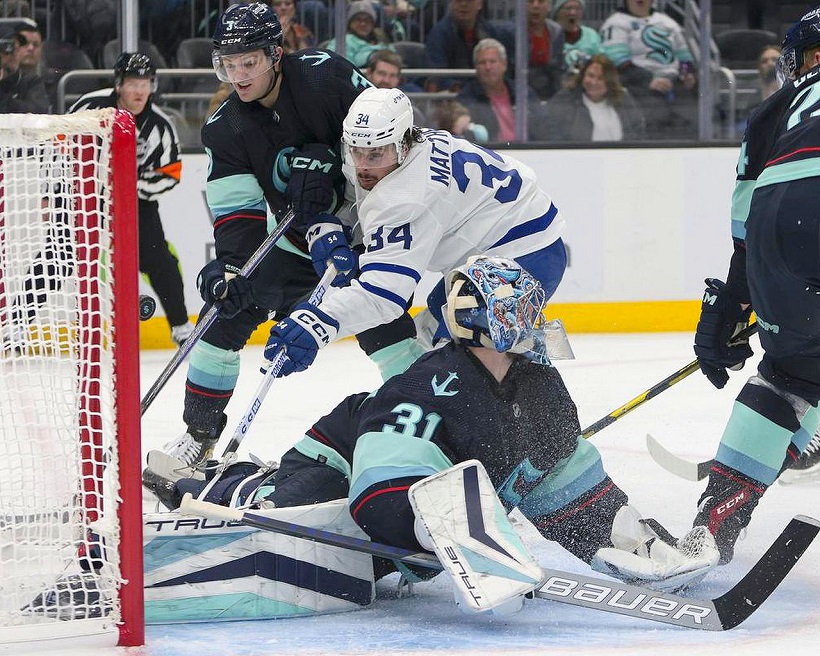 AUSTON MATTHEWS SCORED TWICE IN A 5–1 LEAFS VICTORY AT SEATTLE ON SUNDAY NIGHT. GETTY IMAGES/NHL
That said, however, I'm sticking to my guns. Though the Maple Leafs, undeniably, are deeper and more experienced on the back end, any number times zero equals zero. The club still does not possess the elite blueliner that is irrefutably essential for a championship. Defense by committee will never match the contending group that is led by a kingpin, Norris Trophy candidate. Or, a club with three very good defenders (Boston: Charlie McAvoy, Hampus Lindholm, Dmitry Orlov) that is stocked with players long proven to elevate performance in the spring (Patrice Bergeron, Brad Marchand, David Krejci). More than 90 percent of Cup winners since 1970 have possessed the franchise component on defense. If you prefer to look more recently — in the past decade — there is Cale Makar (Colorado), Victor Hedman (Tampa Bay), Alex Pietrangelo (St. Louis), John Carlson (Washington), Kris Letang (Pittsburgh), Duncan Keith (Chicago) and Drew Doughty (Los Angeles).
The Penguins of 2017 (with Letang injured) were an aberration, yet beatified by arguably the two best players in the NHL at the time, Sidney Crosby and Evgeni Malkin. Rather exquisite compensation.
Stanley Cup–caliber goaltending is also a must, and this is where the Leafs are a mystery.
It's easy to suggest that Ilya Samsonov will not match up favorably against Andrei Vasilevskiy, Linus Ullmark or Igor Shesterkin. But, who really knows? Samsonov has, for the most part, performed exceptionally well this season and is a virtually unknown playoff factor, having appeared in only eight games with Washington. True, the Capitals gave up on him, but the New York Rangers once gave up on Gordie Howe and Johnny Bower. If the Leafs do have al wild card, it is Samsonov… just as Montreal prevailed with "unknowns" Ken Dryden (1971) and Patrick Roy (1986); St. Louis (2019) with Jordan Binnington. I'm quite intrigued by Samsonov's potential.
Otherwise, the Leafs remain reliant on the three forwards they have dined on in the regular season: Matthews, Mitch Marner and William Nylander. None of whom has approached Bergeron or Marchand in playoff savvy. If that doesn't change rather drastically this spring, the crazed remodeling of the blue line by Dubas will lead to nowhere.
And, a new GM will guide the club starting next season.
EMAIL: HOWARDLBERGER@GMAIL.COM