TORONTO (Feb. 16) — A large taste of what lies ahead for the Toronto Maple Leafs could result in Patrick Kane becoming a very cheap rental before the Mar. 3 National Hockey League trade deadline. Kane has complete control of his immediate future with a full, no–movement clause in his expiring contract with Chicago. There are loud whispers that the future Hall–of–Famer would waive that restriction for only two rival clubs: the New York Rangers and Toronto. Now that the scorching–hot Rangers have dealt with St. Louis for Vladimir Tarasenko at a rather prohibitive cost (mainly, a pair of conditional first–round draft picks), it's unlikely they would pursue Kane.
If Toronto is the lone remaining club to which Kane would accept a transfer, the Blackhawks would hardly be in a position to ask for top Leaf prospect Matthew Knies. They would have to settle on any reasonable overture from Kyle Dubas in order for Kane to not walk without return — perhaps a second–round pick and a mid–range prospect. Chicago would also need to retain some salary. All of it, once more, dependent on Kane's approval.
The other option, as pointed out by my ol' pal Nick Kypreos in today's Toronto Star, is "Kane shutting it down for health reasons and focusing on the 2023–24 season." Kane sustained a lower–body injury (thanks again, Pat Quinn) in a collision with San Jose forward Evgeny Svechnikov on Jan. 1 and sat out the next three games. Clearly, he's been restricted to an extend over the past month, reflected in his modest numbers (even with a terrible team): nine goals and 35 points in 50 games. At 34 years of age and with many miles on his body from a trio of Stanley Cup runs, it is conceivable that Kane will try and preserve his health in the quest for a new (and, perhaps final) NHL contract. Given the Leafs still lack playoff goaltending assurance and an elite defenseman, Kane might legitimately wonder if he could help Toronto win a championship. Would it therefore be worth the injury risk?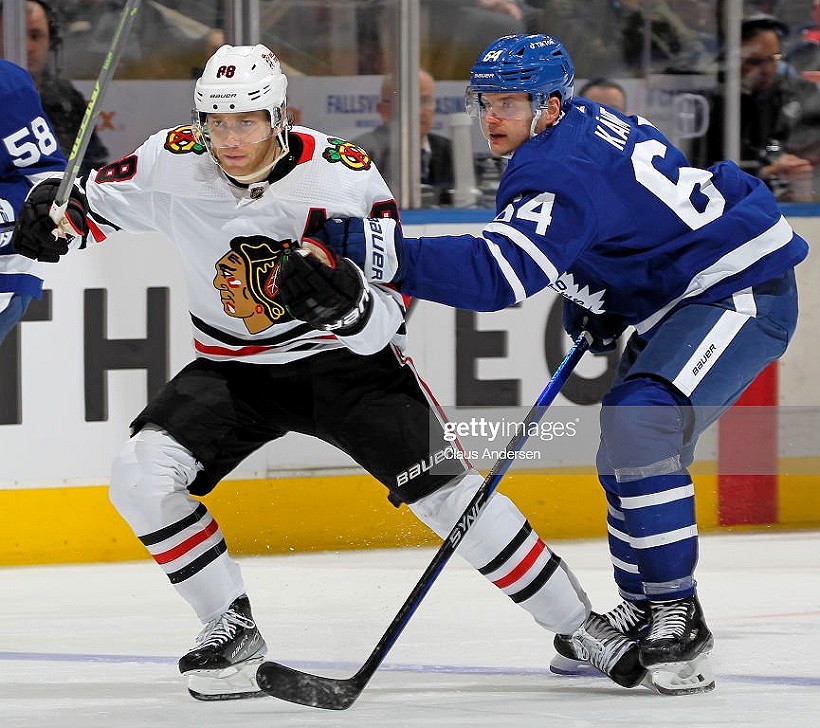 FORWARD DAVID KAMPF OF TORONTO PUTS THE GRAB ON PATRICK KANE WEDNESDAY NIGHT AT SCOTIABANK ARENA. THE CHICAGO BLACKHAWKS, SECOND–LAST IN THE NHL, WERE NO MATCH FOR THE MAPLE LEAFS IN A 5–2 DEFEAT. CLAUS ANDERSEN GETTY IMAGES/NHL
Otherwise, the Leafs may be staring directly at a similar dilemma involving Auston Matthews and Mitch Marner, both of whom, on July 1, take full control of their contracts with the same no–movement clause as Kane. If Matthews decides to not sign an extension and becomes an unrestricted free agent after next season, Toronto could feel the Patrick Kane squeeze. Same with Marner after the 2024–25 schedule. Still to be determined is the individual negotiating with the Leafs' two marquee players. A seventh consecutive elimination in the opening playoff (or qualifying) series would likely spell the end of Dubas in the general manager's chair (though one can never be certain with the comfortable Toronto ownership and management). If considering the trend of the past five years, Dubas would probably spend his own money to retain the M & M boys, above and beyond the millions it will cost the hockey club. Another person, unwed emotionally to the playoff–poor nucleus, might proceed differently.
On the surface, Kane would be a nifty acquisition by the Maple Leafs. His savvy, success and experience in Stanley Cup warfare could mesh rather nicely with the skill of Matthews, Marner, John Tavares and Morgan Rielly.
Nonetheless, I will hold firm on my enduring theory: that the Leafs are not sufficiently big or rambunctious to survive four grueling playoff rounds… and cannot reasonably challenge for the NHL title in the absence of a Norris Trophy type. At least three Conference opponents — Boston (Linus Ullmark), Tampa Bay (Andrei Vasilevskiy) and the Rangers (Igor Shesterkin) — appear to have superior goaltending. The Lightning (Victor Hedman) and Rangers (Adam Fox) possess two of the past five Norris winners; Toronto having another in Mark Giordano, whose legs were fresher in 2018–19 with Calgary. The Bruins aren't particularly loaded on defense, though Hampus Lindholm and Charlie McAvoy can match any Toronto blue–liner. As such, I'm not sold on a hobbled Kane pushing the Leafs over the top. Even if, given his contract control, he is acquired for comparative peanuts.
ADD A FOURTH IMMORTAL TO THE GROUP: I honestly never believed I would see another NHL player rise toward the stratosphere of Bobby Orr, Wayne Gretzky and Mario Lemieux. But, I can barely imagine how dominant and prolific Connor McDavid would have been in the wide–open league of the 1980's. He is the fastest and best skater among forwards in my lifetime, rivaled only by defensemen Orr and Paul Coffey. As with Orr (when healthy) in the late–60's and first half of the 70's, McDavid is so incomprehensibly beyond the next–best player in the game. If the Oilers, like the Leafs, were more established on defense and in goal, they would easily challenge for the Stanley Cup. Even without the two important staples, Edmonton made it to the playoff semifinals last spring before losing to eventual–champion Colorado. With McDavid, Leon Draisaitl, Evander Kane, Ryan Nugent–Hopkins and Zach Hyman, Edmonton is every bit as loaded up front as Toronto. If veteran GM Ken Holland could ever finagle Erik Karlsson out of San Jose, the Oilers would become a clear favorite in the middling West.
SPORTSNET NEEDS HELP: Back to Kane for a moment. Whoever writes headlines for Sportsnet.ca should be entrusted with an alternate role. Even with knowing it's a media company co–owned by the Maple Leafs, I did a double–take at the banner heading to the Toronto–Chicago game story provided, last night, by Luke Fox: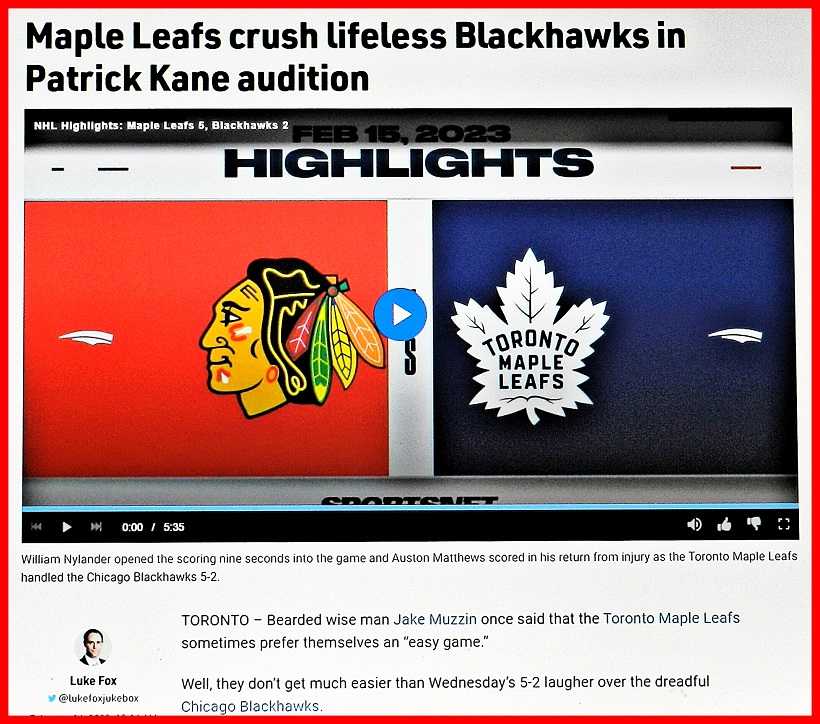 Kane, with three Stanley Cup triumphs in five seasons starting in 2010 (when he scored the overtime Cup winner against Philadelphia), "auditioning" for a team that hasn't prevailed in a single playoff round since three years before the Buffalo native was drafted by the Blackhawks? Why, it's enough to elicit a thunderous "oy vey!" — not merely over the top… but somewhere between Earth and the moon. Kane auditioning for the Leafs. How absurd.
NOTHING HAS CHANGED IN 45 YEARS: I had to chuckle when combing through a hockey scrapbook of mine from this week in the 1977–78 NHL schedule. I attended a Boston–Toronto game on Feb. 15, 1978 in my season tickets at Maple Leaf Gardens. The Bruins typically ground the Leafs into submission, as they do today. Don Cherry was coaching the Beantowners and never missed an opportunity to lay a dig into the Blue and White.
Here, portions of game stories by Donald Ramsay of the Globe and Mail; Frank Orr of the Toronto Star: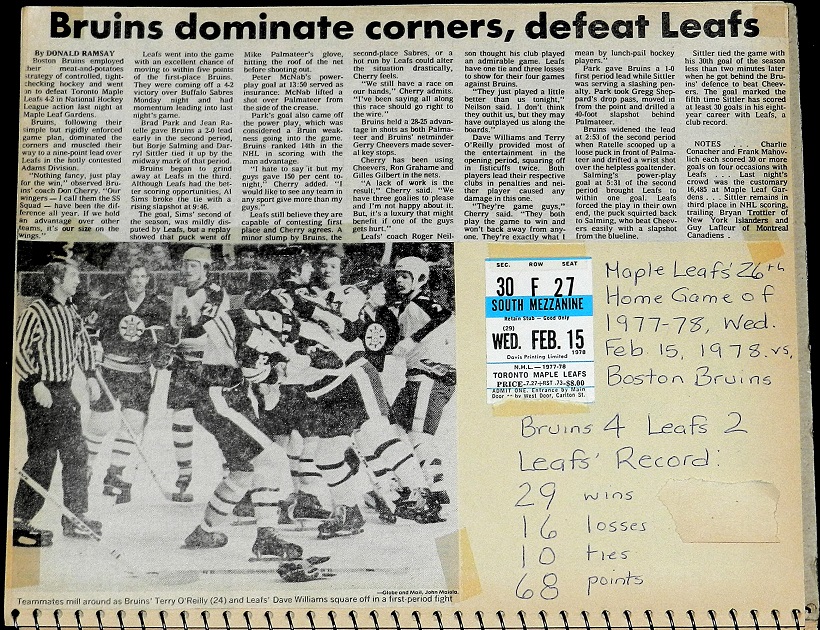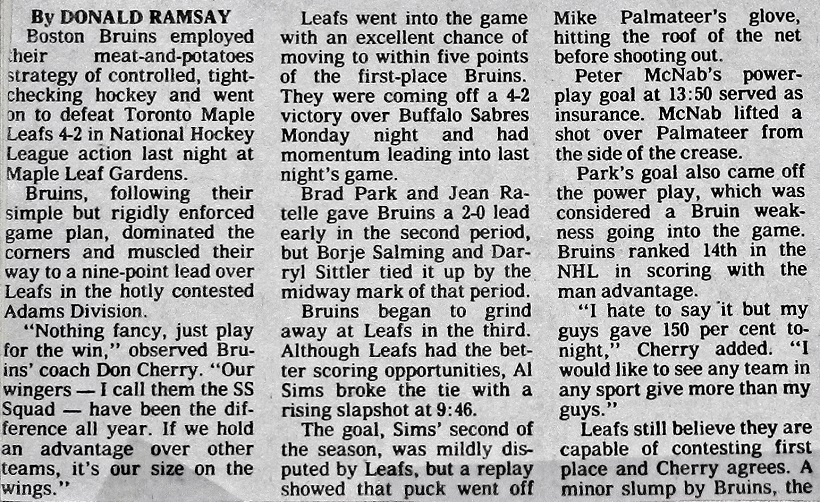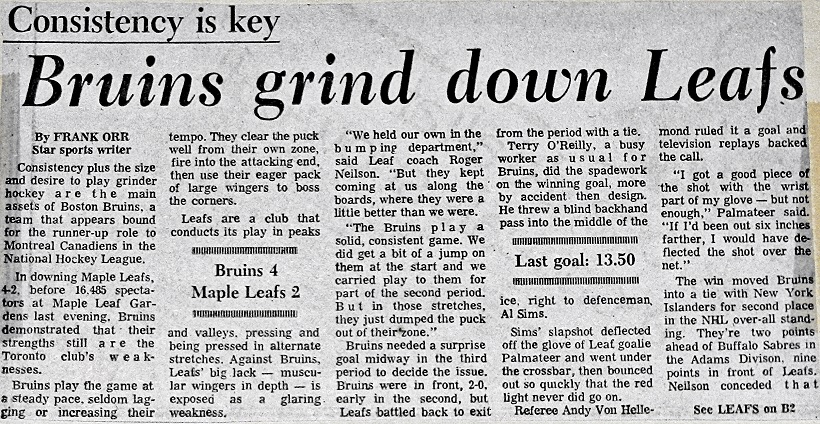 EMAIL: HOWARDLBERGER@GMAIL.COM