TORONTO (Mar. 29) — At some point before the Stanley Cup playoffs, the Maple Leafs will obtain the signature of Matthew Knies (pronounced "nize") on a standard player's contract. God help the young man once that occurs.
For weeks now, fans in our oft–deranged hockey market have been furiously attempting to pinpoint the date in which Knies could make his National Hockey League debut. As if he is certain to boost the Maple Leafs in their quest for a championship. At the moment, young Matthew is gearing up for the National Collegiate Athletic Association (NCAA) Frozen Four tournament on behalf of the University of Minnesota. The Golden Gophers, on Apr. 6, will play Boston University in one semifinal. The survivor will face either the University of Michigan or Quinnipac University (of Hamden, Conn.) in the championship match on Apr. 8. All games will be held at Amalie Arena in Tampa, where the Leafs (barring collapse) will appear for Games 3 and 4 of their opening playoff round.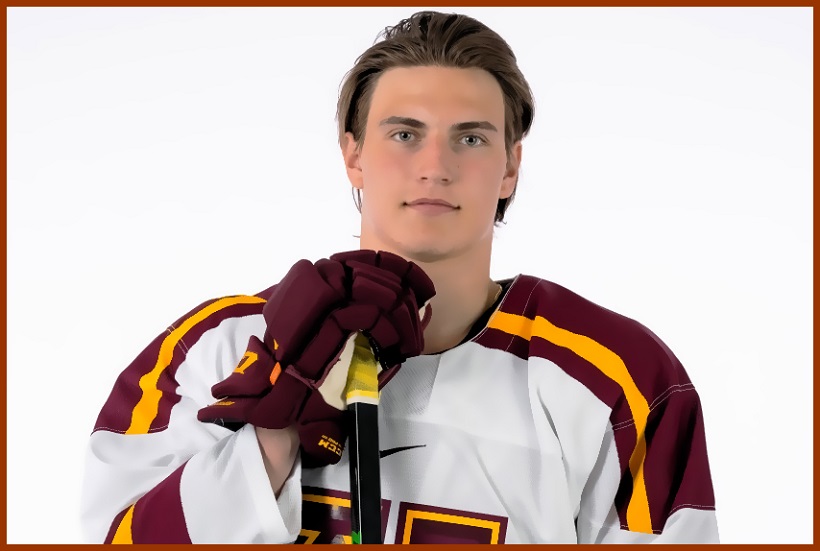 We honestly do not know when, or if, Knies will be capable of contributing to the Blue and White. With his boyish, all–American looks, he'll surely become a heartthrob amid Leafs Nation. And, yes, he is clearly the organization's top prospect. Yet graduates of the United States college hockey program — which is unparalleled in combining athletics and education — have only sporadically made compelling strides in the NHL. And, not once in the 106–year history of the Maple Leafs. The best of Toronto's college recruits? Tyler Bozak, a University of Denver product signed as a free agent by Brian Burke on Apr. 3, 2009. Tyler was a dependable but average center–man for the Leafs over parts of nine seasons, six of which the club did not make the playoffs. His biggest offensive contribution (18 goals, 37 assists, 55 points) occurred in 2016–17. After defecting to the St. Louis Blues, he was part of the 2019 Stanley Cup champion. The U.S. college impact on the Maple Leafs has otherwise been negligible.*
*Phil Kessel (University of Minnesota) scored 201 goals for the Leafs but was neither drafted nor signed by the club.
There were experiments with Christian Hanson, Jimmy Vesey and Nick Abruzzese, all of which failed (the latter has 15 goals for the American Hockey League Toronto Marlies this season). So, it would seem unlikely for Knies to become a front–line performer in the NHL. Even if the in–house cheerleaders (particularly on Sportsnet) are busily projecting him as a second and third–line workhorse for the Blue and White — on what authority, we haven't a clue. When Justin Bourne, earlier this week, spoke rather glowingly of Knies and his potential impact on the 2023 Stanley Cup tournament, Anthony Stewart (also a Leafs advocate) smartly replied "talk to me in May."
Still, given that we're in Toronto, Knies will be hyped to the max once his college season ends and he signs with the Maple Leafs. Probably to his detriment. It would be an immense task for the Phoenix native to contribute largely at the beginning of the regular season, when clubs can ease a prospect into the line up. For Knies to open eyes (rhyme intended) while debuting in the Stanley Cup tournament — especially on a club top–heavy with elite forwards and under a crushing playoff burden — is unlikely to the extreme. It is imperative, therefore, that observers not jump to conclusions about Knies based on how often he appears in the 2023 post season. Nor am I among those who contend the Leafs will immediately toss him into the fray. Certainly not with big minutes or in high–leverage situations. There is no correlation between a point–per–game player in the NCAA and a high–scoring forward in the NHL. Far better to preserve Matthew's confidence, and his sanity, for training camp in the fall.
SPORTSNET NEEDS KYPER: With the afternoon–drive program Tim & Friends scheduled (sadly) for its last episode on Apr. 11, Sportsnet would be wise to provide Nick Kypreos a pulpit during the Stanley Cup playoffs.
This could be somewhat awkward given that the former NHL (and Leafs) winger was among the senior–salaried employees terminated in a cost–savings spree by parent company Rogers Communications. Kyper found himself in elite company, as Rogers also deposed of (for one reason or another) Bob McCown, Don Cherry, Doug McLean, Bob Cole, Daren Millard, Glenn Healy, Paul Romanuk, Scott Morrison, George Stroumboulopoulos, John Shannon, Barry Davis and Mike Wilner. Thereby slashing millions from the payroll during its burdensome contract with the NHL (12 years and $5.2 billion for national TV rights in Canada). Kypreos had been an intermission staple on Hockey Night In Canada during the first half–decade of Rogers proprietorship. He was later rehired in a radio role on Sportsnet–590 with Justin Bourne (Real Kyper & Bourne airs weekdays at 3 p.m.). Nick also began appearing weekly alongside Tim Micallef in the afternoon–drive slot, which is about to be eliminated with Micallef joining Sportsnet Central. But, the Hockey Night production still misses the edge provided by such analysts as Cherry, Kypreos, Shannon, McLean, Healy and Brian Burke, who left in February 2021 to join the Pittsburgh Penguins as president of hockey operations. Perhaps this was by design, as the NHL's Canadian TV "partner" has since offered a credible, but rather vanilla slant, especially pertaining to the "home team" (the Maple Leafs).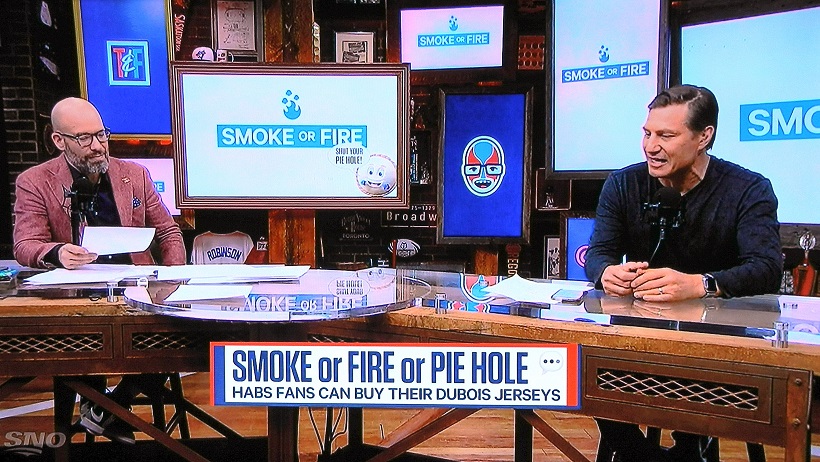 TIM MICALLEF (LEFT) AND NICK KYPREOS PROVIDED SUPERB ENTERTAINMENT ON TIM & FRIENDS.
Elliotte Friedman, Kevin Bieksa and the ever–improving Jennifer Botterill provide information and some opinion, but not nearly as much as in the heyday of Coach's Corner and the Satellite Hot Stove (with agitator Al Strachan).
Kypreos understands how to toe the line between flag–waver and critic. His knowledge of the game and his NHL playing resume (as a member of the 1994 Stanley Cup–champion New York Rangers) are beyond reproach. Now that his segment with Micallef is being canceled, Rogers should re–introduce him to the Hockey Night audience.
Micallef is a first–rate pro and did a marvelous job of executing the important late–afternoon show for Sportsnet, particularly after partner Sid Seixeiro left for a morning gig on CITY TV's Breakfast Television. The "drive" period was was always going to be a challenge in the long shadow of McCown and Prime Time Sports, which occupied various segments of the 3–7 p.m. slot from 1989 to 2019. And, with the emergence of Overdrive on rival TSN, co–hosted (primarily) by Bryan Hayes, Jeff O'Neill and Jamie McLellan. But, Micallef moved seamlessly through the Tim & Sid / Tim & Friends era with his jocular presence. Which will now become a credit to Sportsnet Central.
Rogers has yet to announce replacement programming for the time–slot long dominated by McCown.
LEAFS HAVE DONE WELL: Justifiably, the Maple Leafs will be evaluated by their performance in the upcoming Stanley Cup tournament. But, the club deserves a lot of credit for making the playoffs in seven consecutive years… at a time when qualifying is arguably the toughest in NHL history. Toronto hasn't appeared at such length since the 1973–81 era, when there were fewer teams (16 to 21) and the club could enter the Stanley Cup fray with as few as 75 points. Even amid the three–point–game era, such meager accumulation would put a team on the outside, today, by as much as 20 points. So, the Leafs have truly prospered in the regular season under Mark Hunter, Lou Lamoriello and Kyle Dubas. Within the umbrella leadership of Brendan Shanahan.    
1996–97 LEAFS ROAD CREDENTIALS
It was my third full season covering the Maple Leafs for The FAN–590… and the most memorable, as I became a father on Dec. 6, 1996 with the arrival of my son, Shane. More than a quarter–century has passed, but these road credentials are as colorful as ever. From such facilities then known as the Arrowhead Pond of Anaheim, America West Arena (Phoenix), Marine Midland Arena (Buffalo), the San Jose Arena, the Kiel Center (St. Louis), the Hartford Civic Center, General Motors Place (Vancouver), the Molson Centre (Montreal) and the Ice Palace (Tampa):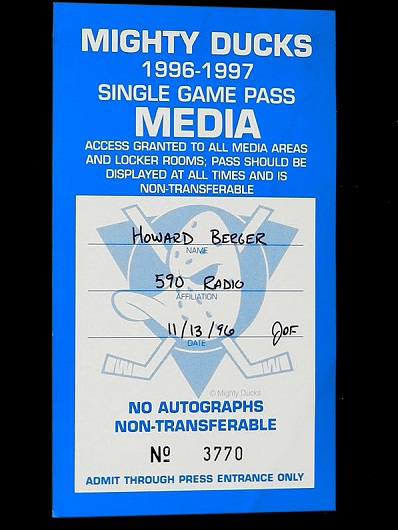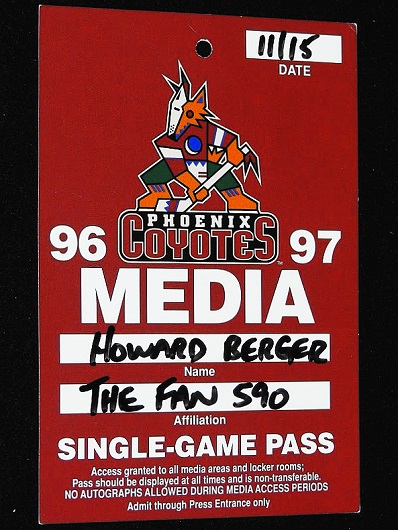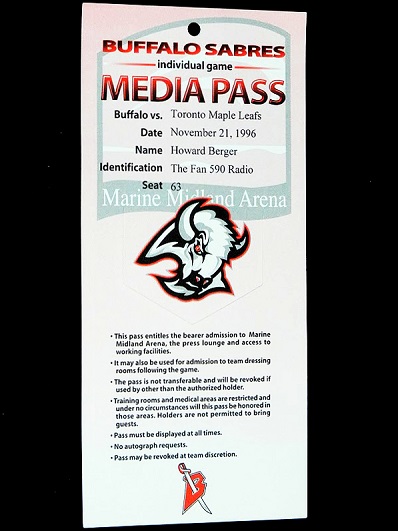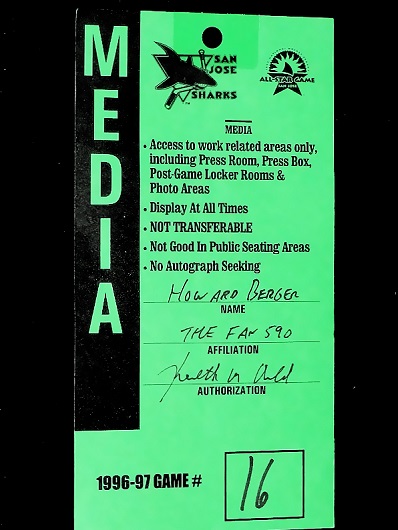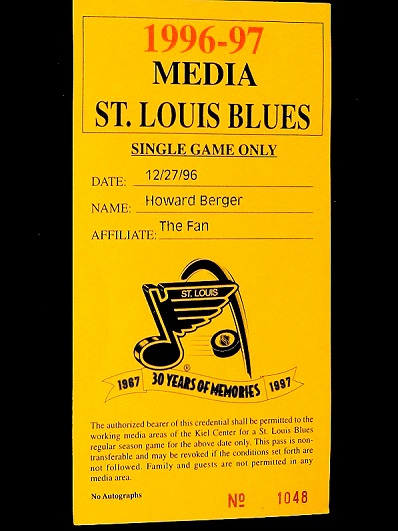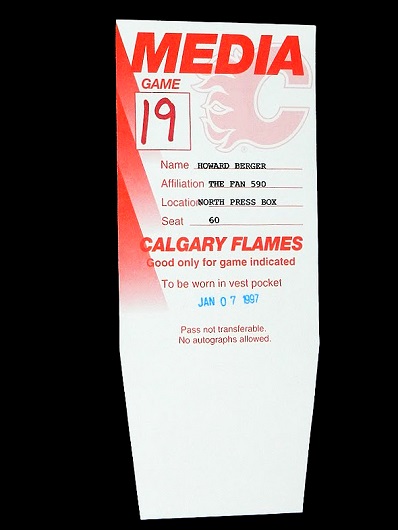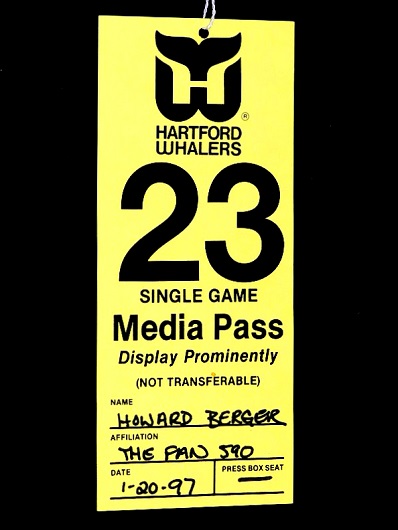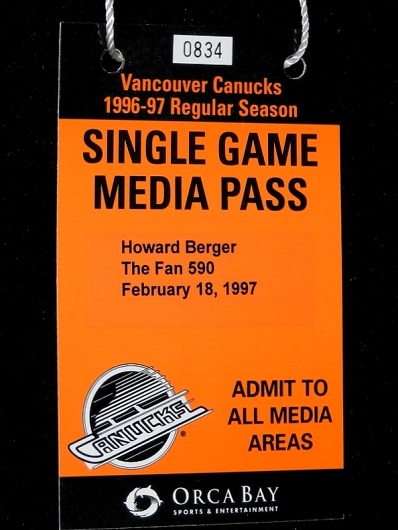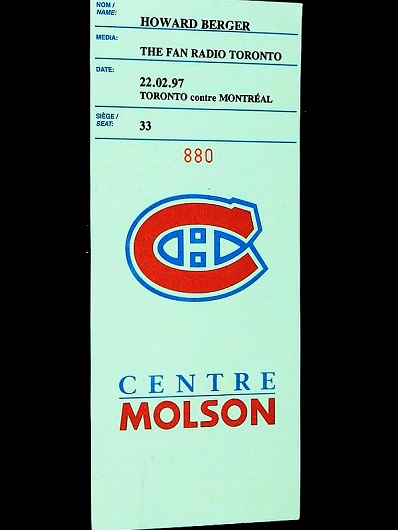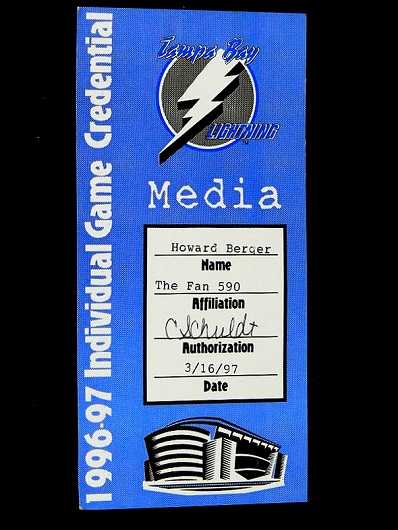 EMAIL: HOWARDLBERGER@GMAIL.COM