TORONTO (Mar. 13) — As far as the Maple Leafs are concerned, there cannot be a nicer guy in the local media than Chris Johnston. In fact, Chris is just nice, period — whether he's writing a column in the Toronto Star or chatting on TSN as part of The Insiders. To this day, I've never seen or heard Chris utter a truly critical word about any person or subject in hockey; particularly the "home" team. Which is precisely the tone of media coverage expected by the television networks that are co–administered by Maple Leaf Sports and Entertainment.
This was demonstrated by arguably the "nicest" paragraph ever written about Maple Leafs general manager Kyle Dubas. It appeared in Johnston's latest Star column, submitted from the National Hockey League GM's meeting in Palm Beach, Fla.: Maple Leafs ownership elected not to extend Dubas last summer following another first–round loss by the team. That was a risky decision because of how favorably he's viewed leaguewide and the likelihood they'd find themselves in a familiar position this season — once again among the NHL's strongest regular–season performers, but facing a difficult playoff series with Tampa Bay. What more does the MLSE board need to see to stick with a 37–year–old who will almost certainly be pursued by other organizations if he becomes available?
The answer to the puzzling question, above, is quite simple: Almost everything.
It can be argued, rather easily, that no GM in the 106–year history of the Leafs assumed the role in a more–favorable circumstance. The Leafs have been putting up franchise–best numbers in the regular season under Dubas almost solely because he inherited William Nylander, Mitch Marner and Auston Matthews. Nylander was drafted in 2014 as part of the David Nonis administration; Marner (2015) amid the interim stewardship of Mark Hunter and Matthews (2016) under Lou Lamoriello. Not that these men had to extend themselves, cerebrally. Even the clinically insane could have chosen any of the Big 3 with the early draft holes granted the Maple Leafs. This is not to suggest that Dubas, as assistant GM, had no input into the selections. But, the final decision was always someone else's. Find me another young manager in the NHL being elevated to the big chair with such a triple blessing… with elite players that combined, last season, for 129 goals and 283 points. You'll be looking forever.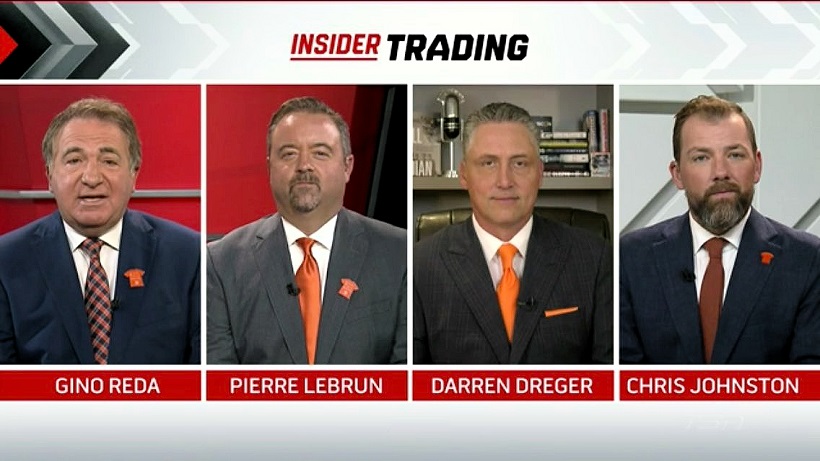 CHRIS JOHNSTON (RIGHT) DOES A GOOD JOB FOR TSN… AND THE LEAFS. BUT, NOT NECESSARILY IN THAT ORDER.
And, what has Kyle done with the gifted triumvirate since he took over from Lamoriello in the summer of 2018? If the playoffs matter to you, absolutely nothing. It's been suggested that Dubas had major influence on the signing of free agent John Tavares, who left the New York Islanders just more than six weeks after the GM switch in Toronto. Yet, it was surely Brendan Shanahan and then–coach Mike Babcock doing most of the legwork in luring Tavares to his home town. The prime tasks accorded Dubas in the nearly five years since his appointment have been to solidify goaltending; improve the defense corps and re–arrange the third and fourth–line deck chairs each summer with his pittance of leftover cap space. Though Kyle made two decent acquisitions — Jack Campbell and Ilya Samsonov — the Maple Leafs have been devoid of playoff goaltending assurance throughout his tenure.
Not since Jim Gregory was GM (1969–79) has the club drafted, signed or developed an elite blueliner (Borje Salming, Ian Turnbull). As such, Kyle did the best he could by locking up Morgan Rielly for eight years at an annual cap hit of $7.5 million. Which is essentially Rielly's value, yet still a trifle rich when you consider that two–time Stanley Cup champion Victor Hedman earns merely $375,000 more per season. In fact, Dubas was so evidently dissatisfied with his blue line that he undertook a frenzied remodeling prior to the trade deadline, moving out his most–skilled player at the position (Rasmus Sandin) while acquiring veterans Jake McCabe, Eric Gustafsson and Luke Schenn. It didn't speak particularly well for nearly half–a–decade's work with the critical defense spot.
So, you might wonder why such a respected columnist and TV panelist as Chris Johnston would ask "what more does the MLSE board need to see" in order to retain Dubas. Other than playing "nice" with the home team, it's a question that came out of left field. The Leafs haven't won a playoff round in four attempts under Dubas; the club's vaunted attack erupting for a total of three goals while losing decisive matches to Boston, Columbus, Montreal and Tampa Bay (the last three on home ice). If the absolute minimum — one playoff–series win — is the criterion for a contract extension, it had better occur this spring. Coming into the current season, Dubas had not earned additional years at the helm; MLSE was correct in refusing to lengthen his contract. Yet, why would Shanahan be viewed differently than his hand–picked manager? It says here that if the Maple Leafs fail to advance beyond the opening Stanley Cup round for an incredible seventh consecutive year, both men should be looking for work.
As for Johnston, a baseless question is bound to earn high marks from MLSE. It pays to be "nice."
EMAIL: HOWARDLBERGER@GMAIL.COM