TORONTO (Mar. 16) — I am not particularly familiar with Sonny Sachdeva of Sportsnet.ca. Clearly, it's been my loss… and I promise to pay more attention. His Linkedin bio describes him as… a writer based in Toronto with a decade of experience contributing to projects as a reporter, an editor, an analyst, a songwriter, an audio producer, and a number of other roles falling somewhere in between. Which is all good.
After providing the most–honest and succinct assessment of the Toronto Maple Leafs that these eyes have read in a long time, Sonny's versatility could come in handy. If I were him, I'd be looking over my shoulder while anywhere in the vicinity of the Rogers building at One Mount Pleasant Road. Should the wrong "co–owner" of the Maple Leafs disapprove of Sonny's refreshing candor, he might have to become a full–time songwriter. Oh my.
I challenge any fan of the Blue and White to argue a word of this paragraph supplied by Sachdeva in his latest article: After years of running into the post season with a high–flying offence that papered over defensive issues, goaltending issues, and killer–instinct issues, the 2022–23 Leafs head into the home stretch of the campaign looking much the same. With 80 per cent of the season in the bag, the goaltending question — somehow — remains unanswered. Call Sonny "Mr. Obvious", if you wish, but understand that you will rarely, if ever, witness such a level of sincerity from those in the umbrella domain of Maple Leaf Sports and Entertainment. This includes any person employed by Sportsnet or TSN, as parent companies Rogers and Bell own 75 percent of the Maple Leafs.
Neither will you read nor hear such forthrightness from Sonny's colleagues, Luke Fox and Justin Bourne, who are unbridled fans of the Leafs. As always, Luke leads the cheerleading on Sportsnet.ca, even if a a good writer and knowledgeable about hockey. Nick Kypreos often reels in Bourne on radio. Which is the posture required for "branding" of an in–house product: the beloved Blue and White. Sachdeva, on the other hand, stepped way outside the lines with his perfectly accurate appraisal… just one month removed from the Stanley Cup playoffs.
To wit: When was the last time the Leafs entered the post season with an assumed edge between the pipes? Certainly not at any point of the Brendan Shanahan–Kyle Dubas era, while trotting out Frederik Andersen, Jack Campbell and Erik Kallgren against the likes of Tuukka Rask, Braden Holtby, Joonas Korpisalo, Carey Price and Andrei Vasilevskiy. In fact, we need to travel back in time nearly 20 years to find the answer — to the opening round of the 2004 playoffs, when Ed Belfour backstopped the Leafs to a seven–game triumph over Patrick Lalime and the Ottawa Senators. Which, as you know, was the last time the Leafs won a series. Prior to Belfour, it was Curtis Joseph providing the club with four playoff springs of goaltending assurance, during which the Leafs twice advanced to the Stanley Cup semifinals (1999 and 2002): the high–water mark for any Toronto club since 1967.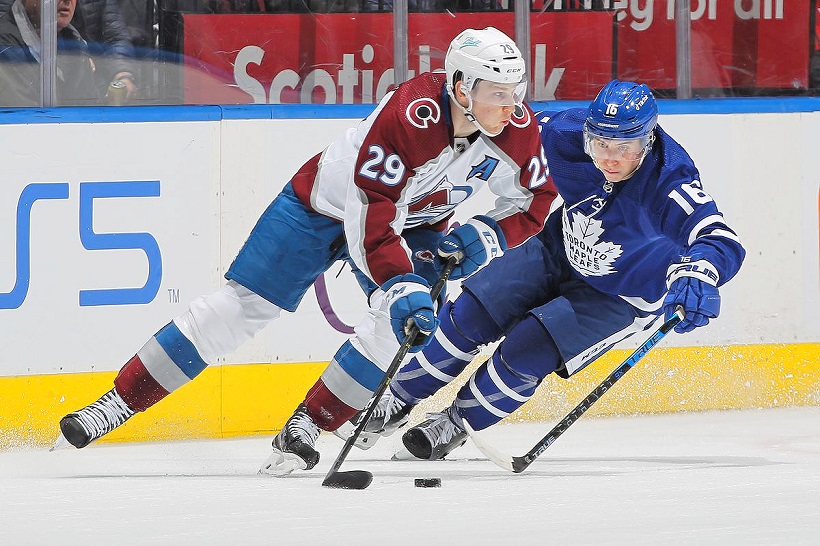 NATHAN MacKINNON (29) SCORED THE ONLY GOAL IN THE SHOOTOUT ON WEDNESDAY NIGHT, PROVIDING COLORADO A 2–1 VICTORY OVER THE LEAFS AT SCOTIABANK ARENA. GETTY IMAGES/NHL
So, yes, as Sonny Sachdeva accurately (and boldly) offered: the Maple Leafs will again be "running into the post season with a high–flying offense that papers over defensive issues, goaltending issues and killer–instinct issues." The lengthy juncture in which an opposing netminder is favored will continue with Vasilevskiy, the two–time Stanley Cup champion of Tampa Bay, likely encountering Ilya Samsonov in the opening round. That said, I can picture Samsonov giving Vasilevskiy a good run for his money. The former Washington goalie has been spectacular, at times, for the Maple Leafs; his 28–save performance in Wednesday night's 2–1 shootout loss to Colorado ranks with any big moment of the season. That Samsonov is a virtual playoff unknown will cast him as the underdog against Vasilevskiy, but that mystery also lends itself to a potentially surprising outcome. No one knows how effective Samsonov can be in a seven–game series. He might turn into a pleasant surprise for Leafs Nation.
Frankly, it's the "killer instinct" matter that concerns me more about the Leafs than goaltending. The Colorado game was a defensive slog and the Leafs failed to score more than once. Which has been the crippling pattern for Auston Matthews, Mitch Marner, Willy Nylander and Co. in decisive playoff matches (only three goals in four games against Boston, Columbus, Montreal and the Lightning). Even Shanahan, in a rare moment of candor, criticized his team's inability to go for the jugular. Can that change against Tampa Bay next month? Clearly, the Lightning has been less–than stellar of late, but its playing nucleus — Vasilevskiy, Victor Hedman, Nikita Kucherov, Steven Stamkos and Brayden Point — understands what is required for a deep Cup run. The Toronto nucleus, somehow, has failed to similarly grasp the obligation in half–a–dozen attempts. So, maybe it is the product of killer instinct that has diffused the Maple Leafs since 2017 (and, certainly, in Game 7 against Boston in 2013, when the Phil Kessel–Dion Phaneuf crew infamously coughed up that 4–1, third–period lead). We shall see.
THE MEDIA FLIP SIDE: Unsurprisingly, Luke Fox has an interminable list of excuses for his favorite team. When observing, after the Colorado loss, Sheldon Keefe's ridiculous rotation of 11 forwards and seven defensemen, Fox wrote: The Maple Leafs dressed 11 forwards. The Avalanche dressed 12 and used Alex Galchenyuk all of 3:22. Which neatly and conveniently sidestepped the issue of Keefe playing Marner and Matthews for close to 30 minutes each against the Avalanche — the ice time usually accorded an elite defenseman. Any such continued lunacy by the head coach will result in his top performers running on fumes when the playoffs begin. Correct, Luke?
JENNIFER ECLIPSED ANTHONY: Another impressive volley came from Jennifer Botterill during the Sportsnet panel show prior to the Colorado at Toronto game. After rabid Leafs fan Anthony Stewart absolutely gushed over Ilya Samsonov for a full 60 seconds, making him into a latter–day Jacques Plante, Botterill turned to an array of video clips that showed Samsonov's frequent lack of positioning in his crease. In a relatively brief time, Jennifer has become the female equivalent of Elliotte Friedman. Both can be trusted for their knowledge and information.
WHERE ARE MY FELLOW YANKS? It must be galling, even if anticipated, for NHL commissioner Gary Bettman to speak only with Canadian reporters during each and every gathering of league governors or general managers. As during the just–completed GMs' meeting in Palm Beach, Fla., attended by Gino Reda, Chris Johnston and Darren Dreger of TSN; Paul Hollingsworth and Friedman of Sportsnet. ESPN is the NHL's American broadcast partner. Yet, nowhere on its website was there even a mention of the meeting. No disrespect, but women's lacrosse ranked ahead of the NHL scores on Wednesday. If not for media north of the border, there would be no national coverage of the NHL. That hasn't changed since Clarence Campbell ran the league from 1945 to 1971.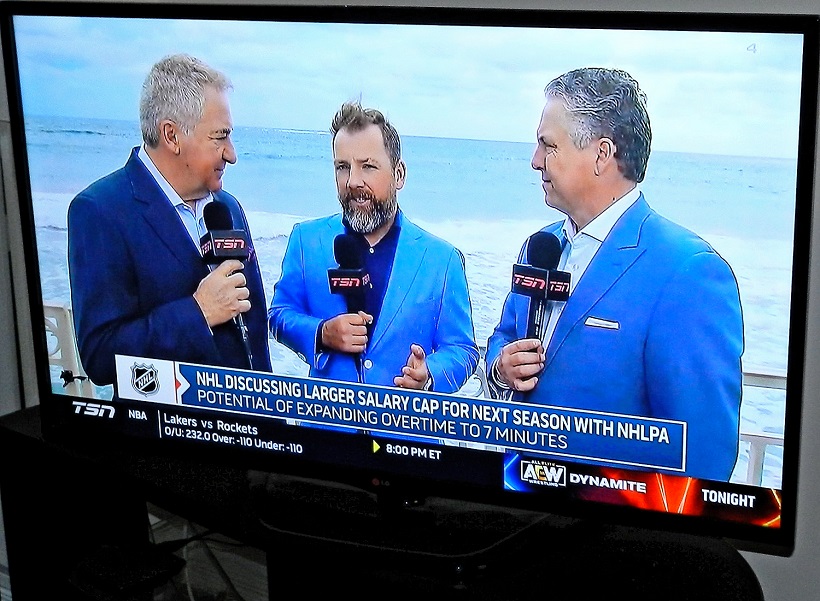 GINO REDA, CHRIS JOHNSTON AND DARREN DREGER, OCEANSIDE, FROM THE NHL GMs' MEETING IN FLORIDA. WITH NO CONCERNS ABOUT AMERICAN–BASED INTEREST OR COMPETITION.
It was exactly the same in the early–to–mid–90's when I covered such events for The FAN–590.
WHEN WE HAD ACTUAL TICKETS…
Much was lost in North America during the COVID–19 pandemic: hundreds of thousands of precious lives, homes, businesses and jobs. The collateral damage was far–less significant and it crossed into the enduring tradition of sport. Prior to 2020, physical tickets were sold for games involving all teams in Canada and the United States; both amateur and professional. Beginning in the 2010's, paper tickets could be printed off computer screens, but entering an arena, stadium or ballpark necessitated the scanning of an item carried on your person. The spread of COVID–19 rapidly eliminated this process; the fewer items we could touch with our bare hands, the better. Tickets, therefore, became the sole domain of the mobile universe. Today, scanners aim a laser–like beam at our I–Phones or Android devices. Season tickets are uploaded as required in an App supplied by the team. No longer do we carry home a torn souvenir, however small, from the games we attend. And, that's kind of a shame.
My dad bought season tickets to Leafs home games from 1975–76 to 1982–83, after which I was granted a press box credential. We sat in Sec. 30 (last row) of the south–mezzanine Blues, up behind and to the left of the goal defended by Toronto in the first and third periods. It was always a super–exciting moment when the tickets arrived in the mail each year. They came with fold–out boxes that held 43 games (three exhibition, 40 regular season) in Seats 27 and 28 of Row F. On the front read the message HERE ARE YOUR LEAFS SEASON TICKETS.
Sadly, youngsters today can no longer experience that thrill.
Here are tickets, and ticket–stubs, from the Toronto Maple Leafs, Argonauts and Blue Jays: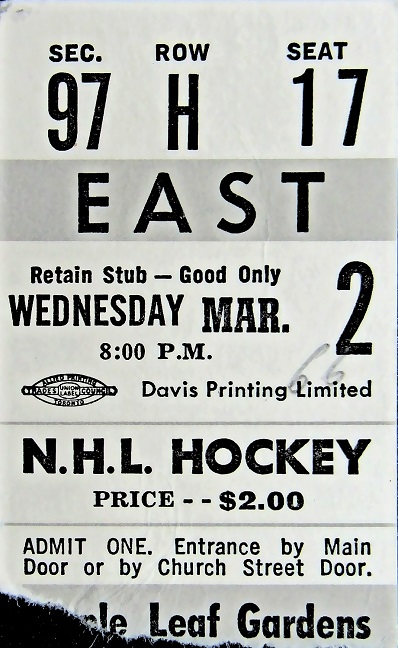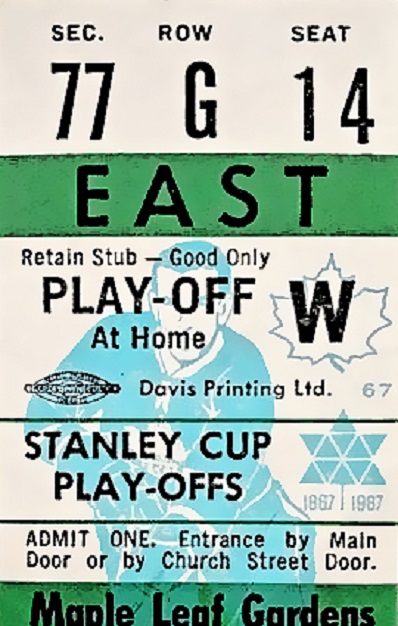 A STUB, LEFT, FROM WAY UP IN THE EAST GREYS AT MAPLE LEAF GARDENS FOR A GAME AGAINST MONTREAL ON MAR. 2, 1966 (3–3 TIE). AND, A STUB FROM THE EAST GREENS FOR GAME 4 OF THE 1967 STANLEY CUP FINAL. MONTREAL CLOBBERED THE LEAFS, 6–2, ON APR. 27.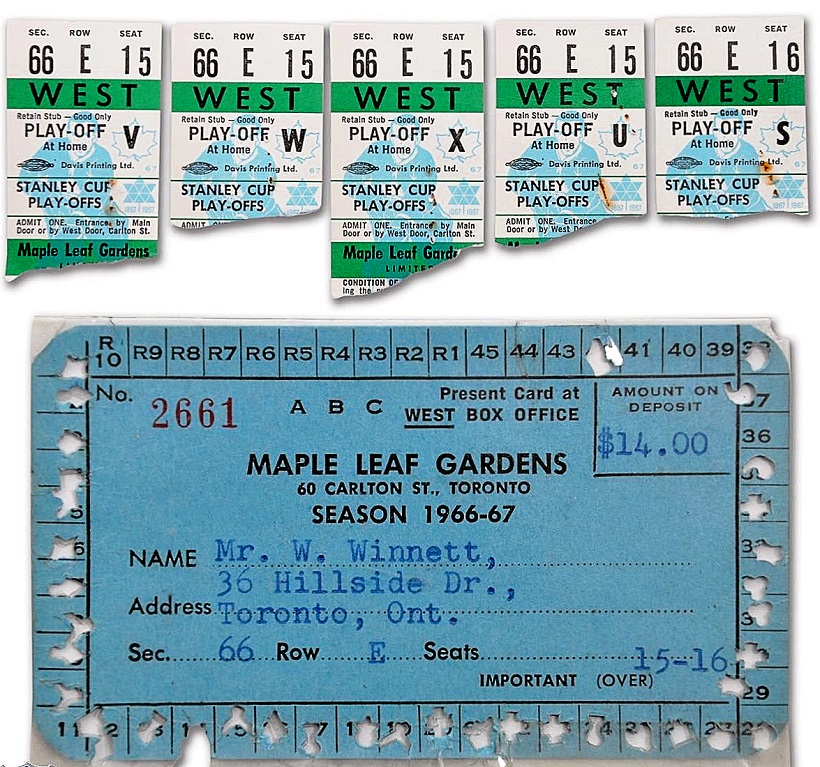 TICKET STUBS (AND 1966–67 SEASON–TICKET CARD) FROM STANLEY CUP GAMES AT THE GARDENS: EAST GREENS OWNED BY A RESIDENT OF MIDTOWN TORONTO. PLAYOFF GAME 'X' (IN THE MIDDLE) WAS USED ON MAY 2, 1967 WHEN THE MAPLE LEAFS DEFEATED THE HABS FOR THEIR MOST–RECENT NHL CHAMPIONSHIP.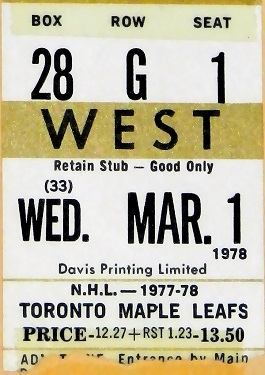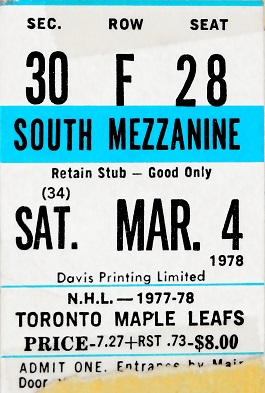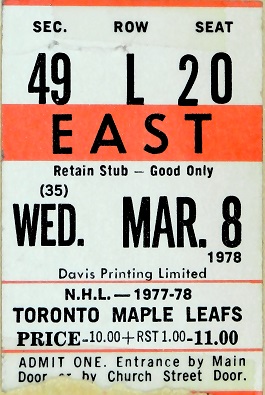 DURING A ONE–WEEK SPAN, 45 YEARS AGO THIS MONTH, I SAT IN THREE LOCATIONS (ABOVE) AT THE GARDENS: THE WEST GOLDS FOR A 3–2 LEAFS VICTORY OVER PHILADELPHIA; IN MY SEASON TICKETS IN THE SOUTH–MEZZANINE BLUES FOR A 4–3 WIN OVER VANCOUVER (IT WAS FUTURE COACH RON WILSON'S NHL DEBUT ON DEFENSE FOR TORONTO) AND IN THE EAST REDS FOR A DESULTORY, 5–1 DEFEAT BY THE LOS ANGELES KINGS. NOTICE THAT TOP PRICE FOR A LEAFS GAME IN 1977–78 WAS $13.50 — OR THE COST, TODAY, OF POPCORN AND A BEER.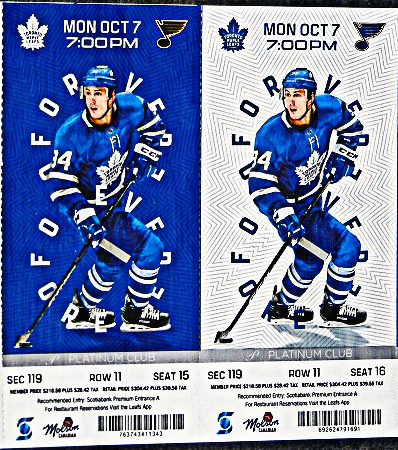 THE LAST SEASON THE LEAFS PRINTED PHYSICAL TICKETS WAS 2019–20, BEFORE THE COVID–19 PANDEMIC. ABOVE, ARE PLATINUM TICKETS FOR THE FIRST TWO HOME GAMES (AGAINST ST. LOUIS AND TAMPA BAY). BELOW, ARE STANLEY CUP FINAL TICKETS THAT, AHEM, WENT UNUSED.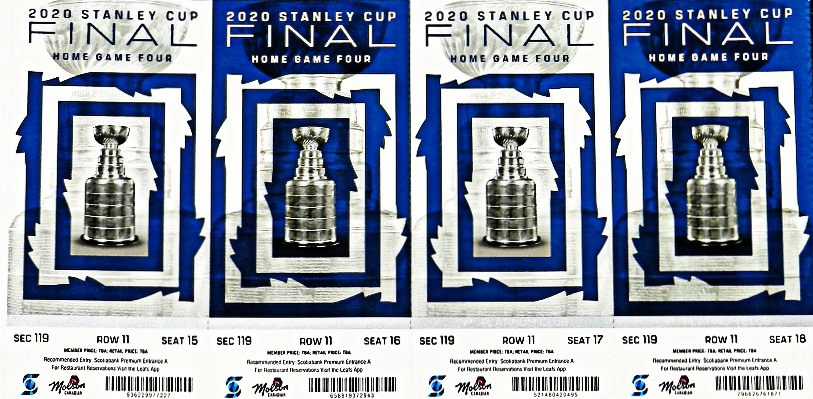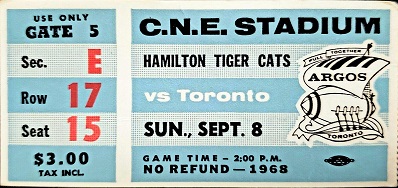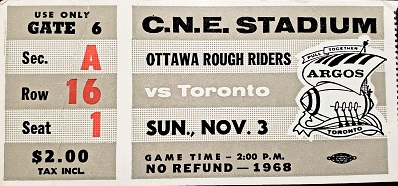 CARDBOARD TICKETS FOR ARGOS FOOTBALL GAMES AT THE OLD CNE STADIUM CAME IN VARIOUS COLORS (ABOVE AND BELOW), ADORNED BY THE GREATEST LOGO IN TORONTO SPORTS HISTORY.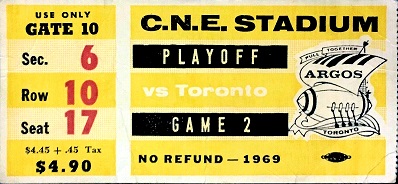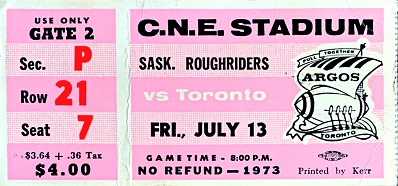 ON NOV. 30, 1968, THE OTTAWA ROUGH RIDERS DEFEATED THE CALGARY STAMPEDERS, 24–21, IN THE GREY CUP GAME BEFORE 32,655 SPECTATORS (A NEAR–SELLOUT) AT CNE STADIUM.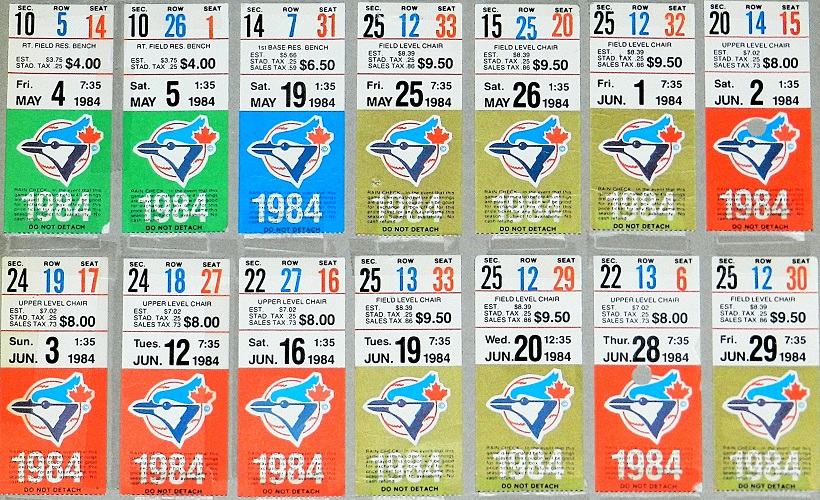 FROM 1977 TO 1986, THE TORONTO BLUE JAYS ISSUED HANDOME TICKETS (ABOVE AND BELOW) FOR HOME GAMES AT EXHIBITION STADIUM, COLOR–CODED BY PRICE. THESE ARE FROM GAMES I ATTENDED, TAPED INTO THE INSIDE COVER OF SCRAP BOOKS I KEPT FOR THE 1984 AND 1985 MAJOR LEAGUE BASEBALL SEASONS.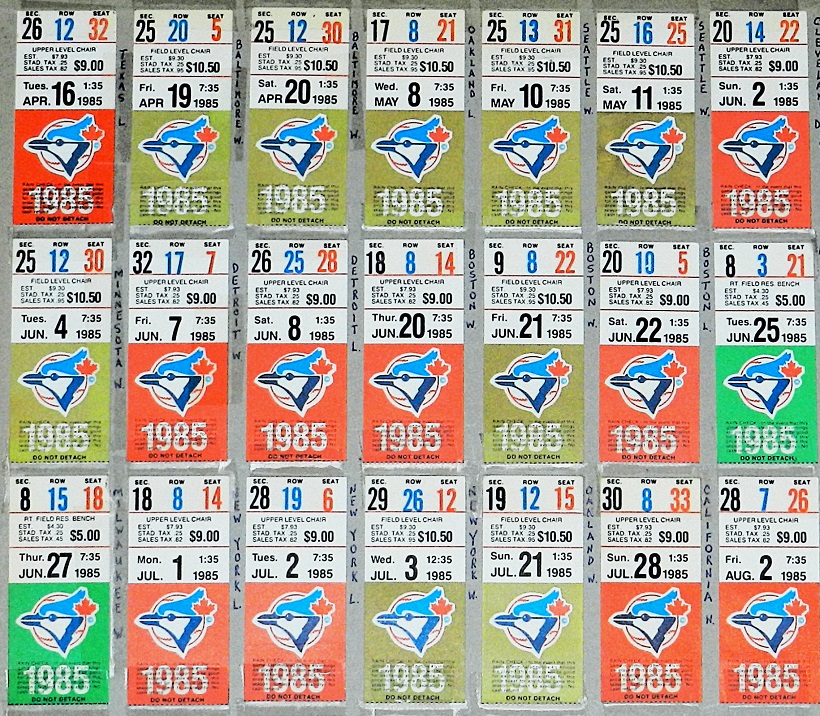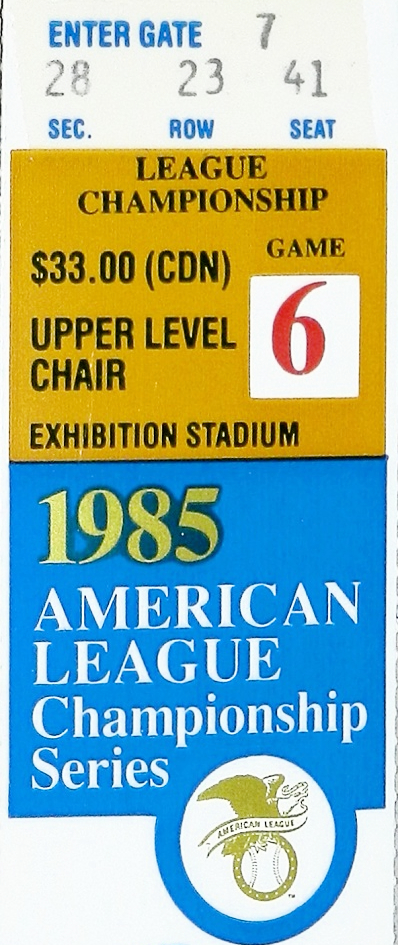 THE BLUE JAYS FIRST MADE THE PLAYOFFS IN 1985. THEY CARRIED A 3–2 SERIES LEAD OVER KANSAS CITY IN THE AMERICAN LEAGUE CHAMPIONSHIP SERIES INTO GAMES 6 AND 7 (IF NECESSARY) AT EXHIBITION STADIUM, LOSING BOTH TO THE EVENTUAL WORLD SERIES CHAMPION.


A SPECIAL TICKET WAS ISSUED FOR THE BLUE JAYS HOME OPENER OF 1986, TO BEGIN THE CLUB'S 10th–ANNIVERSARY SEASON. THE JAYS LOST, 2–1, TO THE BALTIMORE ORIOLES ON APR. 14.
EMAIL: HOWARDLBERGER@GMAIL.COM