TORONTO (Mar. 23) — For those, like myself, who remember it clearly, there is no way to rationalize that 30 years have flown by since Doug Gilmour authored the greatest individual season in Toronto Maple Leafs history.
The passage of time, as we grow older, becomes a mirage… escalating unfathomably. So, yes, it was right about now, in 1993, that Gilmour and the Maple Leafs were building toward the club's deepest Stanley Cup run of the post–1967 era. I can also tell you, without equivocation, that Mitch Marner is the most–gifted player to wear a Maple Leafs jersey since Gilmour — from the perspective of organic skill, maybe the best in franchise history. It is true, as well, that Marner has become the first Toronto skater in the post–Gilmour years to accrue consecutive seasons of 90 or more points, a feat not even accomplished by the club's all–time scoring leader, Mats Sundin.
This, however, is where we must pause — at least for now — in comparisons between Marner and Gilmour. As we must draw a line between playoff accomplishments of the Gilmour–Pat Burns era and the lack thereof with the current group… led, quite clearly, by Marner. The narrative could change as soon as this spring, though Boston's season–long dominance will likely preclude a Maple Leafs repeat of 1993. And, too many contract mysteries lay ahead with the nucleus of the Blue and White to offer a long–term projection. When Gilmour played here (1992–97), there wasn't yet a salary cap or the concern the Leafs' top two players (Marner and Auston Matthews) could soon gobble up $25 million of cap space. Doug was at a slightly different phase of his career — nearly five years older than Marner and with a Stanley Cup on his resume from 1989 in Calgary: a 22–point effort in as many playoff games that could have earned him the Conn Smythe Trophy (won, instead, by teammate Al MacInnis). Gilmour had also starred, prior to that, for St. Louis, putting up 21 points in 19 playoff games of 1986, as the Blues extended Calgary to Game 7 of the Stanley Cup semifinals. He followed with a 105–point season in 1986–87.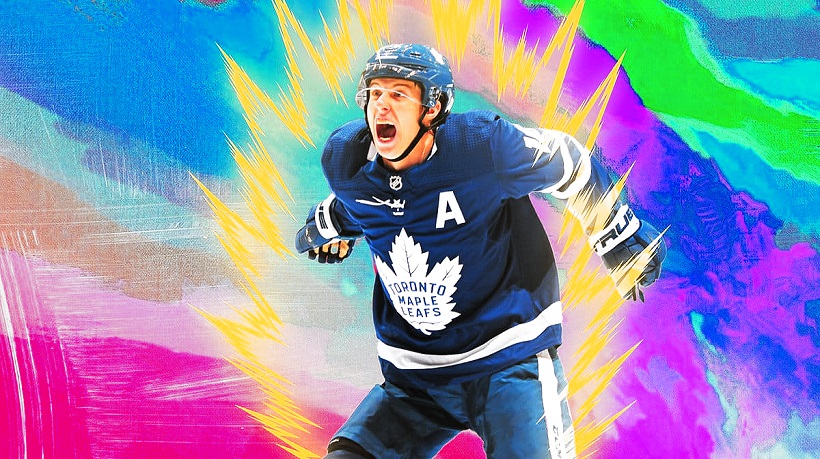 But, it was 1992–93 that cemented Gilmour's place in Toronto franchise lore. His 95 assists and 127 points remain, by a fair margin, club standards, surpassing his own 84–assist gem of the following year and Darryl Sittler's 117 points in 1977–78. It was in the playoffs, however, that Gilmour distanced himself from all others that have worn blue and white in the past 106 years… and where Marner hasn't (yet) distinguished himself. Doug erupted for 35 points in 21 post–season games, leading the Maple Leafs farther than at any juncture of the post–1967 era. Only a vintage performance by Wayne Gretzky at Maple Leaf Gardens in Game 7 of the Stanley Cup semifinals prevented Toronto from encountering Montreal for the National Hockey League title. Gretzky and the Los Angeles Kings fell to the Canadiens in five games, marking the last Cup victory by a club from north of the border. Gilmour followed, in 1993–94, with 111 points (third–most in franchise history) and another 28 points in 18 playoff games as the Leafs, again, advanced to the Cup semis before bowing to Vancouver. More than a quarter–century after last pulling on a Toronto uniform, Gilmour is still the all–time club leader in playoff points (77 in 52 games).
There are those who contend that Marner, given his slight build, will never match Gilmour in playoff brilliance. But, the size issue is largely a falsehood. After being double and triple–shifted by Burns, I can guarantee that Gilmour weighed no more than 145 to 150 pounds, soaking wet, during his back–to–back playoff masterpieces. He also played on chronically sore feet which often necessitated the tying and re–tying of his skate laces. Still, no one could stop him. As for raw talent, and as mentioned, it's possible that no player in franchise history — Gilmour included — measures up to Marner. The edge for Gilmour was located beneath the chest wall. No star performer with the Maple Leafs, to these eyes, has equaled No. 93 for sheer combativeness. His burning inclination to carry the club when it most mattered, and his ability to improve exponentially throughout the playoff slog, set him widely apart from any skater on the current team. Unlike Marner, Matthews and Nylander, Gilmour never turned away from a hit or pulled up before colliding with an opponent. If anything, he looked for trouble in the trenches.
Who, of vintage, can forget Game 1 of the Los Angeles series? While taking over the match in the third period — his goal and two assists broke open a 1–1 tie — Gilmour famously absorbed a bone–rattling check by Marty McSorley while cutting across the middle of the attacking zone. As he lay dazed on the Gardens ice, Wendel Clark stepped up and engaged in a monumental fist pounding with McSorley. Gilmour rose unsteadily; skated toward the visitors bench and verbally challenged the entire Los Angeles club. Seconds later, Burns, in an oft–replayed scene, charged angrily toward L.A. counterpart Barry Melrose, only to be restrained by assistant coach Mike Kitchen and several policemen between the benches. The entire aura of that 1993 Leafs playoff squad was remarkably different than the club which has currently failed, in six attempts, to escape the opening round. Though they never played for the Stanley Cup, uncompromising determination by such figures as Gilmour, Clark, Dave (Tiger) Williams, Darcy Tucker, Shayne Corson and the late Wade Belak generated enduringly fond memories.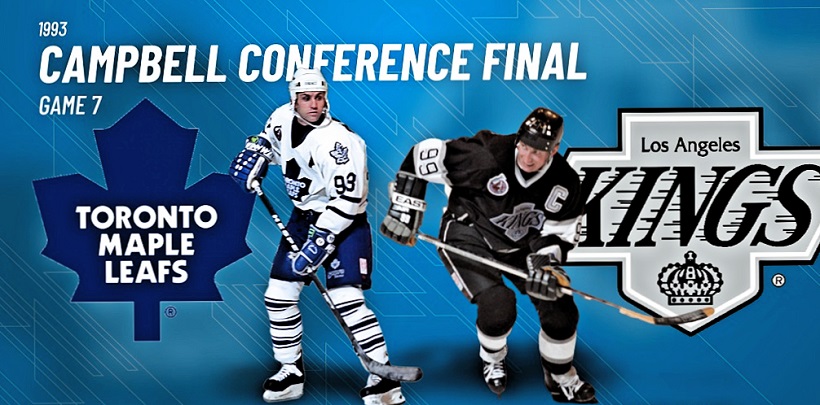 Marner has 33 points in 39 career playoff games, hardly an embarrassment, yet paltry when considering Gilmour's 35 points in 21 games of 1993. None of the big–money men with the current Leafs have come close to hauling the team through even a single playoff round, let alone the four series triumphs authored largely by Gilmour. With Marner, it is not about effort. In fact, as the pressure has mounted on the millennium Leafs, young Mitch is trying a little too hard to make things happen in the spring. When in that posture, No. 16 gets overly fancy with the puck, leading to turnovers in the neutral zone and odd–man rushes the other way. Whether he can mature into a gritty and poised leader, ala Gilmour, is still a mystery as Mitch nears his 26th birthday (on May 5).
There are valid comparisons between Gilmour and Marner pertaining to size, skill and regular–season production.
But, when the chips are on the table, Marner has lots of catching up to do.
EMAIL: HOWARDLBERGER@GMAIL.COM