TORONTO (Mar. 21) — Here in the land of the Blue and White, there are forever questions (and nicknames) between the pipes. In the spring of 2023, it is very simple: Can Unknown Ilya and Melancholy Matt take the club where Smilin' Jack and Soft–Goal Freddy could not? Answers will begin to unfold in roughly three weeks. But, do not buy into any suggestion the Toronto Maple Leafs are embroiled in a "goaltending controversy". Though Matt Murray has a playoff resume from Medieval times, Ilya Samsonov is, beyond question, the club's No. 1 stopper: a privilege the former Washington chattel has earned this season with largely exceptional numbers. In 35 appearances, Samsonov is 24–8–3 with a 2.35 goals–against average and .917 save percentage. These stats compare favorably (though closely) with Jack Campbell's two–season run as Toronto net man: a marvelous 48–12–8 record with splits of 2.40 and .918. And, no one doubted Campbell's posture in the Maple Leafs' goaltending rotation.
Questions, obviously, pertain to the Stanley Cup tournament, where Melancholy Matt's biography includes a pair of championships with the Pittsburgh Penguins, one of which (in 2016) he led by posting a playoff–best 15 triumphs. But, seven years is a lifetime in hockey. And, we all know that Melancholy will — at some point — slip on a banana peel or a bar of soap, thereby sidelining him for a lengthy term. It remains his post–Penguins destiny.
Should he avoid a mishap, Melancholy will be a much–valued component in the playoffs… as back–up to Samsonov. It says here, emphatically, that he'll see action only if Samsonov fails or is injured.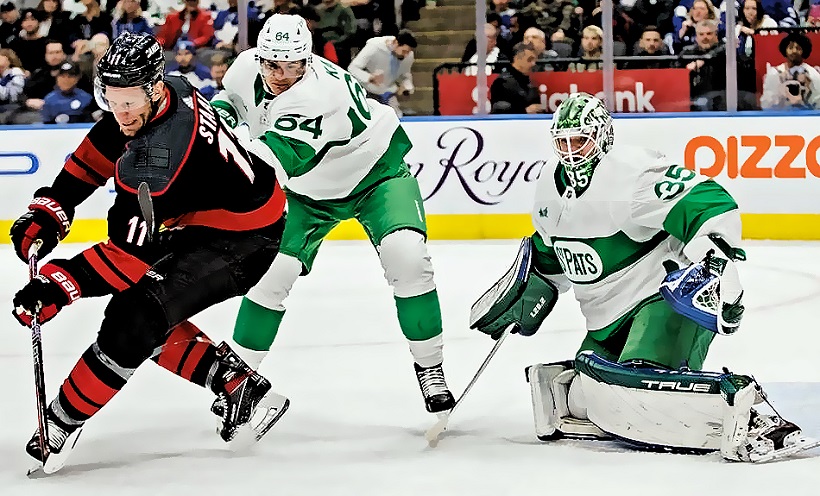 ILYA SAMSONOV, WEARING THE THROWBACK TORONTO ST. PATS UNIFORM, WON AGAIN AT SCOTIABANK ARENA ON FRIDAY NIGHT, DEFEATING THE HIGHLY RANKED CAROLINA HURRICANES. COLE BURSTON THE CANADIAN PRESS
Unknown Ilya has kept himself in one piece for most of the current schedule, shining particularly at Scotiabank Arena with an 18–2–2 home–ice mark in 22 appearances and splits of 1.95/.929 (both elite numbers). Should the Leafs maintain their edge on Tampa Bay in the Adams Division standings, they will carry home–ice "advantage" into the opening playoff round against the Lightning. Which allows for (gulp!) the same "privilege" in a decisive seventh match… a scenario the club has botched on three consecutive occasions (against Columbus, Montreal and T–Bay). Yet, this is where Unknown may rise above Smilin' and Soft–Goal, as neither Campbell nor Frederik Andersen could slam the door on the opposition. Where Unknown pales is against Andrei Vasilevskiy — he of the three consecutive Stanley Cup final appearances and two victories (over Dallas and Montreal). Vasilevskiy, with 23 starts last spring, nearly tripled Unknown's career playoff ledger of eight assignments (with the Capitals) and one victory. So, it's obvious that Unknown will be viewed as the goaltending underdog in the first playoff series.
This does not, however, consign Samsonov to defeat against the Lightning. For whatever it's worth, the Maple Leafs have remained a step ahead of their Gulf coast rival for most of the season, carrying a three–point edge (93–90) and a pair of games–in–hand (69–71) into tonight's National Hockey League action. It was during a 2–6–2 slide by the Lightning (Feb. 15 to Mar. 5) that the Leafs (7–3–0 in the same period) began to compare favorably, even if back–up Brian Elliott took three of the losses in goal for Tampa. How any of it relates to the opening Stanley Cup round is a mystery. All we seem to know is this: If the Lightning nucleus of Vasilevskiy, Victor Hedman, Nikita Kucherov, Brayden Point and Steven Stamkos out–performs Toronto's Samsonov, Morgan Rielly, Auston Matthews, Mitch Marner and William Nylander, the Maple Leafs will again be one–and–done. What we do not know is whether Unknown can steal a couple of playoff games, as per Vasilevskiy over the past three years.
Which might compensate even for another comparative playoff dry spell by the $40 million men of the Leafs.
Regardless, any person that considers the Toronto goaltending picture unclear just three weeks before the playoffs isn't paying attention. In a wide margin, it is Unknown over Melancholy. There is no net controversy here.
HAPPY BIRTHDAY DAVEY…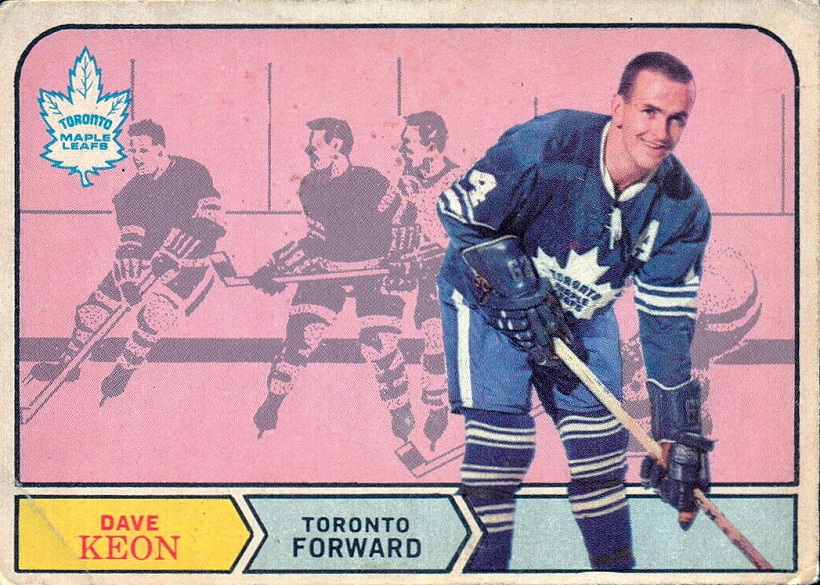 THE MAN VOTED, IN 2016, THE GREATEST PLAYER IN THE FIRST 100 YEARS OF THE TORONTO MAPLE LEAFS TURNS 83 ON WEDNESDAY. HERE'S TO CONTINUED HEALTH AND CHEER FOR THE LEGENDARY DAVE KEON — SHOWN, ABOVE, ON HIS O–PEE–CHEE 1968–69 HOCKEY CARD.
MUCH BETTER THAN 25 YEARS AGO…
Though scorching heat will accompany the Maple Leafs into the playoffs this spring, the club finds itself in a much–rosier position than a quarter–century ago, when it failed to qualify for the second consecutive year. From a scrapbook I made while covering the Leafs for The FAN–590, headlines in newspapers spoke of another long summer for the Blue and White. In 1997–98, under coach Mike Murphy, the Leafs perished on a road trip through Dallas, Florida and Carolina. In three facilities that are no longer part of the NHL: Reunion Arena, Miami Arena and the Greensboro Coliseum. Heck, even I got involved while covering the games in Miami and Greensboro for the Globe and Mail. In the midst of the failure came word of another money gouge by owners of the hockey club. Here are the solemn headlines that spelled the end to another lost Leafs season: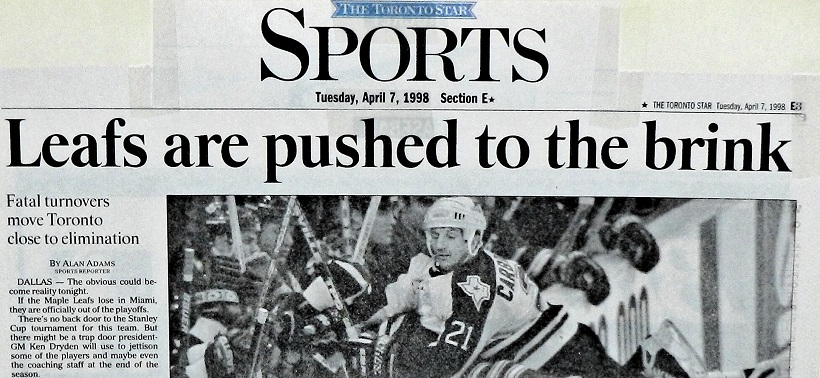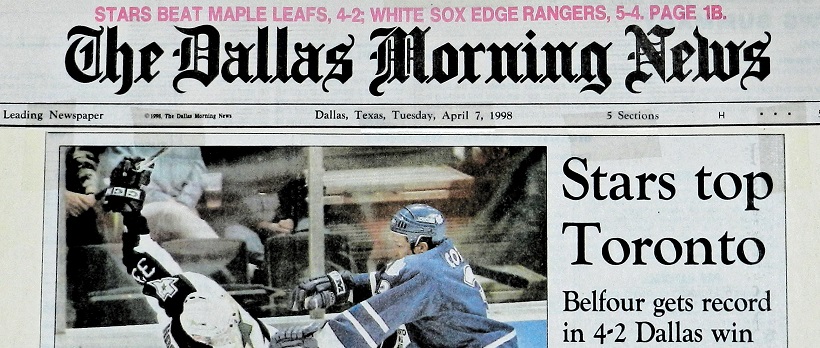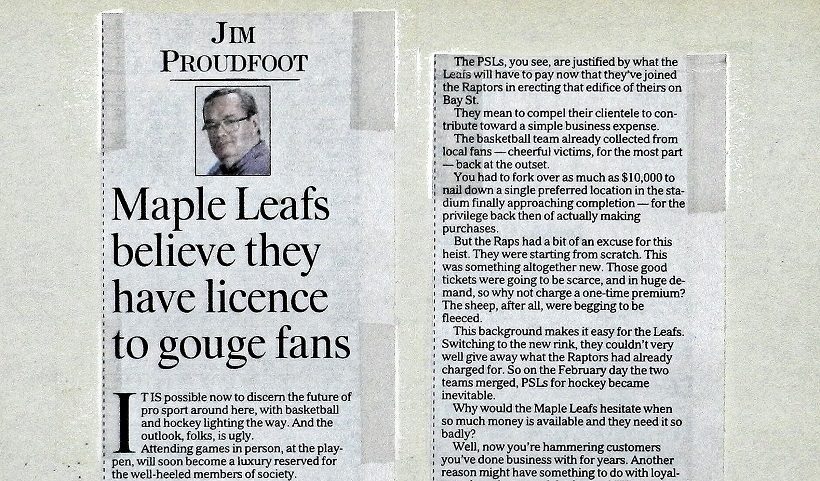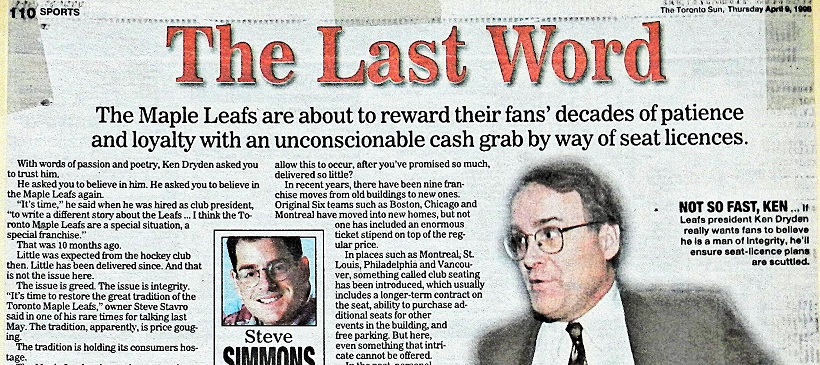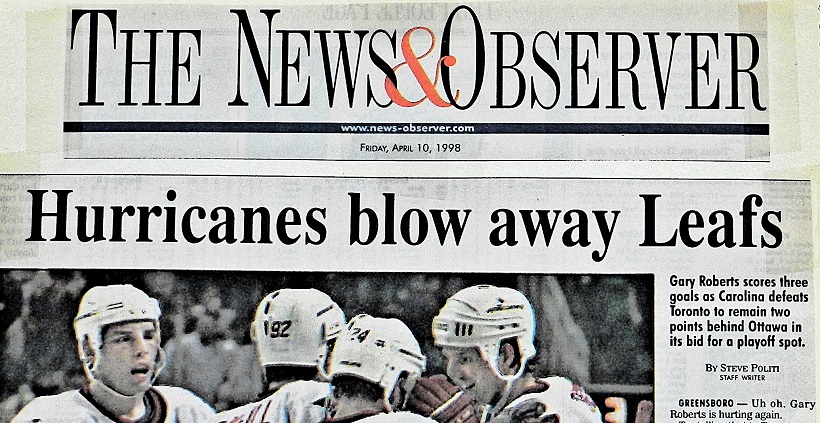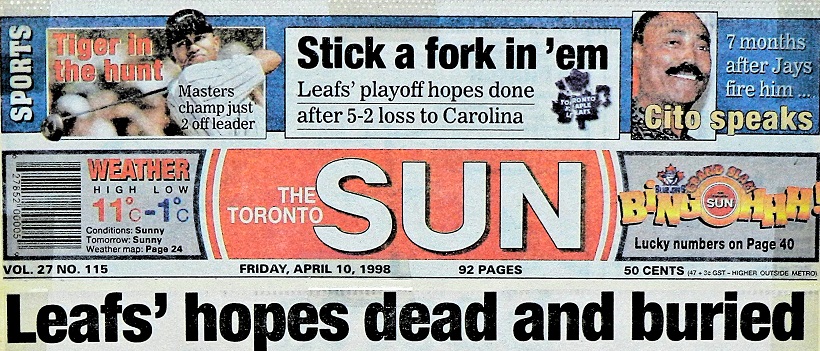 EMAIL: HOWARDLBERGER@GMAIL.COM