TORONTO (Mar. 9) — It will not impact the Maple Leafs this season, nor was that the objective. But, trading their most–skilled defenseman to the Washington Capitals for a rental, eight years his senior, was a bite–in–the–butt transaction. The club and its fans will come to rue the deal; it can be mitigated only by a Stanley Cup challenge this spring. Otherwise, Rasmus Sandin for Eric Gustafsson will evolve into another gloomy element of Leafs lore.
Selected in the first round of the 2018 National Hockey League draft, Sandin was never going to become a legitimate, No. 1 blueliner. He hasn't the size or the strength to carry a team through six months of preparation and four rounds of Stanley Cup toil. But, he is certainly a 1–A type that can evolve into a powerplay specialist and eat up important minutes. The reason the Maple Leafs had to trade Sandin is recognizable to any fan of the club: Toronto doesn't possess an elite defenseman with whom he can ride shotgun. When healthy, John Carlson provides Washington such a component. Carlson, with seasons of 75, 71, 70 and 68 points on his ledger (he accrued 20 points in 24 playoff games when the Capitals won the 2018 Stanley Cup), has been on Long Term Injured Reserve (LTIR) since Dec. 23, after taking a slapshot to the head against Winnipeg. He is now skating and could return later this month. In Carlson's absence, the Capitals have slumped to 12–15–2 and fallen out of the playoff picture in the Eastern Conference. A healthy powerplay tandem of Carlson and Sandin has unlimited potential.
With the Maple Leafs, Morgan Rielly attained Carlson's level a couple of times in the regular season (72 and 68 points), but not in the playoffs. Which is another uber–familiar story around here. That Rielly's play has declined so sharply this season is a mystery… and undoubtedly coerced general manager Kyle Dubas into the deals that temporarily re–shaped the Toronto blue line. No club with a Norris Trophy contender would engage in such frenzied activity at the trade deadline. The Leafs felt desperate, partly because of Rielly's poor season. As such, they had no immediate place for Sandin, who is best–suited alongside a franchise–type partner. If Carlson fully recovers from his head injury, that will become painfully clear, in the years ahead, to the Leafs and their followers.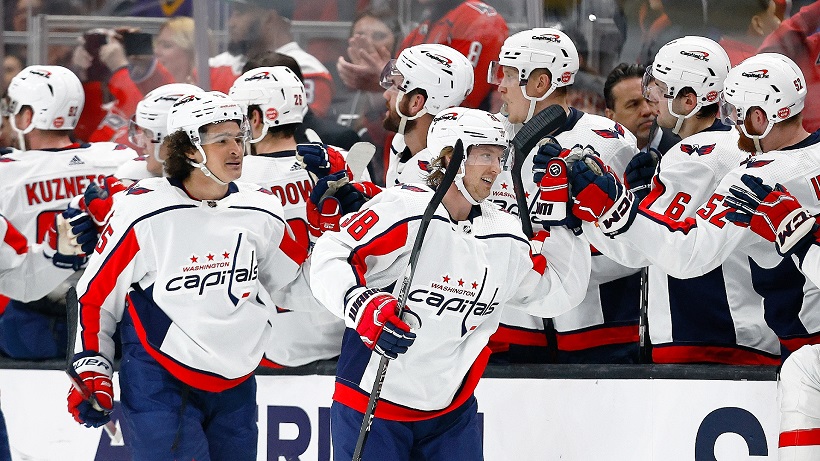 RASMUS SANDIN (38) IS OFF TO A FLYING START IN WASHINGTON WITH FIVE POINTS IN HIS FIRST TWO GAMES. THIS TRADE COULD TURN OUT UGLY FOR THE LEAFS. GETTY IMAGES/NHL
This was yet another consequence of the longest–standing deficit in post–1967 Leafs history. For a brief time in the mid–to–late–70's, Borje Salming and Ian Turnbull provided the club an elite defense pairing. Timing, however, was the issue, as Montreal's Stanley Cup dynasty (1976–79) was largely fueled by three–such figures: Serge Savard, Larry Robinson and Guy Lapointe. Not since Salming have the Leafs developed or acquired a Norris Trophy candidate. That's why Dubas weakly kicked a tire on Erik Karlsson before the trade deadline. There was no chance of Karlsson coming here unless Kyle considered dismantling his beloved nucleus. From a salary cap perspective, alone, the club could not have accommodated Karlsson (82 points this season; sixth in NHL scoring and 50 points more than Rielly) without trading one of Auston Matthews, Mitch Marner or William Nylander. For which there was, again, no appetite. It was a bypassed opportunity that will result in another year being added to the longest–ever Stanley Cup drought. But, fans and media were content with Dubas going "all in" (sigh) by acquiring Ryan O'Reilly and the three defensemen (Gustafsson, Jake McCabe, Luke Schenn) needed to shore up his perennially weakest position. In fact, "all in" would have been two–fold: trading for Karlsson and finally subtracting from the core forwards that cannot win when it matters, thereby vaulting the Maple Leafs into immediate Stanley Cup contention… with Ilya Samsonov, in my view, capable of holding down the No. 1 position in goal.
And, it's the reason I continue to advocate for change in the management structure of the team. After nearly two decades of playoff anguish, we all know the Leafs merely have to threaten to win their first–round series against Tampa Bay for fans (gorged with misery) and the always–adoring media to applaud, thereby paving the way for Dubas and Brendan Shanahan to move forward and lock Matthews, Marner and Nylander into career contracts. Providing, of course, the players cooperate. The Stanley Cup bar is buried so far beneath street level that even a good try against the Lightning will probably suffice. An actual playoff–round victory would secure Dubas and Shanahan for life. But, a deep playoff run isn't possible with a cast of third and fourth–level defensemen.
As will be proven again this spring.
One or two springs from now will reveal the folly of Dubas unloading his most–gifted blueliner — Sandin — simply because the top rung on defense was still vacant. It's an ancient storyline around here…  with no end in sight.
AFTER THE TRADE DEADLINE — 50 Years Ago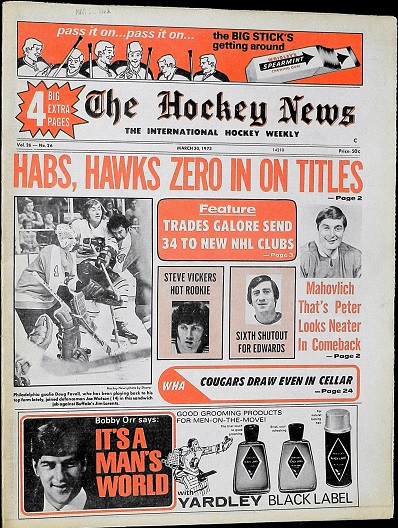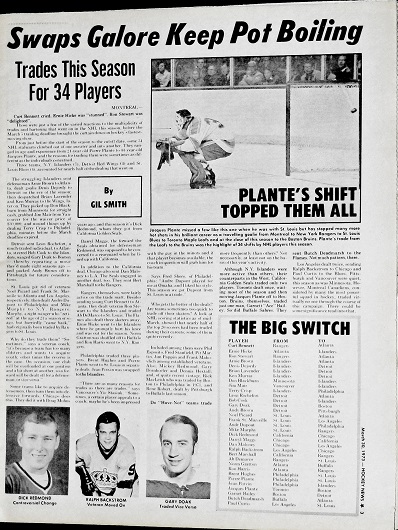 The Mar. 30, 1973 edition of The Hockey News (cover, top–left) pointed to the "trades galore" at the deadline of the 1972–73 NHL season. How many names, below, do you remember?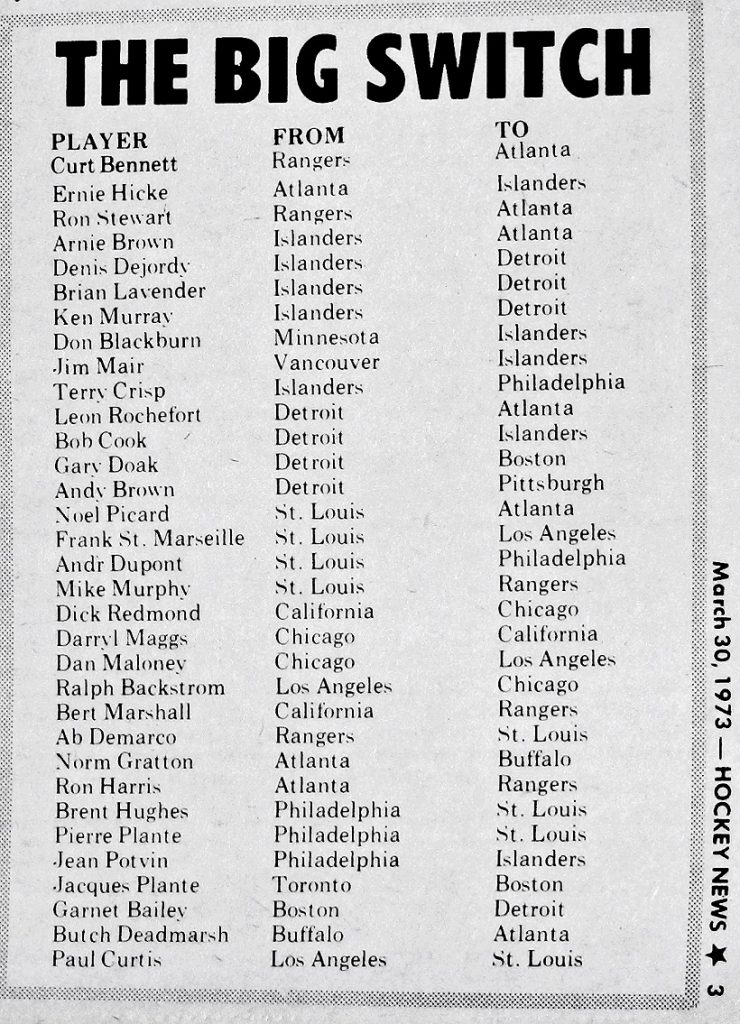 EMAIL: HOWARDLBERGER@GMAIL.COM