TORONTO (Apr. 6) — Leading off the playoff prediction game for your Toronto Maple Leafs was the club's No. 1 media addict. Flag–waver Luke Fox of Sportsnet.ca laid it on thick in his Tuesday mailbag column. When asked for his "official" Leafs forecast (not to be confused with one written and perhaps stored beneath his mattress), Luke boldly wrote… "My guess: The Maple Leafs defeat the Lightning and stun the Presidents' Trophy–winning Bruins, only to get goalied by Igor Shesterkin in the conference final. Such a run is so refreshing, so electric, Kyle Dubas gets offered a contract extension and the core gets yet another shot at running it back in 2023–24."
The latter part of this prognosis was evidently too horrific for the Toronto fan base. Luke's column, as of this morning, could be found only by posting his name in the SEARCH bar. The mere notion of Kyle and the Core returning for an eighth playoff try is akin to an 'R'–rated movie; not at all appropriate for youthful eyes. "So refreshing… so electric." Phrases that Leafs publicity director Steve Keogh has never used in a media dispatch. Instead, and hardly shocking, they were written by a mainstream Toronto scribe. Over the top, yes, for even an in–house Leafs reporter, but the kind of puff — bordering on libido — that is far–too common today among paid local scribes.
It is possible, though not probable, that the Leafs could edge out Tampa Bay to win a playoff series for the first time since Mitch Marner was six years old. Under no reasonable circumstance (one that excludes Linus Ullmark, Patrice Bergeron and David Pastrnak being absent with injury) will the Maple Leafs upend the Bruins. Neither will Boston, arguably the best regular–season club in National Hockey League history, lose more than four or five games en route to its first Stanley Cup title since 2011. So, continue to take — with many grains of salt — the unfounded pandering of the Blue and White, particularly from those that routinely snuggle with the general manager.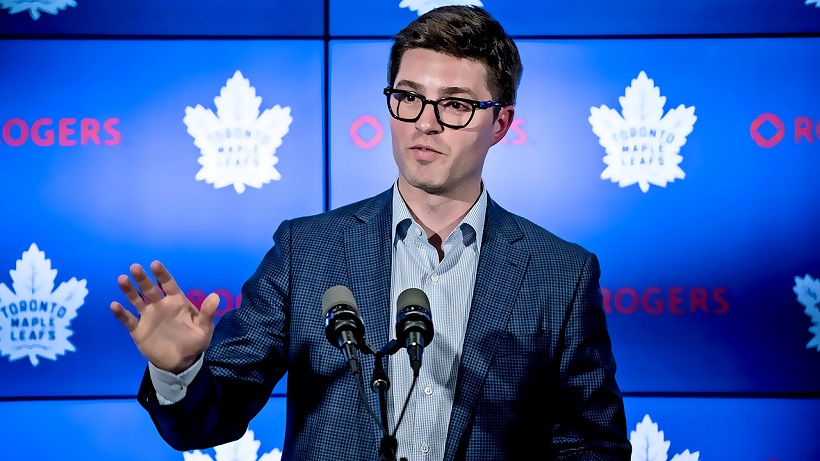 EVERYBODY BLEW IT: How could we all get it so wrong, myself included? When the Leafs punched their ticket, last week, to the 2023 Stanley Cup tournament, we marveled over the club making the playoffs for a seventh consecutive year — not accomplished since the era of 1973–81. But, it isn't true. Yes, the team will appear in the "post season" for a seventh year, but it failed to make the playoffs in 2020 after losing a qualifying series to the Columbus Blue Jackets. Only after that round, prompted by the COVID–19 pandemic, were the actual playoff participants decided; Toronto not among them. In truth, then, the Leafs are appearing for a third consecutive spring… and in six of the past seven NHL seasons. Beginning in 1974–75, the NHL instituted a best–of–three (later increased to best–of–five) "preliminary" playoff round. First–place clubs in each of the four Divisions received a bye into the Stanley Cup quarterfinals. The next eight teams, based on points, were aligned from top to bottom for the four preliminary series. The Leafs did quite well, ousting Los Angeles (1975), Pittsburgh (1976, 1977), Los Angeles (1978) and Atlanta (1979) before losing to Minnesota (1980) and getting drubbed by the New York Islanders (1981). But, these best–of–three (or five) battles were actual playoff rounds. They were not qualifying or "play in" clashes ala the National Basketball Association format, or the 2020 COVID/Bubble NHL tournament.
THE GREAT ONE NAILS IT: Thank you, Wayne Gretzky, for lending a loud voice — finally — to the biggest fiasco in NHL history: the preposterous leeway provided shooters in the skills competition that decides regular–season games. At the beginning of the format (2005–06), the shootout resembled something we would witness during the 60 minutes of regulation play. Yes, there were silly gimmicks like between–the–legs shots, but players generally approached the goal with the same speed as on an actual breakaway, as if opponents were chasing from behind. Today, and to the NHL's utter shame, it can require more than 10 seconds for a shooter to complete the process. The players deliberately weave from one side of the rink to the other… then come to nearly a complete stop in front of the net, often for two or three seconds, before choosing a shot. Were a participant to function in that manner during the regular 60 minutes, he'd be propelled through the end boards and onto an adjacent street.
Gretzky, appearing in studio for Turner Network Television (TNT) in the U.S., had a look of utter disbelief on his face while discussing the matter. He proposed some form of shot clock to save the goalies from such embarrassment, but even that would be a stop–gap. Most would agree the shootout has long run its course, particularly with the advent of three–on–three overtime. Which is also gimmicky, though players move at regulation speed on the entire ice pad. Even in soccer, where a World Cup final can be decided by penalty kicks (as last year, between Argentina and France), the process is identical to that of a penalty being whistled during the 90–plus minutes of regulation: a run–up attempt from the designated spot 12 yards beyond the center of the goal. Can you imagine Lionel Messi being allowed to dribble the ball for three or four minutes the length of the pitch — tottering 80 yards from side to side — before stopping and unleashing a kick from six or seven feet out? That would be the soccer equivalent of what is allowed, today, in the frivolous NHL shootout. When such replays are shown, even on Canadian television, they are justifiably laughed at, not marveled over. It's an unnecessary blight on the game.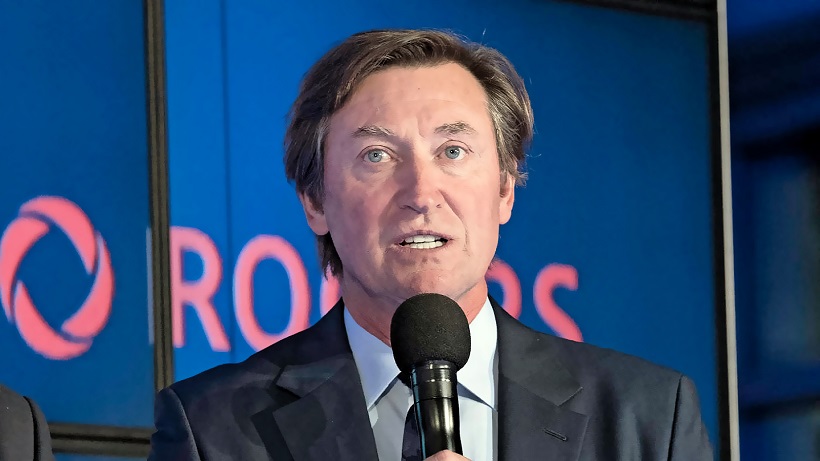 EARLY CUP PREDICTION: This is almost too easy. But, if Stuart Skinner can carry his rookie goaltending performance for Edmonton through the playoffs, the Oilers and Boston will clash for the 2023 Stanley Cup… and for the first time since 1990. Otherwise, it will be the Bruins and Vegas Golden Knights vying for the silver mug. No Edmonton team since the Gretzky–Mark Messier–Glenn Anderson–Jari Kurri iteration that won four of five Stanley Cups beginning in 1984 has been as truly gifted as the current club. Connor McDavid, Leon Draisaitl and Ryan Nugent–Hopkins have combined for a remarkable 371 points (149 goals, 222 assists). Compare that to the good numbers of the Maple Leafs' top three scorers — Marner, William Nylander and Auston Matthews — who have struck for 103 goals and 257 points. It doesn't quite measure up to the 1985–86 Oilers, for which Gretzky, Kurri and Anderson provided 174 goals and 448 points, but it's the most–prolific output we've witnessed among three forwards in the salary cap era. If the Oilers get timely stops, they could romp to the Western Conference title.
KEEP YOUR EYE ON… I'll say it again: None of the Core–4 up front could be most–essential to the Leafs finally making a reasonable playoff run. Instead, watch for Ilya Samsonov. Though he has almost no playoff experience, there is something about him that reminds me of Mike Palmateer, Felix Potvin and Curtis Joseph, goalies that backstopped the club to five Cup semifinal appearances between 1978 and 2002. Again, it's merely a hunch, and one that may prove inaccurate. But, Samsonov could be the playoff elixir the Leafs have sought since 2004.
HOW TO PROCEED: Chances are the understaffed Bruins will try and win tonight's home game against the Maple Leafs (7 p.m., Sportsnet Ontario), as they have every game in this stunning, 60–win season. Were I coach Jim Montgomery, however, I'd be tempted to have my club play possum; to fumble around, look horrible, and lose by three or four goals, thereby engendering overconfidence in a possible second–round playoff opponent. Other than trying to match the NHL season record of 132 points achieved by the 1976–77 Montreal Canadiens (the Bruins can still register 135), there's nothing for Montgomery's crew to play for. Why not look scared against Marner, Matthews and Co., especially with playoff savior Ryan O'Reilly returning to the Toronto line–up after a lengthy injury absence? The Bruins could adopt no better strategy for tonight's meaningless, late–season match.
THE JOYOUS HOLIDAYS: Happy Passover for those observing this week. And, Happy Easter for later in the week. Here is what I live for, as it pertains to joy: My creations, Shane (26) and Lauren (23).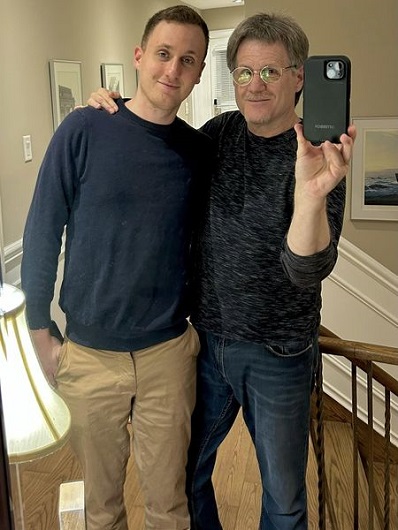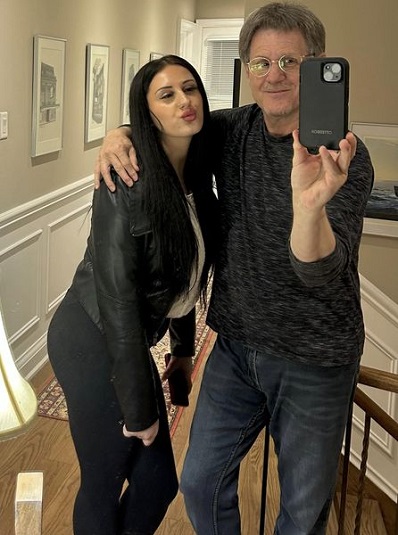 EMAIL: HOWARDLBERGER@GMAIL.COM