TORONTO (Apr. 30) — It was Stockholm Syndrome. There's no other way to describe being a fan of the Maple Leafs during the Harold Ballard era. The jailbird–turned–owner held our city hostage for nearly two decades, beginning in 1972. Yet we stood by the old coot, trying so hard to believe. And, always, ceding to disappointment.
What did the Leafs accomplish by conquering Tampa Bay in six games? Beyond the obvious — prevailing in a Stanley Cup round for the first time since Apr. 20, 2004 and likely preserving many jobs — there was this: In the span of one calendar week, from Saturday to Saturday, the club won as many playoff games in overtime as during a 19–year stretch in the post–expansion National Hockey League. That is correct. From Apr. 29, 1967 to Apr. 26, 1986, the Leafs were a ghastly 3–14 in 17 excursions beyond the third period. Six of the defeats resulted in elimination: against the New York Rangers (1971), Boston (1974), Philadelphia (1975), Montreal (1979) and the old Minnesota North Stars (1980, 1983). The lone triumphs occurred on Apr. 6, 1972 (Jim Harrison beating Gerry Cheevers at the Boston Garden in Game 2 of the quarterfinals); Apr. 10, 1975 (Blaine Stoughton beating Rogie Vachon of Los Angeles in Game 2 of a best–of–three preliminary round at Maple Leaf Gardens) and Apr. 29, 1978 (Lanny McDonald famously ousting the New York Islanders at Nassau Coliseum in Game 7 of the quarterfinals).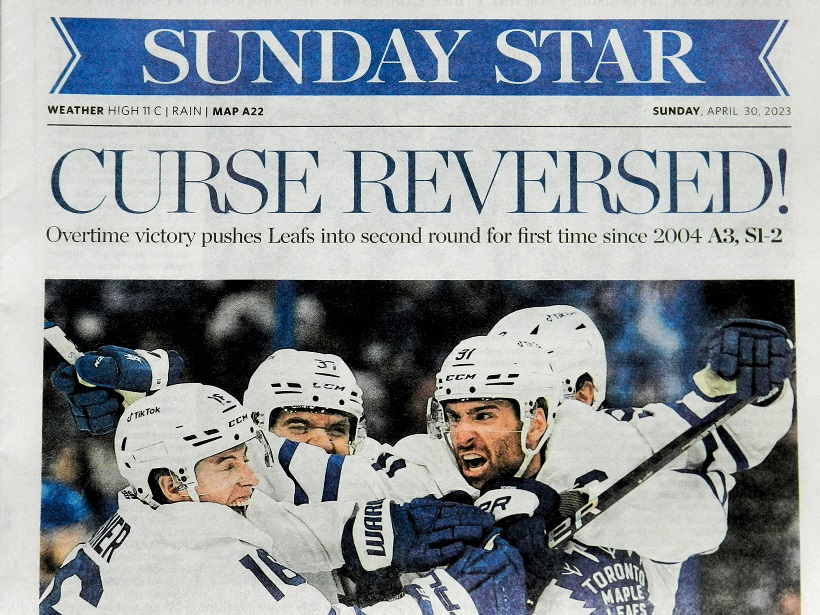 After Lanny's goal, the Leafs did not prevail in extra time for nearly nine years, until Rick Lanz fooled Greg Millen with a dipping shot at the St. Louis Arena on Apr. 9, 1987 in Game 2 of the Norris Division semifinal. That's how demoralizing it was for Leafs Nation in the two decades after the club last won the Stanley Cup. Most maddening was the period between Apr. 19, 1975 and Apr. 25, 1978 when the Leafs dropped five consecutive decisions (three to Philadelphia; two against the Islanders). After Bob Nystrom cashiered the Blue and White for the second time in the '78 Islanders series, a Toronto Sun headline read LEAFS ARE GETTING OVERTIMED TO DEATH.
What could have been a four–game quarterfinal sweep of Philadelphia in 1977 became a six–game ouster when the Flyers won consecutive matches in overtime at the Gardens. Toronto, amazingly at the time, captured the first two games at the old Philadelphia Spectrum. The Leafs were leading in the waning seconds of Game 3 at home when Rick MacLeish tied the score at 19:22. MacLeish scored again at 2:55 of overtime. Two nights later, Machine Gun Lanny's four–goal eruption had the home side in front, 5–2, with just more than five minutes left. But, the Flyers rebounded with three tallies in a 4:16 span — Bobby Clarke knotting the count at 18:27 of the third period. Line–mate Reggie Leach beat Mike Palmateer at 19:10 of overtime… and the Leafs were gone in six.
The worm began to turn when Lanz beat Millen at the old barn in St. Louis. From Apr. 9, 1987 to Apr. 16, 2001, the Leafs were 18–7 in 25 playoff overtimes. Then came a nasty 2–9 stretch that culminated with the Causeway Street Calamity — that blown 4–1, third–period lead in Boston and extra–time elimination by Patrice Bergeron.
Until last night, the Leafs had never won three overtime games on the road in the same playoff round. John Tavares became the fourth Toronto player in the post–1967 era to cinch a series in extra time — joining McDonald (in 1978), Nikolai Borschevsky (May 1, 1993 in Game 7 at Joe Louis Arena in Detroit) and Garry Valk (May 17, 1999 in Game 6 at the old Pittsburgh Mellon Arena). I covered the latter two games as a reporter for The FAN–590, Canada's first all–sports radio station. Valk, a reliable third–line plugger, later said he was "Wayne Gretzky for a day" after sliding a rebound past goalie Tom Barrasso at 1:57 of the first extra frame; Pat Quinn smiling broadly.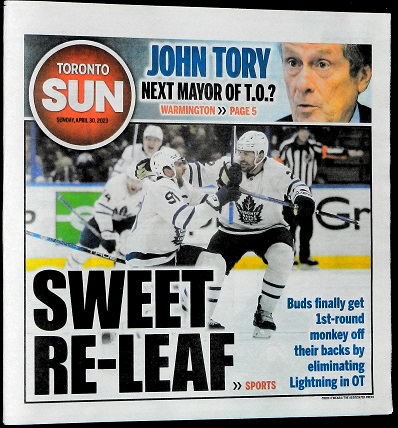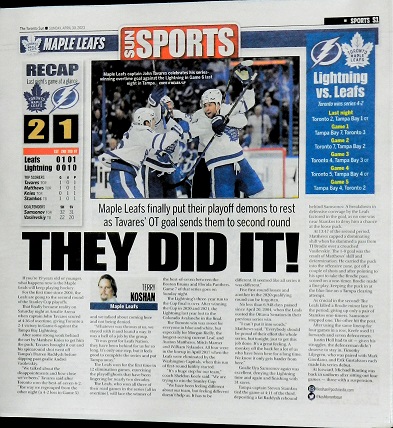 I was a mega–fan and season–ticket holder of the Leafs at the Gardens… and until I began to cover the team, full time, in the mid–1990's. At which point I necessarily doffed my emotional attachment. Since then, given a critical eye, I've been largely known as a "Leafs hater", whatever that means. I suppose you can either be with the home team or against it, minus the grey area. Well, this "hater" is feeling awfully good today for the following:
* My son, Shane. He is 26 years old and can finally comprehend what it feels like for his favorite hockey team to prevail in a Stanley Cup series. I remember holding Shane as he cried, inconsolably, after the 2013 third–period meltdown in Boston. He's all grown up now and can finally exult in a Maple Leafs playoff triumph.
* ALL OF Leafs Nation, particularly the young, die–hard rooters like my son who have suffered for so long.
* Joe Bowen, the 71–year–old voice of the Maple Leafs since 1982–83. I was listening on radio last spring when Tampa Bay edged the Leafs in Game 7 at Scotiabank Arena. And, I've never heard Joe as disconsolate. "It's happened… again," he lamented at the final horn. What a shame it would be if Maple Leaf Sports and Entertainment stuck to its frugal guns, keeping Bowen and Jim Ralph at home for the remainder of the Leafs Stanley Cup run.
* The family of Borje Salming. There will be some rejoicing in the Stockholm palace of the great Leafs defenseman, who chose to end his life last November before incurring the ravages of Amyotrophic Lateral Sclerosis (ALS, or Lou Gehrig's Disease). During Borje's 16–year term in our city (1973–89), the Leafs won seven playoff rounds.
* Kyle Dubas and Brendan Shanahan. Though I ran out of patience with the Maple Leaf brain trust after the playoff debacle, two years ago, against Montreal, there's never been a lack of try from these two. Especially the GM. They deserve a respectful bow, today, and will remain in their current roles.
* Luke Fox, the dyed–in–the–wool Leafs zealot who provides content for Sportsnet.ca and is unable to mask his delight. As anyone who frequents this corner will understand, I do not condone that type of "reporting". But, we live in a different world today, with the parent companies of Sportsnet and TSN controlling 75% of MLSE.
* Michael Berlin, Morris Benhaim, Sam Nash. My colleagues at Benjamin's Park Memorial Chapel. Leaf fanatics.
* Club employees Noah Forman (team doctor), Dave Morrison (director, player personnel), Reid Mitchell (director, hockey and scouting operations), Cliff Fletcher (senior advisor), Bobby Hastings (head equipment manager), Tom Blatchford (assistant equipment manager), Bowen and Ralph — all of whom date to my years (1993–2010) covering the Maple Leafs for The FAN–590. All good people. And, all feeling happy today.
* John Tavares. Saturday night's golden moment could not have happened to a better guy.
How's that for "hating"?
Now, we await the survivor of tonight's Game 7 between Boston and Florida.
Toronto's next series will begin Tuesday night — coincidentally, on May 2, the 56th anniversary of the club's last Stanley Cup triumph — either at the TD Garden against the Bruins or at Scotiabank Arena against the Panthers.
Given how the Bruins have so–alarmingly scuffled in games they suddenly have to win (after feeling no–such burden since last November), neither result tonight would come as a shock. Not anymore. A victory by Florida would provide the Leafs a 43–point gift, as Boston out–distanced the Panthers 135–92 during the regular season.
EMAIL: HOWARDLBERGER@GMAIL.COM