Collapse [ kuh–laps ]: to fall or cave in; crumble suddenly… to break down; come to nothing; fail.
TORONTO (Apr. 25) — So, here we are again, precisely one year and eleven months later. Your Toronto Maple Leafs, after the second–most exhilarating comeback of the post–pandemic era, are ONE… WIN… AWAY… from advancing in the Stanley Cup playoffs for the first time in 19 years. ONE… MEASLY… WIN… following 110–such results since May 25, 2021, when the Leafs had their collective mittens around the neck of the Montreal Canadiens. Only to — as defined, above — "fall or cave in; crumble suddenly; break down; come to nothing; fail."
No one thought it would happen then. No one thinks it will happen now. Guess what? It won't.
Truth be known, the Leafs have only themselves to conquer in the next six days. The Lightning is barely a flicker. Despite Tampa Bay's playoff resume of the past three years, the club is comprised of human beings, not robots. It is impossible to conceive of Jon Cooper's clan brushing aside the third–period meltdown, on home ice, in Game 4. If that loss didn't sap the Lightning of its spirit, nothing will and we can look forward to Game 6, here in town, on the weekend. But, I don't see it happening. Not after Tampa enjoyed a wide territorial edge in both encounters at Amalie Arena and came away with bupkis. In so doing, they morphed into the Maple Leafs of the past six playoff years: gifted, largely connected… and unable to slam the door. Their time is up. Given how disengaged the Lightning appeared in the final two months of the regular season, the 3–1 first–round deficit should not be a surprise. It's one reason I picked the superior Leafs to win this series in five. The other reason was more elemental: the Leafs have to prevail in five to prevent a double–whammy — allowing the inevitable self–doubt to creep into their psyche, and to preclude the Lightning from getting a sniff. Particularly after the startling result of Game 4.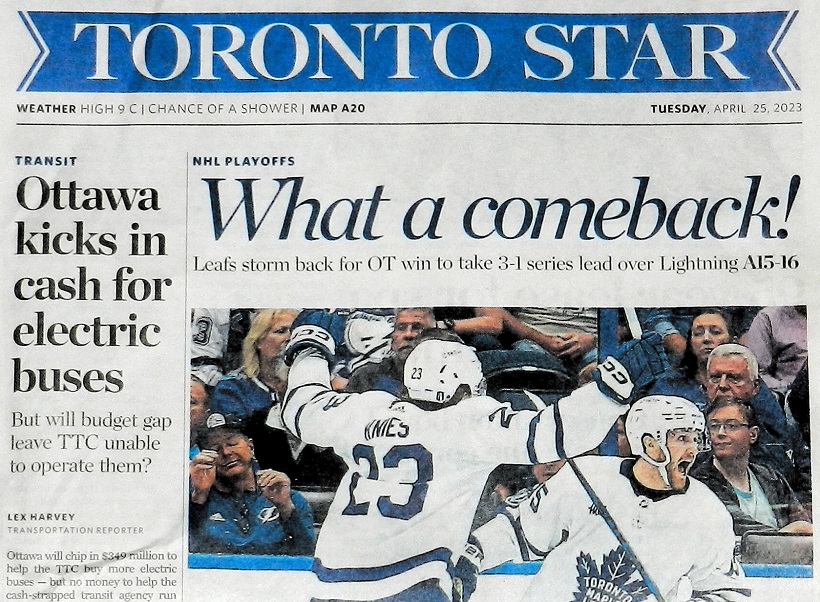 Before I go further, you may wonder why I referred in my opening paragraph to Monday night's match, for Toronto, as the "second–most" exhilarating comeback of the post–pandemic era. In life, whatever is current always seems bigger than events in the past. But, no Leafs playoff accomplishment of the Auston Matthews–Mitch Marner era can equal the miraculous recovery against Columbus in Game 4 of the 2020 qualifying round. In case you've forgotten, or are unaware, Toronto was staring lucidly and forlornly at elimination in the best–of–five series, trailing the Blue Jackets, 3–0, with four minutes left in regulation. Only to have William Nylander, John Tavares and Zach Hyman scored in a 3:34 span — Hyman knotting the count with 43 ticks remaining. Matthews provided the winner, on the powerplay, at 10:19 of overtime, setting up a decisive match that Columbus won, 3–0. Yes, Monday night's comeback in Tampa occurred against a more–accomplished rival… and in an actual playoff series, not a qualifier.
But, it also began with 10:16 remaining, rather than 3:57. And, it wasn't an elimination game.
As for today, it's important to understand there are three 'C' words in the English language. The first has nothing to do with sports; is vulgar, abusive and  demeaning. The other two solidly apply to the Maple Leafs of the salary cap era: Choke. And, Collapse. It's the reason Toronto hockey fans, though clearly excited, are in "wake me up when it happens" mode. Despite the late heroics of the past two games, the Sword of Damocles still hovers over a team that spit up an identical stranglehold (isn't there another term we can find for a commanding playoff lead?), 23 months ago, against a far–inferior Montreal squad. And, which failed to close out 3–2 series advantages against Boston (2019) and the Lightning (last year). Matthews scored a pair of monster goals in the Game 4 revival, but has never come up large when the Leafs can close out a playoff round. Neither has Marner. So, it's "show me" time, yet again, for the otherwise dynamic duo. And, critical to remember that Toronto, in spite of its vice–like grip on this series, was decidedly outplayed in Games 2, 3 and (much of) 4. Normally, we'd expect the Lightning to perform with character and desperation on Thursday at Scotiabank Arena. That edge, however, may have been nullified by the club folding with such astonishment in Game 4. The Leafs absolutely must capitalize on their momentum. Nothing else is an option. If Game 5 turns into Game 6, nerves around here will be staggeringly frayed.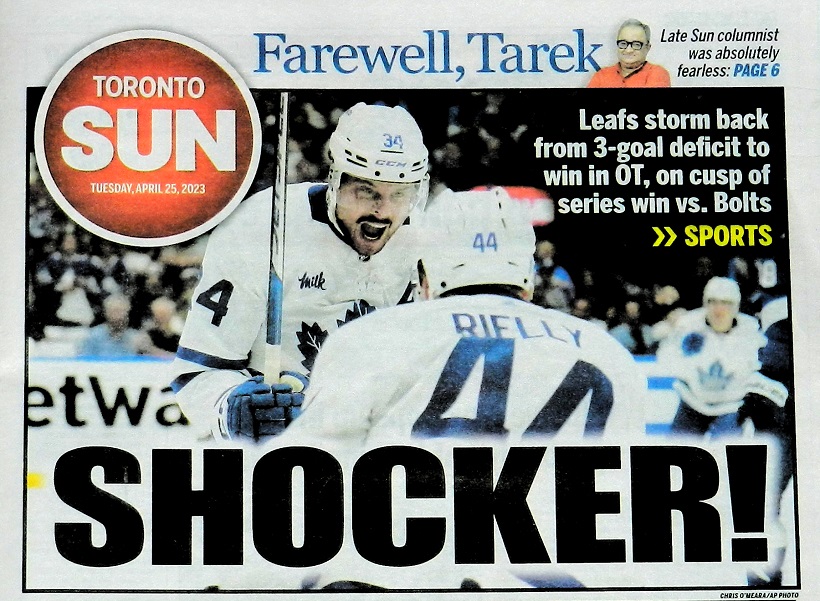 PECULIAR CHOICE: Not sure if anyone else noticed, but the front cover of today's Toronto Sun featured an image from Saturday's Game 3 rather than Monday's fourth match. It showed Matthews excitedly approaching Morgan Rielly after the latter's floating shot from the left–wing boards beat Andrei Vasilevskiy late in the first overtime. I wondered how such a mix up could occur. "It was one of those unfortunate things that happened in the heat of deadline with a wire–photo search that included all recent Leafs–Lightning games in Tampa," explained a source who has worked in the industry. "The teams were wearing the same jerseys for each game (Tampa blue, Toronto white). On late deadline, someone forgot to check the cutline (or caption) to see which night it was from."
IT CAPPED THE COMEBACK…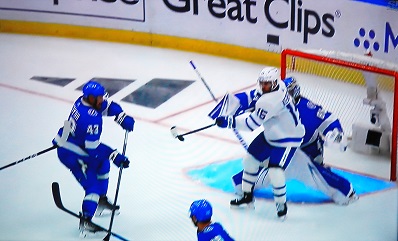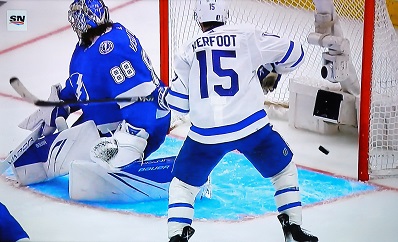 SPORTSNET IMAGES OF ALEX KERFOOT (15) DEFTLY REDIRECTING MARK GIORDANO'S POINT SHOT PAST ANDREI VASILEVSKIY AT 4:14 OF OVERTIME ON MONDAY, PROVIDING THE MAPLE LEAFS A 3–1 SERIES EDGE ON THE LIGHTNING. TAMPA BAY FACES ELIMINATION IN GAME 5, THURSDAY NIGHT.
EMAIL: HOWARDLBERGER@GMAIL.COM