TORONTO (Apr. 3) — The Toronto Maple Leafs got what they deserved on Sunday night.
Their loyal fans? Not so much.
It is hardly advisable to throw away a game on the cusp of the Stanley Cup playoffs, as the Leafs did against Detroit in a 5–2 loss at Scotiabank Arena. It is unconscionable to deprive ticket patrons of the team's best player.
Suddenly, after he appeared in every game of the schedule, Mitch Marner was in dire need of a rest; the silly millennium term is "load management." This was a load, alright, but the sort that emerges from your backside. If "Debilitated Mitch" required a blow, why didn't the Leafs scratch him for Saturday's road encounter in Ottawa?
Consecutive–night games, as we know, can be terribly destructive to a 25–year–old forward (sigh). So, wouldn't it have been more principled and responsible for the club to ensure that Marner perform for those that shell out the steepest ticket prices in the National Hockey League? What if, for example, a father of modest means had somehow landed a pair for Sunday's game; excited to take his young son (or daughter) to SBA for the only time this season? Was it fair for that family to watch minor–leaguer Nick Abruzzese skate in place of, likely, the first 100–point winger in Maple Leafs history? When "resting" Marner could have been accomplished in the nation's capital, 24 hours earlier? These questions are rhetorical… the decision (if, in fact, made by Sheldon Keefe), immoral.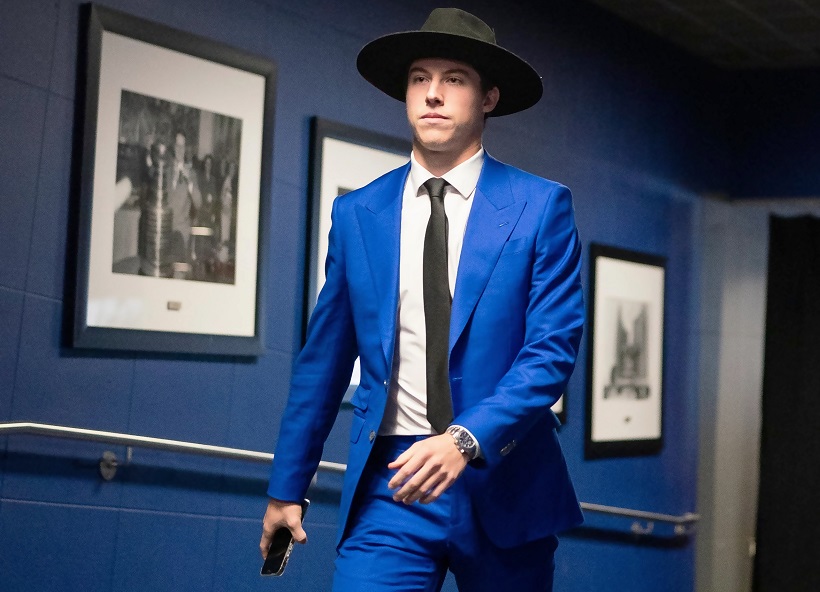 MITCH MARNER HAD NO REASON TO CHANGE OUT OF HIS CIVILIAN CLOTHES FOR SUNDAY NIGHT'S HOME GAME AGAINST DETROIT. WHICH WAS A BLIGHT ON THE MAPLE LEAFS ORGANIZATION.
This topic, of course, is way out of bounds for the Leafs–controlled media. If the club had stated that Marner would miss Sunday's game to visit the Toronto Zoo, then so be it. No element of the Leafs is firmly challenged by those that cover the team. Not the "all in" trades or anything else. But, again, talk to the young fan who wore his (or her) Mitch Marner jersey to Sunday's match, only to discover he was too exhausted to suit up. Same for the upper–crust patrons in the $350/game Platinum seats near ice level. All of them wondering how the previous night's game in Ottawa could have taken so much out of the club's most–gifted performer. And why, if needed, he could not have been sacrificed for those that pay, instead, to watch Brady Tkachuk, Tim Stutzle and Claude Giroux.
It turns out the Leafs were perversely fortunate to lose goalie Matt Murray (again) to a fluke concussion near the end of the first period. If a "curse" actually exists, it follows Murray like a late–afternoon shadow. Not that anyone in the mainstream media would focus on Marner's unnecessary absence, but Murray's latest calamity allowed for the matter to be ignored altogether. Neither will Murray's upcoming vacancy prompt Keefe to name his No. 1 stopper for the playoffs. There are still two weeks, after all, for Matt to shake the cobwebs and be ready to face Tampa Bay. If lucky, fans of the Leafs may find out who will man the crease after the warm–up of Game 1. Otherwise, it will occur when Ron MacLean throws to Chris Cuthbert for the opening face–off. Such is the oddball hesitancy of the hockey club to recognize that Ilya Samsonov has been its irrefutable top netminder all season long. This is, almost certainly, as a result of general manager Kyle Dubas committing two years to Murray as a free agent last summer. Samsonov, by comparison, was added as a one–season throwaway to compete for the back–up job.
So much for best–laid plans.
Dubas, should he survive his role into the summer, does not want to acknowledge another mistake by buying out the last year of Murray's $4,687,500 contract. Which should be an automatic requirement under the salary cap. Much better for Kyle's coach to pretend the goaltending "battle" is a two–man affair. Especially given that American Hockey League standout Joseph Woll was drafted, in 2016, under the administration of Lou Lamoriello.
MEDIA NOTES: GIVE THE FRIEDGE A BREAK (AND OTHER STUFF)… With no disrespect toward anyone else in the industry, Elliotte Friedman is the best hockey reporter on the planet — in the electronic or print media. And, it's the reason that Sportsnet should preclude Elliotte from appearing on regional telecasts of Leaf games. Even if we know that Maple Leaf Sports and Entertainment "owns" 37.5 percent of Hockey Night In Canada, the Saturday staple is widely viewed as a national production. Not so midweek or Sunday matches, which are carried, exclusively, in the Toronto telecast region. The Friedge is nobody's fool. Watching him on Sunday night, it was obvious he felt compelled to toe the MLSE line. This was not an issue for his pre–game and intermission cohorts, David Amber and Anthony Stewart, who routinely wave the Maple Leafs flag. Elliotte should not be thrust into that environment. In no way does it do service to his position as an unparalleled source of hockey information. He is far–better suited for the nationwide audience on Saturday night… Poor Craig Simpson was caught with a shoe in his throat on Sunday's Leafs–Wings telecast. As he was praising fill–in defenseman Conor Timmins for a "good read" on a play seconds earlier, Timmins made a terrible pass to Sam Lafferty that resulted in a breakaway for Olli Määttä. The Finnish–born defenseman cleanly fooled Matt Murray to give Detroit an early 1–0 lead. Which, of course, was termed — by Simpson — a tough break for the "home team" blueliner… Leafs–biased reporting is a common theme in this corner. As such, I had to cringe when veteran scribe Kevin McGran of the Toronto Star wrote, in his latest "mailbag" column, "…personally, I can't wait to see this team win a round, to see what happens to the city." Yes, I understand from where Kevin was coming. He's not alone in sensing intrigue over the reaction to the Leafs potentially surviving the opening Stanley Cup series for the first time in nearly two decades. But, wasn't there a less–carnal way for McGran to express his desire? Beat–reporters, by nature, should project a form of neutrality. None should acknowledge that they "can't wait" for the home team to win anything… The prototype beat–reporter, to these eyes, is Rob Longley of the Toronto Sun. Having cut his teeth while covering the Maple Leafs, Longley is adept at writing for his "audience" while maintaining a critical eye. The best of the in–house reporters, by many miles, is Shi Davidi of Sportsnet, who must toe an even finer line while following the team that is 100 percent owned by his employer. Shi has always done so exceptionally well…

SHI DAVIDI DOES A SPLENDID BALANCING ACT WHILE COVERING THE BLUE JAYS FOR SPORTSNET.
The headline to Terry Koshan's observations in the Sun from the Detroit game was unnecessary: LOSS TO DETROIT RED WINGS WON'T MATTER IN THE END. Kind of obvious, even if the Maple Leafs have habitually thrown away points against weaker clubs this season… If the Leafs run the table in their final six games, they'll finish with 112 points, three fewer than last season's franchise–record 115… Put your hands up, none of you, who figured the Los Angeles Kings, on Apr. 3, would have the same number of points (100) as the Leafs, even while playing one extra game… About that eulogy for the Tampa Bay Lightning? Well, never mind. Only at your peril should you judge a Stanley Cup finalist over three consecutive years by a lull at any juncture of the regular season. The Leafs will be challenged to the max in the opening playoff round… I love my ol' pal Steve Simmons. But, he must have been vaping when underplaying, in his Sunday notes column, the preeminence of runaway Norris Trophy candidate Erik Karlsson — to likely become the first 100–point defenseman in the NHL since Brian Leetch of the New York Rangers in 1991–92. Neither is this Karlsson's first rodeo. He twice won the NHL's best–defenseman award (2011–12 and 2014–15) while a member of the Ottawa Senators. No rival player would look better, right now, in a Leafs jersey… Though it doesn't take much, the myopic website Maple Leafs Hot Stove has embarrassed itself, yet again, by moaning about "biased officiating" against God's team. Will these anonymous scribblers ever embrace reality?… Should the Leafs be concerned that William Nylander has morphed into cruise control for the final month of the schedule? William appears to be strangely content with a career–best 37 goals, a total that would be closer to 45 had he shown some effort in the past ten games… San Diego State University, coming out of nowhere, will play for the American college basketball championship tonight for the first time. My ex–wife, Susan, attended SDSU in the late–1980's. The school's teams were so bad that observers called the Aztecs the "Spaztecs."… Try and convince the St. Louis Cardinals, who scored 22 runs in three games during the season–opening series at Busch Stadium, that the Toronto Blue Jays have the best starting rotation in the American League. That said, it was heartening to see cancer survivors Buck Martinez and Jamie Campbell looking in great form to begin the 2023 Major League Baseball schedule. May both men stay healthy and vibrant.
WHEN THE BARBERSHOP WAS SO MUCH FUN…
I got myself a haircut today. Big deal, right? Wrong.
It was, however, something to anticipate when I grew up in the 1960's and 70's… as virtually every Toronto barbershop had one of these brilliant items hanging on a wall. Nor are many possessions in my hockey collection as rare to find as the EXPORT Maple Leaf Gardens calendars, which were printed beginning in the early 1950's. They measured 25½ x 16½ inches and, oddly, have never been duplicated in this millennium of nostalgia.
I have 15 such items. Here are some images: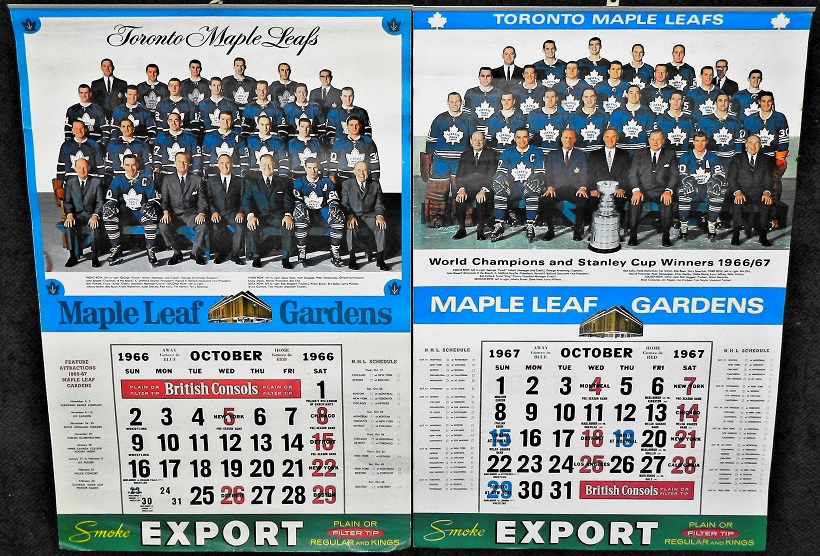 MLG CALENDARS FROM 1966–67 (LEFT) AND 1967–68 — THE LAST YEAR THE LEAFS WON THE STANLEY CUP AND THE FIRST YEAR OF EXPANSION, WHEN THE NHL DOUBLED TO 12 TEAMS.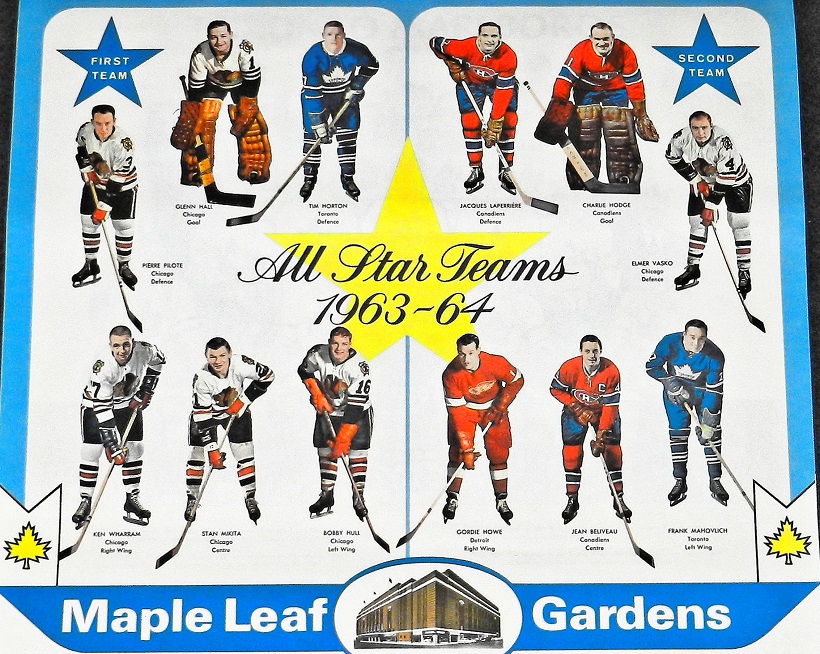 EACH CALENDAR HAD PHOTOS OF THE PREVIOUS YEAR'S ALL–STAR TEAMS; THIS FEATURING SUCH LEGENDS AS GORDIE HOWE, BOBBY HULL AND FRANK MAHOVLICH. FROM THE 1964–65 EDITION.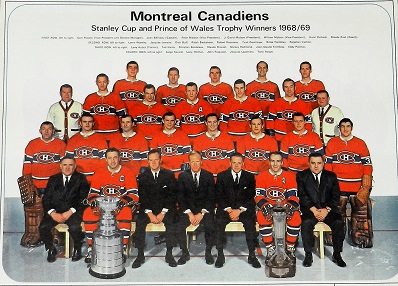 ALSO FEATURED IN EVERY CALENDAR WERE PHOTOS OF THE PREVIOUS YEAR'S STANLEY CUP CHAMPION (ABOVE) AND THE MINOR LEAGUE HOCKEY TITLISTS (BOTTOM–LEFT). IN 1965–66, THE ROCHESTER AMERICANS — WITH A YOUNG DON CHERRY ON DEFENSE (BOTTOM–RIGHT) — WON THE CALDER CUP AS CHAMPION OF THE AMERICAN HOCKEY LEAGUE.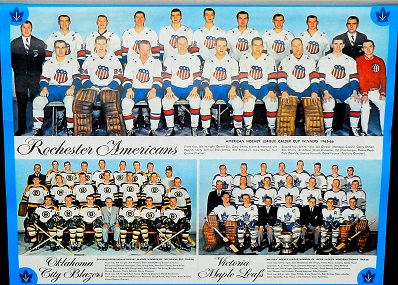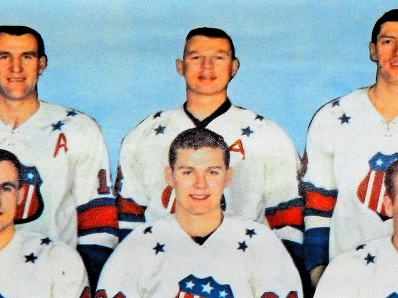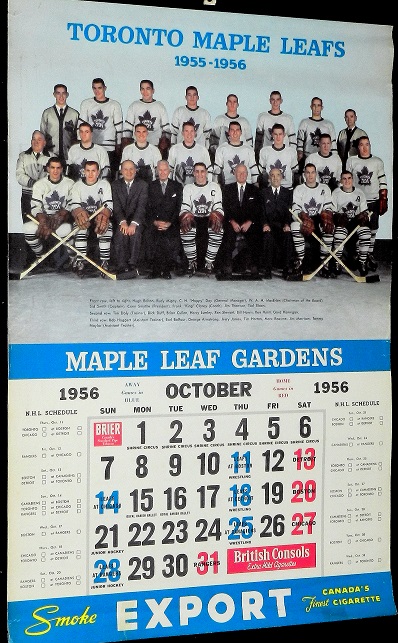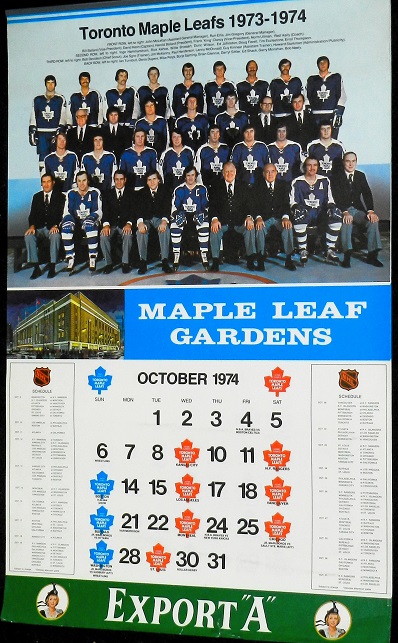 THE OLDEST AND MOST–RECENT OF MY CALENDARS. 1974–75 WAS THE FINAL PRINTING YEAR.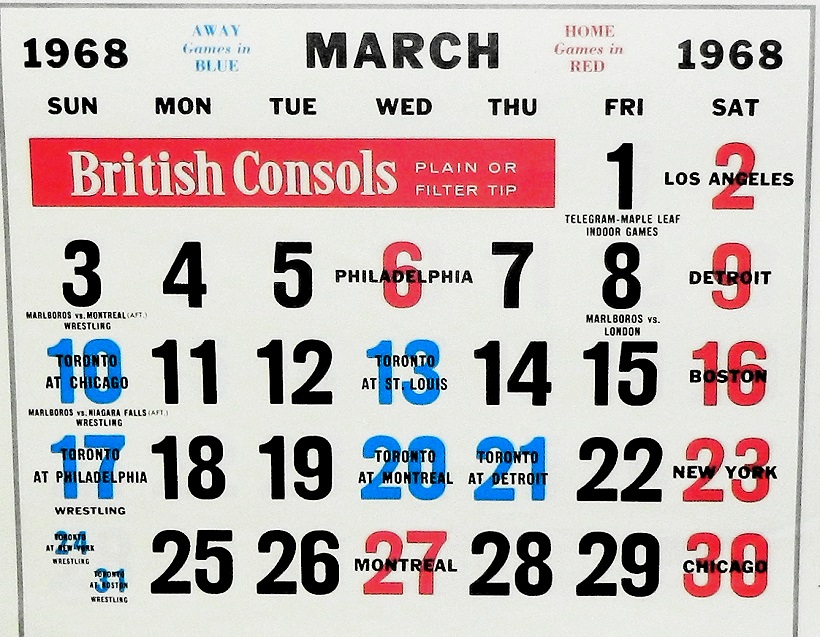 EACH PAGE FEATURED ONE MONTH OF THE NHL SCHEDULE, WITH LEAFS HOME GAMES IN RED, AWAY GAMES IN BLUE. ON MAR. 3, 1968, THE LEAFS TRADED FRANK MAHOVLICH TO DETROIT.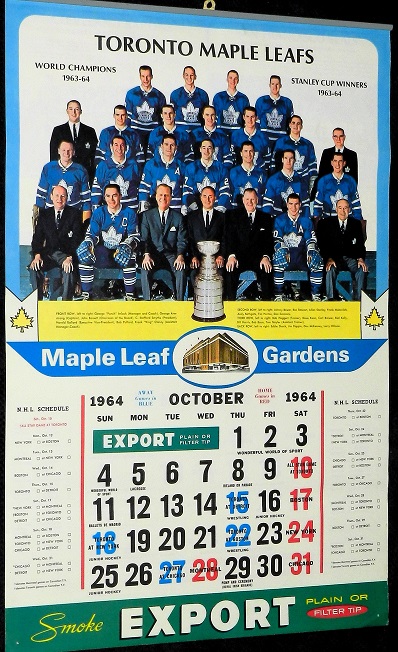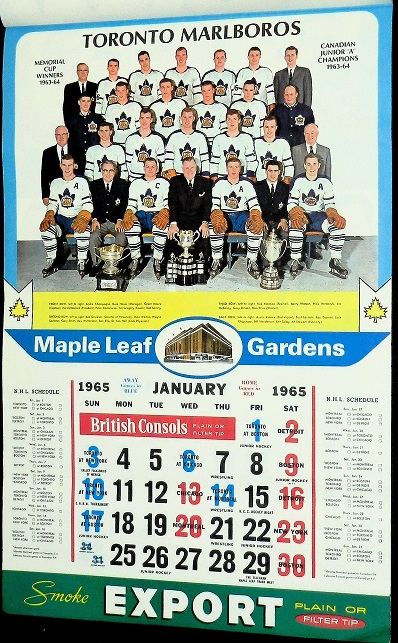 ALSO PICTURED IN EACH CALENDAR WAS THE JUNIOR HOCKEY CHAMPION OF THE PREVIOUS YEAR. ON THE JANUARY 1965 PAGE (TOP–RIGHT) WAS THE 1964 MEMORIAL CUP–CHAMPION TORONTO MARLBOROS, WITH SUCH FUTURE LEAFS AS MIKE WALTON, RON ELLIS AND JIM McKENNY. THE CLUB WAS COACHED BY JIM GREGORY, GENERAL MANAGER OF THE LEAFS FROM 1969–79.
EMAIL: HOWARDLBERGER@GMAIL.COM