TORONTO (May 13) — Has Joe Bowen called his final game as voice of the Toronto Maple Leafs?
There was no indication of any such circumstance prior to last night's playoff elimination by the Florida Panthers. But, neither has Bowen ever wrapped up a Leafs season the way he did as the Toronto and Florida players were shaking hands at center ice. "Well partner," he said to long–time booth mate Jim Ralph, "41 years of doing this; 3,550 games… and if this is the end of the line, it's been a hell of a run for us. I've enjoyed every moment of it. Hopefully, we'll be back next year, but we're not sure of that yet. But, um, to you and to everyone associated going forward with this, it has been very, very special. And, uh, I know I… (after a three–second pause) I'm a little choked up. I'm sorry. But, it's been quite a run. Love you." To which Ralph replied, "We're going for beers. Love you, too." Then, Bowen continued: "We will ship it off to the post–game show with Jim Tatti and Frank Corrado. So, maybe for the last time, Joe Bowen bidding you good night from Scotiabank Arena, as the Florida Panthers advance on a goal by Nick Cousins, at 15:32 of overtime, to eliminate the Toronto Maple Leafs in five games."
Bowen's sign–off clearly did not echo like a resignation or retirement announcement. Rather, it seems the tall foreheads at Rogers Communications and Bell Canada — the companies that control 75 percent of Maple Leaf Sports and Entertainment — have either directly, or obliquely, indicated to the 72–year–old that he will not return in the Fall. Other than seeking change, in voice or media policy, there is no apparent justification to end Bowen's career as radio broadcaster of the Leafs, which began at the old Chicago Stadium on Oct. 6, 1982. He has called more games than any person in franchise history, even if his tenure would fall short of the 53 years (1923–76) in which Foster Hewitt, the inventor of hockey broadcasting, followed the Leafs on radio and TV. From a public perspective, Bowen has lost neither his enthusiasm for the job nor his booming pipes. He's been a good soldier for MLSE during the post–pandemic era, as the billion–dollar company saved comparative pennies by keeping he and Ralph home to call road games off a TV monitor. Only once, in an interview with The Canadian Press, did Bowen question the parsimony from above. "In my humble estimation, it's not the right way to do it, but the powers that be at present believe — I guess it's a cost–cutting measure of some sort — so this is what we're doing and trying to do the best we can under the circumstances." Hardly grounds for the dismissal of a Toronto sports icon.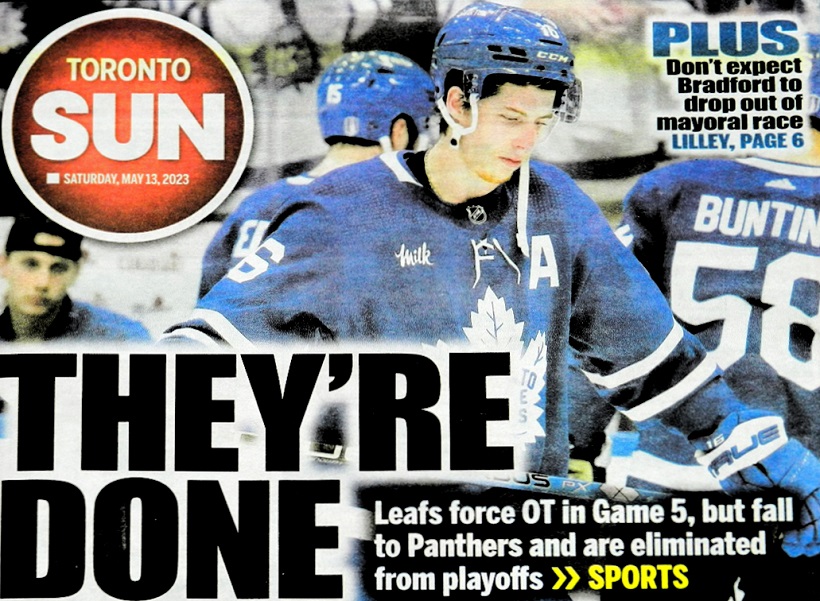 Perhaps MLSE is planning to eliminate radio broadcasting of Leaf games in favor of simulcasting the sound off TV. The company has gone in such a direction with its football wing. Home games of the Toronto Argonauts are broadcast live from BMO Field by Mike Hogan, my old FAN–590 colleague. But, Argonaut road matches on TSN–1050 Radio are taken directly from the TSN television feed. With such voices as Rod Smith, Marshall Ferguson, Gord Miller, Glen Suitor, Duane Forde and Matt Dunigan. Simulcasting is strictly bottom–of–the–barrel in professional sport. Though a radio listener can follow the action, visual references to replays and other on–screen graphics are irrelevant. And, often frustrating to a person tuning in from his (or her) car. Neither, quite frankly, can we compare the local and national audience for the Leafs and Argos. In the 1960's and 70's, prior to the advent of the Toronto Blue Jays, the clubs were on equal footing, but the Canadian Football League has sadly become marginal in our city. Even when the Argos, as they did last November by upsetting Winnipeg, capture the Grey Cup. There is no decline in passion for the Leafs, which drive TV ratings across the country on Sportsnet, CBC and TSN. Canceling a dedicated radio feed would therefore be a cost–saving measure. Nothing more. Nothing less.
REPEAT. THEN RINSE. AND, REPEAT AGAIN: A visitor to this corner will know that yours truly called for significant change — on and off the ice — after the Maple Leafs coughed up a 3–1 series choke–hold against Montreal in the 2021 playoffs. Instead, Brendan Shanahan, president of the hockey club, stubbornly (and, now, infamously) declared "we will get this done." While sitting proudly next to his hand–chosen architect, general manager Kyle Dubas. More obstinacy from the executive lair followed last year's opening–round defeat, at home in Game 7, against Tampa Bay. In each circumstance, however, there existed no form of deadline with the contracts of perennial playoff underachievers Auston Matthews and Mitch Marner. That is not the case today. As emphasized in my blog after the Leafs irretrievably fell behind 3–0 in the Florida series (https://bit.ly/42Du4W6), there is no justification for providing Matthews full control over his immediate future. Six days later, Leafs flag–waver Chris Johnston of the Toronto Star has come to terms with the "nightmare scenario". Though his version of the scenario (hoping Matthews doesn't delay in signing a new contract) is diametrically opposed to mine. There is even less rationale to throw gobs of cash at No. 34 after he somehow failed to score a goal against Florida in the five–game playoff elimination. His unjust control kicks in only 48 days from now, on July 1, with a full no–movement clause in the final year of a five–season pact. If not traded prior to Canada Day, it will be entirely up to Auston to sign a long–term extension with the Maple Leafs… or to walk, with no return, as an unrestricted free agent next summer.
Under which pretext has Matthews earned a right to hold the hammer?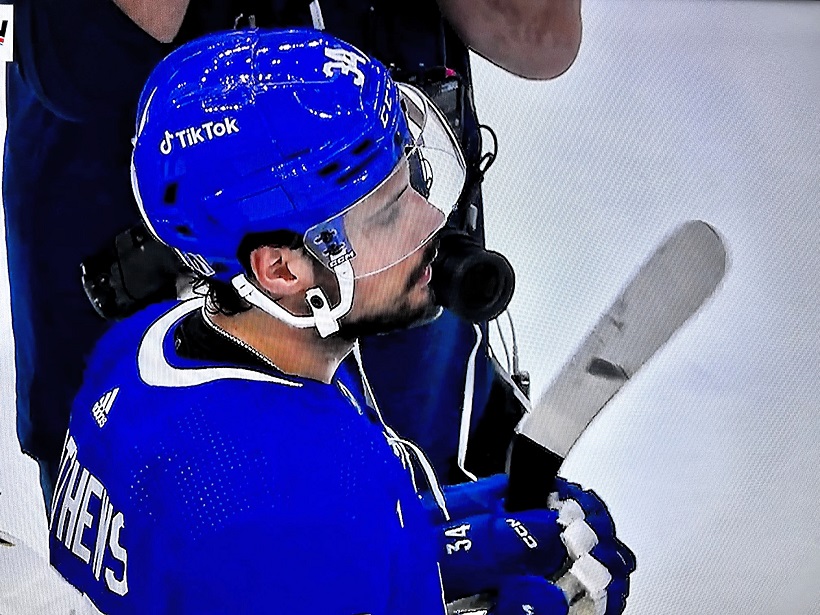 AUSTON MATTHEWS IN THE LOSERS' HANDSHAKE LINE, AGAIN, ON FRIDAY NIGHT. SPORTSNET IMAGE
Accomplishment during the regular season has grown more and more irrelevant each year the Leafs fail to challenge for the Stanley Cup. Yes, there is an obligation to supply ticket buyers entertainment and hope during the 41–game home schedule, but more of an onus to prevail in the Stanley Cup tournament. Which the forever–soft Core–4 of the Maple Leafs hasn't come close to accomplishing in seven attempts. Auston Matthews is a small–game player. If there was any doubt prior to the 2023 playoffs, there can be no more. It would be sheer insanity for the Leafs to spend upward of $14 million in salary and cap space to retain him on a lengthy, career–bridging contract. But, neither can the Leafs rationally expect a windfall in trade negotiation. Which places the club between the ol' rock and a hard place. What team is going to part with established skaters and elite draft picks for the one year and $11.6 million remaining on Auston's pact? And, as mentioned, why would the Leafs retain him beyond July 1, thereby losing full contract control? None of this would be an issue had Matthews proven he can come through in the clutch. Which has now been disproven — regularly and beyond any reasonable doubt. It is time to move on from the celebrated No. 1 pick of the 2016 National Hockey League draft. Matthews has done virtually nothing to help end the longest Stanley Cup drought in history. Which is all that should truly matter around here.
A CRUEL REMINDER: As if Friday wasn't enough for the beleaguered denizens of Leafs Nation, tonight is the 10–year anniversary of the Causeway Street Calamity, when the Toronto club of Randy Carlyle, Dion Phaneuf and Phil Kessel spit up that 4–1, third–period lead over Boston at the TD Garden. In Game 7 of the opening Stanley Cup round. May 13, 2013. It will haunt fans of the Blue and White until the championship drought finally ends.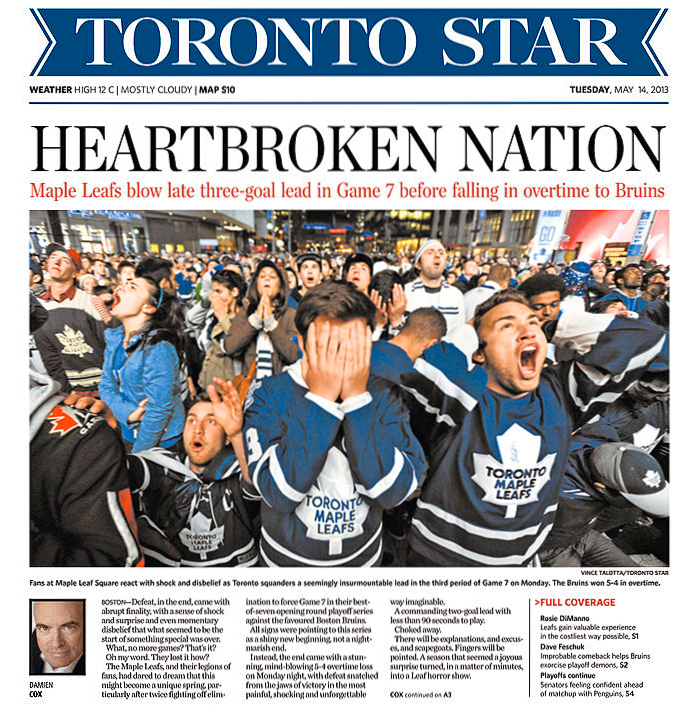 EMAIL: HOWARDLBERGER@GMAIL.COM