TORONTO (May 11) — Yes, there is a smidgen of hope, where none existed prior to Game 4. And, yes, the Toronto Maple Leafs will beget intrigue and commotion if they again defeat the Florida Panthers on Friday night.
But, I wouldn't count on it.
There is virtually nothing about this generation of the Leafs that connotes a record–tying comeback from an 0–3 gorge in a best–of–seven playoff round. Rather, it would seem highly probable the club will bow out of the 2023 Stanley Cup tournament on home ice in Game 5. Where it has fallen in four of the past six playoff years.
The Leafs avoided a sweep in Sunrise for two reasons, both typical: they had to win and the Panthers didn't. It was reflected in play from the outset. Desperation often provides an edge and the Leafs wanted Game 4 a great deal more than Florida. That it required four matches for such posture to emerge tells you much about the current Leafs. This version of the team almost always grows satisfied with a negligible accomplishment. Such as staying alive in a playoff round by the skin of its teeth. The Leafs didn't lose the first three games to the Panthers by accident. There was a near–total lack of urgency and determination after finally making it to the second round in a seventh consecutive try. As mentioned, nothing about this group engenders legitimate hope for a reverse sweep.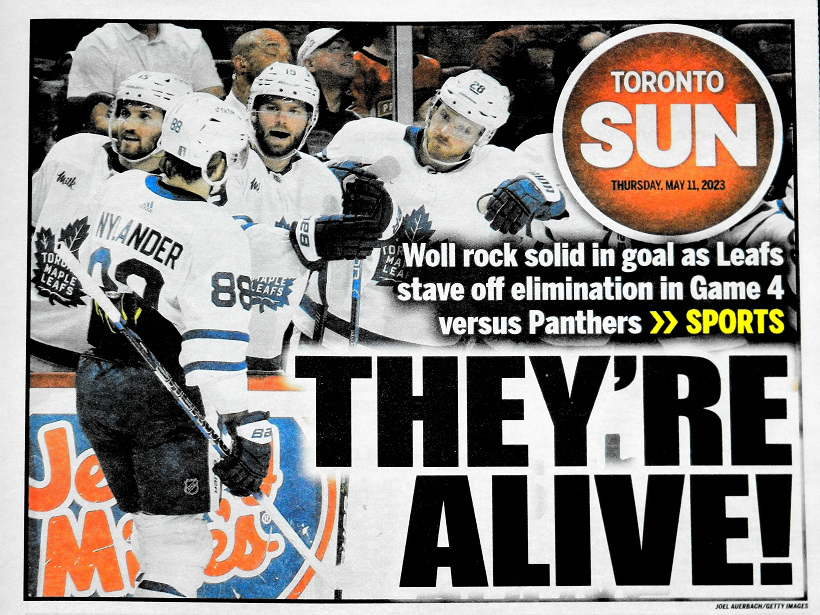 Should the Leafs win again, they head back to the sunshine state with a 4–1 road record in the 2023 playoffs; the only defeat occurring in overtime of Game 3 against the Panthers. Problem for Toronto is a demonstrated lack of opportunism on home ice. The gang headed by Auston Matthews, Mitch Marner, William Nylander, John Tavares and Morgan Rielly has immense difficulty, in the playoffs, feeding off the rabid environment at Scotiabank Arena. Precisely why, no one can adequately explain. If it were somehow easy to avoid, it would have happened already.
Rather significant is how emphatically Sheldon Keefe tells the media that his players "really care". In one form or another, it's a mantra for the Leafs coach. A team that shows such commitment doesn't require words from above.
So, the Leafs will not come all the way back against the Panthers. No team setting itself up for four straight elimination games deserves to advance. The last club to recover from an 0–3 deficit was the 2014 Los Angeles Kings. In the second round against San Jose. But, that outfit had won the Stanley Cup two years prior and had such proven, consistent playoff performers as Anze Kopitar, Jeff Carter, Drew Doughty and Justin Williams. Plus an established playoff winner in goalie Jonathan Quick. Not exactly a mirror image of the Matthews–Marner–Nylander Maple Leafs. The local media is searching for desperate angles — interviewing Turk Broda's daughter; Dave Keon's sister–in–law; Frank Mahovlich's nanny. Anything to create the illusion of a momentous rebound in this Conference semifinal. If it happens, I will congratulate the Maple Leafs for a remarkable and unforeseen triumph. Quickly and contritely. While wondering how the Panthers could let it slip away after kayoing the historically potent Boston Bruins in the opening round. But, it isn't a reasonable notion. Not with this band of underachievers.
MAD MITCH vs. SAD AUSTON: The reason I have long vouched for the Leafs to retain Mitch Marner over Auston Matthews is once again apparent after 10 playoff games. At least Marner has some noticeable fire in his belly. He's not afraid to stick it up the backside of the media when questioned about negative reaction toward the team. It may be skirting the truth when he claims to pay no heed to the outside noise, but his "I don't give a fu–" response to the question shows that Marner takes underachieving quite personally. To this day, I have never seen or heard Matthews accept even marginal responsibility for a playoff defeat or his lack of timely production. Though he makes himself available to the media in virtually every circumstance, No. 34 spills out a monotonous string of clichés and alibis. His "we have to play harder and recognize the situation" claptrap almost never bears a result.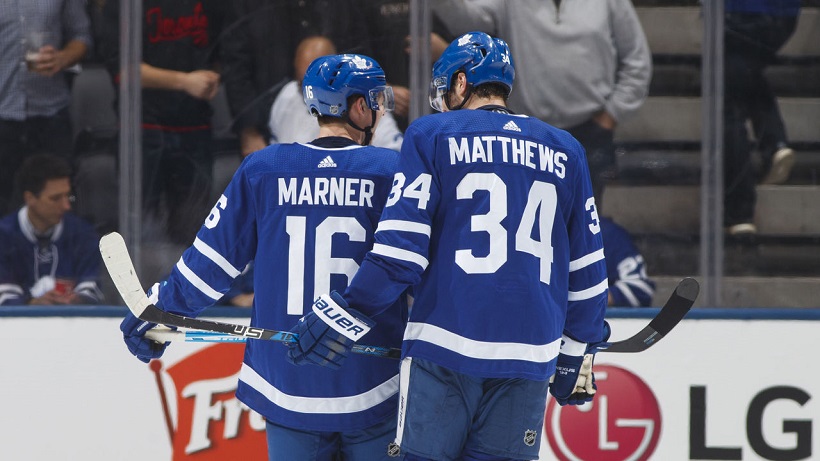 Sadly for the Leafs, there's no way the club can forge deep into the playoffs without Matthews assuming control. Which he has yet to approach, let alone accomplish, in now a seventh year. In the rare occasions that has a decent period or scores a timely goal (as in the impressive Game 4 comeback against Tampa Bay), the media bandwagon claims we are viewing the "real" Auston Matthews. Only for the reigning Hart Trophy winner to disappear yet again. Just once, I would like to see Auston show some disdain in a media scrum. Maybe toss out a couple of f–bombs. His laissez–faire comportment off the ice is a reflection of what he fails to accomplish during important playoff moments. Unless that changes in a hurry, the Maple Leafs have no chance to overcome the Panthers.
NO PLACE LIKE HOME. REALLY?
It's a sad and puzzling tale for hockey fans in our city.
Beginning in 1921 as the St. Pats and continuing through last spring as the Maple Leafs, the National Hockey League team representing Toronto has been eliminated from the playoffs at home on 32 occasions: three times at the old Mutual Street Arena; 22 times at Maple Leaf Gardens and seven times at the Air Canada Centre/Scotiabank Arena. This includes the past three playoff years: 2020 against Columbus in the qualifying round; 2021 against Montreal and 2022 against Tampa Bay in the opening series. Will it happen for a 33rd — and fourth consecutive — time on Friday night, when the Leafs and Florida Panthers clash downtown in Game 5?

In the movie The Wizard of Oz, as Judy Garland so emotionally declared at the end, there truly was "no place like home". The Maple Leafs, conversely, would be better off waltzing down the yellow–brick road. Or, perhaps finding a neutral site for whatever remains of their playoff schedule this spring on Bay Street. Here is the historic roll call of post–season eliminations in the three arenas the Leafs have called home — a woeful and cautionary tale:
1921 St. Pats vs. Ottawa Senators / 1925 St. Pats vs. Montreal Canadiens / 1929 and 1933 Maple Leafs vs. New York Rangers / 1936 Maple Leafs vs. Detroit Red Wings / 1940 Maple Leafs vs. New York Rangers / 1943–52–55 Maple Leafs vs. Detroit Red Wings / 1960 Maple Leafs vs. Montreal Canadiens / 1961 Maple Leafs vs. Detroit Red Wings / 1965 and 1966 Maple Leafs vs. Montreal Canadiens / 1969 Maple Leafs vs. Boston Bruins / 1971 Maple Leafs vs. New York Rangers / 1974 Maple Leafs vs. Boston Bruins / 1975 and 1977 Maple Leafs vs. Philadelphia Flyers / 1978 and 1979 Maple Leafs vs. Montreal Canadiens / 1980 Maple Leafs vs. Minnesota North Stars / 1981 Maple Leafs vs. New York Islanders / 1983 Maple Leafs vs. Minnesota North Stars / 1988 Maple Leafs vs. Detroit Red Wings / 1993 Maple Leafs vs. Los Angeles Kings / 1999 Maple Leafs vs. Buffalo Sabres / 2002 Maple Leafs vs. Carolina Hurricanes / 2004 Maple Leafs vs. Philadelphia Flyers / 2017 Maple Leafs vs. Washington Capitals / 2020 Maple Leafs vs. Columbus Blue Jackets / 2021 Maple Leafs vs. Montreal Canadiens / 2022 Maple Leafs vs. Tampa Bay Lightning. LEGEND: Mutual Street Arena / Maple Leaf Gardens / ACC/SBA
EMAIL: HOWARDLBERGER@GMAIL.COM