UPDATE: ELLIOTTE FRIEDMAN OF SPORTSNET BROKE THE NEWS, JUST AFTER NOON TODAY, THAT KYLE DUBAS WILL NOT RETURN AS GM OF THE LEAFS. MORE TO FOLLOW…
TORONTO (May 18) — They say that in life, what comes around goes around. And, the Toronto Maple Leafs could be in a self–made centrifuge. The enigma surrounding who will lead the club into a critically important summer has become worthy of an Agatha Christie novel. It began with an announcement, on Monday, that president Brendan Shanahan would not appear alongside general manager Kyle Dubas for the annual exit gathering with reporters. Shanahan, evidently, was to be available "later in the week". Well, we're almost into Friday with no word about when, or if, the franchise fulcrum since 2014 might appear. Or whether he still holds down his lofty position.
You won't learn anything from the local newspapers as not a syllable has been written about Shanahan's disappearance. It's as if some form of gag order is being observed by those who cover the Maple Leafs in print.
My information from last weekend, after the Maple Leafs were drubbed by Florida in the Eastern Conference semifinals, was that neither Shanahan nor Dubas would return. Nothing in the interim has substantiated or invalidated the claim. But, the mystery apparently deepened when Dubas, letting his hair down for the first time in public, spoke of the torment encountered by his family during the past year while subsisting in Toronto's maniacal hockey market. That it occurred in the absence of employment security for the man that succeeded Hall–of–Famer Lou Lamoriello surely added to the despair. Maple Leaf Sports and Entertainment, last summer, refused to authorize a contract extension for Kyle, submitted by Shanahan. In a normal circumstance, the GM would make known to his superiors anything about to be revealed publicly in a season–ending news conference. But, there is word that the moguls at MLSE were completely blindsided by the notion that Dubas might not wish to return.
His preemptive strike may have thrown into into disarray whatever plan the triumvirate of Bell Canada, Rogers Communications and Larry Tanenbaum envisioned for the 2023 off–season, which must include a verdict on whether the Leafs will move forward with Auston Matthews — he of the grandiose regular seasons and trivial, unimposing playoffs. Perhaps never in modern franchise history has management clarity been so essential. Yet, just 44 days until a potentially disastrous no–movement clause kicks in for Matthews, nobody in the outside world is aware of which person (or persons) will tend to the critical matter. The stability that long existed in the Maple Leafs front office has been supplanted, for now, by intrigue and potential turmoil. Silence and secrecy prevail.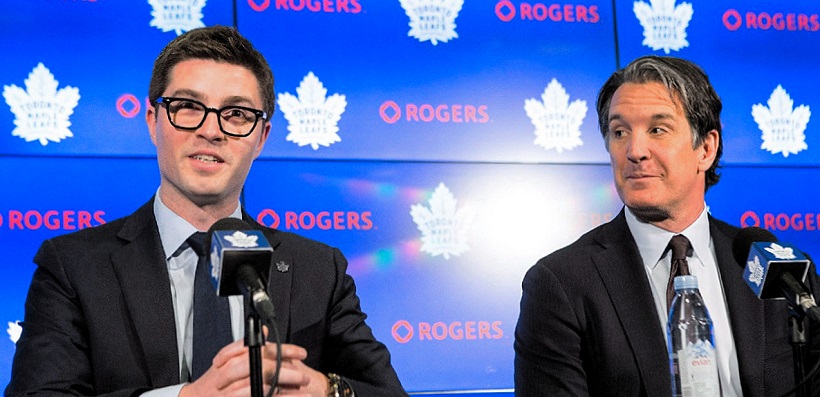 Most intriguing is whether Dubas concocted the ploy as a shot across the bow at the syndicate that refused to endorse his contract renewal. Did Kyle stick it up the backside of MLSE on Monday, knowing that he would comfortably stand down for a period of time to unwind with his family and voluntarily vacate the manager's chair unless awarded a bountiful package of term and compensation? And, again, how does all of it relate to Shanahan, whose vision sold to MLSE nearly a decade ago has yielded but a single playoff round victory and a follow–up series (against Florida) that humiliated the hockey club, further exposing the long–established frailty of the roster?
Were a cogent scheme in place, MLSE would not be delaying, indefinitely, to announce whether Shanahan and/or Dubas will return… or to reveal those entrusted with replacing them. There are whispers the company has sought the opinion — and, perhaps availability — of the gifted London junior tandem of Mark and Dale Hunter (the Knights are currently clashing with the Peterborough Petes in the Ontario Hockey League championship series).
Unknown others may also be in consideration to replace Dubas and/or Shanahan.
Mark Hunter is a former Leafs scout and executive, responsible for recommending Mitch Marner to the club in the 2015 National Hockey League draft ahead of highly touted defenseman Noah Hanafin — an endorsement that turned out rather well for the Blue and White. But, again, time is of the absolute essence between today and July 1, when restriction clauses unfold involving Matthews, Marner and William Nylander. Trading the first two will no longer be possible, without their express permission, after Canada Day. Matthews can either agree to another pact with the team or walk for no return, next July, as an unrestricted free agent. He claims all the cards in just more than seven weeks. These are issues that require qualified, veteran management. The utter silence from ownership — and Shanahan — since Monday does not suggest the Maple Leafs are confidently moving forward.
And, it's entirely possible that Dubas may be reveling in MLSE's discomfort.
CLARK vs. McSORLEY / BURNS vs. MELROSE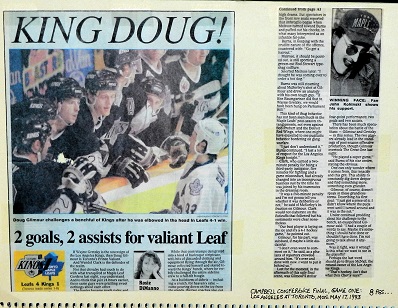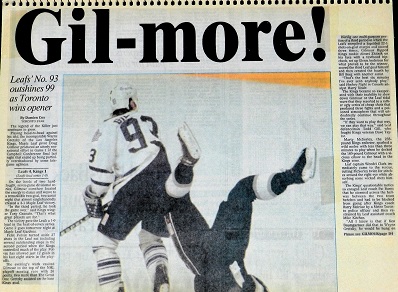 It still ranks among the most–famous Leaf playoff games in the post–1967 era. The opener of the Campbell Conference final at Maple Leaf Gardens against Wayne Gretzky and the Los Angeles Kings. Thirty years ago this week: May 17, 1993. When Doug Gilmour completely took over the match in the third period, turning a 1–1 tie into a 4–1 Toronto victory (he send Kings defenseman Alexi Zhitnik sprawling onto his head with a textbook hip–check). When Gilmour later got pulverized by Marty McSorley of L.A. while cutting across the "railroad tracks" at the blue line in the third period, instigating a monster punch–up between McSorley and Wendel Clark. When Pat Burns lost his marbles on national TV and charged toward his Kings counterpart, Barry Melrose, who had comically imitated the portly coach by puffing out his cheeks. It was the start of a memorable, seven–game clash in which the Leafs — to this day — came closer to playing for the Stanley Cup than at any time since 1967. These are images from Game 1 in my 1993 playoff scrapbook: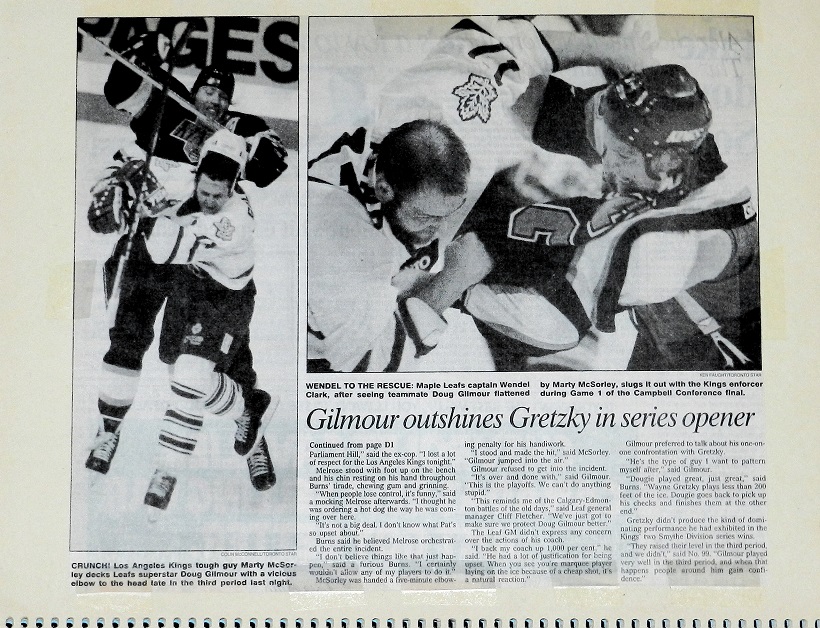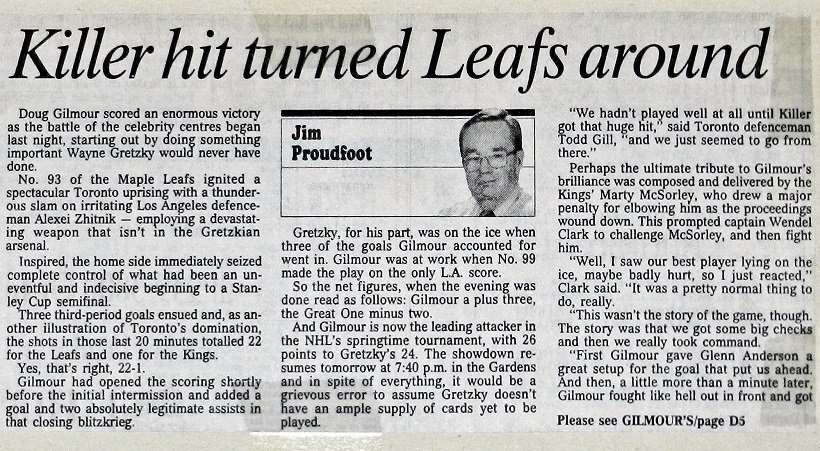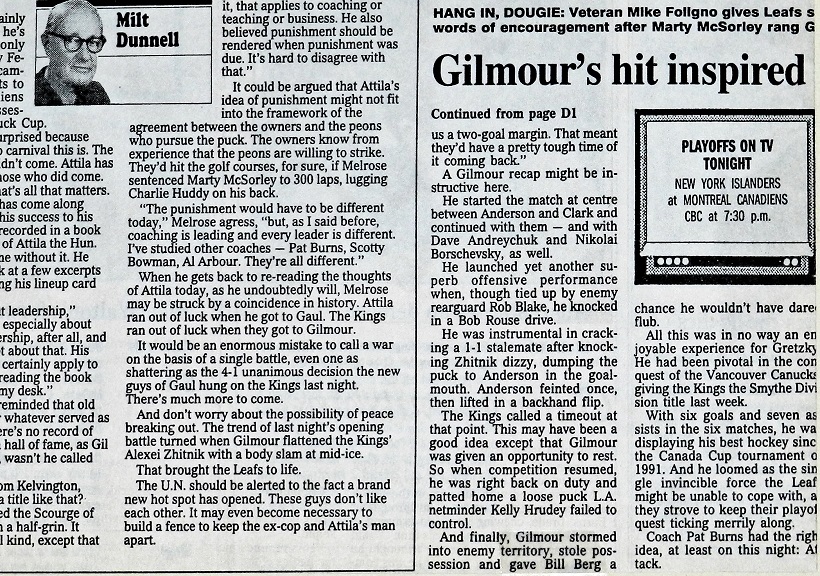 EMAIL: HOWARDLBERGER@GMAIL.COM