TORONTO (May 15) — I will begin by repeating the words, over the weekend, of a trusted hockey source: The Maple Leafs are "heavily weighing" an executive overhaul that would remove president Brendan Shanahan and general manager Kyle Dubas from their positions. No other individual has made an identical claim. But, nothing that transpired during locker–cleanout day — an annual rite of spring in Toronto — convinced me otherwise.
What blew me away, however, on an afternoon of predictable clichés and selfish pronouncements is how Dubas magnanimously came to the rescue. While none of his star players offered as much as a syllable of responsibility or contrition for another playoff debacle, it was the GM — perhaps he of the "walking dead" — that furnished some vital perspective. Rather than haughtily proclaiming, yet again, the current Leafs will stay the course and try, for an unprecedented eighth consecutive year, to construct a Stanley Cup challenge, Dubas went all human. He talked about his family and the emotional divot that's been carved in their lives of the past half–decade. So debilitating, in fact, that he broadly hinted at a sabbatical if not retained by the Maple Leafs. Kyle claimed, at last, that "nothing was off the table" with respect to dabbling with the failed playoff nucleus of Auston Matthews, Mitch Marner, William Nylander and John Tavares, though the latter is locked in at $11 million for two more seasons. But, neither would he, or could he, commit to returning for a sixth year in the manager's chair. Instead, Dubas alleged the matter would be resolved in upcoming dialogue with Shanahan, who failed to appear alongside him for the first time.
Precisely what that indicated remains muddled, though it was ownership that refused to sanction, last summer, Shanahan's attempt at extending the contract of his hand–picked GM. Today, there was no visible support for Dubas from any of Rogers Communications, Bell Canada, Larry Tanenbaum… or Shanahan. The beleaguered manager stood alone and spoke sincerely. He saved the day from being a complete washout and waste of time.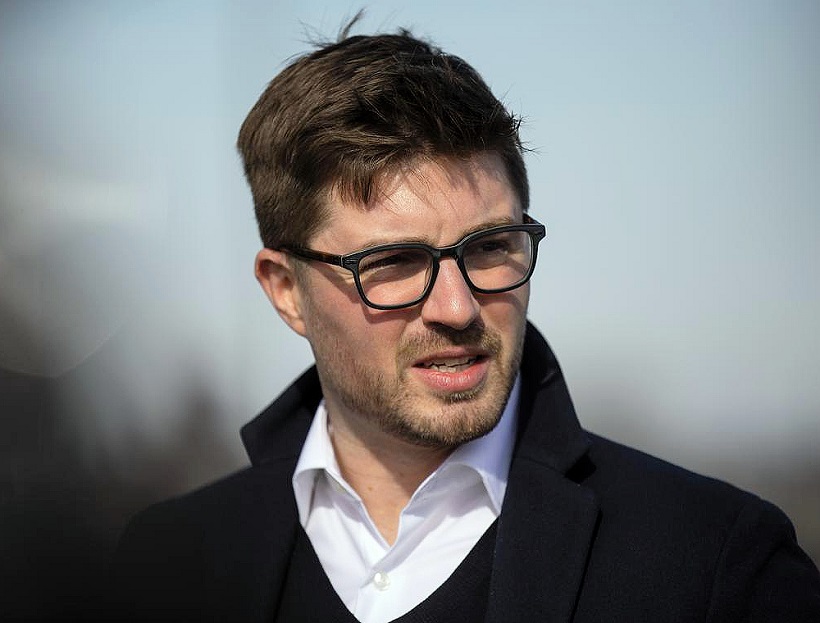 The Leaf players, conversely, embarrassed themselves. Again, not one stepped forward with a trace of anger or discontent over another failed attempt to matter in the Stanley Cup chase. No one even implied "this isn't good enough"… or expressed a hint of emotion. Nothing along the lines of Leon Draisaitl of Edmonton, after Sunday night's elimination by the Vegas Golden Knights. Fighting back tears, Draisaitl, who scored 13 playoff goals (one more than the combined efforts of Matthews, Marner and Nylander), called it a "failure" and a "wasted year". Not a single Toronto skater showed the passion and character of Colorado's Nathan MacKinnon, who famously told reporters, two springs ago, "I'm going into my ninth year and I haven't won shit!" Only to raise the Stanley Cup after his 10th season. Instead, the privileged Maple Leafs espoused on the "wonderful culture" around the team and how they so desperately want to stay in Toronto. Of course, when the elite Toronto forwards had an opportunity, once more, to show how much the team and city meant to them, they recoiled and dwindled in the spotlight.
As they do every year, habitually, after the regular season.
When the "culture" of the team comes up, one is tempted to refer to that of a petri dish, which spreads and infects. Otherwise, the culture is perfectly clear: that of country club entitlement and perennial playoff flop. The Leafs, in fact, may be the least–complicated loser in the modern history of Stanley Cup toil — they bow out precisely the same way every year. A team built around skill and soft hands cannot score goals when it matters. This is indisputable fact, rather than theory. During the past five games in which the Leafs have been eliminated from the playoffs, the vaunted core has erupted for a total of five goals. Vegas scored that many on Sunday night while expunging the Oilers in Game 6. Yet no one who dons a blue and white jersey seemed to care. At least, not outwardly.
Shouldn't it humiliate the Leafs that Seattle — in only its second National Hockey League season — prevailed more often in the 2023 playoffs? The Kraken knocked off Colorado in the opening round and won its third game of Round 2 on Saturday, forcing a decisive match against Dallas (the Stars survived at home, 2–1). Seven playoff victories for the Kraken this spring. Five for Toronto. Yet, not a smidgen of penance or remorse, on Monday, from the proud Maple Leaf warriors. Just more cries about not wanting to go anywhere, lest the old gang is severed.
And, the mantra of "we believe in our group", which, by now, must nauseate any fan of the hockey club.
When Matthews stares into a horde of media and claims "my intention is to be here", Leafs Nation should quiver. Or, at least wonder "if you love our city and your team so much, why do you shrink to such an extent when they need you most?" How much longer can Maple Leaf Sports and Entertainment buy what Shanahan has been selling for much of the past decade? If any of us in the work force failed to reach business targets for seven consecutive years, would we still have a job? Even after two or three years? It's ridiculous what ownership has idly allowed to flourish with the Leafs since 2017. Maybe that's why the president did not show, for the first time, on "exit" day.
30 YEARS: A LIFETIME AGO FOR THE LEAFS
It was all different 30 years ago tonight. May 15, 1993. A 6–0 rout of the St. Louis Blues in Game 7 of the Norris Division final at Maple Leaf Gardens put the Leafs in the Conference final against Wayne Gretzky and the Los Angeles Kings. The victory was never in doubt, as the Leafs bolted to a 4–0 lead after the first period. It capped a see–saw playoff round against Curtis Joseph, Brett Hull and Brendan Shanahan of the Blues. Once again, Doug Gilmour, Dave Andreychuk and Wendel Clark elevated their performances when it mattered — without question, the story of the Leafs in the spring of '93. Still in my playoff scrapbook, these images from 30 years ago tonight: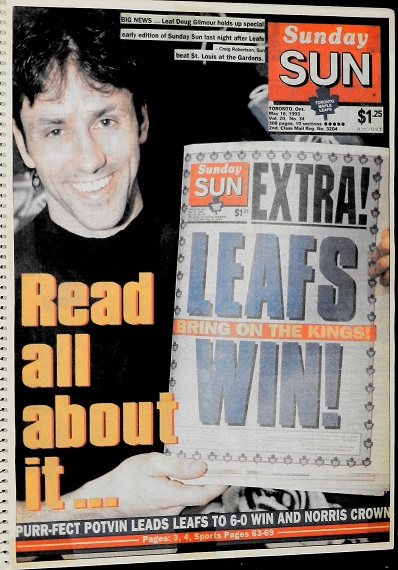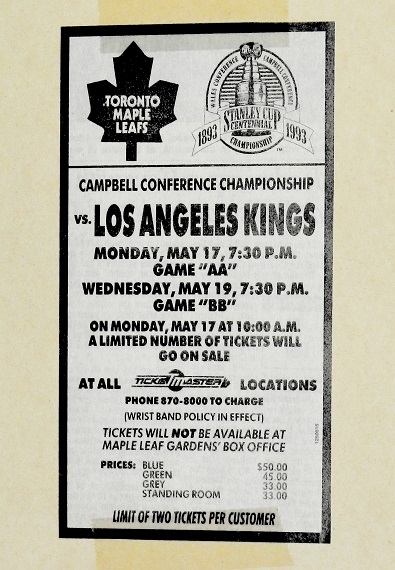 DOUG GIMOUR SIGNALED THE BIG WIN (LEFT); THE GARDENS PROVIDED TICKET INFO (RIGHT).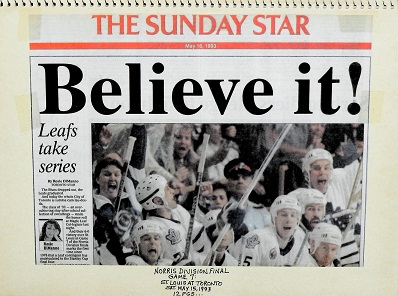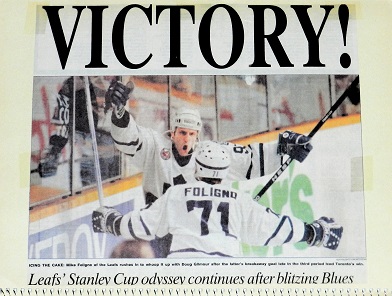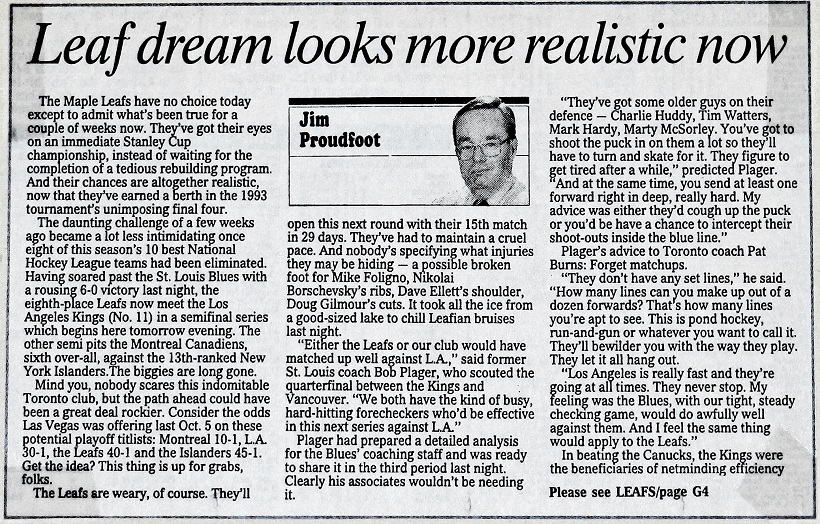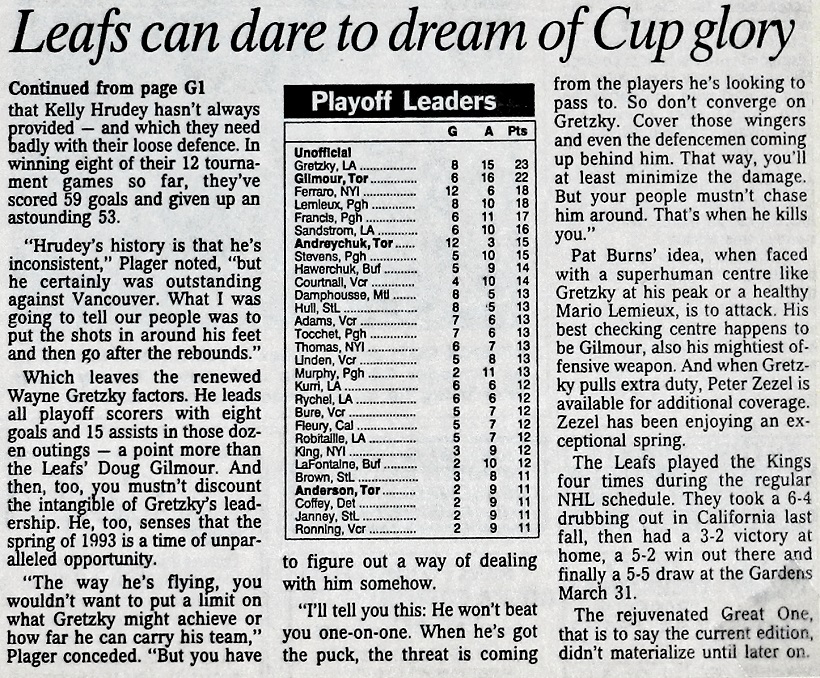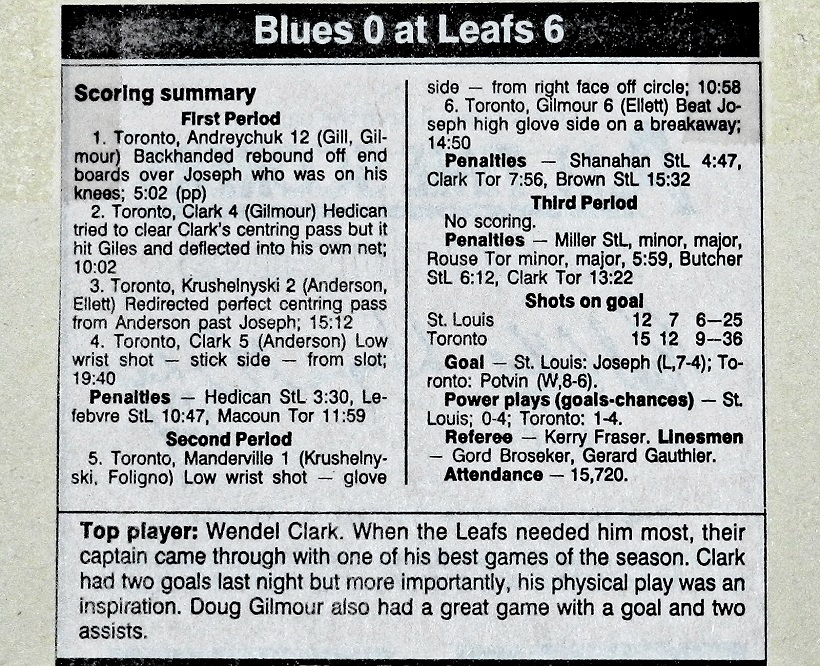 EMAIL: HOWARDLBERGER@GMAIL.COM