TORONTO (May 27) — If it's possible, the Toronto media market has gone wackier than ever in the past week. The parting with former Leafs general manager Kyle Dubas has triggered waves of panic among those that were in his back pocket — none more so than James Mirtle and Jonas Siegel of The Athletic, and Luke Fox of Sportsnet. All three are unabashed fans of the Blue and White, therefore incapable of covering the team with objectivity and a critical eye. Siegel, in particular, went over the edge on Thursday with a tear–jerker entitled CONFUSION AND HURT RIPPLES THROUGH MAPLE LEAFS IN WAKE OF KYLE DUBAS' DISMISSAL:
Wrote Jonas: Anger. Confusion. Shock. Disappointment. Those are some of the feelings reverberating around the Leafs in the aftermath of Kyle Dubas' firing… There's a real sense of loss for staff members. Dubas was their leader and the one who hired many of them. Suddenly, he was gone a week after the season came to an end – without, in their minds, a satisfactory explanation. This story reflects their feelings at the moment and speaks to a level of disillusionment that team president Brendan Shanahan and the next GM of the Leafs will have to work to unwind. "I'm in mourning right now," one person who worked in the front office with Dubas during his time with the Leafs said. "It doesn't make any sense," a Leafs front office member said of the way Dubas was let go. "That's why it's disappointing." Shanahan went from wanting to bring Dubas back to firing him in a matter of days. And then offered his version of events in a press conference that left people in the organization confused and upset.
Fox nervously acknowledged that Auston Matthews will not re–sign with the Leafs at 12:01 a.m. on July 1: Yes, Matthews (and his fellow Core Four members) received a reassuring phone call from Brendan Shanahan after the president fired well–liked GM Kyle Dubas on May 19. Sure, the lack of certainty will make for nervous fans and repetitive media questions if/when talks drag past summer. That doesn't mean the sky is falling, though.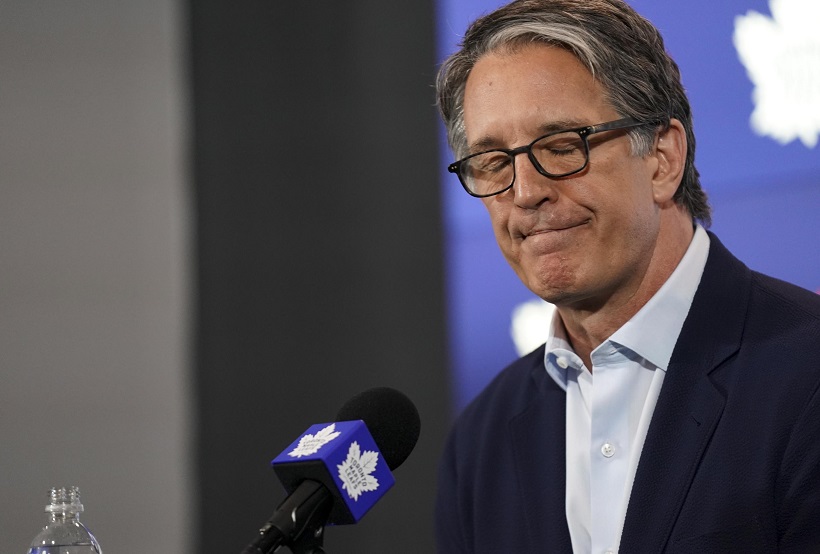 ONLY ONE MAN CALLS THE SHOTS FOR THE TORONTO MAPLE LEAFS. NEW GM, OR OLD GM.
Meantime, veteran Toronto Star beat writer Kevin McGran unwittingly contradicted himself: Team president Brendan Shanahan did his best to put out the fires he started by calling the Leafs under contract and telling them not to worry, that it is his intention to bring them all back, despite the complicated contract status that awaits whoever replaces Dubas. (Hint: Brad Treliving). Shanahan has gone silent while he interviews candidates. One thing he should be doing is interview every hockey mind who has applied for the job. It's believed dozens have. And then he should ask them what they would do if they were managing the team. Then he should listen. Take notes.
But, Kevin, the narcissistic president has already undermined his next subordinate by ensuring Matthews that he won't be traded before July 1, when a no–movement clause takes effect, thereby disengaging the Leafs from any form of control. Auston can dangle ownership and management on puppet strings until either choosing to re–sign, or walking as an unrestricted free agent next summer. Can there be an issue of greater importance for a new GM than determining how to proceed with the club's perennial playoff flop? If that's been taken from his grasp, why would anyone but a feeble servant agree to work under the oppressive Shanahan? Could you envision such front–line managers as Doug Armstrong, George McPhee or Jim Nill leaving their current clubs to run the Leafs?
Which is the obvious storyline that everyone in the Toronto media has been avoiding. BRENDAN SHANAHAN is general manager of the Leafs… and will continue in that role even after hiring a "yes man" to work beneath him.
The decade–long quagmire here in town can only change if Maple Leaf Sports and Entertainment wakes up and acknowledges the "Shanaplan" has never come close to fruition. But, that would require some effort from the fat TV moguls. Far easier for Bell Canada (TSN) and Rogers (Sportsnet) to rest on their duffs by the swimming pool and enjoy the multi–millions that hockey fans pour into the team each year. Understanding those tortured followers won't be going elsewhere, no matter the result. "Rinse and repeat" — it's the the mantra of Leafs Nation.
GRETZKY/GILMOUR/FRASER
30 years ago tonight at the L.A. Forum
FROM MY 1993 PLAYOFF SCRAPBOOK

It is still the most–lamented Leafs game of the post–1967 era.
Even more so than the third–period collapse at Boston in 2013.
Why? The answer is easy:
It's the only time since '67 the Leafs were one shot away from playing for the Stanley Cup.
It is also the most–memorable match I covered in 17 years of following the Leafs, home and away, as a radio reporter at The FAN–590. Game 6 of the Campbell Conference final at the Los Angeles Forum. May 27, 1993 — 30 years ago tonight. If old enough, you know the story: Leafs leading the L.A. Kings 3–2 in games. Trailing 4–2 entering the third period, the visitors tie the match on a pair of goals by Wendel Clark, who completes a hattrick at 18:39, roaring off the bench as an extra attacker to fire Doug Gilmour's feed from the corner past Kelly Hrudey.
Glenn Anderson takes a foolish penalty, boarding Rob Blake of the Kings with 13 seconds left in regulation.
Gretzky, accidently, but clearly, slices open Gilmour's chin early in overtime on the follow–through of a shot. Gilmour drips blood on the Forum ice as referee Kerry Fraser huddles with linesmen Kevin Collins and Ron Finn. More than 16,000 fans hold their breath. The officials claim that none saw the infraction. Gretzky stays in the game and, seconds later, lifts a Luc Robitaille pass over Felix Potvin (at 1:41 with ex–teammate Anderson still in the penalty box) to knot the series and send it to Toronto for a decisive match. The burning question for Leafs rooters over three decades: What may have transpired had Gretzky been banished with a five–minute major?
We will never know. But, the mystery lingers.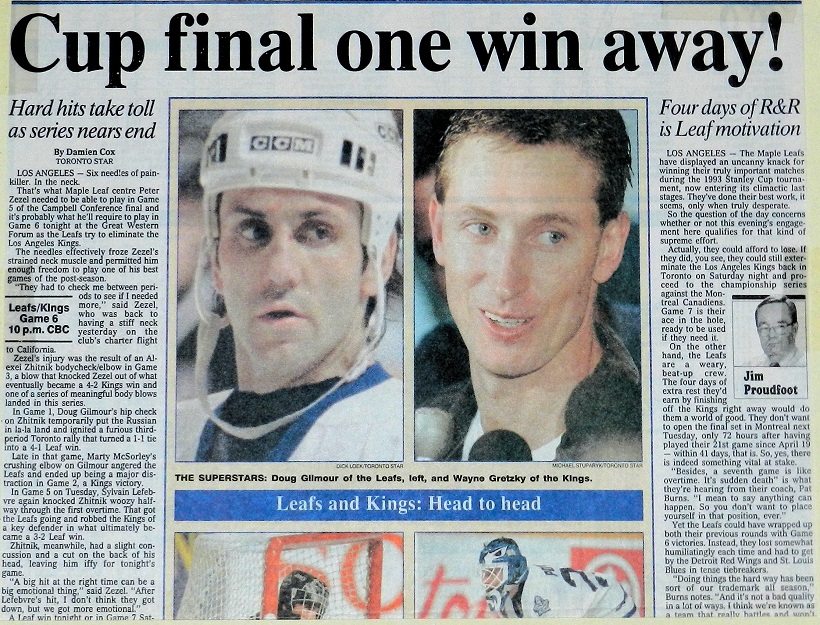 THE RARE TORONTO STAR HEADLINE (ABOVE) FROM MAY 27, 1993. A COLUMN (BELOW) PRIOR TO GAME 6 BY BOB McKENZIE OF THE STAR. BEFORE HE BECAME A LEGEND AT TSN.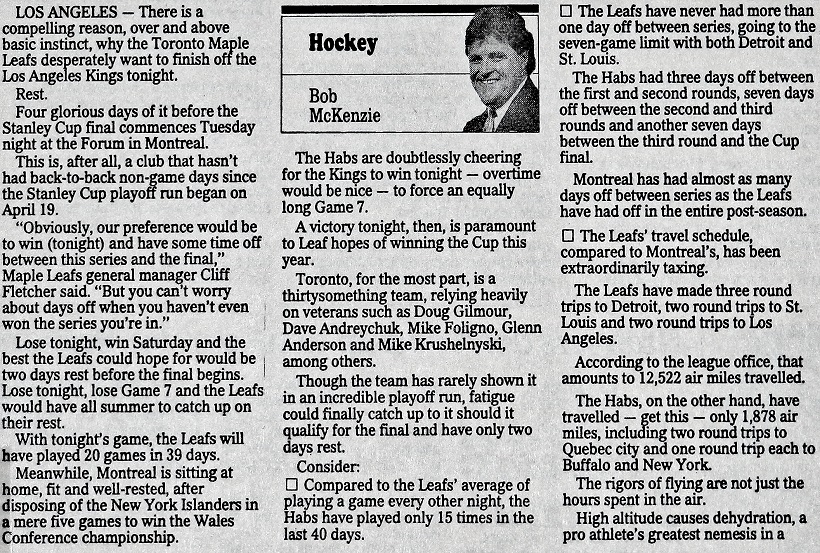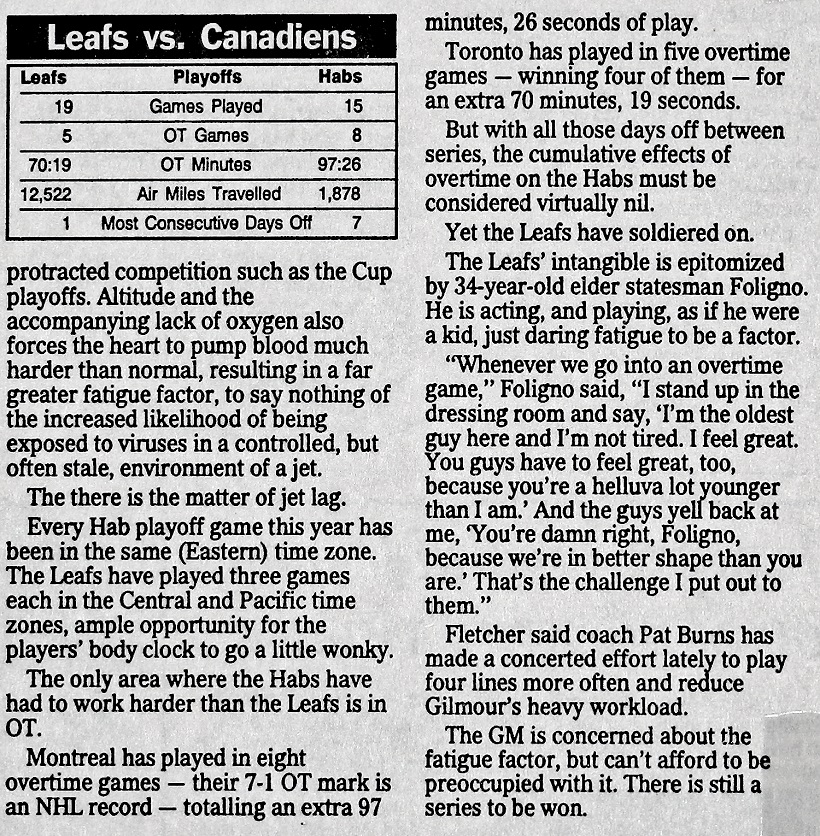 GAME 6: TORONTO 4 at LOS ANGELES 5 (OT):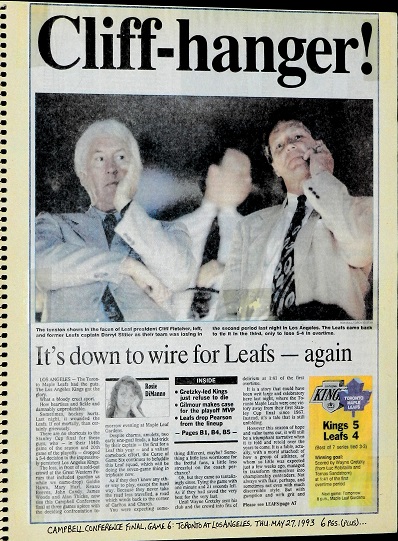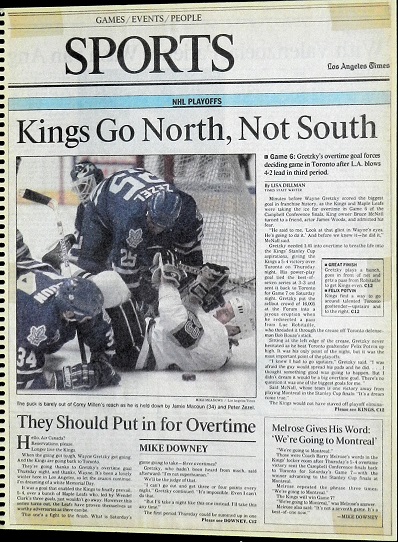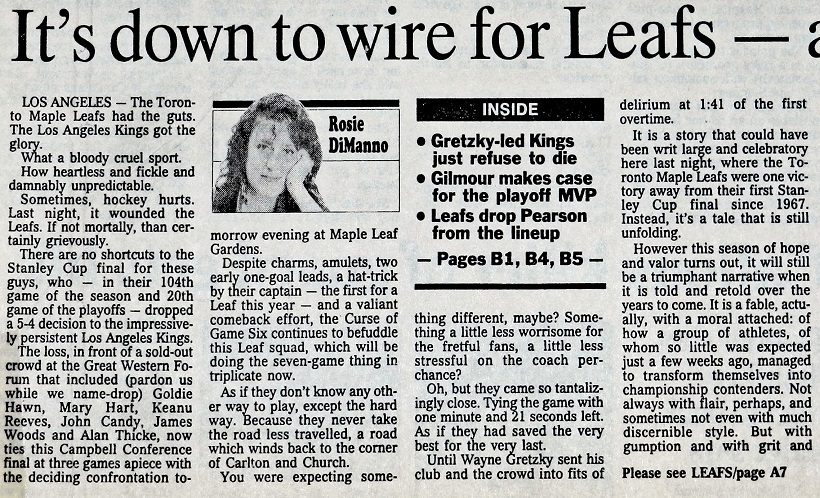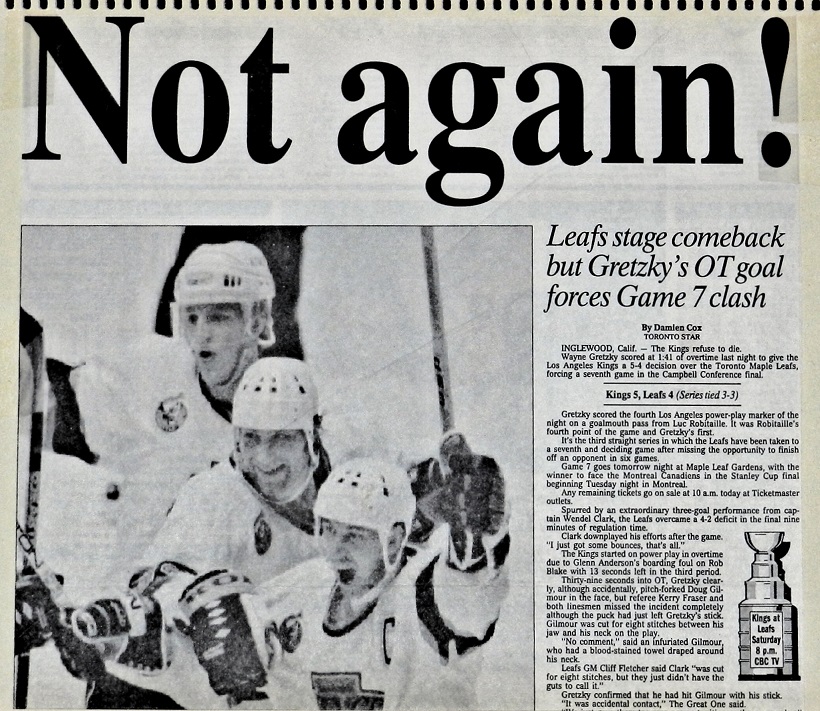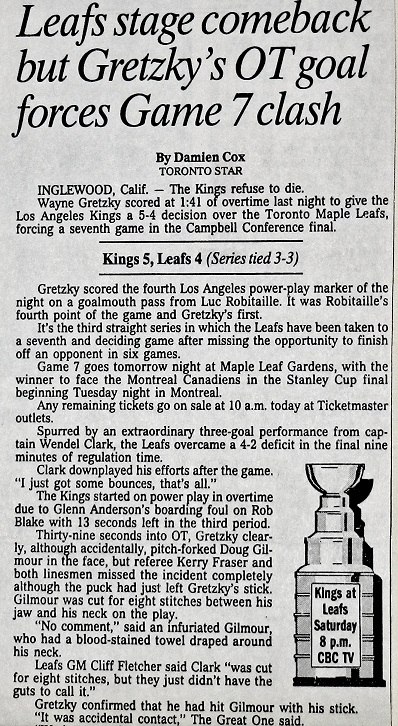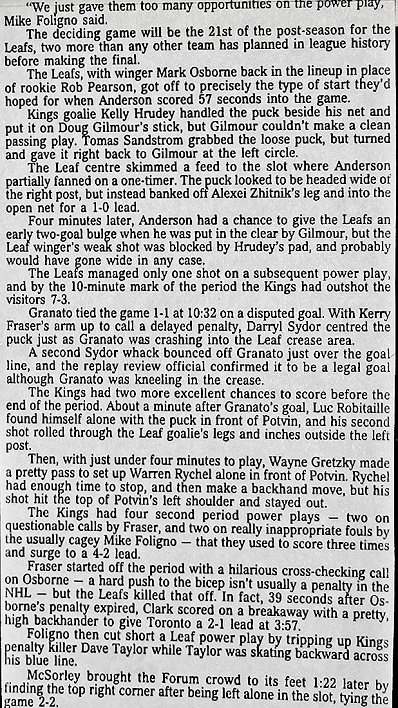 OF ALL THE POST–GAME STORIES IN TORONTO OR LOS ANGELES NEWSPAPERS, ONLY DAMIEN COX OF THE STAR EXPLORED THE GRETZKY HIGH STICK IN ANY DEPTH. PERHAPS BECAUSE OF TIGHT DEADLINES, OTHER WRITERS AND COLUMNISTS DID NOT HAVE THE TIME — OR GUMPTION — TO HIGHLIGHT THE ACTUAL STORY OF THE NIGHT. IT WOULD BECOME GARGANTUAN IN THESE PARTS.
EMAIL: HOWARDLBERGER@GMAIL.COM