TORONTO (May 8) — Truth be known, there was only one circumstance the Toronto Maple Leafs wished to avoid after winning their first playoff round in nearly two decades: getting drubbed in the second round and forcing management to trade one of Auston Matthews or Mitch Marner before July 1 of this year. At the moment, with the Maple Leafs in a 3–0 series hole against the Florida Panthers and their most–important players again firing blanks, there appears to be no other option. Adding to the conundrum is the choice of individual to execute such a dramatic change. Is Kyle Dubas — denied a contract extension by ownership prior to this season — that person? Or, after seven attempts to make legitimate noise in the Stanley Cup tournament, will it be someone else?
Bottom line is, there's no way the Leafs can afford to have Matthews and Marner take full control of their hockey futures. Not after what appears to be another early flame–out by the $22.5–million duo. Nor, quite frankly, does either player deserve such a privilege in Toronto. That would change, of course, if the Leafs became the fifth team in 198 attempts to erase a 3–0 deficit in a best–of–seven playoff and advance to the next round. Otherwise, Toronto management, led by whomever, cannot cede contract jurisdiction to players that have routinely come up small for the club when it matters. That control kicks in just 53 days from now with no–movement clauses for the beleaguered M&M boys. Once it occurs, the Maple Leafs can no longer trade Matthews (with one year remaining on his current pact) or Marner (with two years left). Between today and July 1, Matthews can attempt to negotiate a long–term extension with the club. If not dealt, however, before Canada Day, No. 34 will be eligible to walk, with no return, after next season as an unrestricted free agent. Staying or leaving becomes 100 percent his call.
You watched the game from Florida on Sunday. You noticed the similarity between that vacant performance and so many playoff nights in the past seven years. Only, this was rock bottom. At least, we think it was. To prevent the Leafs from falling into a 3–0 gorge for the first time since 1979, Matthews and Marner had to come up with the Stanley Cup performance of their lives. Instead, they were horrible. And, horribly indifferent. As we sit here today, with the Leafs on the cusp of another playoff disaster; in a year when the Stanley Cup chase appears to be wide open, would you honor Matthews with complete control of his future? Would you lock him up for the next eight years at the most–lucrative salary ever awarded a hockey player? An athlete who clearly cannot (or hasn't the desire to) elevate performance in the clutch… as this corner has been telling you for the better part of three years.
Or, would you say to yourself — finally and conclusively — enough is enough? And, ensure that Matthews is playing elsewhere in the National Hockey League before July 1, when he can begin holding a gun to your head?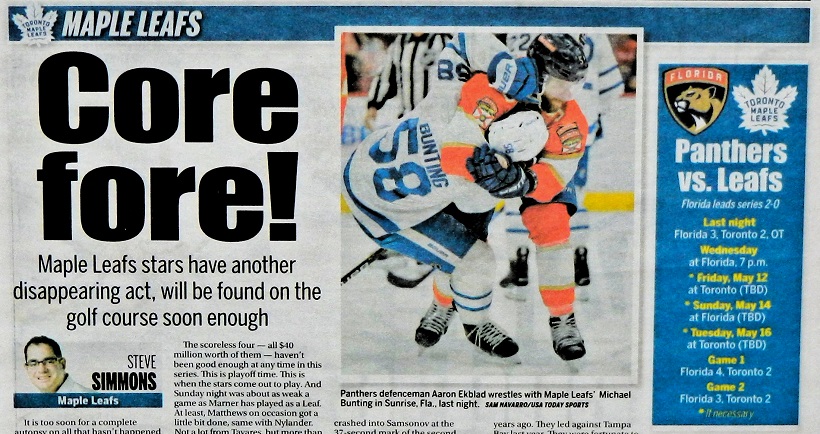 Therein lies the difference between this playoff dud and those in the past. There were no contract deadlines after the consecutive defeats against Boston. After the embarrassment of losing a qualifying round to the nondescript Columbus Blue Jackets. Even after spitting up that 3–1 series lead against the wholly inferior Montreal Canadiens.
Only now does a significant deadline loom for the axiomatic face of the franchise: the 60–goal, Hart Trophy guy that often brings his best during the regular season. And, just as often packs it away as soon as the chips emerge. If the Leafs are swept by Florida; even taken down in five games, there can be no more chances. No more hollow cries of "we'll get this done" from Brendan Shanahan. Or, the oft–nauseating "we believe in our group" from Dubas and coach Sheldon Keefe. In fact, there can be no credible pretext to moving forward with Matthews beyond this season. Not if the Leafs are serious about accomplishing more than looking pretty between October and April. It's time to cut bait with the 2016 No. 1 draft choice and move in an alternate direction. Just as happened with the Brian Burke pipedream of Phil Kessel and Dion Phaneuf that also couldn't get anything done when it mattered.
Some may wonder why I'm singling out Matthews when the other members of the not–so–vaunted Core 4 are mailing in this series. I've answered the question. This is Auston's team. Just as the late–70's Leafs were Darryl Sittler's team; as the early 90's belonged to Doug Gilmour; the start of the millennium to Mats Sundin… and the salary cap, non–playoff years to Kessel and Phaneuf (the lone exception being 2013, when that club finally qualified and coughed up the 4–1, third–period lead in Game 7 at Boston). Marner is the most–gifted of the current Leafs; William Nylander, the most slick; John Tavares, the most respected. But, Auston Matthews is the Leaf with the biggest veins. If he stays, and given his demonstrated inability (and/or unwillingness) to rise to the playoff occasion, how could anything about the club become different? This is SEVEN CONSECUTIVE TRIES with the same nucleus at a deep playoff run. All failed, unless you take solace in the Leafs scraping past Tampa this spring while being outplayed during the bulk of the six–game series. Unless you somehow overlook the astounding fact that Toronto has just one regulation–time victory in nine matches this playoff year. And, a 1–4 record on home ice.
How much more evidence does a hockey observer need? Let alone a dyed–in–the–wool Leafs supporter.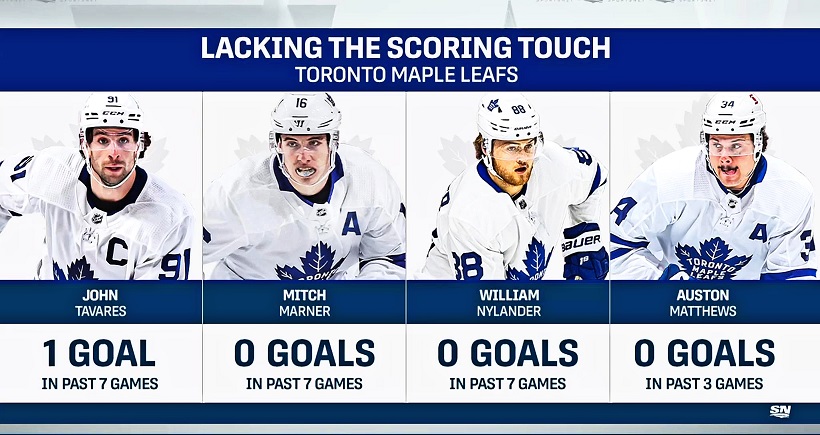 The big questions about who would be entrusted with trading Matthews — and from which rival club could the Leafs obtain the best return — aren't for me to answer. That's for the tall thinkers and multi–millionaires at Maple Leaf Sports and Entertainment who have sat far–too comfortably in the background during this aborted playoff era. Either drinking the Shanahan Kool Aid or choosing to not interfere with the hockey department (though it was at the ownership level that Shanahan's bid to re–sign Dubas, last summer, was denied). If Sunday night's tipping point; that agonizingly feeble effort in the face of near elimination, didn't grab the attention of a person of influence at Rogers and Bell, or of 25% shareholder Larry Tanenbaum, then we can fully expect Groundhog Day: Dubas to ink a long–term extension… and for the incumbent GM to stubbornly retain his perennial Stanley Cup flops.
Otherwise, there is no justification to provide Matthews full control of his future, starting July 1.
Not unless he and the other malingerers suddenly pull a Leon Draisaitl and prove they have some guts. By roaring back against the Cinderella team of the 2023 Stanley Cup tournament. A scenario that seems most unlikely.
BATTLING THE BLUES IN '93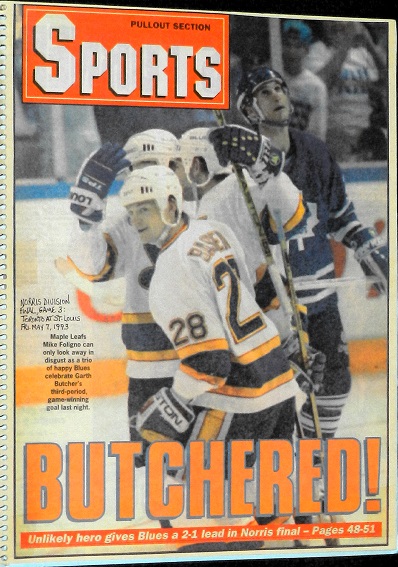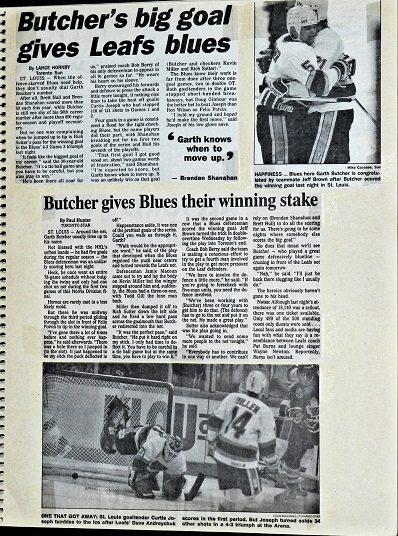 By all accounts, a much–different Leafs team refused to yield 30 years ago this week, despite losing Games 2 and 3 in their second–round playoff series with the St. Louis Blues. These images are from my scrapbook of the 1993 playoffs. Defenseman Jeff Brown scored in overtime at Maple Leaf Gardens to square the round, 1–1, heading to the old St. Louis Arena. Another blueliner, Garth Butcher, then slayed the Leafs (above) in Game 3 with the decisive tally at 9:24 of the third period — the Blues prevailing, 4–3 (Brendan Shanahan scored twice for the winners). In a matinee affair on May 9, 1993, the stubborn visitors fought back to even with a 4–1 triumph in Game 4 (below). Dave Andreychuk's powerplay goal late in the second period broke a 1–1 tie. Todd Gill (at 12:55 of the third) and Andreychuk (into an empty net for Toronto at 19:16) made the Norris Division final a best–of–three affair.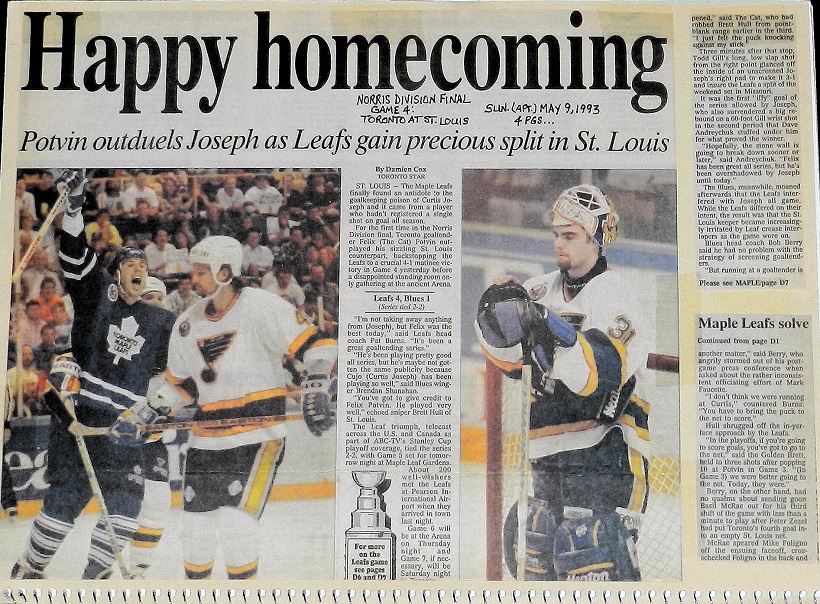 EMAIL: HOWARDLBERGER@GMAIL.COM