TORONTO (May 6) — It wasn't exactly Peter Finch exclaiming, in the 1977 movie Network, "I'm mad as hell and I'm not going to take this anymore!" Neither, thank goodness, was Sid Seixeiro murdered live on television, as with the fictional Howard Beale character. But, Seixeiro may have been spoken to by his bosses at Rogers–owned CITY–TV after disemboweling the Toronto Maple Leafs, Friday morning, in an epic and largely accurate diatribe.
The gist of Seixeiro's argument could not be debated, as the Maple Leafs lost the first two games on home ice in their playoff round against Florida primarily because their big gunners fired blanks. But, Sid, to his everlasting credit, ventured way outside the lines of comportment for employees of either Rogers or Bell, which co–own 75% of Maple Leaf Sports and Entertainment. Most others at Sportsnet and TSN (on TV, radio or website) are far–more careful in their analysis of the "home" team. Not so Seixeiro on Friday. "I can't believe the Leafs are about to blow this," he began. "I'm not going to raise my voice; it's not worth it. [But], I'm stunned the Leafs are about to blow the opportunity in front of them. A quick recap… Boston: Greatest regular season in history. Out. Tampa: Three straight Stanley Cup finals. They're out. Leafs took care of them. The [New York] Rangers were in the semis last year. They're out. The road is clear for the Toronto Maple Leafs to do damage. And, they're blowing it."
Then, Sid became glaringly specific.
"WHO's blowing it? [John] Tavares blows a tire on the 2–1 goal last night behind the net. [William] Nylander has quit on this hockey team; on the second goal, you saw it. And, on the third goal, [Michael] Bunting, [Auston] Matthews and [Mitch] Marner — one screw–up after another." CITY–TV began to show tape of the Leafs grabbing a quick 2–0 lead in the first period, Thursday, on goals by Alex Kerfoot and Ryan O'Reilly. "This was the period the Leafs decided to play." Then, the replay of Florida's two quick goals to open the middle frame. "This is the period they didn't. And, we're taking you right to the end [of the highlight package]… I guarantee you, the lead–up to these goals were mistakes by [the Leafs'] highest–paid and most–important players. I don't want to see the stuff in the third period when the Leafs decided to play. We can lose this; I'm not impressed by it. Bring it here, please," Sid requested, as the camera re–focused on him. "Seriously, I don't want to see that garbage. You've got to play 60 minutes or you're not gonna win. And, on top of that, they've got a head coach… did you hear the quote from Sheldon Keefe last night? He said he was 'baffled' by how the Leafs started the second period. They were up, 2–0, then 2–1, and completely blew the lead. You know what's baffling to me? It's May; you're a National Hockey League head coach, and you still don't know what you're best line–up is. Clueless! Clueless!! This isn't November. This isn't December. It's MAY!! Keefe is still mixing and matching [lines] every other game while the Panthers are just rolling through, picking up two wins, and heading back to Sunrise for Sunday night. They're done. The Leafs are done. This is over. Teams don't normally come back from 2–0 down at home and go on the road.
"And, it's the same issue over and over. You can bring in all the Ryan O'Reillys you want; all the defensemen you want. Their biggest mistakes last night were [made by] their most–important people. And, it [happens] over and over and over again. You don't fix that. It's who you are; it's what you are as a team.
"They got lucky to get past Tampa because I watched that series, too. And, this is who they are."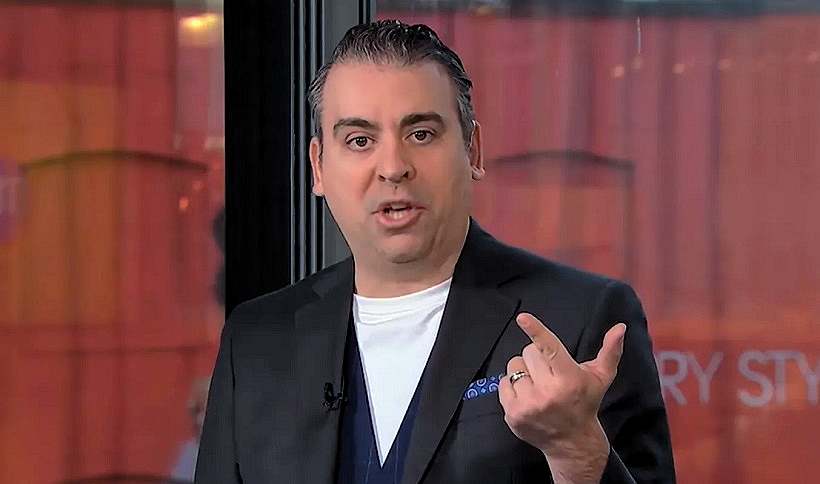 CITY–TV MORNING HOST SID SEIXEIRO DURING HIS EPIC LEAFS RANT ON FRIDAY.
Again, nothing about Seixeiro's harangue could be reasonably debated. In fact, he was dead–on accurate. While staring into a camera at the headquarters of a Rogers–owned TV station, Sid played the role of every frustrated fan of the Leafs. Thousands of Blue and White zealots would have killed for the same opportunity. But, did the Mississauga, Ont. native go too far with the "home" team? Especially while stating that William Nylander had "quit" on the Leafs and that Sheldon Keefe was "clueless"? Those are words never uttered by on–camera or in–print employees of the MLSE conglomerate. Perhaps there's a longer rope for such an established broadcaster as Seixeiro, who worked in sports for many years before venturing to the morning hours. Sid's brother, Alex Seixeiro, produced and read afternoon–drive sportscasts for The FAN–590 over 15 years (he also ranks among my favorite radio colleagues). So, the brothers have loads of credibility. The question is: How much of that validity will be tolerated while criticizing the Maple Leafs in this damaging and unprecedented era of network/team ownership?
Sid Seixeiro's admonishment of the Blue and White was the strongest I have seen from a Rogers or Bell employee since the rival communications companies took control of the hockey club in June 2012. Heaven knows there's been lots to criticize about the Leafs during that time; the club, only this spring, having won its first playoff series for the MLSE amalgam. But, "quit" and "clueless" are terms that fudge the line between censure and slander. Therefore, it would hardly be a surprise if Seixeiro was spoken to on Friday by those above him at CITY TV.
WHAT WAS KUIPER THINKING? Seixeiro's eruption doesn't rank in forbidden commentary against the abusive and denigrating remark astonishingly made by Oakland A's broadcaster Glen Kuiper on Friday night. Sitting beside partner Dallas Braden in the telecast booth at Kaufman Stadium in Kansas City, Kuiper utterly lost his mind.
I will apologize in advance for the vulgarity, but this was a direct quote: "We had a phenomenal day today," said Kuiper (pronounced Kie–pur) as Braden, eyes closed, nodded in agreement. "Nigger League museum and Arthur Bryant's Barbecue [restaurant in Kansas City]." A repository featuring artifacts from the 31–year history of baseball's Negro Leagues is located on 18th street in the Missouri city. With players of African–American descent barred from Major League Baseball, the Negro Leagues filled an essential void from 1920–51. Jackie Robinson famously broke the color barrier when he started at first base for the Los Angeles Dodgers on Apr. 15, 1947.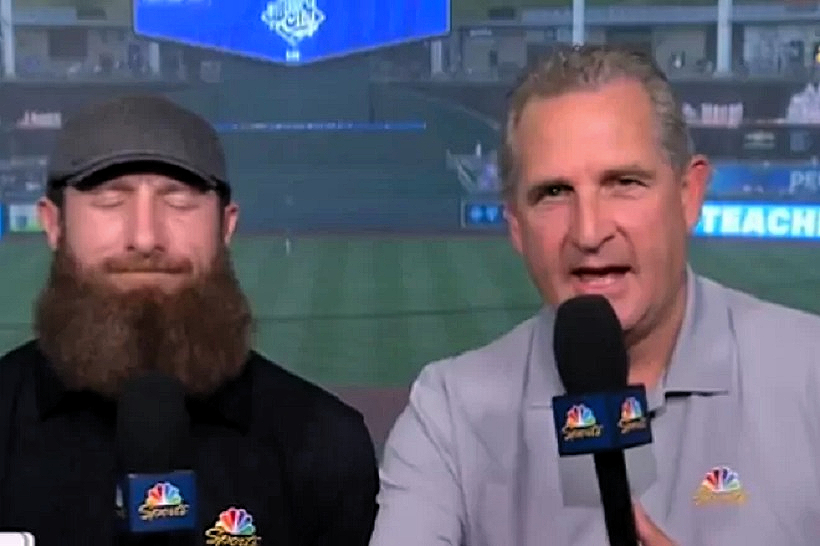 GLEN KUIPER (RIGHT) SITTING BESIDE DALLAS BRADEN ON FRIDAY NIGHT IN KANSAS CITY.
How any person broadcasting on live television could invoke the N–word is simply astounding. And, it would seem, an obvious firing offense*. Perhaps awestruck by his own stupidity, Kuiper issued a somewhat–feeble apology: "A little bit earlier in the show, I said something that didn't come out quite the way I wanted it to," he told the TV audience. "I just wanted to apologize if it sounded different than I meant it to be said." If it sounded different? *Kuiper has been suspended by the A's TV network, pending an investigation.
Are there viewers in northern–California, heavily populated by African–American citizens, who would condone use of the N–word in any circumstance? What a ridiculous attempt at backtracking. If Kuiper has any character, and whether or not he is bounced from the A's broadcasts, he'll come out and say, "The ugly and disparaging word that somehow slipped out of my mouth on Friday night was inexcusable and inexplicable. I don't know what I was thinking. And, if it helps in any way, I'd like to profoundly apologize to members of the African–American community… and to all others who were offended by my foolishness." Such a contrite statement would at least show that Kuiper comprehends his remarkable blunder. There is no place, today, for such ignorance. On TV or in private.
YES, LEAFS ARE IN A HEAP: History, for what it's worth, overwhelmingly indicates the Maple Leafs will not advance to the Eastern Conference final this spring, having lost the first two games of their series, on home ice, against the Florida Panthers. Only once in the 106–year annals of the franchise has the club rebounded from such a circumstance during a best–of–seven clash — the 1942 Stanley Cup final against Detroit. In that series, Toronto fell behind, 3–0, and became the first of only four NHL clubs to come back from the brink of elimination (the others being the New York Islanders, in 1975, against Pittsburgh; the Philadelphia Flyers, in 2010, against Boston and the Los Angeles Kings, in 2014, against San Jose). Oddly enough, the Leafs, on three occasions in the past 46 years, have lost a series after capturing the first two games on the road: in 1977 against Philadelphia; 1987 against Detroit and 1995 against Chicago. Toronto last rebounded from a 2–0 hole 30 years ago this week, against Detroit in the 1993 opening round. And, after getting trounced in Games 1 and 2 at Joe Louis Arena.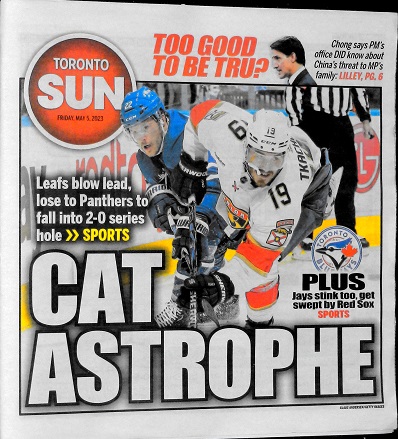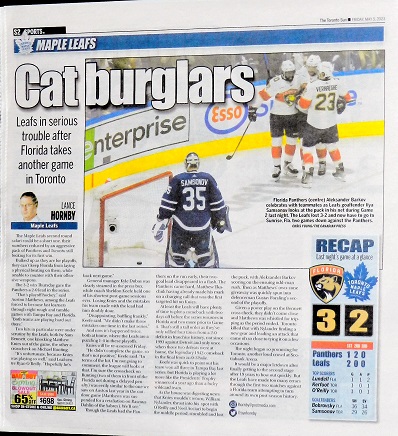 More significant than historical data is the point made, rather emphatically, by Sid Seixeiro. The big–money boys up front on the Leafs have the ability to come through in the playoffs. But, as of now, to not sustain — or enhance — their levels of performance exponentially in a Stanley Cup year. Auston Matthews, Mitch Marner, William Nylander and John Tavares were pretty good against Tampa Bay in the opening round, yet all–but invisible in the first two games against the Panthers… unless committing flagrant blunders with the puck. That the Big 4 cannot summon enough drive and character to maintain elite levels in the post season is an enduring source of perplexity and frustration for fans and media. At the moment, given close to seven years of illustration, Seixeiro was bang on with his comment You don't fix that. It's who you are; it's what you are as a team. Never before, of course, have the 40–million–dollar men had such an opportunity to flip the script. Without sustenance by the vaunted forward nucleus, the Leafs cannot challenge for the Stanley Cup. It is right now that Matthews, Marner, Nylander and Tavares can silence the doubters… by digging the Leafs out of a hole created largely by their indifference in Games 1 and 2. If not, we return to the posture that existed prior to the long–awaited series triumph over the Lightning: Everything about — and everyone involved in — this hockey club will come under glaring scrutiny. No chance the Leafs, or their fans, can be satisfied with merely advancing beyond the opening playoff round. Again, we've reached a point where it could be now, or never, for Kyle Dubas, Sheldon Keefe and the Blue and White.
THE DERBY (WAS) CALLING: You know that Rogers, Sportsnet and CBC are boiling over the NHL's decision to skip tonight and play Game 3 of the Toronto–Florida series tomorrow eve at FLA Live Arena.
Despite coughing up an unprecedented $5.2 billion for national TV rights in our country, Rogers routinely comes in second to the league's American broadcast partners (ESPN and TNT). Or, in this case, to the owner of the NHL Panthers. Until early this morning, Vincent Viola had a horse named Forte in today's 149th running of the Kentucky Derby. It ranked among the favorites to win the opening race of the U.S. Triple Crown. But, Forte was scratched from the Derby line–up around 10:30 a.m. with a reported foot injury. Nonetheless, delaying Game 3 of the Leafs–Panthers series allowed Viola to fly from Miami to Louisville for the event. Perhaps, Forte's malady was poetic justice. The NHL also bowed to the Panthers in their request to not play at home within hours of the neighboring Miami Heat. South Florida's National Basketball Association team, at 3:30 p.m. today, hosts Game 3 of its second–round series against the New York Knicks. The hockey game was scheduled for 7 p.m., 35 miles up the Florida Turnpike from the Kaseya Center. Not nearly enough time separation for Viola and partners. As such, Rogers was denied its usual (and coveted) Saturday privilege of showing the Leafs on Hockey Night In Canada.
Game 3, instead, goes Sunday at 6:30 p.m.
EMAIL: HOWARDLBERGER@GMAIL.COM