TORONTO (May 20) — Nothing productive can result from Brendan Shanahan seeking out and choosing the next general manager of the Maple Leafs. Which, oddly, still appears to be his task after nearly a decade of playoff oblivion as president of the hockey club. No executive appointment in the post–1967 era looms as critically for the Blue and White. Whoever replaces Kyle Dubas will inherit a contract tango with Auston Matthews, the 25–year–old center that gains full and unjust control over the Leafs if not traded before July 1. He can either sign a contract extension… or place management on puppet strings for a full calendar year while threatening to walk as an unrestricted free agent. Unavoidably, the new GM wades into a firestorm. Experience and a lofty profile are essential.
Yet, it's doubtful that Shanahan — by his very presence — will acquire the appropriate party.
For the sake of argument, what if the Leafs could extract Doug Armstrong from a difficult re–build in St. Louis (Toronto would have to somehow trade for his rights, as Armstrong is under contract through 2026). You think Doug would come here knowing he has to report to Shanahan? Or, that any prime candidate would agree to a subordinate role with the Leafs? Neither will Shanahan — perhaps in survival mode — concede authority to another person. He came across as sort of a nice guy on Friday, while detailing the complicated split with Dubas. But, Brendan was hardly cordial during his Hall–of–Fame career as one of the nastiest power–forwards in the game. Nor has he survived seven aborted playoff adventures here in town by relinquishing sovereignty. Brendan, if need be, will scrap and clash for every inch of jurisdiction outlined in the six–year contract appendage he signed, in June 2019, with Maple Leaf Sports and Entertainment. The line between himself and the GM he ultimately settles on will be bold… that individual a clear and undeniable No. 2 in the managerial pecking order.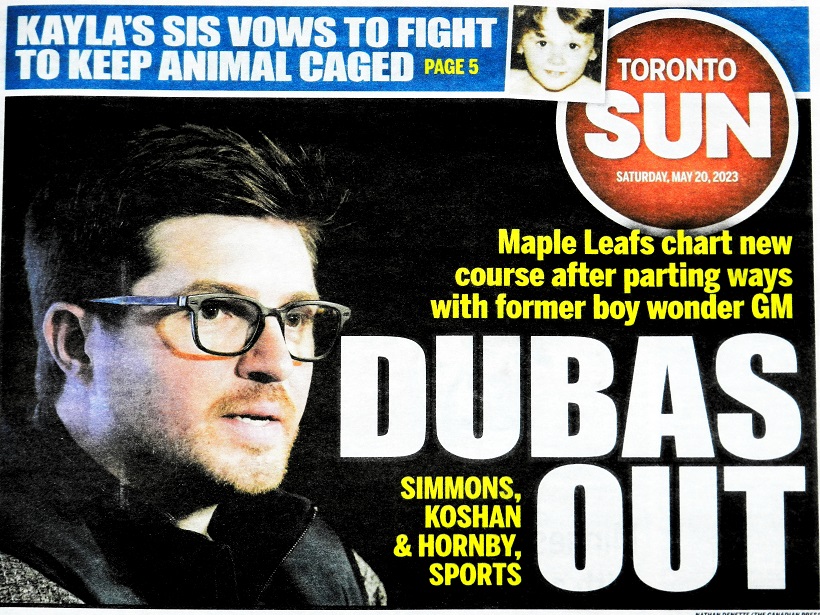 So, what chance do the Leafs have of landing anything beyond a neophyte (Brandon Pridham, Eric Tulsky) or a recycled National Hockey League executive (Brad Treliving, Jim Benning, Peter Chiarelli) that would readily agree to Shanahan's terms for another chance in the big chair? If the Leafs are insisting that Shanahan remain president and chief bottle washer, they might as well add general manager to his title. Though rarely in the limelight, ol' Brendan imposes will on every important hockey decision. Which is likely another reason that Dubas seesawed in his desire to remain with the Leafs. And, going back in time, that Shanahan parted with Lou Lamoriello — he of the three Stanley Cup titles in New Jersey. Lamoriello, justifiably, would not have been amenable as a "yes man" to any fellow hockey executive. Shanahan, instead, elevated Dubas to the prime position in 2018, knowing he could exert command on a newcomer to the role. Neither does this cast an aspersion on Brendan… or separate him from another person of authority in the NHL. Control over hockey matters is never voluntarily relinquished.
If, for example, it's the shared position of MLSE and Shanahan that Matthews remains a Leaf for life, what negotiating leverage would a new GM possess? No one will be surprised if the Leafs throw themselves at the feet (and the mercy) of the Matthews camp, such is the puzzling mania that surrounds his elite regular–season (and mediocre playoff) presence. The Leafs could move William Nylander to center and not lose a whole lot. Or, God forbid, attempt to acquire an alternate No. 1 pivot. Sadly, there's too much media love in Toronto for that to reasonably occur. Reporters and columnists remain under Auston's spell. As such, he will either become the most–lavishly compensated athlete in the NHL… or keep MLSE on a leash until next summer, when he can flee for no return. Such is the complete dominance of a no–movement stipulation that goes into effect on Canada Day. In the unlikely event the Leafs choose to barter aggressively with Matthews, they can hold the trade hammer above him.
But, only for another seven weeks.
Which could be of significance — if Matthews wasn't exaggerating, on Monday, his desire to remain with the club.
Whatever the case, the Leafs will not be able to attract an experienced, autocratic GM while Shanahan is calling the shots. Were I, therefore, in charge at MLSE, Dubas and Shanahan would have departed on Friday.
EMAIL: HOWARDLBERGER@GMAIL.COM