TORONTO (May 16) — This is going in capital letters so Leafs Nation can save it and possibly throw it back at me. Even if that won't happen, because… THE MAPLE LEAFS WILL NEVER PLAY FOR, LET ALONE WIN, THE STANLEY CUP WITH AUSTON MATTHEWS AS THEIR LINCHPIN. It matters not who owns the team; who presides over the team; who manages or coaches the team. Matthews scores lots of pretty goals in the regular season but does not possess the subliminal drive and determination to elevate performance when it matters. And, we're not talking small sample size here. This has been unwaveringly persistent over the span of seven years. Were it merely a fluke, we'd have a different result by now. Instead, the springtime is Groundhog Day for No. 34.
This stance is primarily unpopular for two reasons: a) the fans are in love with Matthews for his regular–season exploits and his garnering of the Hart Trophy last season. And, b) the media is spellbound because virtually all current reporters, columnists and television pundits are also fans and cheerleaders. It is mind boggling how a veteran scribe can write, in Canada's largest newspaper, there is absolutely no decision to be made on Matthews. He needs to be locked up to the longest extension possible at the earliest available opportunity. And, as one of the sport's few truly earth–titling centres and its most gifted goal–scorer when at his peak, Matthews holds the key to the Leafs' window of contention. Any credible discussion about shaking up the team's core — a path the front office must aggressively explore this off-season — doesn't include even an iota of consideration when it comes to No. 34. You'll notice the word "playoffs" was conveniently excluded in both proclamations by double–dipper Chris Johnston, who has never written, or uttered on Leafs–owned TSN, a truly critical word about the club and its supposedly irreplaceable component. Neither is Chris alone. Not a single voice in any local newspaper, or on either of the Leafs–controlled all–sports networks, would even dream of minimizing Auston the Great. Possibly because Matthews looks after that, himself, every year in the Stanley Cup tournament. Like clockwork. All I know is the Leafs have rarely, if ever, had a superstar forward that fades so conspicuously when the chips are on the table.
So, there is no hesitation, from this corner, in offering the ALL CAPITALS pronouncement, above.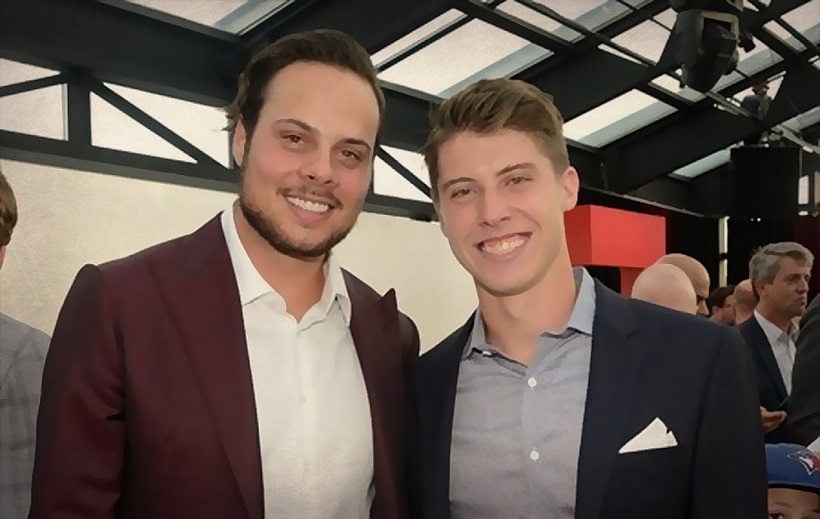 Compounding the issue, beyond measure, is that Matthews effectively becomes general manager of the Leafs on July 1. The club not only overpaid him in his first professional contract ($11.6 million salary) but tossed in the keys to the empire with a no–movement clause in the last season of a five–year pact. Once Canada Day arrives, Auston has the GM–in–name (be it Kyle Dubas or someone else) on puppet strings. He decides whether to sign an extension with the team. He dictates term and compensation. Or, he walks for no return a year from now.
No functional hockey team surrenders full control to an athlete devoid of a playoff résumé. The Maple Leafs, half–a–decade ago, gambled that Matthews would lead a string of Stanley Cup challenges. Instead, No. 34 has only once come to within 11 victories of a title (this spring). So, the Leafs have two choices: trade Matthews before July 1… or plan to snivel in his wake. Why any team would offer a perennial playoff flop $14 million a season over the bulk of a decade — or possibly cede to his demand of a shorter "bridge" contract with more movement restriction — boggles the mind. Here in the Big Smoke, however, it's all about numbers between October and April. This market has no connection to a team that survives late into the spring. Management comports itself accordingly.
Equally confounding to the concept the Maple Leafs must retain Matthews is the notion of trading Mitch Marner.
In more than half–a–century watching the Blue and White, only Borje Salming and Doug Gilmour approached Marner in skill and playmaking acumen. Mitchell's Stanley Cup numbers are also marginal, primarily because the vaunted pivot on the club's No. 1 forward unit can't put the puck in the ocean. Tying your can to Auston Matthews in the spring is unhealthy for any line–mate, particularly one given to feeding the puck. Salming had Darryl Sittler and Lanny McDonald. Gilmour had Dave Andreychuk and Wendel Clark. All of whom scored monster goals in the Stanley Cup tournament. Does anyone honestly believe Marner would struggle for points with such noted playoff marksmen as Connor McDavid, Leon Draisaitl, Nathan MacKinnon, Nikita Kucherov, Brayden Point, Brad Marchand or ageless Joe Pavelski (24 goals and counting in the past three playoff years)? Unloading Marner in favor of Matthews would be the biggest Leafs mistake since trading McDonald to the Colorado Rockies (coached by Donald S. Cherry) in December 1979 — a move that triggered the worst decade in franchise history.
Marner shows that he has a pulse. He looks and sounds pissed off when the team fails.
Surround him with a different playoff dynamic and see what happens.
You can put that in CAPITAL LETTERS as well.
EMAIL: HOWARDLBERGER@GMAIL.COM