TORONTO (May 3) — Bob McCown never cared much about competition. As it pertained to jock talk, the late–afternoon hours had long been the domain of Prime Time Sports — a magazine show that began on local radio in October 1989. By April 2011, when CHUM in Toronto became TSN–1050, McCown's hold on the sports listener was unchallenged. The 50–minute local production on The FAN–590 had morphed into a three–hour colossus, simulcast nationwide on Sportsnet TV. Early ratings by the Bureau of Broadcast Management (BBM) indicated that TSN–1050 could not slice into McCown's audience. At one point, the Bobcat flippantly proclaimed that a person standing atop the CHUM building on Yonge St. with a megaphone would reach a wider audience than his new radio adversary. Which wasn't far off the mark, either numerically or within McCown's realm of chutzpah.
But, that was then. And, this is now.
In June 2019, Rogers Communications, the owner of Sportsnet TV and radio, fired McCown because he made too much money. It marked the beginning of a long spiral to nowhere for Rogers during the important, afternoon–drive hours. Tim Micallef and Sid Seixeiro, both excellent broadcasters, attempted to fill the void. Seixeiro eventually left to join the Breakfast Television crew at CITY–TV. Micallef carried on with a new sidekick, Jesse Rubinoff, and the show worked rather well. Not Prime Time Sports well, but effective and entertaining. In the meantime, TSN–1050 began to gain traction with a show called Overdrive, starring Bryan Hayes (who cut his teeth, impressively, at Toronto's Talk–640) and a couple of former National Hockey League players: Jamie McLennan and Jeff O'Neill.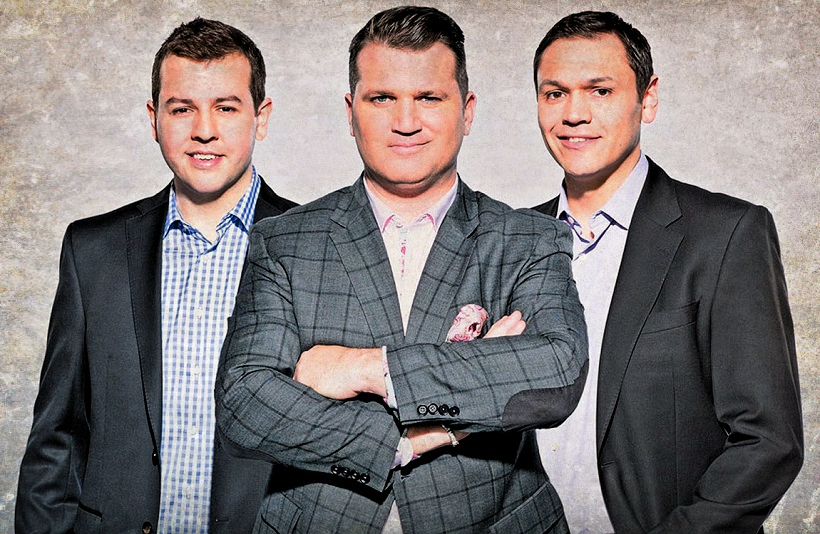 Chemistry developed among the host (smooth, knowledgeable), McLennan (light, easygoing) and O'Neill (rough, irreverent). Rogers chose, without explanation, to cancel Micallef's show, but every decision in the ivory tower at Jarvis and Bloor is about the almighty buck. Nor did the sports wing of the company have a succession plan beyond 5 p.m. and the conclusion of the mid–afternoon show co–hosted by Justin Bourne and Nick Kypreos. In the past couple of weeks, Rogers has outsourced a TV production by the NHL Network while turning on McCown's old studio camera to simulcast The FAN Drive Time show (on Sportsnet–360) with Blake Murphy and Ben Ennis.
Clearly, and typically, low–cost programming that stands no real chance against the well–established Overdrive.
The impact of the TSN show, also simulcast on TV, became apparent last week when O'Neill mysteriously did not appear. This occurred just as the Toronto Maple Leafs were in the process of eliminating the Tampa Bay Lightning, thereby prevailing in the opening Stanley Cup round for the first time in 19 years. Listeners and viewers, particularly in southern Ontario, were anticipating O'Neill's comments about his former — and now–favorite — NHL team. Still, he did not show. After several days of skirting the issue, Hayes finally announced that O'Neill "was alright" but had taken an unspecified leave. Owing to the popularity of the TSN, late–afternoon broadcast, this became national news. The O'Dog came back and occupied his usual seat today, filling a self–created vacuum on Overdrive at a critical time of year: during the chase for the NHL championship. "I do have to ask one thing — and it's good to be back: Please stop emailing my brother asking him where I am," said O'Neill. "He called me and said, 'Jeff, I love you man, but this guy Tom in Kitchener, he wants to know if you're dead … I don't have time. These people are coming out of the woodwork and they're bombarding me.' Let's just leave [my] brother out of it. Appreciate it."
Speculation surrounded some form of contract dispute involving O'Neill, who oddly removed TSN from his Twitter bio. Typically, a leave for a personal matter (emotional, physical health; a family issue) lasts for more than a week.
If Rogers is still interested in vying for the late–afternoon audience, you'd never know.
As mentioned, it pulled the plug on Tim & Friends without a concrete replacement. O'Neill's unexplained absence in the past week had media followers across the land talking Overdrive — on line and in print. Whereas Prime Time Sports thoroughly dominated the afternoon–drive presence in Canada, it's likely that many listeners (and viewers) aren't even aware of the programming Rogers has deployed in the wake of cancelling Micallef and Rubinoff. The pendulum, decidedly in favor of Sportsnet–590 and Prime Time for so many years, has swung in the direction of Bell and TSN–1050. Without any apparent push–back from Rogers. Competing, however, costs money. And, Rogers loves nothing more than saving cash, particularly with its once–vaunted media wing that included McCown, Don Cherry, Glenn Healy, Kypreos (since re–hired), Daren Millard, John Shannon, Doug MacLean, George Stroumboulopoulos, Bob Cole, Paul Romanuk, Scott Morrison and Mike Johnson (now with TSN). All jettisoned for one reason or another but, primarily, to cut spending. It's a one–horse race on sports radio today: Bell and TSN owning the track with Rogers and Sportsnet in the paddock. My, how times have changed.
WILL THE UNPREDICTABLE CONTINUE? With Boston, Colorado, Tampa Bay and (to a lesser extent) the New York Rangers getting bounced in the opening round of the playoffs, Las Vegas quickly earmarked the Leafs as an odds–on favorite to win the Stanley Cup. But, there's something about this playoff year that is moving, inexorably, toward a bizarre conclusion. Such as a Cup final involving Florida and Seattle. As in the first round against Tampa, the Leafs lost Game 1 on home ice to the Panthers. Thereby necessitating a triumph at Scotiabank Arena in the second match on Thursday. Even with all the unpredictability thus far, a team cannot lose the first two games of a playoff clash at home and reasonably expect to prevail in a best–of–seven series.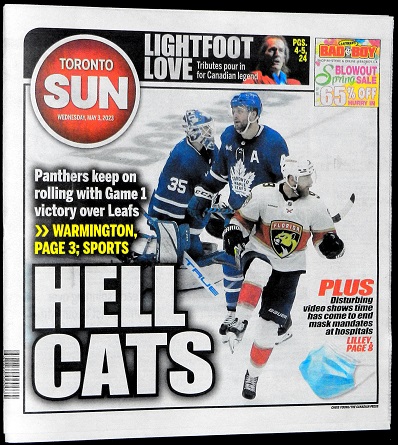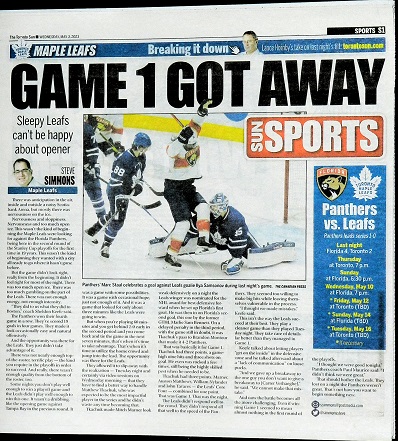 Neither have the Leafs been particularly impressive in their familiar surroundings, winning one of four playoff starts after a terrific 27–8–6 mark during the regular season. Sergei Bobrovsky has ventured all over the map in goal for Florida. But, he looked mighty sharp and comfortable in the third period of Game 1. The Leafs must find a way to make life more difficult for Bobrovsky or they will not move on to the East final. Florida is engorged with confidence right now.
All the Leafs need is to encounter a hot stopper.
THAT KILLER GOAL — May 3, 1993
Though it merely won the opener of a second–round series, the image — 30 years ago tonight — of Doug Gilmour maneuvering somewhat goofily behind the St. Louis net before stuffing a backhand–wraparound past Curtis Joseph is the most–replayed Leafs goal of the post–1967 era. It occurred at 3:16 of double–overtime in sweltering Maple Leaf Gardens, just two nights after Toronto had dramatically eliminated Detroit on a Game 7 overtime marker by Nikolai Borschevsky. And, not until Joseph, to become a Leaf in free agency five years later, had stopped 63 shots in a memorable and virtuoso performance. From my 1993 playoff scrapbook, here are images and stories from that remarkable opening game against Cujo and the St. Louis Blues: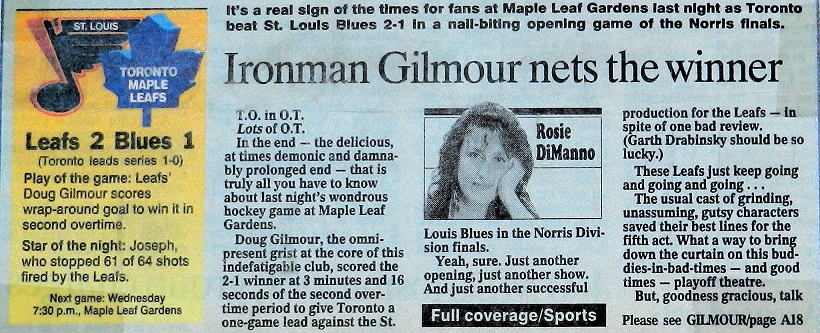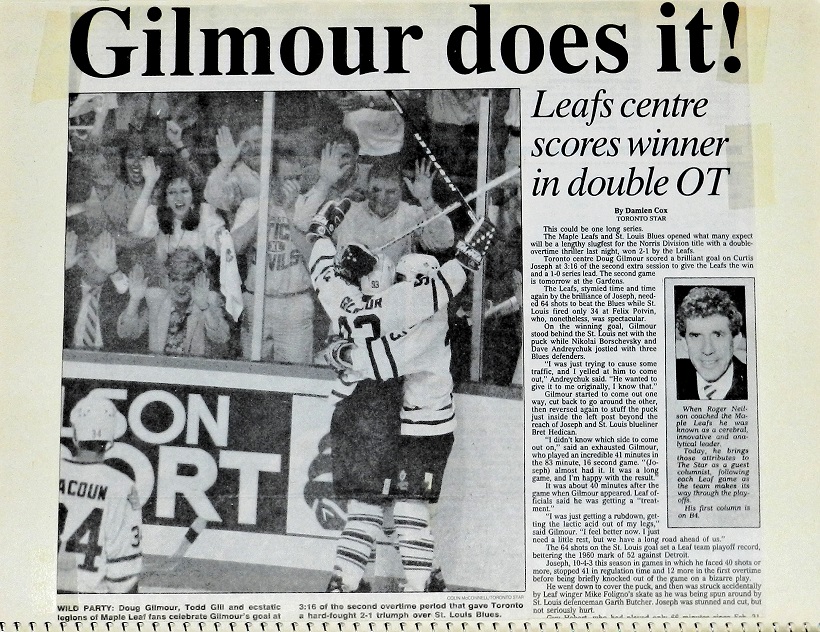 CONTINUATION, BOTTOM–LEFT, OF THE FRONT PAGE TORONTO STAR STORY BY ROSIE DiMANNO.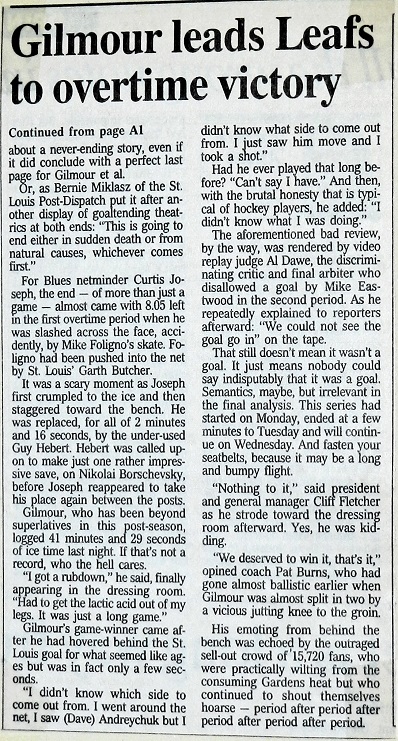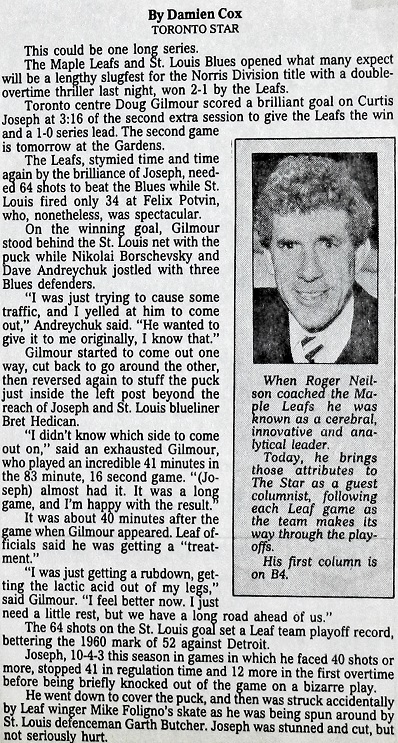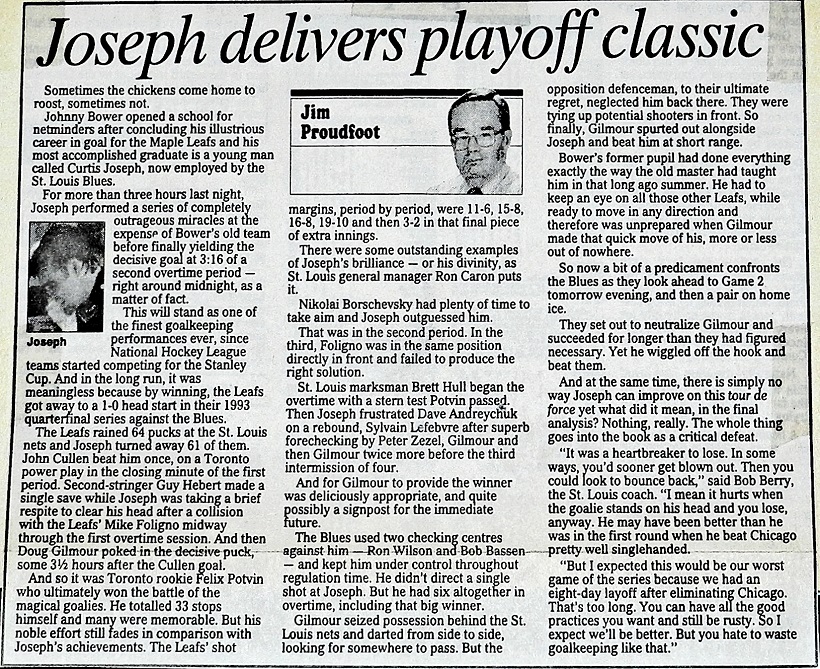 EMAIL: HOWARDLBERGER@GMAIL.COM