MY RADIO CAREER ENDED 12 YEARS AGO THIS WEEK WHEN DON KOLLINS, PROGRAM DIRECTOR OF THE FAN–590, CALLED ME INTO HIS OFFICE AND SAID MY SERVICES WERE NO LONGER REQUIRED.
FACT IS, THEY HADN'T BEEN FOR QUITE SOME TIME.
I WAS LET GO 23 YEARS AND TWO DAYS AFTER BEGINNING MY CAREER AT CJCL AM–1430 (ON MAY 30, 1988), JUST MORE THAN FOUR YEARS PRIOR TO US BECOMING (ON SEP. 2, 1992) THE FIRST ALL–SPORTS STATION IN CANADA. BEFORE I RETURN TO MY NORMAL GIG IN THIS SPACE, WRITING ABOUT THE TORONTO MAPLE LEAFS, I THOUGHT I WOULD RE–POST AN EARLIER BLOG THAT DETAILED HOW IT ALL UNRAVELED AT THE FAN. I STILL GET ASKED ABOUT THAT MOMENT, YET I LOOK BACK ON MY RADIO YEARS — ESPECIALLY THE 17 SEASONS I SPENT COVERING THE MAPLE LEAFS, HOME AND AWAY — AS THE BEST TIME OF MY LIFE. THE MERCIFUL CONCLUSION HAPPENED ON JUNE 1, 2011:
TORONTO — Yes, in the end, it was a budget crunch. Emanating from the economic recession of 2008.
But, wow, memories of The FAN–590 changing forever — in a relatively brief span — are still raw.
More than a few requests have come my way to recount what happened. How, and why, did Canada's first all–sports radio station unravel and revise so dramatically after years of stability with management and personnel?
Frankly, it's a darn–good question.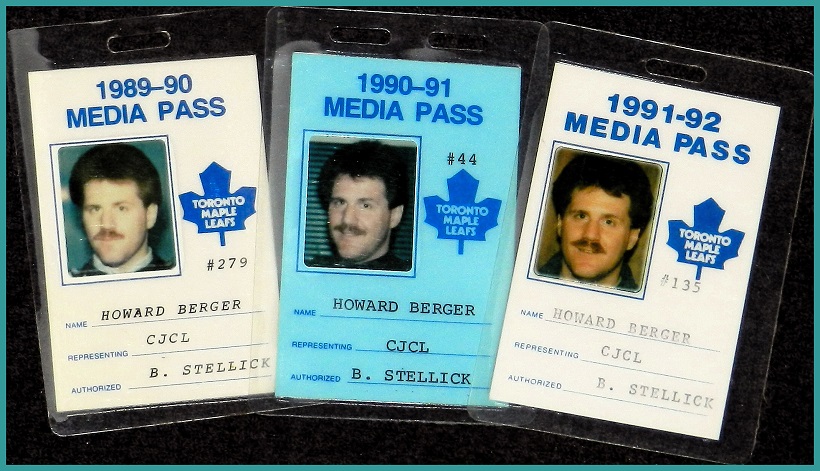 For those that remember the pinnacle juncture of The FAN–590 — roughly between 1998 and 2009 — there was cohesion. Even while the station changed hands, in the summer of 2002, from Montreal–based Telemedia Communications Inc. to Rogers Communications, embedded here in Toronto. During that time, FAN–590 employees had one boss: Nelson Millman, the program director (sometimes grouchy; normally an ally and friend). The morning show, over 14 years, featured all of four broadcasters: John Derringer and Pat Marsden; Marsden and Don Landry; Landry and Gord Stellick. Since 2009, the station has gone through morning hosts and formats like a hot knife through butter. After the morning program, we had Mike Hogan (from 9 a.m. to noon); Hockey Central at Noon (mostly with Daren Millard and Nick Kypreos); The Big Show, with Gord Stellick (1–4 p.m.), then Prime Time Sports, with Bob McCown (4–7 p.m.). A comparative dink named Howard Berger covered the Toronto Maple Leafs, home and away. That was it. During year upon year. Until 2009. When it all began to come apart.
I spoke with Millman on the phone this morning, primarily to connect some dots. It was evident, early in the conversation, that our decade apart hadn't changed him. "Every year, in our budget, I made sure there was enough money for Howard Berger's boondoggle — to travel for free all over the map with the Leafs; amass his airline and hotel points so he could take his family to California in the summer." Thanks, Nelson. By the way, my in–laws lived northwest of Los Angeles. Thus the California dart. Otherwise, there was unquestioned uniformity in that decade.
"I never missed a budget," Nelson said. "There were a few years we didn't hit our revenue projections, but I never went beyond the number with which I was given to work. Only when the 2008 recession hit, did the long–time [radio] model begin to change. It coincided with the death of Ted Rogers (Dec. 2, 2008) and the replacing of the executive guard with [mostly] non–radio types. We lost good people like Tony Viner, Gary Miles and Sandy Sanderson, with whom I had worked for years. Those who came in were concerned only about the bottom line. Which, again, had some credence given the economic downturn. But, I had to make some difficult decisions.
"Ultimately, they changed my position, as well."
The first, and toughest, move was terminating Norm Rumack (June 23, 2009), an original from the all–sports format, then handling mostly night–time hours. "That one hurt," Millman admitted. "I loved Stormin' Norm; he was a Day One'er and had developed quite a following. But, I suddenly had to focus our resources on areas that were projected to generate the biggest [financial] return. And, Norm's hours, at the time, weren't among them. But, it was really hard to make that decision. As you'll recall, we were like family back then; those who worked together for 15 years. So, splitting up the family was difficult."
My first indication of change occurred on Feb. 8, 2009 while on a hockey trip in Fort Lauderdale. Since 1993, I had covered the Maple Leafs and the Stanley Cup final for the radio station. Beginning in 2002, I traveled through all four rounds of the playoffs to provide sponsored reports. Given the Leafs stopped qualifying for the Cup tournament after 2004, I was away from home, almost exclusively, from early April to mid June. While in Florida with the Leafs, I received a call from my immediate superior, sports director Doug Farraway, who warned that I probably would not be running around throughout the 2009 playoffs. "Big cuts are coming," said Farraway.
It was disappointing news, but a decision over which I had no control. So, I put it out of my mind.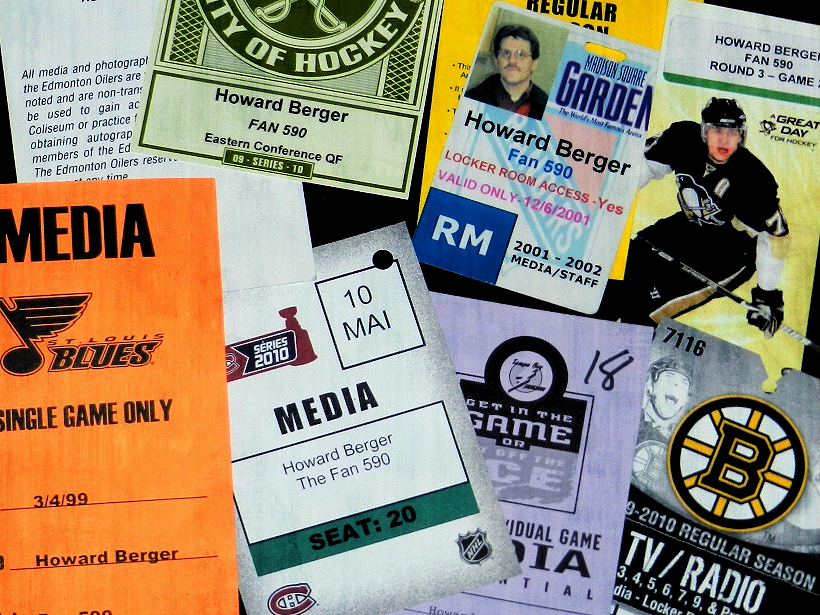 YUP, I HAD THE BEST SPORTS MEDIA GIG IN THE CITY FOR 17 HOCKEY SEASONS.
To this day, I cannot explain why I traveled more in the '09 Cup run than in any prior year.
I covered games in Vancouver, Calgary, Washington, New Jersey, Carolina, Chicago, Detroit, Boston and Pittsburgh. Every time I expected to come home, Farraway sent me somewhere else. When the marathon ended with Sidney Crosby winning his first National Hockey League title (Pittsburgh over Detroit), I made a point to thank Nelson for such an unanticipated (and enjoyable) work load. His response — still chilling after all the years — was "you're welcome. I don't expect anything with the Maple Leafs [travel] to change. Enjoy your summer."
Accompanied by that "assurance", I took off to SoCal with the family. My pattern, back then, was to await the first Air Canada seat sale of the summer; make a courtesy call to Farraway (or Scott Metcalfe, in prior years), then start booking early season flights and hotels on line. It was the same routine, year after year, from 1993 to 2009. Until an email arrived in the second week of July 2009, from Farraway, which read "Please call before starting to book flights." I may not be a genius, but I knew, instantly, what the message entailed. The Coles Notes version was this: "Leafs travel would be reduced by roughly 50 percent. No coverage of road pre–season games. Playoffs to be determined." Though a bit wounded, emotionally, I wasn't surprised. Neither did I comprehend, while on vacation, the full extent of this cutback. As such, I crafted a proposal that virtually eliminated all single–game Leaf trips from the 2009–10 schedule. I felt it would be more advantageous, from a reporting perspective, to be with the team on extended journeys of three games or more. The recommendation went over like a lead balloon.
My darkest hour at The FAN–590 was the meeting, in Millman's office, after I returned from California. Farraway was also present but worried, at that time, about his own skin. So, there was no support or push–back from the sports director. Nelson scoffed at my proposal and reduced the travel sked to roughly 10 single–game trips.
"You don't break stories anymore," he told me, which remains the cheapest shot he ever fired in my direction.
Though it's true — with the amalgamation of Sportsnet TV and The FAN–590 under Rogers — the television people had a clear advantage over "The Lone Ranger" in radio, I'll put my record of story breaks, back then, up against any individual in the Toronto hockey media. So, yeah, Nelson's dagger stung. Big time. Still does. "I probably meant what I said," he told me today. "We weren't getting as many stories as before. So, my alternative, under the reduced budget, was to pare the Leafs travel… or get rid of you. It wasn't a difficult choice."
I reminded Nelson in that fateful meeting that Talk–640, the Leafs' radio rights–holder, would continue to send reporter Jonas Siegel on all road trips. "What about competing; hasn't that always been our objective?" I wondered. To which Millman flatly replied "I don't care about competition anymore." That was the deepest cut of all.
Little did I know that even the 10–game Leafs travel sked, on that day, was a pipedream. While driving, in early September, north to Huntsville, Ont. for the start of Maple Leafs training camp, I got a call from Millman. "Look, it's basically over," he said of covering the team on the road. "My travel budget has been reduced to $10,000 for the entire season and playoffs. I'm sorry. But, I have no choice." By then, I had booked the Leafs road opener in Washington. "Should I go on that trip?" I asked in an email. "Yes," was the immediate reply.
At the root of the budget decline was a radio broadcaster–turned–hatchet–man, Paul Ski, who remains a monster to many of the people that lost their jobs back then. He was one of those invisible executioners — so plentiful, today, in Canadian media — ordering the dirty work among those beneath him while he sat in the golden chair of Vice–President, Radio, and received a healthy bonus for every employee rinsed under his distant watch.
When I see Ski's smiling photo a decade later, it still makes me want to puke.
As with Rumack's dismissal three months earlier, the cutback on Leafs travel made news.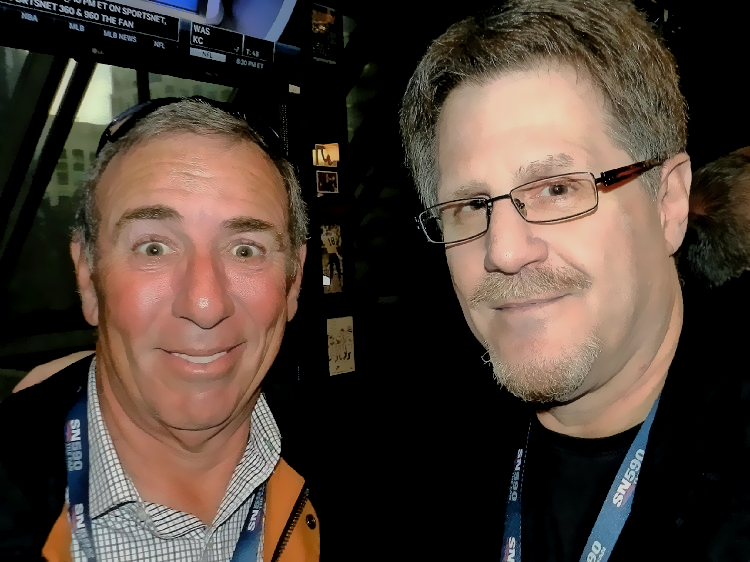 IN 2017, WITH MY OCCASIONALLY GOOFY RADIO BOSS, NELSON MILLMAN.
After arriving in Washington for the first road match of 2009–10, I got a call from Mary Ormsby of the Toronto Star. She wanted to discuss the change. I politely referred her to Nelson. I wound up covering roughly one–quarter of Leafs away games that season. When the club started the schedule in an unprecedented crisis, winless (0–7–1) in its first eight matches, Millman relented and allowed me to attend the first two games of a road swing through Anaheim, Vancouver, Dallas, Buffalo and Montreal. But, it wasn't the same. And, never would be.
Ultimately, Nelson was kicked "upstairs" to a meaningless position with Sportsnet, replaced, as program director, by Kollins. While in Los Angeles covering the 2010 NHL draft, I got a call in my hotel room from Farraway.
"You are safe, but Don Landry, Gord Stellick and Mike Hogan have been let go," he informed me.
"Safety" never seemed so groundless. Or, by that time, undesirable.
As it were, I hung around, basically doing nothing, for another calendar year before Kollins pulled the plug. Given what has transpired in sports media since then — primarily the egregious conflict–of–interest between media and team ownership; Bell and Rogers, who operate TSN and Sportsnet, control 75% of Maple Leaf Sports and Entertainment — getting dismissed after 23 years at The FAN was the best possible outcome. Not for one minute could I cover the Leafs, today, with the critical slant I feel the job requires. It isn't the same media universe.
Not even close.
EMAIL: HOWARDLBERGER@GMAIL.COM