TORONTO (June 12) — A few stories, on a quiet day, from my 17 years (1993–2010) covering the Maple Leafs as a reporter for The FAN–590, Canada's first all–sports radio station. I trust you'll enjoy a laugh or two: 
TURBULENCE AND A FRUIT BASKET: In my early years covering the Leafs, reporters were occasionally allowed to fly on the team charter, at the news organization's expense. This was a matter of convenience and normally exercised during multi–city road trips. Travel was more of an issue back then as the Leafs were still in the Western Conference. Every week, it seemed, the club was off to western Canada, Texas or California. On this particular journey, in April 1995, the Leafs played at St. Louis and Dallas on consecutive nights.
After a 3–1 loss to the Blues that Ken Daniels and I called on The FAN–590 (Joe Bowen did the game on TV; I don't remember why Bill Watters wasn't there), I hopped on the team bus to Lambert–St. Louis Airport. During the half–hour ride from downtown, and though it wasn't raining, there were snaps of lightning all over the sky. Being a somewhat fidgety flyer at the time, I began to wonder about our take off. What if we had to negotiate through all of the electricity? Almost always, I found these concerns to be more about fear than reality. But, not on this trip.
We boarded a Boeing–737 leased to the NBA's San Antonio Spurs, who were playing at home that night. All the seats were Executive Class width – two on each side of the aisle – with one row for every two on a commercial jet to facilitate leg–room for the elongated basketball types. As the plane taxied, lightning bolts were still appearing every few seconds but the captain did not warn of any alarming turbulence, so I remained cautiously optimistic. But, five minutes into the journey, I immediately knew why there hadn't been an announcement from the flight–deck (remember the old saying "what you don't know can't hurt you?"). To this day — and after something like 1,500 take-offs and landings — I still have not experienced the utter violence of that climb–out from St. Louis.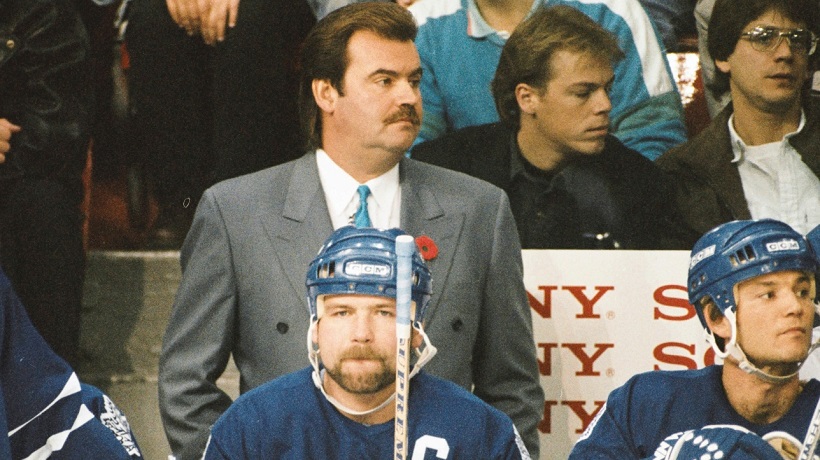 THE LATE PAT BURNS, STANDING BEHIND LEAFS CAPTAIN WENDEL CLARK IN 1993.
It made me appreciate the sturdiness of the tin cans that ferry us all over the sky.
As we entered the clouds, the jet began lurching up and down and side to side; it was like being in a juice blender. There were constant flashes of lightning and simultaneously loud bangs. I had my head on the seat–back, begging forgiveness for any wrongdoing. The late Pat Burns, coach of the Leafs and also a white–knuckler in the air, kept looking at me from two rows up on the opposite side; his eyes wide like frying pans. The bronc–ride went on and on until the plane burst through the clouds and into clear sky. Then it stopped. Instantly. We went from tumult to tranquility. Moments later, the flight attendants came around with boxes of food but anything ingested would have landed on the person in front of me. Instead, I asked for a carton of chocolate milk and tried to relax.
Upon arriving in Dallas after 1 a.m., I remember a stairway being led to the entrance at the front of the plane. I was directly behind Burns, who stepped out onto the porch and said "there's no way we're at the main airport — the downtown buildings are way too close." Turns out the charter had landed at Dallas Love Field rather than Dallas–Fort Worth International, 25 miles southeast. It was my first time in the city and being at Love Field gave me the creeps, remembering that President John F. Kennedy (and wife Jacqueline) landed there prior to boarding the motorcade – 32 years earlier – in which he would be assassinated. Also, the Leaf bus was late. You had to see this disheveled group of famous hockey players sprawled along an airport sidewalk in the middle of the night.
Ultimately, we were driven to the Hyatt Regency Reunion, across from the arena where the Dallas Stars played from 1993 to 2001. I got my key and took the elevator to what I figured would be a standard room, with one King or two Queen beds. Instead, I walked into this immaculate, bi–level suite and noticed a large fruit arrangement with bottles of mineral water chilling on a table. I thought to myself, "Jeez, this is nice treatment for a first–time guest." Opening a little card, it read: "Welcome to the Hyatt, Mike Kitchen. Enjoy your complimentary fruit and beverages." I laughed. The hotel had mistakenly given me the suite pre–assigned to the Leafs' assistant coach.
But, hell if I was gonna say anything.
During an optional skate the next morning at Reunion Arena, I went up to Kitchen and inquired about his room.
"Oh, nothing out of the ordinary," he replied. "Why?"
"Because the fruit and beer in my suite were wonderful."
After a momentary pause, he said "Aw, fu–you, Howie! I was wondering why I didn't get that stuff."
I just grinned.
KITCH AND "BARE"–EZIN: Here's another story involving Mike Kitchen.
In the summer of 1996, the Leafs imported a compact left–winger from Russia named Sergei Berezin, who would enjoy a 37–goal season for the club in 1998–99. Berezin may have been the most notable puck–hog in NHL history — he wouldn't pass at a Playboy bunny. But, he had a good, heavy shot and could move rather swiftly for a player built nearly as wide as he was tall (5–foot–9, 195 pounds). Berezin provided the Leafs and their fans quite a thrill when he scored a powerplay goal in the final minute of regulation at Philadelphia on May 2, 1999. It enabled Toronto to knock off the Flyers in Game 6 of the opening playoff round. But, my most vivid memory of Berezin dates to an unforgettable scene involving the rookie outside the visitors' dressing room in Anaheim.
In November 1996, the Leafs had a road trip to Philadelphia, Anaheim, Los Angeles and Phoenix. After a 3–1 loss to the Flyers — the ending of which remains legendary for Felix Potvin whipping Ron Hextall in a fight between goalies — the Leafs flew to California. On the day before the game against Anaheim, the club held an afternoon practice at the Arrowhead Pond (now the Honda Center). There was nothing unusual about the skate or the post–practice routine of players showering, dressing and walking to the team bus. All players except Sergei Berezin.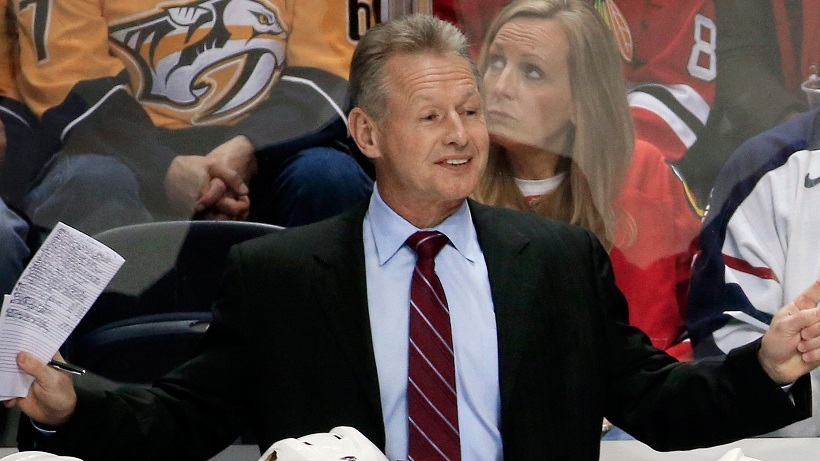 FORMER LEAFS ASSISTANT COACH MIKE KITCHEN — ONE OF THE GOOD GUYS IN HOCKEY.
I was already on the bus when I remembered leaving something in the arena. At the same time, coach Mike Murphy sent Kitchen to fetch Berezin. So, Kitch and I went back in. I'm sure the Leafs assistant coach expected to see Berezin tying his shoelaces, ready to sprint to the bus. Instead, the rookie was still in the shower, rinsing soap from his body. Berezin did not speak English, nor did Mike speak Russian. Kitch couldn't believe his eyes. With the entire team and coaching staff on the bus ready to leave for the hotel, Berezin was still luxuriating himself.
And as long as I live, I won't forget what happened next.
Berezin came out of the shower and stood, naked and soaking wet, at the entrance to the dressing room. A female arena worker happened to walk by at that very moment and let out a screech. Exasperated, Kitchen made hand motions at the rookie to hurry up and get dressed. Berezin, however, had no idea what Kitch was saying. He continued to stand in the same spot — his head cocked to one side like a dog when someone makes an unusual sound. "C'mon, Sergei, we're all waiting for you," pleaded Kitchen, as Berezin looked on. Finally, Kitch threw up his hands. "Aw fu–, Howie, you deal with it," he said and stomped back to the bus. I laughed; ushered Berezin into the room and pointed at his clothes, which finally got the rookie's attention. "Ah, yes," he said with a smile – proud, it seemed, to finally comprehend. He then quickly toweled off and dressed.
ALPO'S SCROTUM: This recollection is more ghastly.
After edging Detroit, 2–1, in the final home opener at Maple Leaf Gardens (Oct. 10, 1998), the Leafs embarked on an unusual trip to western Canada, beginning at Edmonton on a Tuesday and featuring a three–day hiatus before a Friday night match in Calgary. It was Pat Quinn's first year coaching the Leafs and he decided to take the club to nearby Banff between the Alberta games. We stayed, for two nights, at the Rocky Mountain Resort – a picturesque setting. I had a two–level suite with a bedroom loft and balcony that overlooked Cascade Mountain. It snowed non–stop but I remember there was no wind. I could stand on the balcony and virtually hear snowflakes hitting the ground. The bottom level had a fireplace with stacks of wood. Needless to say, a bit different than the usual hotel environment for a reporter. While in Banff, the Leafs practiced a couple of times at a local arena — an old barn with cramped dressing rooms. After one workout, I was standing with Rosie DiManno of the Toronto Star in a narrow hallway outside the room where the Leaf coaches dressed, waiting to talk with Quinn. The Leafs had an assistant coach from Finland named Alpo Suhonen — best remembered, to this day, for Don Cherry's quip on Coach's Corner: "Alpo… isn't that dog food?" Suhonen had joined Quinn's staff at the urging of GM Mike Smith.
While Rosie and I were waiting, the door to the coaches room accidentally swung open, revealing a frightful scene. There was poor Alpo, buck–naked and bent at the waist, with his rear toward us. We were treated to a view of his hairy backside and dangling scrotum. Rosie went "Ahhhyyy!!" — causing Alpo to spin around with an angry look on his face and slam the door shut. Rosie took immediate exception. "Like I wanted to see that!" she snorted, which sent me into convulsive laughter. It was a moment for the ages… but a sight I'd rather forget.
COLLECTOR DAVE: After a commercial flight from Los Angeles to Vancouver in March 1995, I took the Leafs' bus from the airport to the Westin Bayshore Hotel. Along the way, Dave Andreychuk, the future Hall–of–Fame winger, had a conniption. Chucky, as he was known, found himself in charge of collecting $40 wagers for the club's NCAA basketball tournament pool. He was angry and intense. It was not a task he enjoyed. When Mike Gartner (another Hall–of–Famer to be) offered up a $50 bill, Andreychuk asked if he had correct change.
"No, if I did I'd give it to you," Gartner replied.
"Just asking, Garts."
Bill Berg forked over payment and further annoyed Andreychuk by asking for a receipt. "Give it a rest, Bergy."
The big winger stomped up and down the bus with great purpose and finally took a seat. "Sh**, he isn't that intense during games," came a crack from behind us. After a few moments of serenity, the real turmoil began.
"Alright, 50 dollars is missing, dammit!" Andreychuk snapped prompting the entire bus to explode with laughter.
"Did you take math in high school?" asked Warren Rychel.
"Not funny," Andreychuk groused, head down, shuffling, one more time, through a wad of American bills. His ledger still unbalanced, big Dave conducted an exhaustive, player by player search in a desperate attempt to locate the fraudulent party. Unsuccessful, he sat back down — his features twisted in strife and discontent.
Seconds later, he erupted once more.
"Okay, the guy who has it… it'll be on your mind; you have to sleep tonight," he warned.
Again, the bus fell into hysterics.
"Did you check your sleeve, Chucky?" asked Todd Gill.
"C'mon guys, this is serious," Andreychuk replied, almost in tears.
"I think we're gonna have to fly in Max Offenberger," cracked media relations director Bob Stellick, referring to the team psychologist. Finally, Gartner grew fed up and pulled all of the U.S. money out of his wallet.
"Chucky, look at this," Gartner said. "In my hand, I have six $50 bills. Is it impossible for me to have the extra money? And, if so, how in the world are you gonna find out?"
That served to end the debate as a perplexed Andreychuk stared at Gartner without reply.
**************************************
There was another hilarious Andreychuk moment that season. I was in the hotel coffee shop with the Leafs for breakfast one morning in Edmonton. When I left to go upstairs, Andreychuk was just arriving to sit down. As he waited for a table, two Asian men — much shorter than the lanky winger — began circling and peering upward at the big Leaf. Andreychuk, perplexed, looked down and followed their path around his body.
Finally, one of the men tapped him on the arm.
"Are you Cam Nee–ry?" he asked in a thick accent about the Boston Bruins legend.
"No, I am not," replied Andreychuk, rolling his eyes heavenward.
Good God, did I howl.
**************************************
CRACKLY COLUMNIST: I still chuckle when recalling an incident after Game 4 of the Leafs–Detroit opening–round playoff series in 1993. It involved my mentor — the late Toronto Star columnist Jim Proudfoot. Coach Burns was fielding questions in the media lounge at Maple Leaf Gardens when there was a sudden lull in the conversation. At that point, a loud, crackly fart emanated from the back–corner of the room. Burns quickly snapped his head in the direction of the blast, where Proudfoot was standing with a crooked smile on his face.
Other reporters discreetly shuffled to the opposite side of the lounge, fearing an aftershock.
Two days later, Jim and I were in Detroit for Game 5 of the series and riding the downtown monorail (known as the "People Mover") to Joe Louis Arena. Still mortified over his gas attack, Jim explained to me, "Gee, Howard, I tried to time it so there'd be enough noise to drown out the sound. But, just as I reached the point of 'no return,' everyone suddenly stopped talking." I shook my head and laughed.
Moments after arriving at the arena, Proudfoot and I walked past the corridor leading to the visitors' dressing room. As the Leaf players warmed up for the pivotal match, Burns was pacing back and forth, seemingly oblivious to anything else. We offered him a cursory wave and continued on to the media room for dinner.
Not three seconds later, we heard the Leafs coach bellow, "No farting in the press box!"
BURNING EYES: This story dates to the 1970–71 NHL season and was told to me by Darryl Sittler, a Leafs rookie that year. After practice one day, a number of players were having a sauna at Maple Leaf Gardens when George Armstrong opened the door. Armstrong had been captain of the Leafs during their 1960's Stanley Cup dynasty and was now in his final pro season. He looked around in the sauna for a place to sit, which brought a deluge of griping from teammates, who angrily informed him there was no room for anyone else.
Armstrong responded by urinating on the coals and slamming the door. A cascading mist of bodily fluid enveloped the sauna and nearly asphyxiated the players, sending them bursting out in a dash for fresh air.
OH SH–!!: In May 1995, the Maple Leafs and Chicago Blackhawks engaged in the first–ever playoff series at the United Center, which opened during that lockout–shortened season, replacing venerable Chicago Stadium. When traveling in the playoffs, the club brought along most of its front office staff, including doctors, scouts and alumni.
As such, Sittler was on the trip.
After a morning skate at the United Center, I was on the Leaf bus across the aisle from Sittler — about one–third of the way back. Open next to Darryl was a small bag of chocolate chunks that the players mindlessly helped themselves to, with Sittler's invitation, as they passed by. After settling in and chomping away on the delectable treats, several players could be heard saying "Thanks, Sit. This is good stuff. Got any more?" Sittler did not respond, or look back. Finally, as the bus was full, he stood up, turned around and said (with an ominous expression), "to be honest, fellas, I'm not sure if this is regular chocolate… or Ex-Lax."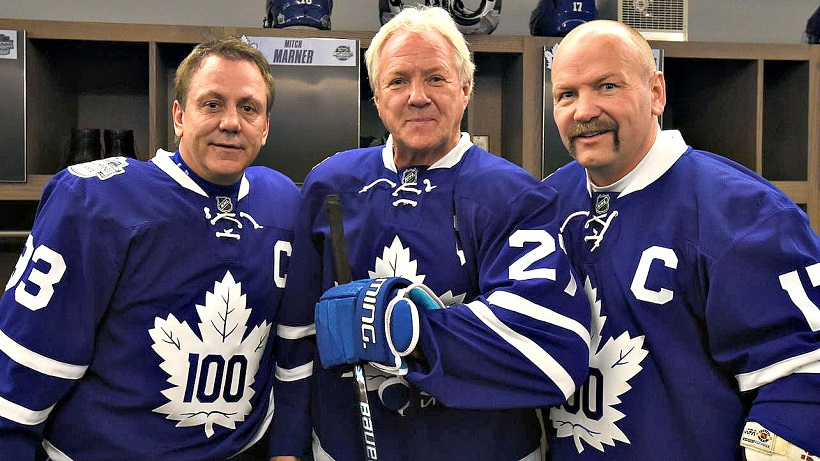 DARRYL (EX–LAX) SITTLER (CENTER) WITH FELLOW LEAF CAPTAINS DOUG GILMOUR (LEFT) AND WENDEL CLARK.
I glanced behind me as the entire team froze in mid–chew. Rookie Swedish defenseman Kenny Jonsson horked up into his hands. Someone else said "oh God, no!" Stone–faced, Sittler continued to shake his head but couldn't contain himself. Finally, he burst out laughing. "Just kidding, guys. Leith Douglas (one of the team doctors) brought this aboard. There's lots more if you want it." You could hear a collective sigh of relief… then a bunch of players yelling "Fu– you, Sit!" Yup, the ol' captain had pulled a good one.
EMAIL: HOWARDLBERGER@GMAIL.COM