TORONTO (June 4) — The Maple Leafs are long overdue to start operating with an established pecking order. For too many years in the post–1967 era, head coaches have been inherited by Leaf general managers. Which is contradictory to functional organization at any level, particularly in the National Hockey League.
Try to follow this bizarre history… if you can:
There was stability in the 1970's, when GM Jim Gregory hired John McLellan, Red Kelly and Roger Neilson to stand behind the bench. The Leafs prevailed in six playoff rounds and once (in 1978) qualified for the Stanley Cup semifinals. Modest accomplishment in the big picture, yet during a time when no club could match the dynastic Montreal Canadiens of Scotty Bowman, Ken Dryden, Larry Robinson, Guy Lafleur and Co. The cohesion began to unravel, quite spectacularly, when owner Harold Ballard re–established Punch Imlach as GM in the summer of 1979, touching off the worst decade in franchise history. After suffering two heart attacks, Imlach was callously removed by Ballard and replaced by scout Gerry McNamara, who began his tenure (in 1982) by inheriting coach Mike Nykoluk. Ballard, pulling the strings from above, ordered McNamara to fire Nykoluk; then, successor Dan Maloney left for Winnipeg after Ballard refused to anoint him a multi–year contract, which followed an impressive playoff showing in 1986. McNamara inherited John Brophy and was dumped on Feb. 6, 1988 when he pushed too hard to have Brophy fired; Gerry Mac couldn't stand Brophy (he wasn't alone) and deemed him unfit for the NHL. Gord Stellick inherited Brophy and also sought to have the white–haired coach replaced. Which finally happened midway through the 1988–89 season, only to see Ballard thrust a reluctant George Armstrong (captain of the 1960's Stanley Cup dynasty) on Stellick. Armstrong had no desire to coach the Leafs and stepped down after the season. Ballard replaced Stellick with Floyd Smith, who ended the abominable decade by hiring Doug Carpenter.
Ballard died on Apr. 11, 1990 to rousing applause from Leafs Nation. After a dreadful 1–9–1 start to the 1990–91 season, his appointed successor, Donald Giffin, fired Carpenter and Smith brought in Tom Watt, the respected former Vancouver and Winnipeg coach. Cliff Fletcher came aboard for the '91–92 season, replacing Smith and inheriting Watt. After that season, Fletcher supplanted Watt with ex–Montreal coach Pat Burns, who guided the Leafs to consecutive appearances (1993, 1994) in the Stanley Cup semifinals. The Leafs soon regressed under Burns, who was fired by Fletcher on Mar. 3, 1996 after a brutal 3–14–4 stretch. Former Los Angeles GM Nick Beverley took the bench for the remainder of the '95–96 season and was let go after the Leafs lost the opening playoff round to Wayne Gretzky and the St. Louis Blues. Fletcher named Burns' assistant, Mike Murphy, head coach, but was fired, himself, in May 1997. At which point new general manager Ken Dryden inherited Murphy. That lasted for one season before Dryden mercifully fired Murphy and brought in former Maple Leafs defenseman Pat Quinn.
Are you still with me?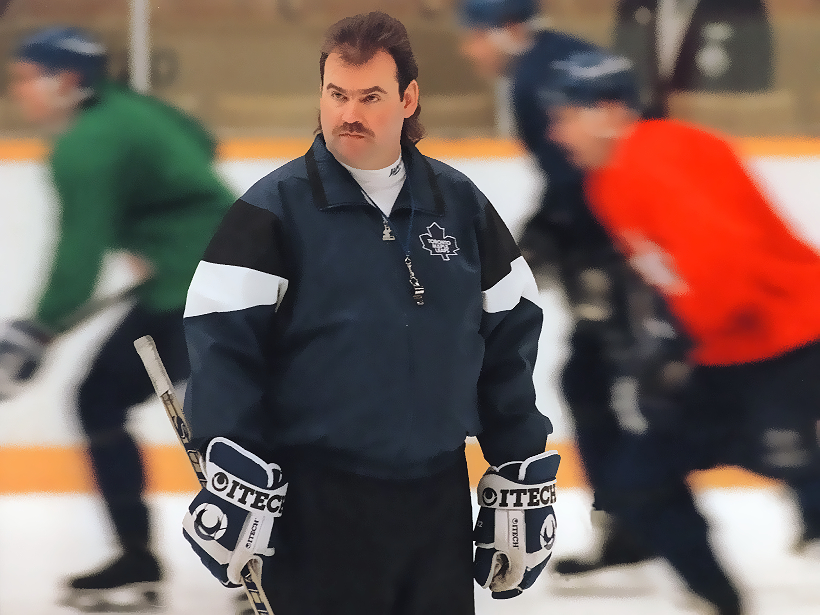 PAT BURNS COACHING A TORONTO PRACTICE AT MAPLE LEAFS GARDENS IN 1993.
After a tumultuous 1998–99 season, in which the Leafs advanced to the Stanley Cup semifinals before losing to Buffalo, Dryden was forced out and Quinn took on the dual role of GM and coach for "self preservation." In 2001–02, Quinn guided the Leafs to their first 100–point season and another berth in the Cup semis, losing to Carolina. The following year, the Leafs were rudely bounced by Philadelphia in the opening playoff round and it was determined that Quinn could no longer execute both jobs. At which point, former St. Louis assistant John Ferguson Jr. came aboard as GM, inheriting Quinn as coach. Another franchise best, 103 points, occurred under Quinn and the Leafs, after bouncing Ottawa, were again dispatched by the Flyers. Then came the season (2004–05) lost entirely to labor discord (no Stanley Cup was awarded). Ferguson and Quinn returned in '05–06, but the Leafs began a ridiculous run of seven consecutive years failing to qualify for the Stanley Cup tournament. Ferguson fired Quinn and replaced him with farm team coach Paul Maurice. When Ferguson got the axe in January 2008, Fletcher returned as interim GM, inheriting Maurice, who was dumped after the 2007–08 season in favor of Ron Wilson. By then, it was clear that Brian Burke would take over the Maple Leafs and Fletcher felt Wilson and Burke — former teammates at Providence College — would work well together. As such, Burke inherited Wilson on Nov. 29, 2008.
The Maple Leafs stumbled from the gate in October/November 2009 at 1–7–5, but Burke stuck with Wilson. Their alliance ended on Mar. 3, 2012 after the club (according to the GM) tumbled "over the cliff in an 18–wheeler" with a 1–9–1 slide. Randy Carlyle replaced Wilson as coach. Another chunk of season went astray during the owners' lockout of October 2012 to January 2013. Burke was fired before the start of an abbreviated, 48–game schedule, but the team he left behind finally broke the long playoff drought, qualifying in the spring of 2013 under replacement GM David Nonis, who inherited Carlyle. What followed, infamously, was the "Causeway Street Collapse", when Toronto coughed up a 4–1, third–period lead at Boston in Game 7 of the opening round and lost, 5–4, in overtime. Nonis and Carlyle returned for 2013–14 and had the Leafs in solid playoff contention until another "18–wheeler" — a 2–12 fold–up to end the schedule (and playoff hopes). The 2014–15 season produced, arguably, the all–time sh**–show in franchise history. From Nov. 20 to Dec. 16, the Leafs soared to a 10–1–1 mark. Then Carlyle lost the team. Completely. Nonis fired him after a 2–8–0 stumble and appointed assistant Peter Horachek as interim coach. The Leafs of Dion Phaneuf and Phil Kessel quit like dogs under Horachek, losing 11 consecutive games and compiling a 6–25–3 record from Jan. 9 to Mar. 26. Nonis and Horachek were fired after the season.
Hang in there. We're getting toward the end.
The current era of Leafdom began on Apr. 11, 2014 (the 24th anniversary of Ballard's death) when Tim Leiweke hired Brendan Shanahan to oversee the entire hockey operation. It picked up steam with the selection of William Nylander (eighth overall) in the 2014 NHL draft (the Leafs passed on David Pastrnak, who went 25th to Boston) and motored into apparent overdrive on May 20, 2015 when Mike Babcock left the Detroit Red Wings to become the highest–paid coach in hockey history. Just more than two months later (on July 24), Shanahan hired Lou Lamoriello to replace Kyle Dubas and chief bird–dog Mark Hunter, who had run the club during the 2015 draft. Lamoriello inherited Babcock. The Dubas–Hunter tandem selected Mitch Marner, fourth overall, then became assistants to Lamoriello. Auston Matthews arrived in the No. 1 draft slot the following year. At which point the Leafs, in 2017, made the playoffs in a full, 82–game season for the first time in 13 years. Dubas led the Toronto Marlies to the 2018 Calder Cup title before Shanahan promoted him to Leafs GM on May 11. Dubas also inherited Babcock, while Lamoriello and Hunter fled. When Babcock ran afoul of the Big 3 draft picks, who quit on him in a 6–1 loss at Pittsburgh (Nov. 19, 2019), he was sent packing. Dubas promoted Sheldon Keefe from the AHL Marlies to succeed Babcock. Four years and one playoff–round triumph later, here we stand, with Dubas now in Pittsburgh and Brad Treliving coming east from Calgary as Leafs GM. Treliving has (temporarily?) inherited Keefe.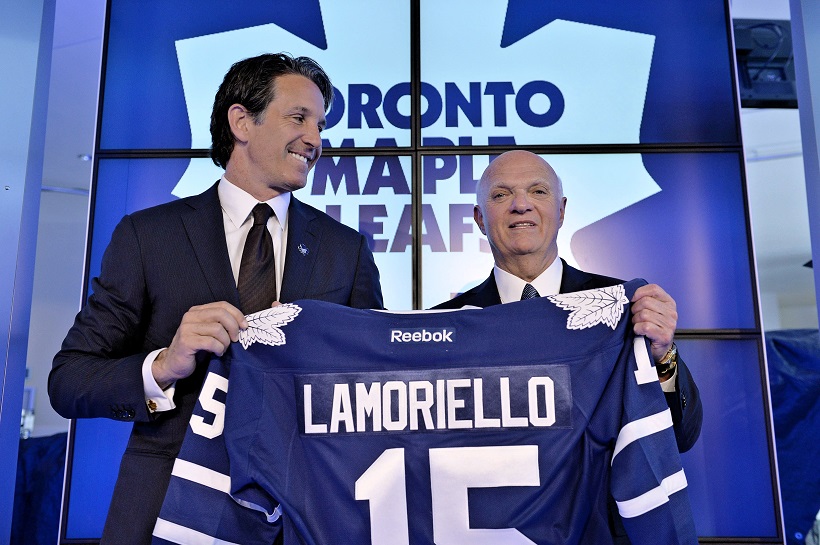 BRENDAN SHANAHAN (LEFT) AFTER HIRING LOU LAMORIELLO AS GM OF THE LEAFS.
As you will notice amid the passages highlighted in blue, there have been 12 occasions since 1970 that a new Toronto GM has inherited an incumbent coach. Or, better put, 12 instances in which the Leafs have engaged in diametric opposition to the functional process of a manager hiring his own coach. How has it turned out? Not particularly well given that 21 rival clubs — Montreal, Boston, Chicago, Detroit, New York Rangers, Buffalo, Vancouver, New York Islanders, Calgary, New Jersey, Washington, Edmonton, Carolina, Colorado, San Jose, Tampa Bay, Ottawa, Florida, Anaheim, Nashville and Las Vegas — have played for (or won) the Stanley Cup. Not to mention Pittsburgh, Philadelphia, Los Angeles, St. Louis and Minnesota–Dallas from the original expansion in 1967.
Among all the teams in the post–expansion era, only the Leafs, Atlanta Thrashers/Winnipeg Jets, Columbus Blue Jackets, Minnesota Wild and Seattle Kraken have not made an appearance in the Stanley Cup final — the paragraphs of this blog marking a long, gruesome ride that needs to end with Treliving naming a successor to Keefe.
He must hire his own man to coach the Leafs next season.
This is less an indictment of Keefe than an invitation for Toronto to start operating practically.
Keefe should be allowed to catch on elsewhere; he was Dubas's hire. Were I Treliving, and if accorded the chance, there are two men I would contact: former Chicago coach (and Leafs defenseman) Joel Quenneville and Quebec Remparts junior coach Patrick Roy, the Hall of Fame goalie, who won the Memorial Cup on Sunday night; his team defeating the Seattle Thunderbirds. Quenneville erred in the Kyle Beach cover–up with Chicago but has done his time and should be reinstated by NHL commissioner Gary Bettman. He guided the Blackhawks to three Stanley Cup titles in six years, beginning in 2010. Roy coached his former team, the Colorado Avalanche, from 2013–16 and rather inauspiciously, making the playoffs once and losing in the first round. But, he returned to junior with Quebec and adroitly guided the Remparts to a pair of 50–win seasons. Now, a championship. He deserves a second NHL chance. Treliving would stamp his mark on the Maple Leafs by procuring either man.
Providing, of course, that Shanahan hasn't already usurped his new manager and promised Keefe the final year of his contract as head coach. Which would, beyond shadow of a doubt, be the true Maple Leafs' way.
EMAIL: HOWARDLBERGER@GMAIL.COM