TORONTO (July 15) — Details involving the Toronto Maple Leafs are forever sketchy as the club makes an exhaustive effort to conduct business away from the media spotlight. But, sources elsewhere paint the picture of a front office conflicted over the future of the team. To wit: it's my assertion that the strong–arm influence of Brendan Shanahan is dissuading general manager Brad Treliving from a monster move that would elevate the Leafs into immediate Stanley Cup contention. Shanahan — surprise, surprise — wants to maintain the failed Core–4 nucleus. Treliving, always working the phones and unafraid to shake up a mushy playoff roster, knows he has an asset with which to acquire the best defenseman in the National Hockey League. At the moment, however, re–signing William Nylander is the preferred route over trading the lone member of the foursome that can still be moved.
Both Nylander and Erik Karlsson have trade restrictions: Karlsson, a full no–move in San Jose while Nylander has submitted, to the Leafs, a list of ten no–trade destinations. The other members of the Core–4 — John Tavares, Auston Matthews and Mitch Marner — have uncontested control of their NHL futures. Apart from defenseman Morgan Rielly, there isn't another player on the Maple Leafs worthy of being dealt in a mega–swap for Karlsson. It barely warrants a mention, of course, that Rielly has a full no–move until the final two years of his contract and would therefore need to sign off on a trade. Bad management routinely cedes control to players and the Leafs, despite winning nothing, have been doing it for years. A total of 13 players on the current roster have movement restrictions. Even the middling, muddling Justin Holl had trade limitation before defecting to Detroit in free agency.
At least one hefty contract would need to be unloaded in order for Toronto to carry the remaining four years of Karlsson's pact. Even if the Sharks are willing to eat, say, $4 million in salary. That would implore the Leafs to pay Karlsson $7.5 million per season and would require some form of cap gymnastics, even with the salary limit expected to rise significantly during the balance of Karlsson's deal. San Jose, according to capfriendly.com, has $5,466,666 in cap space. The Leafs are $8,831,450 over the cap right now, with a goalie still to be signed (Matt Murray and Joseph Woll are under contract for next season at a combined $5,454,167). Treliving has a second buyout window (beyond the original June 15–30) involving Murray, given that Ilya Samsonov has chosen the route of salary arbitration (his hearing is set for July 21). The GM would clearly like to alleviate part of Murray's $4,687,500 cap burden; buying him out would cost the team only $687,000 in cap space next season… but still $2 million in 2024–25, when the next contract for Matthews (projected to be upward of $16 million) comes into effect.
Nothing, however, can be done until Samsonov's future is determined.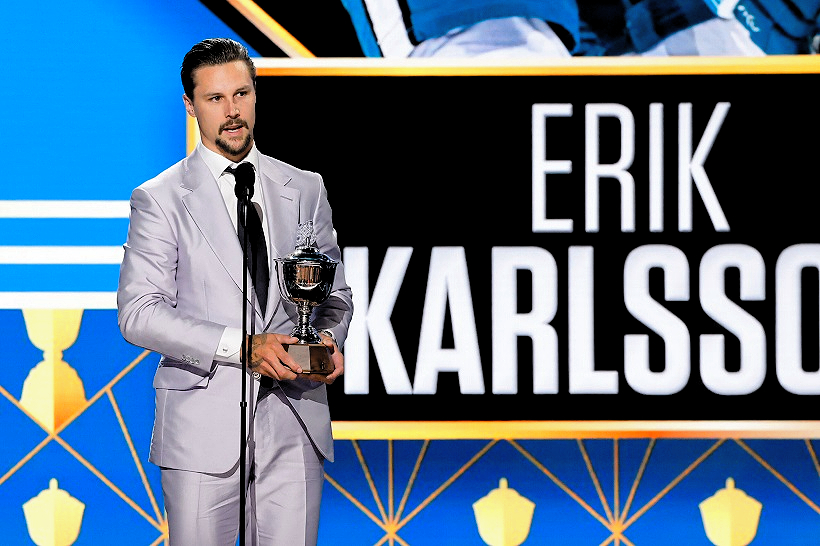 Sharks' GM Mike Grier obviously wants to maximize return in any deal for Karlsson, even if he recognizes that hanging onto the three–time Norris Trophy winner is senseless for a rebuilding team. Without influence from above, I strongly suspect that Treliving would be open to a blockbuster trade. If I were Brad, I would change the inferior playoff culture of the Leafs by swapping Nylander and Rielly (with permission) to San Jose for Karlsson and the Sharks' first–round pick next summer. San Jose has already unloaded its second, third, fourth and fifth–round choices in 2024. The additions of Nylander and Rielly would largely compensate for losing the draft selections… and would get Karlsson off the books. The Leafs would offload $14,462,366 in cap space while taking on $7.5 million of Karlsson's contract and acquiring three years of entry level salary with the No. 1 draft pick.
Strategically, it would be a win for both parties.
A large and silly faction of Leaf supporters will recoil from such a trade, given that Karlsson isn't a defensive stalwart (take note of the "frightened rabbit" comments this blog will generate, here and elsewhere). Forget that Erik became, last season on a non–playoff team, the first NHL blueliner since 1991–92 to register more than 100 points. He's "shaky" defensively (sigh). That Toronto hasn't possessed an elite, stay at home rearguard since the now–mythical Tim Horton in the late–1960's — and that the Leafs cannot improve while doing squat and hanging onto Rielly — doesn't enter the picture. Or, that Karlsson, at 33, is in terrific shape and playing the best hockey of his career. Even two more years of a healthy Karlsson would immeasurably improve Toronto's Stanley Cup hopes; he and John Klingberg providing the Maple Leafs arguably the best powerplay tandem in the NHL.
Neither can we predict how the addition of a Hall–of–Fame skater might impact Matthews and Marner in the 2024 playoffs, considering the M & M boys aren't going anywhere until at least next summer (when Matthews can walk).
It's also worthy to note that in a different era and league (with only six teams), Leonard (Red) Kelly was 32 when acquired by the Leafs in 1960 (and converted from defense to center by Punch Imlach). Virtually the same age as Karlsson. The first winner of the Norris Trophy provided the Leafs seven more years of elite performance. And, won four Stanley Cups (added to the same number he helped capture in Detroit). Right now, Toronto needs two or three years of a healthy Karlsson in order to compete for the NHL title. Providing a mega–deal can be made.
Obtaining Karlsson would also prevent the two Eastern foes rumored to be most–interested in the Swedish rearguard — Pittsburgh and Carolina — from improving their Stanley Cup chances. Yet another critical factor.
We know for certain that staying the same (Shanahan's preferred modus) will doom the Leafs to more playoff oblivion. Karlsson, conversely, would bring to the team the most–gifted and decorated defenseman in franchise history; easily the best since Borje Salming's heyday in the mid–to–late–70's. And, the undisputed component with which a Stanley Cup team must be endowed: a Norris Trophy threat. So, there's a trade to be made… and Treliving continues his dialogue with Grier. But, nothing will happen unless the Teflon Prez — still daydreaming about his Core–4 posing a Stanley Cup threat after seven futile attempts — lightens his harmful grip on the team.
THE DELUSIONAL GREAT ONE: Wayne Gretzky must have been on happy pills last week, even if appearing on the LEAFS MORNING TAKE podcast, when he described Auston Matthews as "one of the elite players to ever play the game." It was the same Wayne Gretzky that won four Stanley Cup titles in five seasons (1984–85–87–88) with the incomparable Edmonton Oilers, skating alongside fellow Hall–of–Fame teammates Grant Fuhr, Mark Messier, Jari Kurri, Glenn Anderson and Paul Coffey — five of the truly best Stanley Cup warriors of all time. Just how the Great One assigned Matthews to that exclusive category, with Auston never having appeared beyond the second round of the playoffs, is concerning. We hope Wayne was simply being "nice" on a Leafs–related website.
Same applies to former Toronto exec Dave Poulin, the much–respected TSN analyst who doubles as a hockey columnist at the Toronto Star. At the end of his latest Star submission, Poulin wrote: With cap constraints and the ability to affect change not matching the willingness to do so, Treliving still has work to do at finalizing the goaltender position and fine–tuning the bottom of the roster. The often clamoured–for change at the top of the lineup does not appear to be happening. The early opinion, despite that, is that the Leafs will be different next fall. Oh, Dave, how many times have we heard that one in the past five years? That the soft, marginally competitive nucleus will somehow morph into a playoff juggernaut? And, "unwillingness" to change comes from the Teflon Prez, not from his handpicked GM. If only Brendan Shanahan would offer Brad Treliving the Leaf nuclear codes.
IT'S BORDERLINE PATHETIC: After John Tavares and Mitch Marner gathered with reporters this week for a charity event hosted by the latter, newspaper and Internet headlines resembled that of the Toronto Sun… MITCH MARNER, JOHN TAVARES ONSIDE WITH GM BRAD TRELIVING'S CHANGES TO THE MAPLE LEAFS. Like, what were the two players expected to say about the club's free agent acquisitions? This, for example, wouldn't go over quite as well: "We like (John) Klingberg, even if he's the softest defenseman in the NHL, joining our perennially soft club. Friggin' Tyler Bertuzzi can't stay healthy for more than half a season… and has Max Domi now played for every other team in the league?" Of course Tavares and Marner are going to laud the latest changes — as they have, in prior years, other significant alterations made by the Leafs around the vaunted "Corpse–4."
25 YEARS AGO TODAY: It happened mostly by accident, after Ken Dryden ran into agent Don Meehan while buying ice cream on Davenport Rd. But, it turned into the best free agent signing, to date, by the Leafs — Curtis Joseph coming over from Edmonton on this date (July 15, 1998) a quarter–century ago. With Cujo between the pipes, Toronto advanced to the Stanley Cup semifinals in 1999 and 2002. The latter club, I believe, would have won the Stanley Cup were Joseph, Mats Sundin and Darcy Tucker not severely hampered by injury.
WHY THE PERPETUAL TROUBLE?
As others have pointed out — most notably, Steve Simmons of the Toronto Sun — the Canadian Football League's website is an ongoing disaster; nearly impossible to peruse for up–to–date information (scores and stats). Why this remains such an issue for the CFL cannot be adequately explained. Neither can such a real–time blunder as the one, below, posted during the wondrous Toronto at Montreal match on Friday night: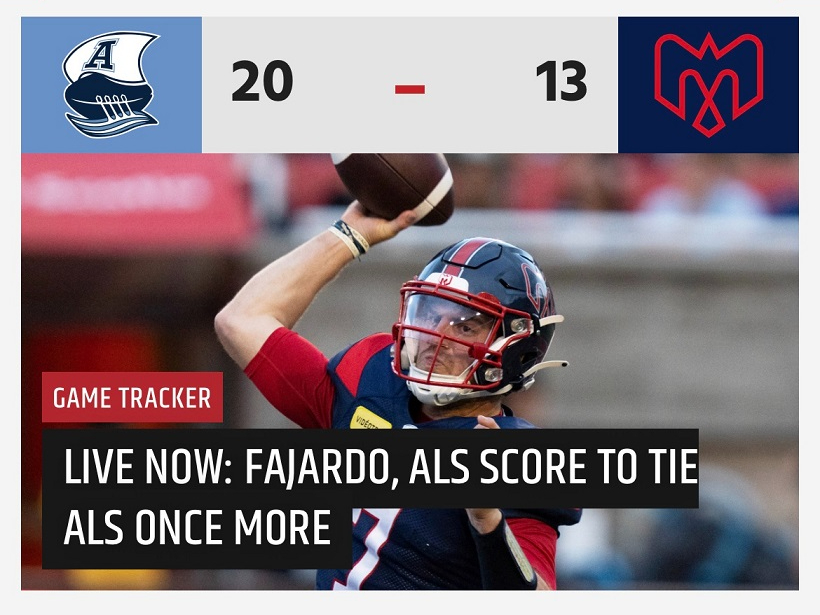 The Argos defeated the Alouettes, 35–27, to stay unbeaten at 4–0 in the CFL East.
EMAIL: HOWARDLBERGER@GMAIL.COM