TORONTO (July 6) — It's out there for all to see. In chat rooms, pop–up websites and even the most–credible newspaper columns: Will members of the Toronto Maple Leafs Core–4 accept less money in their forthcoming contracts so the quartet can stay together, thereby allowing the club to "win"? The question I have is, win what?
Hasn't it been proven, beyond a reasonable doubt, that the Leafs cannot prevail in the Stanley Cup tournament with John Tavares, Auston Matthews, Mitch Marner and William Nylander? That even if all four players accepted one dollar as a base salary, opening up $40 million of cap space, the club would still go pear–shaped in the playoffs? With the Leafs, it remains a question of "who" not "how much". I've seen enough of these guys in April and May to tell you — unequivocally — that if Matthews and Marner walked away as free agents in the next two years, for no return, the Leafs would be in a much–better position than today. It would allow management to re–shape the roster with forwards that may not look as pretty during the regular season, but might be capable of excelling and elevating performance when it matters. That will not happen if Brendan Shanahan and Brad Treliving stay the course. No person, not even the most dyed–in–the–wool Leafs supporter amid the fan base or in the media, can offer me evidence of the playoff narrative changing with the same cast. The Vegas Golden Knights are the latest example of how a team wins a championship in the National Hockey League with a big, heavy roster; with key performers that exponentially evolve as the Stanley Cup stakes increase. And, as always, with a Norris Trophy type leading the way on the back end. A club that plays defense as aggressively as it pursues scoring chances.
In other words, a near–complete antithesis of the "Core–4" Leafs.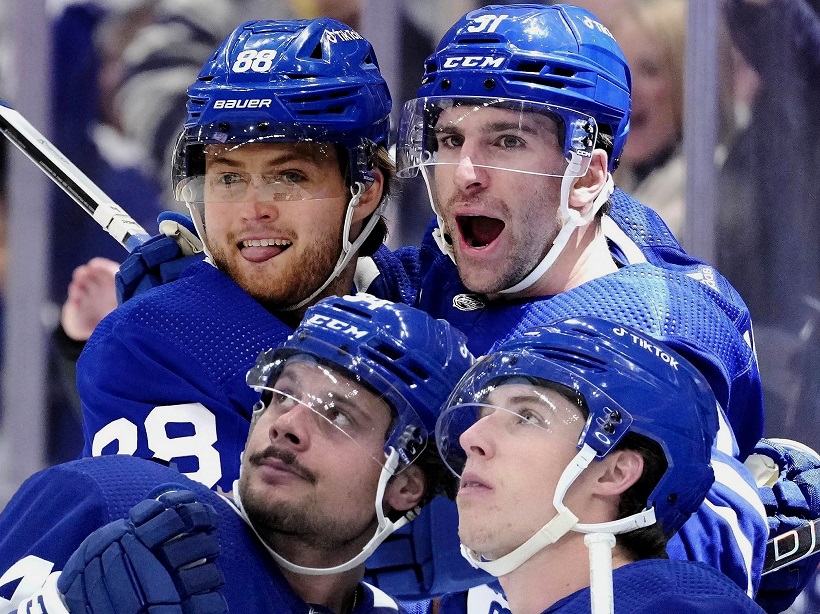 Unfortunately for the club with the longest–ever Stanley Cup drought, Shanahan, the Teflon Prez, would not allow his new GM to explore a different strategy. By all appearances, Treliving came over from Calgary on the condition he maintain what I call the "Corpse–4" (someone else used "Marshmallow–4", which also works). Under no circumstance could Treliving investigate trade possibilities for Matthews and Marner before they gained control over the club with no–movement clauses that kicked in on July 1. So, now, it's either re–sign the M & M boys and doom the club to more playoff oblivion… or enable them to walk for free (a wonderful posture that Shanahan allowed his former underling, Kyle Dubas, to foist upon the franchise). It's unlikely that anyone will concur with my stance that Door No. 2 is the better option. The M & M boys, despite no playoff success, have long cast a spell over the mushy local media. And, thereby, wanton fans of the hockey club who are desperately looking for a way out of the annual post–season quagmire. As such, here we are again — still somehow anticipating that "insanity" (doing the same thing and expecting a different result) will triumph. It will not. It can not with the Corpse–4 leading the way.
I've made my stance on this matter crystal clear. And, nothing has changed. You've got to be plum–loco to think that Matthews is worth $16 million a season. Unless, of course, the objective is to challenge for the Presidents' Trophy. He is not, and will never be, a clutch playoff performer. Neither has Marner done squat in the Stanley Cup chase, even if he is three times the player. Mitch has some fire in his belly. He's proven to be an exceptional, 200–foot skater; witness his 99 points last season and Selke nomination as best defensive forward. If surrounded with heavier line–mates that respond to the playoff burden, he could be a Conn Smythe Trophy threat. Not so, Matthews. As for Nylander, I don't get the enmity and rancor. Unlike Mr. November, he occasionally shows up in the post season. Willie scored the same number of goals in 2022–23 (40) as Matthews, albeit in eight more games. He then outgunned Invisible Auston, 2–0, against Florida in the playoffs. Nylander is everyone's target right now because, theoretically, he can still be traded, having submitted a 10–team "not goin' there" list to the Leafs. The M & M boys are locked in until they either re–sign… or take a hike. It's kind of a dreadful situation.
As for the free agent acquisitions by Treliving, they, too, are being typically overhyped. Suddenly, with Tyler Bertuzzi, Max Domi and Ryan Reaves, the Maple Leafs (given media fawning) will be "much tougher" to play against. But, the same people told you the same story when Ryan O'Reilly, Noel Acciari and Luke Schenn came aboard at the trade deadline (all three walked away on July 1). And, the Leafs still got rolled by the Panthers.
That's not to suggest I disagree with the signings.
Bertuzzi has some bite and scoring ability… providing he can stay healthy for more than 40 games. Domi, despite media dispatches, is not nearly the rabble–rouser his father was. But, Max is much the better all–round player and, in so many ways, a perfect fit for the Maple Leafs. Reaves will become popular because of his size and enormous personality. But, he won't see the ice in an important playoff game. Treliving correctly deduced that more "snarl" was needed on defense. So, he went out and signed buttery soft John Klingberg. That's a major disconnect, even if I've always admired Klingberg's puck–moving skill. My theory persists, however, that retention of the Corpse–4 offsets, beginning in mid–April, any gains made in free agency. The Maple Leafs cannot look noticeably different with Matthews, Tavares, Marner and Nylander going full–perimeter in Stanley Cup toil. Not a chance.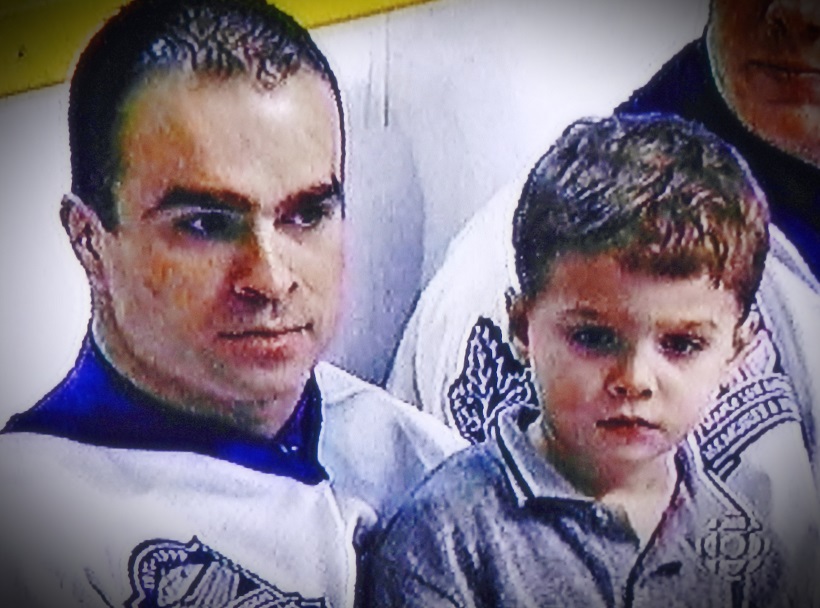 FEB. 13, 1999. FROM CBC TELECAST OF THE LAST NHL GAME AT MAPLE LEAF GARDENS. MAX DOMI, JUST PRIOR TO HIS FOURTH BIRTHDAY, SITS ON THE LAP OF HIS FATHER, TIE, DURING THE CLOSING, POST–GAME CEREMONY.
So, debate, if you wish, the salary and term that Matthews will garner in his next contract. Which may prove as ungainly and immovable as his expiring arrangement. The Maple Leafs need structural and fundamental change in order to pose a Stanley Cup threat. Not more of the same. Why this seems forever confusing is a puzzle.
FROM THE VAULT…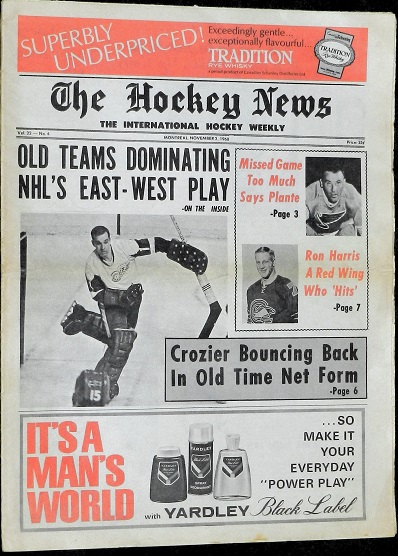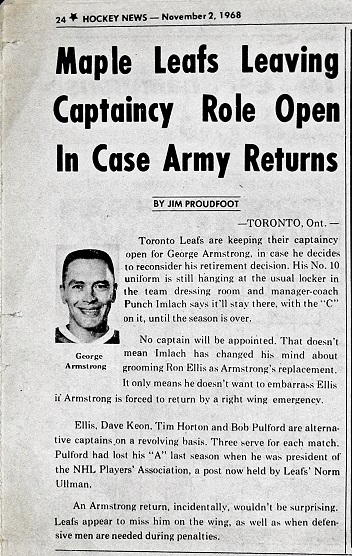 In my collection, the Nov. 2, 1968 edition of The Hockey News. Game summaries, below. Remember the names?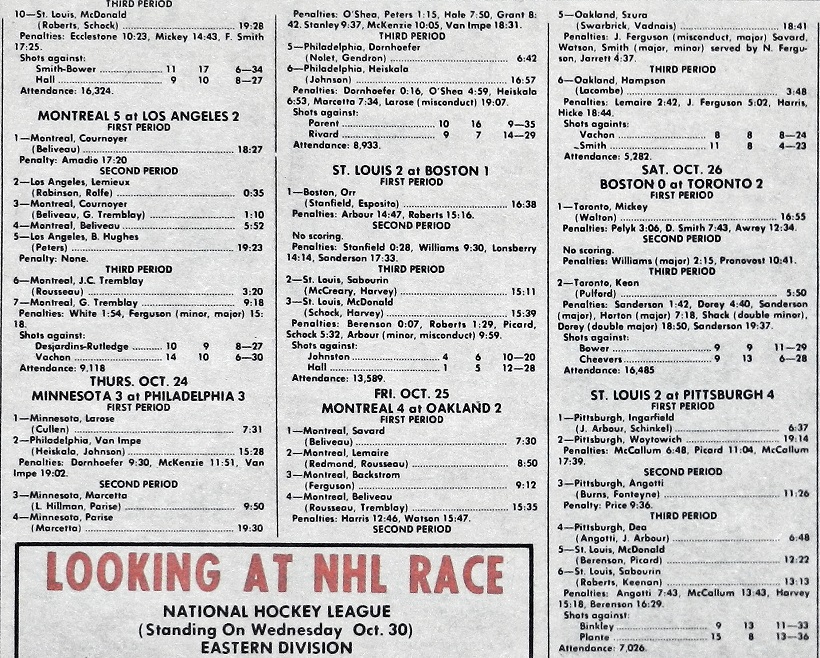 EMAIL: HOWARDLBERGER@GMAIL.COM