TORONTO (July 22) — It's going to require a maverick… a general manager with gonads the size of medicine balls… an executive possessing unlimited belief and self–esteem… one that doesn't give a flying fu** what others think and say about him… and, of course, has the full support of ownership. Kind of a Lou Lamoriello type.
It's difficult to say when, and it sure as hell won't happen tomorrow. At some point, however, a GM in the National Hockey League will put down his foot and keep it there. He will courageously end the lamentable custom of doling out no–trade and no–movement clauses for players negotiating new contracts — either those being retained or acquired via free agency. The NHL Players Association will lose its collective mind. But, someone, somewhere, will ultimately discontinue the trend of employers ceding full command of club management to employees. Which is exclusive to the hifalutin world of sports and entertainment. The message from that GM will be simple and straightforward: "Come sign (or stay) with us. We will look after you and your family with market–value compensation. You will be part of a team legitimately vying for a Stanley Cup. But, we will not allow you to run the show."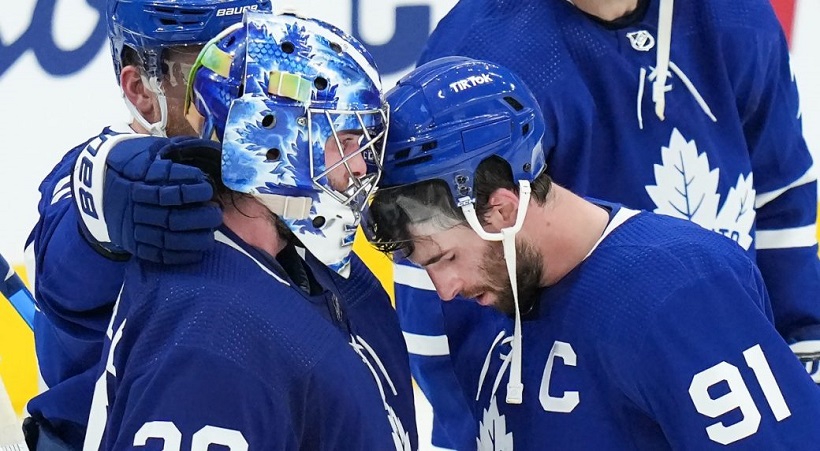 Were, hypothetically, the Toronto Maple Leafs in such a posture, the club, today, would have a bit of soul. And, some authentic hope. Instead, the weak–kneed Leafs are among the torch–bearers for allowing inmates to run the asylum. By providing Auston Matthews and Mitch Marner full control over their contracts at the first opportunity (in a player's seventh NHL season), the Leafs are beholden to a pair of gifted regular season performers that demonstrably (and irrefutably) lack playoff character. Which always prevails over the superfluous additions made to the team under its annual salary cap quandary… and will, again, even amid the procurements of Tyler Bertuzzi, Max Domi and John Klingberg: all of whom, to no one's surprise, were accorded full, no–movement clauses upon signing with the club as free agents. It's also the lone reason there is so much chatter involving forward William Nylander. He's the last of the Mohicans; the only skater worth acquiring that can still be moved, save for the 10–team no–trade list submitted as of July 1. Matthews, Marner, John Tavares and Morgan Rielly — the other movable assets — are enmeshed with complete contract authority, thereby usurping, from management, its capacity to alter a perennial playoff flop. The Maple Leafs likely had no choice but to retain Matthews and Marner beyond the start of this month, when their movement restrictions became functional. After all, what practical GM would assume more than $11 million of salary and cap space for players that are a woeful 1–for–8 in Stanley Cup rounds?
So, the Leafs will again move forward with enviable top–end talent, but the incurable lack of vitality and inspiration that allows for a Stanley Cup threat. Only the most–optimistic and delusional followers of the club — a once–massive group that is steadily dwindling — adhere to the notion that the same, fruitless pattern will lead to a different result. In our society, it's the colloquial definition of "insanity". And, the Leafs have been "deranged" for more than half a decade. In order to accumulate some playoff soul, the Toronto core must be disassembled. This has been proven beyond reasonable doubt. But, neither Brad Treliving, nor God, has the ability to counterbalance a roster that contractually manages itself. The upper–echelon Leaf players have their "bosses" on puppet strings. I challenge anyone to show me a such an enterprise that works efficiently. This calamitous blueprint evolves solely from the endowment of no–trade and no–movement clauses. In that regard, owners and GMs in the NHL are, figuratively, suicidal. None more so than the posse that routinely handcuffs itself in the high offices of Scotiabank Arena.
The cataclysmic custom can be changed only by a daring, dauntless manager with boundless audacity and support. Neither is the notion implausible. In the annals of professional sport, it wasn't all that long ago when players were bound to their teams in perpetuity. That a Philadelphia–based judge would one day abolish the silly Reserve Clause could not have been imagined. More than half–a–century later, the concept of a GM refusing to surrender contractual control is just as farfetched and full of holes. Someone needs to manufacture a detour.
Only then could the Maple Leafs truly begin to envision an end to the longest–ever Stanley Cup drought.
EMAIL: HOWARDLBERGER@GMAIL.COM