TORONTO (Aug. 27) — Yes, the Maple Leafs have hitched their wagon to Auston Matthews for another five years. Which is, assuredly, a good thing for the club — between October and April. But, the waste of money ($53 million) and cap hit ($13.25 million) accorded a gifted shooter with no playoff resume after seven National Hockey League seasons cannot be adequately measured… if the script is not flipped at Stanley Cup time.
As of now, it remains all about the regular season for the Leafs and their fans.
When confronted with this disturbing paradox, apologists for the Maple Leafs invariably deploy Steve Yzerman as a comparable, pointing out — at times breathlessly — that the Hall–of–Fame center did not win his first (of three) NHL titles with Detroit until age 32. Matthews, on the cusp of his 26th birthday, will still be 30 when his second Toronto contract expires in July 2028. Let us, however, delve a bit deeper into the comparison: Yzerman finally lifted the silver mug in the spring of 1997, nearly 14 years after being selected fourth overall (behind Brian Lawton, Sylvain Turgeon and Pat Lafontaine) in the 1983 NHL draft. But, the '97 Red Wings were extraordinarily different than the current Maple Leafs — particularly where it most matters: behind center ice. In goal, rather than the inexperienced Ilya Samsonov and the untested Joseph Woll, the Red Wings had a pair of established playoff performers, Mike Vernon and Chris Osgood. On defense, Detroit was led by the greatest European–born blueliner of all time, Nicklas Lidstrom, then just 27 and entering the prime of his career. Beginning in 2000–01, Lidstrom would win the Norris Trophy six times in seven seasons. The Maple Leafs have never owned a player of such caliber.
Supporting Lidstrom was the rock–solid, veteran trio of Larry Murphy, Viacheslav Fetisov and Vladimir Konstantinov. Absolutely nothing about the current Toronto blue line compares with the 1997 Red Wings.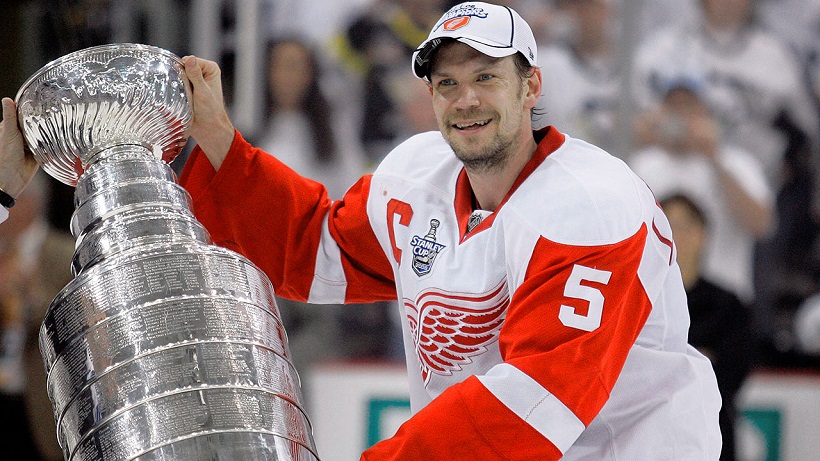 THE MAPLE LEAFS HAVE NEVER OWNED A DEFENSEMAN THE CALIBER OF NICKLAS LIDSTROM.
Up front, Detroit lacked the sheer firepower of Toronto's celebrated Core–4, but sported a rather nifty quartet of its own: Yzerman, Sergei Fedorov, Igor Larionov… and, arguably, the best power–forward in NHL history, none other than Brendan Shanahan. The 2023 Maple Leafs, on the ice, haven't a single skater that carries the physical aptitude of their president. Darren McCarty, Konstantinov (whose career would end in a near–fatal car accident just after the '97 Cup win) and Martin Lapointe added plenty of muscle. Of utmost significance is that all of the aforementioned Detroit skaters could elevate performance as the playoff stakes increased. Only Morgan Rielly accomplished such a feat for the Blue and White in the 2023 Stanley Cup tournament. So, to merely throw out that Yzerman didn't win the NHL championship until age 32 — though accurate — ignores any number of variables.
Oh yeah, there's another minor omission: Scotty Bowman. Hockey's most–decorated coach stood behind the bench with the 1997 Red Wings. His primary contribution was a stern, one–on–one lecture of Yzerman, in which he implored the prolific center–man to pay more heed to his defensive responsibilities. "You can keep putting up triple figures in points but we'll never win the Stanley Cup," Bowman told Yzerman upon replacing Bryan Murray as Detroit coach in 1993. Stevie Y was coming off consecutive seasons of 102, 155, 107, 108, 103 and 137 points, scoring 65, 62 and 58 goals. Yzerman never–again amassed more than 36 goals or 95 points. But, he evolved into a 200–foot performer; much more valuable to Detroit at playoff time. In this realm, Sheldon Keefe deserves credit. Though he is not Scotty Bowman — and Matthews will never be Steve Yzerman — the Toronto coach did persuade his club, and his top scorer, to buy into defensive obligation. Now, Keefe, if possible, must cajole Matthews into carrying over scoring exploits from the regular season; to finally become a "money" player.
Of course, you'll see nothing along these lines in the local or national media, both of which are owned by the Leafs. Instead, reporters, columnists and TV pundits are falling over one another to laud Matthews for being so sweet and accepting less money than he may have commanded. Totally ignored is his latest playoff embarrassment — a no–show with no goals in five games against Florida followed by a thoroughly shameful display in front of reporters three days later. At least Matthews wasn't alone is accepting zero responsibility for the romp by the Panthers; his character–challenged running mates — John Tavares, Mitch Marner and William Nylander — did precisely the same. They all spoke so lovingly of wanting to stay together… and of their "commitment" to the Leafs. Whenever provided an opportunity, however, to show such commitment in the clutch, they disappear.

But, nothing phases Leafs management when it comes to the path of least resistance; not even the largest sample–size of playoff failure by the same group in Toronto sports history. There is never push–back from the media; only compliance. The fans forget within a week of every post–season flop. So, why make the effort toward fundamental change? Auston Matthews has done next to nothing in seven playoff years. He couldn't lead ducks to a pond. The Leafs recognize this yet they keep dipping their toe in the same river, expecting the flow to reverse.
It's called "insanity" and it rules the big hockey decisions at Bay and Lakeshore.
ARGOS DEFENSE IS WORRISOME
The Toronto Argonauts nearly sold all tickets at BMO Field for their game against Calgary Friday night. Those on hand during the annual Canadian National Exhibition fair saw the furtherance of a pattern that could undermine the best Argo team of the past generation. Though Toronto sits atop the East Division with a record of 8–1, and has the best winning percentage (.889) in the Canadian Football League, there's an ominous vibe to each possession by the opposing team, as the Argonaut secondary is routinely getting torched for long touchdown passes.
It happened once against Ottawa on Aug. 13 and three times against the Stampeders in a game the home side narrowly prevailed, 39–31. The ability of quarterback Chad Kelly and the offence to answer opposing drives — and of Javon Leake to score on long punt returns — is masking a major concern in the defensive backfield, which cannot cover deep throws. This could become more of an issue in the absence of DaShaun Amos, whose 2023 season ended on Friday with a broken ankle. Calgary quarterback Jake Maier had a field day against the Double Blue d–backs, tossing for 387 yards and four touchdowns, which included scoring passes of 65, 47 and 39 yards.
Toronto will not defend its Grey Cup title unless defensive coordinator Corey Mace can amend the issue.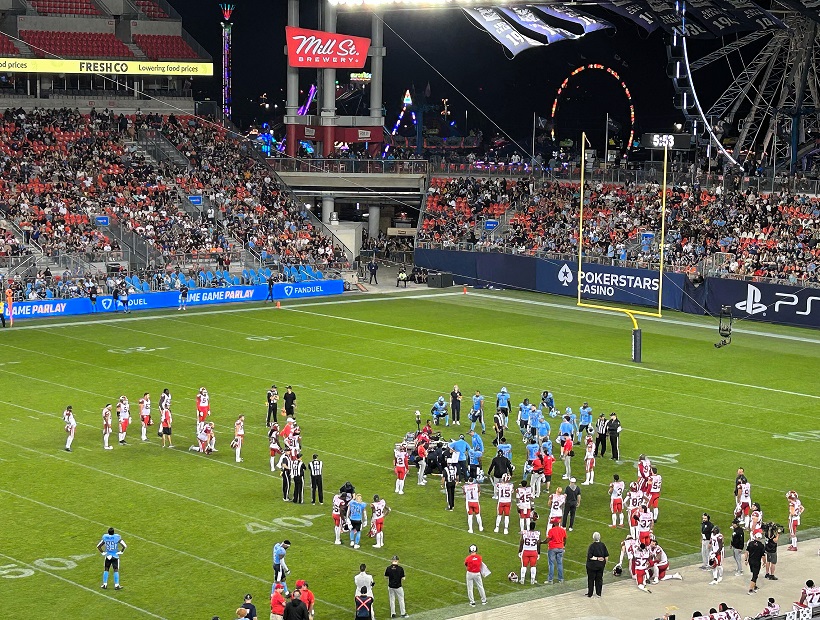 WITH THE CNE FAIR RAGING IN THE BACKGROUND, TORONTO AND CALGARY PLAYERS GATHER TO WATCH MEDICAL PERSONNEL LIFT DEFENSIVE BACK DaSHAUN AMOS ONTO A MOTORIZED CART FRIDAY NIGHT AT BMO FIELD. AMOS LEFT THE FOOTBALL GAME WITH A BROKEN ANKLE. THIS PHOTO FROM MY SEASON TICKETS IN SECTION 225, ROW 9.
An entertaining offense is delightful to watch and the 2023 Argonauts can practically score at will.
Not since the consecutive Grey Cup teams of 1996 and 1997, quarterbacked by the unparalleled Doug Flutie, has Toronto boasted such an attack… and never has the club possessed so many big–play receivers (Damonte Coxie, DaVaris Daniels, Kurleigh Gittens Jr., Cam Phillips). Only once in nine games thus far has Toronto scored fewer than 30 points (a 20–7 loss, Aug. 4, at Calgary). Kelly and his band of ball–catchers have put up 45, 44, 43, 39 and 35 points. Running back A.J. (Twinkle Toes) Ouellette continues to barrel for tough yards, breaking tackles and even deploying a spinerama move for extra ground against the Stampeders. But, it is staunch defense that ultimately wins a championship and the Toronto secondary is nowhere near staunch right now. That has to change.
Next up is the annual Labor Day clash in Hamilton. The Tiger–Cats should be sky high after shocking the B.C. Lions, 30–13, last night in Vancouver. It has frequently been a challenge for Argo teams to prevail in this holiday match, regardless of record. The truly great ones, however, find a way: Flutie and Co. destroyed the TiCats 38–7 (in 1996) and 46–3 (in 1997). Kelly put up 31 points in a victory at Tim Hortons Field in July. Nothing about the sold out audience bothered him that night; nor should it a week from tomorrow. He is the best homegrown quarterback since way back in 1971, when the Argos brought celebrated Notre Dame pivot Joe Theismann to Toronto.
OBIE LOOKING GREAT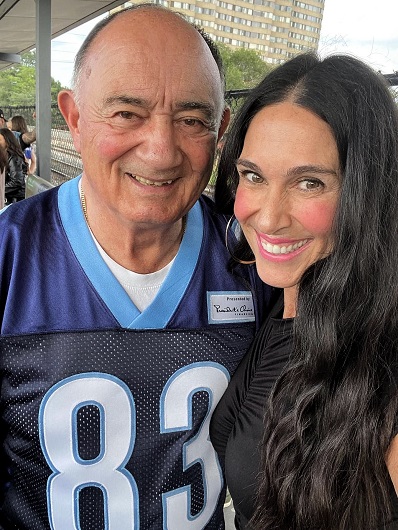 Members of the 1983 Grey Cup–champion Argonauts were at BMO Field on Friday for a 40th anniversary commemoration. Included, was coach Bob O'Billovich, who guided the Argos to their first CFL title in 31 years. Obie is now 83 and looking terrific, as evidenced by the photos, above (at left with his daughter, Jodi). The '83 Argos edged the B.C. Lions, 18–17, to win the Grey Cup. It was the first CFL championship played at the domed stadium in Vancouver. One week earlier, in what remains the most–exciting football game I've ever attended, Toronto narrowly escaped the Eastern Final with a last–minute, 41–36 triumph over Hamilton. It was the only time that all 54,530 seats at old Exhibition Stadium were occupied for a sporting event. Argo running back Cedric Minter scored the winning touchdown in both matches. Two days after the Grey Cup, the Argonauts were greeted by more than 60,000 fans lining Bay Street toward City Hall. Obie and his players were the toast of the town.
EMAIL: HOWARDLBERGER@GMAIL.COM