TORONTO (Aug. 5) — There is no reasonable excuse for such a billion–dollar company as Maple Leaf Sports and Entertainment to stay cheap with its broadcasting arm. This is a money machine that can easily ensure its four major teams have blanket coverage of road games on TV and radio. The latter, however, has fallen victim — it seems for good — to the beggarly practice of play by play announcers calling road matches off TV screens while sitting in a Toronto studio. It is widely and accurately viewed as an embarrassment that MLSE, with its unlimited resources, cannot budget for Joe Bowen (Maple Leafs), Eric Smith (Raptors), Mike Hogan (Argonauts) and Gareth Wheeler (Toronto F.C.) to travel either commercially or (as in the past) on team charter flights that would offer radio listeners full credibility. Instead, the company insists on saving pennies and risking huge mistakes from broadcasters that can neither view the entire field of play nor absorb the environment of a live sporting event.
It's a custom that began, necessarily, during the COVID–19 scourge, when cross–border travel was either forbidden or severely restricted. As with virtually all professional sports teams in North America, it should have ended at MLSE once population immunity began to prevail. Especially as it pertains to the Leafs and their countless followers that have proven resilient beyond measure during the longest–ever Stanley Cup drought (56 years and counting). That the bean–counters at 60 Bay Street cannot justify having Bowen and veteran sidekick Jim Ralph on site for all games is borderline criminal. And, somewhat bizarre given that prime equity in the company (75 percent) is shared by broadcasting behemoths Bell Canada (TSN) and Rogers Communications (Sportsnet). To indicate the financial enormity of MLSE, consider that 25–percent owner Larry Tanenbaum is negotiating to sell a portion of his company holdings to OMERS, a pension plan serving 540,000 Ontario municipal employees. The deal is valued at roughly $800 million. Imagine what the two media giants could command for their 37.5 percent investments.
The money moguls at Bay and Lakeshore can light their cigars with the cash needed to keep radio broadcasters on the road. Yet, they stubbornly insist on avoiding even the negligible tax write–offs for business travel.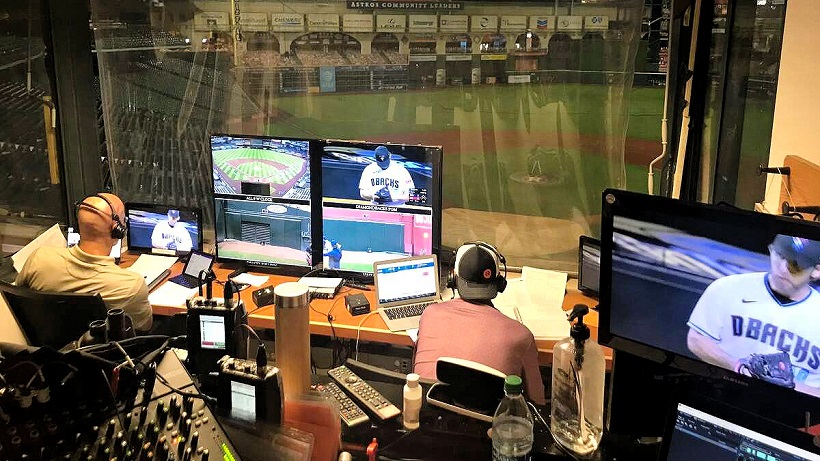 DURING THE COVID PANDEMIC, THE RADIO CREW OF THE HOUSTON ASTROS CALLS A GAME FROM ARIZONA OFF TV MONITORS LOCATED IN THE BROADCAST BOOTH AT EMPTY MINUTE MAID PARK.
"Unless there's a change in policy, MLSE will again keep its radio broadcasters at home," said an industry source. "You look at the football Argonauts (owned by Bell and Tanenbaum). How much could it possibly require to have Mike Hogan on site for nine freaking road games (plus playoffs)? Larry and Judy Tanenbaum probably spend three times that amount to host company parties during the year. The prime TV camera for a football game focuses on the line of scrimmage and the offensive backfield. A radio color commentator, watching a monitor, would have no idea of the defensive formation. As he would while sitting in the stadium press box. How can he conceivably predict the offensive play while viewing only half the field? You take a guy like [FOX NFL analyst] Tony Romo. There are games when he repeatedly anticipates the call in the huddle. There's no chance his audience would receive that benefit were he watching a television monitor. It is the cheapest and riskiest form of live broadcasting.
"The apparent problem, if that's what you wish to call it," continued the source, "is that sending a football crew on the road would likely cause an uproar with the other team broadcasters at MLSE. How, for instance, could Joe Bowen rationalize sitting in a studio and calling Maple Leaf games off a TV while Hogan travels with the Argos, who have a fraction of the following? So, instead of paying for all of its radio crews to be on site — as it once did and still should — they all stay home. It's a bad look for a company that is normally concerned about image."
MLSE got shamed into sending Bowen and Ralph to Sunrise, Fla. for the second–round playoff clash between the Maple Leafs and Panthers. That occurred after Bowen — inadvertently, yet unavoidably — misidentified the scorer that ended the first–round series, against Tampa, in overtime of Game 6. While calling the action off TV in Toronto, Bowen watched as the camera at Amalie Arena showed defenseman Morgan Rielly celebrating the decisive marker. As would anyone in his position, Joe assumed Rielly had won the series with another clutch goal. Instead, it was John Tavares who beat Andrei Vasilevskiy with a low shot from 20 feet. Rather than continuing to focus on Tavares, the Sportsnet camera–switcher oddly chose a close–up of Rielly, arms raised in triumph, racing toward Tavares near center ice. Bowen had no choice but to conclude that Morgan had again played hero for the visitors.
He and Ralph were on site for the entire Florida series. No questions asked.

PRIOR TO THE COVID–19 PANDEMIC, JOE BOWEN AND JIM RALPH WERE ON SITE FOR ALL LEAFS ROAD GAMES, SUCH AS THIS MATCH AT THE UNITED CENTER IN CHICAGO. THEY SHOULD BE, AGAIN.
So, why would MLSE return to its frugal policy? Simply because it can. There is no strategic benefit to keeping a radio crew off the road and in a studio. It is penny pinching for a business that overwhelmingly makes its name, and gargantuan profit, from its hockey wing. Next time you're near Scotiabank Arena, gaze at the enormous condominium towers that surround Maple Leaf Square. All financed, primarily, by the clout and influence of the Leafs logo. And, the stunning paradox is that neither MLSE, nor any sports owner, could pull such an inferior stunt if not for the blanket competence and professionalism of its broadcasters. Bowen and Ralph have snookered themselves by making it sound as if they're in a particular city — a complex and remarkable achievement. Same goes for Hogan, Eric Smith and Gareth Wheeler. They should be rewarded, not punished, for their unique talents.
At least it appears (though not yet confirmed) that Bowen and Ralph will sign new contracts. There was loud chatter, after the Maple Leafs playoff elimination, that MLSE would simulcast hockey telecasts on radio.
Which would be the ultimate insult for local sports fans.
EMAIL: HOWARDLBERGER@GMAIL.COM