TORONTO (Sep. 28) — Evidently, there is no further space for a bronze statue along Legends Row. Too bad. If not, Easton Cowan would likely be joining Dave Keon, Tim Horton, Johnny Bower, Darryl Sittler and the others outside the west plaza of Scotiabank Arena. After all, Cowan had a good pre–season game the other night. And, nothing more is required in this goofy hockey town to perch a rookie on the highest pedestal. That, and the undeniable fact there are no other stories involving the Toronto Maple Leafs, save for William Nylander being shifted from wing to center. Which got beaten all to death by every media outlet in the first three days of training camp.
So, yeah, Easton Cowan came along, scoring on someone named Mads Sogaard while adding an assist in a 4–3 overtime loss to the Ottawa Senators Monday night. Cowan was also stopped by Sogaard on a first–period penalty shot. Incredibly, there were 6,000 empty seats at SBA. But, think of the 14,000 or so that will tell grandchildren where they were the night Cowan had his "breakout game". Happily, there are future exhibitions — beginning last night, against Buffalo, in St. Thomas, Ont. — or we'd be reading about Cowan's goal until the regular season begins in three weeks. Conclusions, after all, are attained rather quickly by the media that covers the Leafs. Long before Cowan, we had Joseph Woll and Matthew Knies being fitted for Hall–of–Fame jackets. How much longer can reporters and pundits hold off before similarly anointing the club's first–round draft choice from this summer?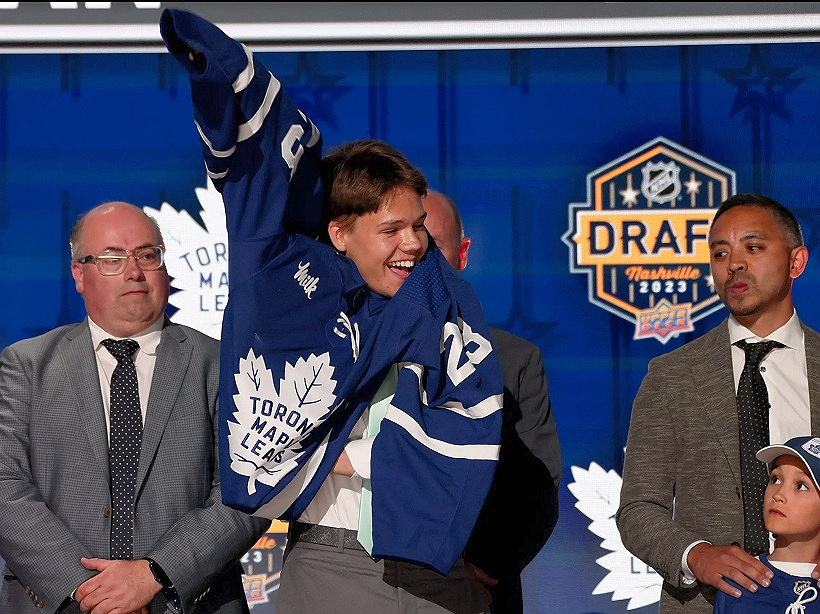 Alright, I'm being a jerk.
The kid stepped up the other night and richly earned a second look (he added an assist on Wednesday in a 5–2 victory over the Sabres). Which is precisely what any team would hope for with its No. 1 pick. But, holy mother of God, allow Cowan to breathe a little. For as long as anyone can recall, Leaf prospects have been practically knighted during the exhibition schedule. I remember in 1999 how Syl Apps III, grandson of the Maple Leafs Hall–of–Famer, excelled during a couple of pre–season matches. He was too slight to crack a veteran roster, particularly one coached by the late Pat Quinn, but we anointed him nonetheless. So, I was guilty, then, of the overkill reporters today often provide (after two goals and two assists against Buffalo, how long before Conor Timmins generates a Borje Salming comparison?). Until the Leafs furnish a Stanley Cup challenge — its been 56 years since they last played for the silver mug and more than 30 years since Pat Burns, Doug Gilmour and Co. advanced to Game 7 of the Cup semifinals — training camp news will be overblown. As it is, right now, with Easton Cowan.
That said, the Leafs and their fans should appropriately celebrate any advancement by a first draft pick, especially after the tragic loss, to brain cancer, of Rodian Amirov, the club's No. 1 selection in 2020.
ARGOS NEED TO BE ARMED
Neither TSN nor casual fans of the Canadian Football League will be happy with the decision of Ryan Dinwiddie to rest starting quarterback Chad Kelly on Friday night. This was building toward the game of the season in the CFL, as the 12–1 Toronto Argonauts visit the 10–4 Winnipeg Blue Bombers in a clash between the Grey Cup participants of a year ago (it cannot be a "Grey Cup rematch" during the regular season; only if the clubs return to the championship game). But, Dinwiddie, the Toronto coach, has made a prudent decision to start back–up Cameron Dukes at I.G. Field. With first place in the East Division locked up two weeks ago, nothing ranks in importance beyond the Argos discovering whether they have quality assurance at quarterback. If Dukes cannot provide it, general manager Mike (Pinball) Clemons will need to make a trade before the October deadline.
Under no circumstance can the 2023 Boatmen go into the playoffs without an established arm behind Kelly.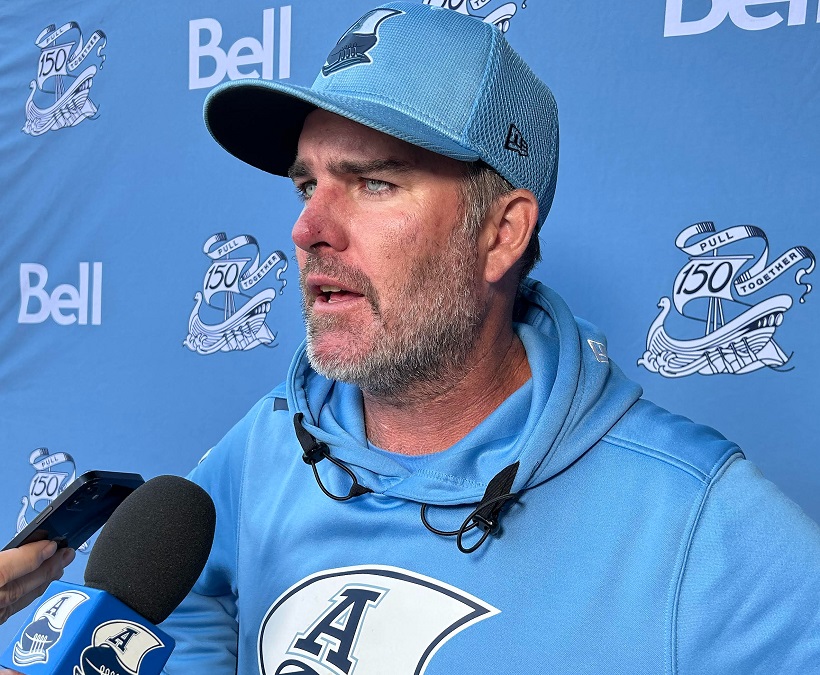 "Yeah, no question, you've got to get your back–up some reps," said Dinwiddie, pictured above after practice on Wednesday. "This is a chance to evaluate Cameron in a tough environment (Winnipeg) against an excellent team. Our position in the standings gives us the luxury to look at some people. As for fans or the league being upset at our decision, we have ten games to finish the schedule without a bye week. So, we have to rest guys and look at the bigger picture. I said last week that I won't allow the media to dictate who we dress. Our players understand the situation. I told them again today that all games matter, regardless of importance. We have to be mentally prepared to go into Winnipeg. If we sleep walk, the Blue Bombers will pound us. We know that. But, my focus is to keep guys that are beaten up away from the field. Our team has to be at full health for (the Nov. 11) Eastern final."
Which is all that matters, even with five games remaining on the schedule. A Toronto sports fan should offer begrudging praise after watching the Maple Leafs — year after year — strive for regular–season accomplishment. With nothing to show when it matters, the fancy Leaf stats become a distant memory each spring. The Argonauts, by comparison, have engorged on a pathetic East Division to accrue the CFL's best record… and the best–ever franchise mark after 13 games. They know that nothing shy of a second Grey Cup appearance will be acceptable.
Unless Dukes, therefore, has a field day against the Blue Bombers — and the chances are slim — Clemons will need to acquire a pivot. Though the Argos would never admit to or discuss this, I wouldn't be surprised if there's a hush–hush arrangement in place for McLeod Bethel–Thompson to rejoin the club. Thompson cannot compare to Kelly, but he has abundant CFL experience and played his best game as an Argo in the Eastern final, last November, against Montreal. He then put the club in position to upset Winnipeg in the Grey Cup on Kelly's decisive touchdown drive. Bethel–Thompson started all ten games, this year, for New Orleans of the United States Football League, but was released afterward (on July 23). He'd provide decent assurance for the Double Blue.
Otherwise, Pinball has to scour the current CFL for an established arm.
My choice would be back–up Caleb Evans of the Alouettes, but he'll be difficult to acquire with Montreal likely to make the playoffs. A Kelly–Evans tandem would provide the Argos quality and depth at the game's most–critical spot. Failing that, could Clemons pry Bo Levi Mitchell out of Hamilton, which will also likely qualify for the post season? Providing the veteran passer is fully recovered from the fractured leg he sustained, at Ottawa, July 28? Another option would be Trevor Harris of the Saskatchewan Roughriders; originally an Argo (2012–15), Harris, now 37, cracked a knee against Calgary on July 15, but is quickly recovering. Rookie Jake Dolegala stepped in for Harris and Saskatchewan, though a pedestrian 6–8, is in strong position to make the playoffs. Nick Arbuckle, the one–time Argo, is backup to Dustin Crum in Ottawa. He, too, has substantial CFL experience. The other non–playoff teams will not likely offer up trade bait. Jake Maier appears to be Calgary's quarterback–of–the–future while Canadian rookie Tre Ford is all that separates the Edmonton Elks, at the moment, from borderline irrelevance.
Whatever it takes, Clemons needs an experienced No. 2 quarterback for the Nov. 11 Eastern final.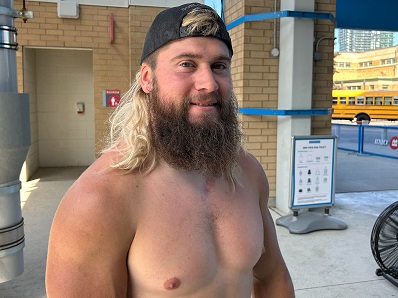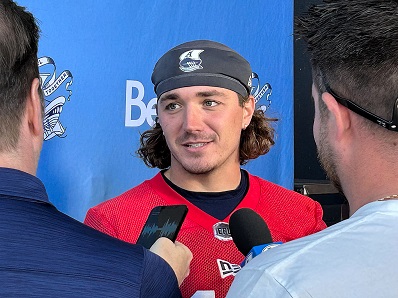 A.J. THE EVERYMAN: The most–popular Argo, running back A.J. Ouellette (top–left), sat out healthy against Hamilton last weekend, but will suit up on Friday in Winnipeg. Instead of hanging around the dressing room before the Tiger–Cats game, Ouellette joined a group of Argo fans tailgating in the parking lot south of BMO Field. "I understood coach's decision, but it still killed me," admitted A.J. "Instead of preparing for a game, which is the normal routine, I kept my mind busy with friends and relatives. I was staying at Hotel X (on the CNE grounds). Late in the day, I looked out the window and saw a whole bunch of fans enjoying the pre–game atmosphere. So, I figured, why not join them? I like representing the Argos in public, especially in a spontaneous environment like that."
Ouellette will need to provide Dukes (top–right) some running support against the Blue Bombers. He's happy to again pull on the No. 34 uniform, though the BMO Field gathering, last Saturday, of close to 16,000 impressed him. "You don't really hear the crowd when you're playing; it's mostly a distant sound," A.J. said. "But, standing on the sidelines next to Andrew (Harris, on the six–game injured list) offered a different perspective. Heck, it was loud down there. Of course, I enjoyed turning around and rousing the people with my arms to make more noise.
"But, I'd rather be on the field."
BACK IN THE DAY…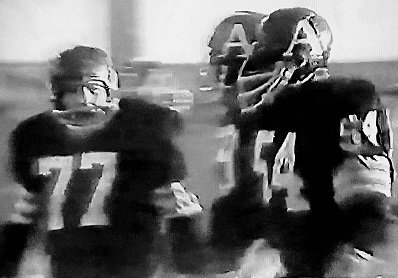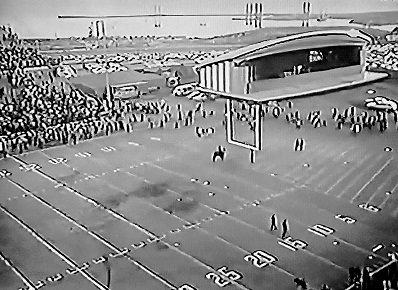 As the best Argos team (by record) after 13 games prepares itself for the East Division final on Nov. 11, we return to Nov. 16, 1969 and a playoff at old CNE Stadium against the Ottawa Rough Riders. This was the opener of a two–game, total–points East final — the club with most combined points advancing to the Grey Cup. It was the heyday of Canadian football here in Toronto, with all 33,135 seats accounted for. These images are from the CBC telecast. (Top–left): Peter Martin (77) and Ed Harrington (54) were defensive mainstays of Leo Cahill's Argonaut teams. (Top–right): View from the press box shows the grass field, part of the 12,000–seat south bleacher and the grandstand stage, which resided beyond the west end zone after hosting concerts during the annual CNE fair.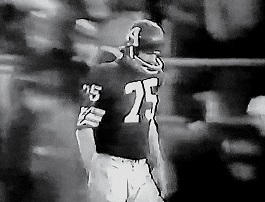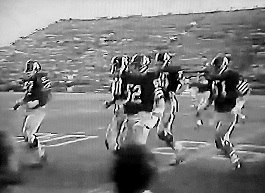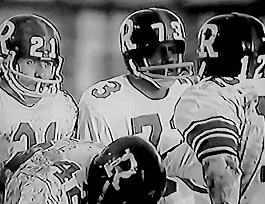 (Top–left): Mel Profit (75) played tight end for the '69 Argos; he was the most–popular athlete in town with his good looks and flowing blond hair. (Center): TV view of the 12,000–seat bleacher on the south side of CNE Stadium as the Argos offense returned to the sideline. (Right): Running back Wayne Giardino (21) looked intently at quarterback Russ Jackson (12) of the Rough Riders during an offensive huddle. No. 73 was receiver Margene Atkins.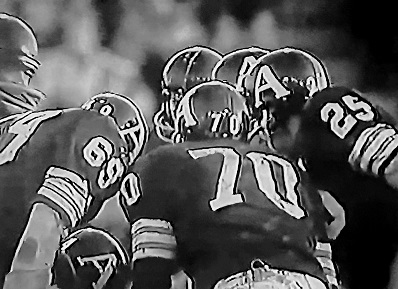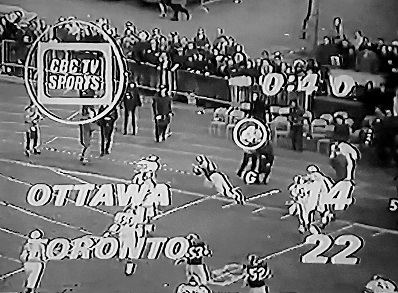 (Top–left): More of Cahill's defensive stalwarts — Dave Knechtel (69), Mike Blum (70) and Dick Thornton (25). (Top–right): CBC shows the final score, with an image of Argos quarterback Tom Wilkinson diving into the east end zone for the last touchdown. Toronto carried an eight–point lead into Game 2 but got clobbered, 32–3, at Lansdowne Park. Ottawa won the two–game series, 46–25, and defeated Saskatchewan for the CFL title.
EMAIL: HOWARDLBERGER@GMAIL.COM