TORONTO (Sep. 10) — In a season with virtually the same story lines for the Toronto Maple Leafs, a surprising narrative may evolve. It's only a hunch, but I can see a healthy John Klingberg putting up career numbers on the Toronto blue line. Signed as a free agent from Minnesota for one year and $4.15 million — a salary that many considered lavish — Klingberg was the Leafs most–gifted acquisition of the off season. The native of Gothenburg, Sweden recorded 67, 58 and 49 points for the Dallas Stars prior to the pandemic. His performance has tailed off noticeably in the post–COVID era, but he may have found himself a perfect situation in which to rebound.
Skilled players feed off other skilled players. As such, Klingberg is positioned to thrive on a club that includes Auston Matthews, Mitch Marner, John Tavares, William Nylander, Tyler Bertuzzi and Morgan Rielly. Especially if the Toronto powerplay remains potent. While skating with the man advantage last season, the Maple Leafs finished second to Edmonton, scoring 64 goals in 246 opportunities for a splendid 26.02% powerplay efficiency (the Oilers were at 32.36%). Klingberg, when at his best, has a heavy and accurate shot from the right point — a luxury in the National Hockey League. He is tall and rangy (6–foot–3, 190 pounds) and possesses a long reach.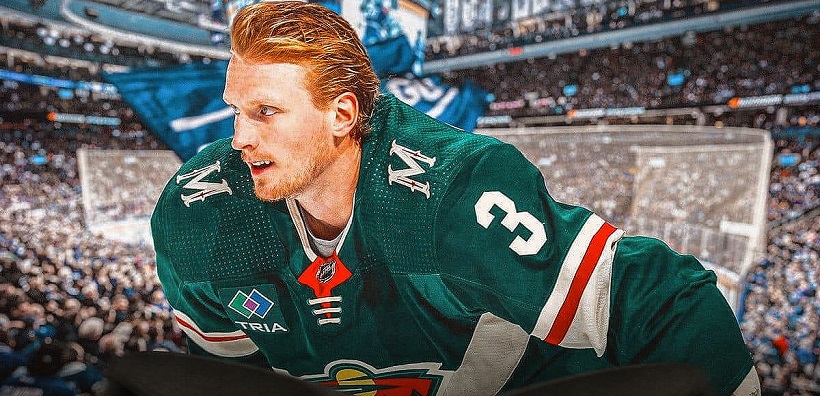 Conversely, Johnny K. is remarkably soft for his size; neither will that change in a Toronto jersey. Klingberg will occasionally drive Leaf fans to distraction while being physically dominated by smaller opponents. But, when the Toronto attack is clicking, I suspect the lanky newcomer may become as prominent as earlier in his career. In fact, he could mesh spectacularly with the ubiquitous Core–4, perhaps threatening some of the higher scoring numbers for Leaf defensemen through the years. Here are the Top 5 point–getters in a season among Toronto blueliners:
79 — Ian Turnbull, 1976–77 (22 goals, 57 assists)
78 — Borje Salming, 1976–77 (12 goals, 66 assists)
76 — Borje Salming, 1977–78 (16 goals, 60 assists)
73 — Borje Salming, 1978–79 (17 goals, 56 assists)
72 — Morgan Rielly, 2018–19 (20 goals, 52 assists)
Klingberg's best NHL season to date — 67 points for Dallas in 2017–18 — would tie him for ninth place in Maple Leafs history with Tomas Kaberle, who amassed that total in 2005–06. John's 67 points were accrued in 82 games, marking the last time he dressed for an entire schedule. He underwent hand surgery on Nov. 9, 2018, which sidelined him until Dec. 20 of that season and is viewed as a major culprit in his recent decline. As such, expecting him to bounce back with a career year may be foolhardy. But, I have played the fool with the best of them while covering the Maple Leafs through the decades. So, why not climb the rickety tree branch yet again?
I predict Klingberg with accrue 17 goals and 54 assists for a career–best 71 points. That would tie him with Borje Salming (1979–80) for the sixth–highest total in franchise history. He will be a vital cog in the Toronto powerplay, helping to keep it in the NHL's top four. In so doing, Klingberg will contend for Comeback Player–of–the–Year. And, the Leafs will top 100 points in the standings for a third consecutive season (the sixth time in club annals).
After that...???
MIGHT THE ARGOS BE TOO GOOD?
Still providing local sports fans the best show in town, the Toronto Argonauts are on the cusp of wrapping up first place in the East Division of the Canadian Football League… with still one–third of the schedule to be played.
While that sounds Utopian to some, rendering meaningless the final six games of the season could become the ultimate challenge for the 2023 Boatmen: a CFL–leading 10–1 after Saturday's 39–10 beatdown of the Montreal Alouettes at BMO Field. Another victory over the Als, in Montreal, on Friday night will clinch top spot in the East for the third consecutive season — matching the two best runs in franchise history (1920–21–22 / 1982–83–84). Then will come the final six games of the schedule: vs. Hamilton (Sep. 23); at Winnipeg (Sep. 29); vs. Edmonton (Oct. 6); vs. Ottawa (Oct. 14); at Saskatchewan (Oct. 21); at Ottawa (Oct. 28). None will matter in the standings for the Argos… but could be vitally important for the opposition. There is also the presumptive Grey Cup preview against the Blue Bombers at I.G. Field, the lone meeting between the CFL's runaway best clubs in 2023.
If the Argonauts show up flat in Winnipeg, they could get embarrassed.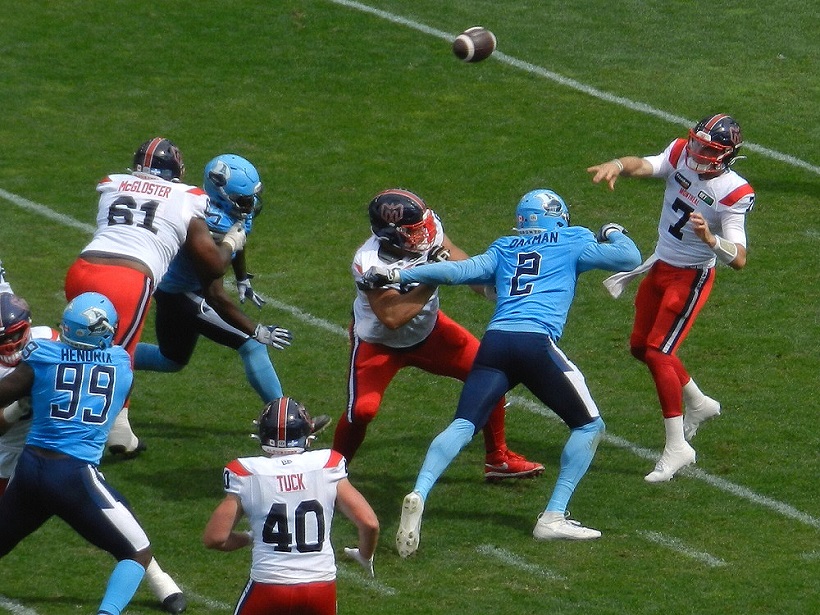 MONTREAL QUARTERBACK CODY FAJARDO RELEASED THE BALL JUST IN TIME ON SATURDAY, WITH SHAWN OAKMAN OF TORONTO CLOSING IN. FAJARDO, WHO CUT HIS CFL TEETH WITH THE ARGONAUTS, PLAYED WELL, BUT HIS TEAM WAS NO MATCH FOR THE SOARING DOUBLE BLUE.
Coach Ryan Dinwiddie will, however, be able to rest players prior to hosting the CFL East final on Saturday, Nov. 11 (3 p.m. kickoff). That will include two idle weeks for the club after the regular season. Dinwiddie will therefore encounter one of the biggest hazards in three years coaching the Double Blue: keeping his players mentally and physically engaged through the last–third of the schedule. There will be a long stretch (Sep. 23 to Oct. 28) of games that do not impact the standings, as Toronto has made a shambles of the East Division, leading second–place Montreal by eight points. We've seen in the National Hockey League examples of teams being home and cooled out atop the standings long before the end of the regular season. When those remarkable clubs (1995–96 Detroit, 62 wins / 2018–19 Tampa Bay, 62 wins) / 2022–23 Boston, 65 wins) suddenly had to win, they couldn't.
Meaningless games will also be a tough sell at the BMO Field box office.
But, you cannot expect the Argos to lose, just so the final month of the regular season matters.
This is, unquestionably, the best Toronto team since the greatest Argo club of all time — the 1997 Grey Cup champion (quarterbacked by Doug Flutie) that finished 15–3, outscoring its opposition 660–327 (or 36.7 to 18.2 per game). That 18.5–point margin of victory throughout the season will be nearly impossible to match, even if the current Argos are a game better, right now, than the '97 club (9–2 after 11 starts). Toronto, in 2023, has outscored its rivals 387–244 (or 35.2 to 22.2 per match). Winning by an average of 13 points is mightily impressive, but still 5.5 points inferior to the 1997 squad. Similarities, however, abound on offence, with Kelly not quite as spectacular as Flutie, but still battling Zach Collaros of Winnipeg for optimum quarterback numbers in the CFL.
The Argo running attack is just as potent, with A.J. Ouellette solidly resembling the best Toronto back in my years: Robert Drummond (of Syracuse). But, even the '96 and '97 Argos did not possess such a bounty of terrific receivers. Paul Masotti, Jimmy (the Jet) Cunningham and Darrell (Mookie) Mitchell were formidable, but not as deep as the group that includes Damonte Coxie, DaVaris Daniels, Kurleigh Gittens Jr., Cam Phillips, David Ungerer III, Dejon Brissett and Tommy Nield. All can make big plays. All have made big plays for the 2023 Boatmen.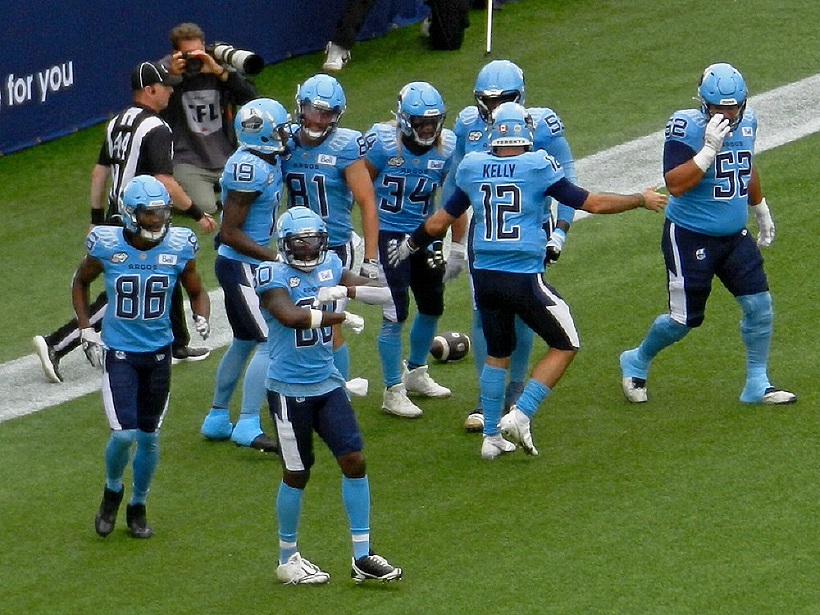 QUARTERBACK CHAD KELLY (12) ARRIVED TO JOIN THE END ZONE CELEBRATION AFTER RUNNING BACK A.J. OUELLETTE (34) GAVE THE ARGOS AN EARLY 14–0 LEAD OVER THE ALOUETTES.
There are concerns on defense, where the Argos have lost, to injury, arguably their two best coverage backs — DaShaun Amos and Robertson Daniel. Amos is gone for the season after sustaining a broken ankle at BMO Field, against Calgary, on Aug. 25. Daniel had three interceptions at home against the B.C. Lions on July 3 (Argos won, 45–24) and will be very difficult to replace if sidelined for a prolonged stretch. He was helped off the field in the second quarter on Saturday and did not return. Both constitute major setbacks for the Double Blue.
Here are more of my NIKON photos from Saturday afternoon's match at BMO Field: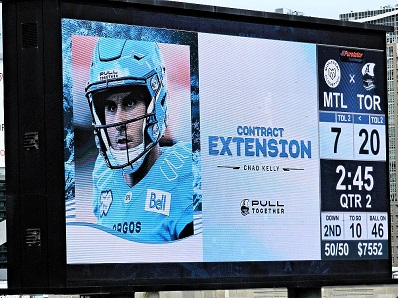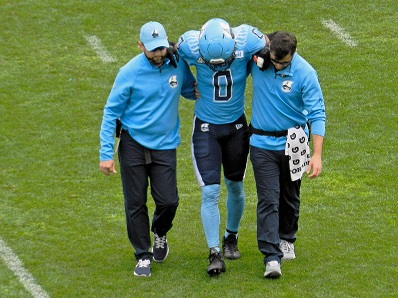 THERE WAS GOOD AND BAD NEWS FOR THE PARTISAN CNE CROWD. CHAD KELLY IS LIKELY HERE TO STAY. BUT, THERE'S NO TELLING HOW LONG STAR DEFENSIVE BACK ROBERTSON DANIEL (0) WILL BE SIDELINED.


IT WAS QUIET ON THE ARGONAUTS BENCH AS DANIEL (FAR RIGHT) HAD HIS LEG ATTENDED TO. WATCHING THE ACTION WERE TEAMMATES DAMONTE COXIE, KURLEIGH GITTENS JR., TOMMY NIELD AND DaVARIS DANIELS.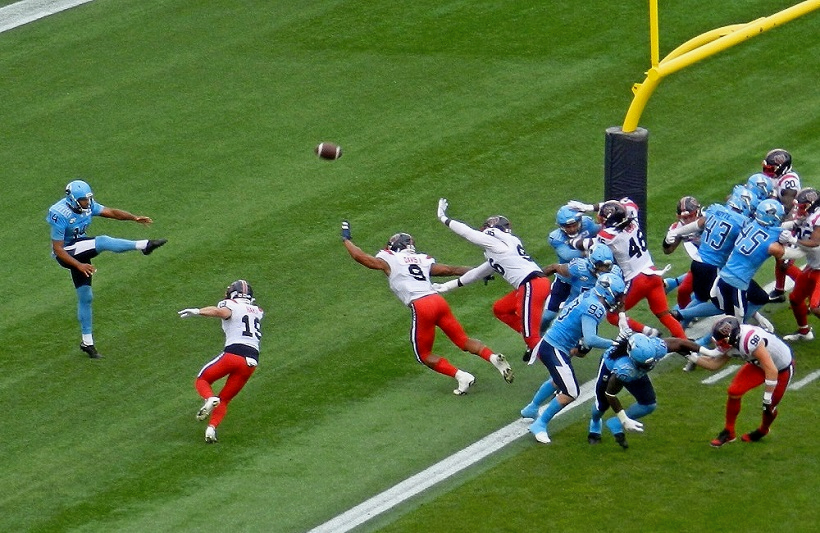 ONLY TWICE DID THE ARGOS HAVE POOR FIELD POSITION ON SATURDAY. ON ONE–SUCH OCCASION, BORIS BEDE HAD TO PUNT FROM HIS END ZONE. BUT, THREE MONTREAL TURNOVERS KEPT THE FIELD SHORT FOR THE BOATMEN.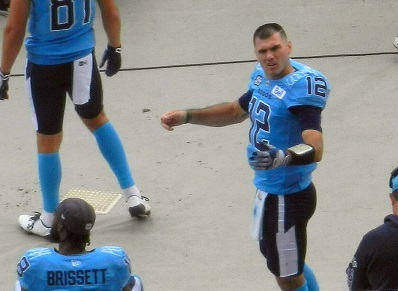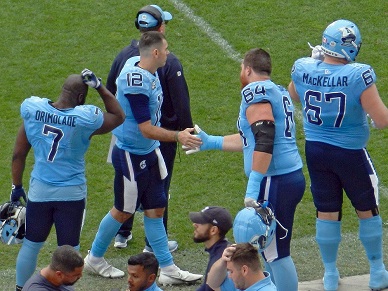 LATE IN THE GAME, WITH HIS TEAM COMFORTABLY IN FRONT, KELLY (12) ATTEMPTED TO ROUSE THE AUDIENCE BEHIND THE BENCH. HE CAME OUT OF THE MATCH AND RECEIVED A CONGRATULATORY HANDSHAKE FROM OFFENSIVE GUARD DYLAN GRIFFIN (64). SCRATCHING HIS BALDNESS WAS ACE DEFENSIVE END FOLARIN ORIMOLADE (7).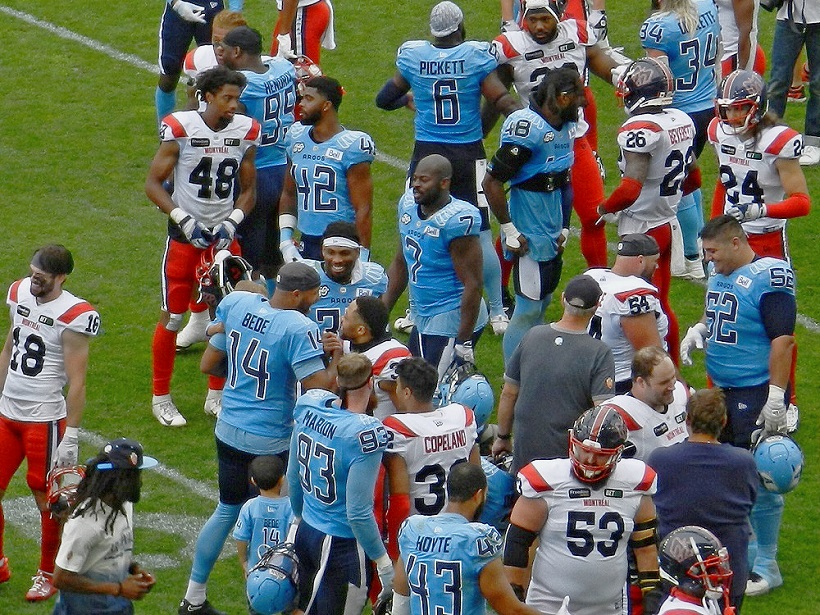 THE PLAYERS WEREN'T PARTICULARLY FRIENDLY DURING THE GAME, AS THERE WERE SEVERAL SCRUMS AND SHOVING MATCHES. AFTERWARD, HOWEVER (ABOVE), IT WAS ALL IN GOOD FUN.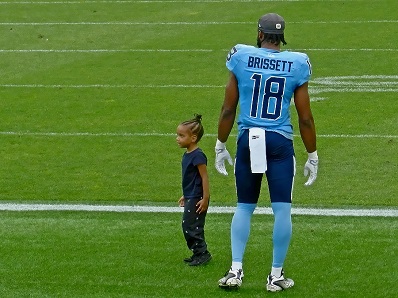 TORONTO BECAME THE FIRST CFL TEAM TO CLINCH A PLAYOFF BERTH (WINNIPEG WAS SECOND, LATER IN THE DAY) WITH ITS 29–POINT ROUT OF THE ALOUETTES. TO THE POST–GAME DELIGHT OF DEJON BRISSETT AND DAUGHTER.
EMAIL: HOWARDLBERGER@GMAIL.COM