TORONTO (Oct. 30) — There is no way to sugarcoat, embellish or minimize what I'm about to say. So, here it is: On three occasions in the past month, my great friend and former FAN–590 colleague, Stormin' Norm Rumack, has tried to kill himself.
That none of the attempts were successful — thereby precluding a heartsick obituary in this space — is an incomprehensible relief. "Yes, I hit rock–bottom and felt I wanted to end my life," Norm confessed when I visited him today at Mount Sinai Hospital. "With some perspective, now, I thank God that he spared me. I'll get through this okay. I understand that I still have some things to accomplish down here. And, if by telling my story, I can help even one person to avoid or think twice about where I nearly went, the entire experience will be worthwhile."
Here is the sequence of events as they occurred to me: On Saturday, Norm's friend, Joe Peisich, sent a note, asking me to call. He said it was important. I was in the middle of writing a blog and had to work that night. So, I didn't immediately return the message. When Joe later texted "it's about Norm… and bad" I feared the worst. I was told that Norm had made three attempts on his life. There were no other details, except that Norm was recovering at Mount Sinai Hospital. The following day, Joe sent me a story from the all–news television station, CP–24, that told of an unidentified man "falling" into a construction hole near the Spadina Village (where he lived) and sustaining grievous injuries. Turns out the unidentified person was Norm. After Joe told me of the three suicide attempts, I suspected that Norm had jumped into the hole from a height, looking to end his life.
In fact, it was divine intervention that saved his life.
"I barely remember what happened, other than swallowing another batch of sleeping pills," Norm explained. "I was in a complete fog. I didn't 'jump' into any hole. I guess I was walking along Spadina, near my condo, and didn't see the hazard. Next thing I knew, I was five or six feet below the ground, covered in mud and water."
This had not been communicated when I drove downtown to visit Norm. As such, I was expecting to walk into the hospital room of a man wearing a full body cast. Instead, I opened the door and was pleasantly startled by the vision of Norm strolling toward me with the smile that could light up a dark arena. And, without a visible scratch.
"I guess I'm not very good at suicide," he laughed, which immediately brightened the atmosphere and led to a long, warm hug. "Falling in that hole was a gift from God. Not only did I somehow escape with my life, but it served as a slap to the face. When I was taken to hospital and realized I had only a scrape on the inside of my leg, I felt so incredibly relieved. I've heard stories about other people failing at suicide and being thoroughly disappointed. I was the opposite. I felt blessed. I realized that God had somehow protected me from badly hurting myself."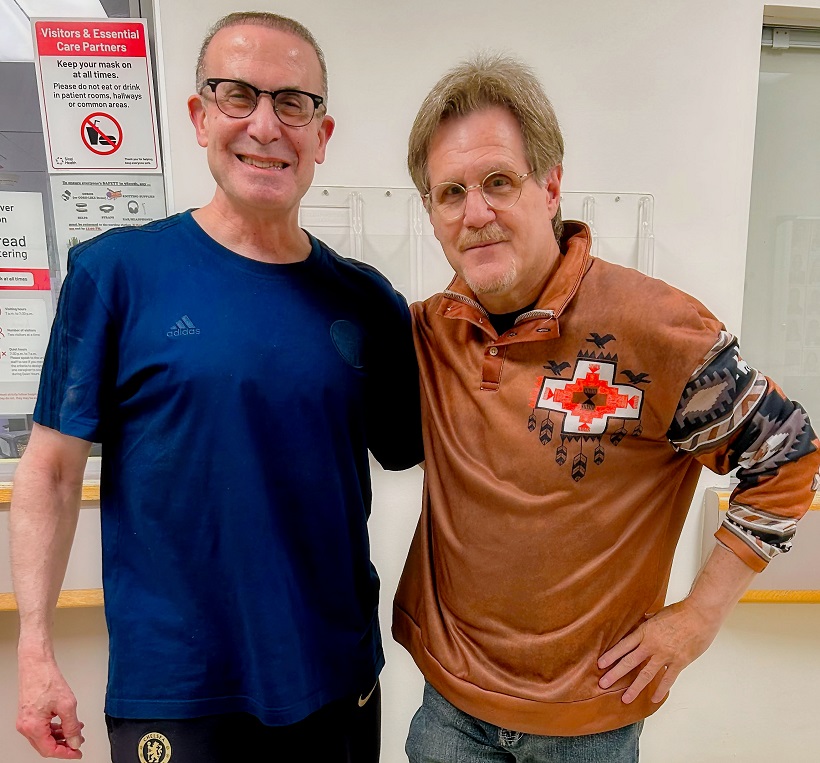 HAPPY TO SAY THAT MY OL' PAL, STORMIN' NORM RUMACK, IS STARTING TO FEEL AS WELL AS HE LOOKED, EARLIER TODAY, WHEN I SPENT TIME WITH HIM DOWNTOWN AT MOUNT SINAI HOSPITAL.
The unanswered question, of course, is what induced Norm to attain such a depth.
"I don't have a reasonable answer," he said. "When you get into a funk like that, you don't even know what you're doing." The only excuse Norm came up with was nonsensical. "Both my parents are dead; I miss them very much and and my brother, Marty, is my closest relative. I somehow got it into my head that he and his wife (Judy) wouldn't be there for me if something bad happened. That I had let him down and he wouldn't love me as much anymore." Which was the sports equivalent of Tom Brady worrying, today, that he didn't accomplish enough in his years with the New England Patriots. Again… utter claptrap. No two siblings share a greater degree of love and affection than Norm and Marty. "I know… it sounds crazy," Norm said. "But, how do you explain what happens when a person wants to end his life? Subsequent conversations have shown that my concern had no merit.
"I feel so grateful that God spared me and allowed me to hear those words of comfort from Marty."
Another factor was left unspoken by Norm. Many of you remember him as the "Late Night Vampire" from the early years of all–sports radio at what, today, is Sportsnet–590. In fact, no person other than Bob McCown, in the 31–year history of the format, created such a legacy. Norm's screaming matches on the air with passionate fans of the Maple Leafs are legendary to this day. When a particularly deranged caller made it through, Norm would play a two–word jingle: "Hammerhead Alert!" A promoter created T–shirts with the jingle and Norm couldn't get his hands on enough of them. "For awhile, around 1993 and '94, it seemed like half the city had one of my shirts."
Other broadcasters in our key morning and afternoon hours — Mike Inglis, Joe Bowen, Pat Marsden, John Derringer, Gord Stellick — had made their fame elsewhere. Norm created his "character" from scratch and his remarkable, late–night run lasted for more than 15 years — longer than a highly rated television show.
When, without indication, it ended on a June morning in 2009, we walked around the radio station like zombies for three days. "How could they let Norm go?" we wondered. "He practically created this place."
Nelson Millman, the program director that had to make the gut–wrenching call, sent out a note saying we had lost "the soul" of The FAN–590. Which couldn't have been more accurate. Economics after the 2008 recession, however, indicated that Norm's hours were no longer generating appropriate advertising revenue. An invisible executioner from above — the cowardly Paul Ski of Rogers' management — sent word that Nelson had to cut a staff person. Rumack was chopped. Sadly, inexplicably and unfairly, Norm hasn't gotten a professional bounce since that fateful day nearly 1½ decades ago. Which is a long friggin' time to experience disappointment. He fell into financial despair and has been working, in the past five years, as a condominium Concierge. When my mother, Sandee, was dying of cancer in late–1995, I began to grieve and read the book "WHY BAD THINGS HAPPEN TO GOOD PEOPLE." Norm could be the subject of a second edition. He deserves so much more than he's received.

NORM RUMACK DURING HIS HALCYON ERA AS THE "LATE NIGHT VAMPIRE" OF THE FAN–590.
"I guess I just lost my way," Norm said of the suicide attempts.
On three occasions, he took enough sleeping pills to get sick, but not to die.
"I remember a horrible feeling in my chest when the pills began to take effect," he said. "I realized I was a mess… and that I truly did not want to die. Otherwise, I would have swallowed the whole bottle and gotten on with it."
What Norm lost sight of is the gift he carries every living hour — an attribute that can neither be measured by dollars and cents, nor acquired. He is simply the salt of the Earth; as kind, friendly and engaging as any person I've known in my life. Norm is the product of a loving, nurturing boyhood as the son of the late Murray and Sylvia Rumack. They raised him a mensch and he's carried himself as such through his entire 68 years. That he hasn't gotten a break in his professional life since 2009 is unfortunate, but in no way defines what is truly important about Norm. I told him today that I can count on less than one hand the people about which I have never heard spoken a nasty syllable — my father, Irv; my current boss, Marc Benjamin… and Stormin' Norm. He will forever be a sports legend in Toronto and is recognized, by all who know him, as a prince of a fellow. He is loved. Universally.
That's not a person who should consider ending his life.
And, it's the measure of Norm that he is not hesitant to discuss a matter that might humiliate others.
"This whole thing has been a blur," Norm confessed. "But, I've learned so much about myself in the past few days. I now realize that trying to commit suicide — and failing — was the biggest blessing of my life. I don't fear going home and suffering a relapse. Or, a similar temptation. I've seen that the love of family and friends is more important than monetary or professional gain. Which I probably knew, intellectually, before I opened those bottles. But, I guess I had to hear it from others. If you want to know the reason I'm smiling today, that's it."
May he continue to smile for many years.
EMAIL: HOWARDLBERGER@GMAIL.COM