TORONTO (Oct. 8) — I wonder if Ross Atkins truly felt he could pull it off?
Sitting, yesterday, in a room full of reporters and columnists smelling blood, did the general manager of the Toronto Blue Jays actually think that anyone would believe his excuse for the bewildering removal of starter José Berrios in Game 2 at Minnesota? This was clearly hatched and rehearsed for many interim hours by Atkins and his uber–boss, the invisible Mark Shapiro. "Here's an idea," one must have told the other. "Go out there on Saturday and insist the pitching call belonged entirely to (manager John) Schneider without so much as a friendly poke from anyone in management. If the media hounds push farther, tell 'em the decision was analytically sound, as we only gave up two runs throughout the game. Any team should be able to win with that meager allowance."
Watching on TV, you could almost hear people choking back sneers and guffaws. When Steve Simmons (Toronto Sun) and Rosie DiManno (Toronto Star) requested a plausible explanation for the move that eliminated the Blue Jays, Atkins danced like Fred Astaire. The GM was miffed at the line of questioning, yet totally unprepared to offer words that even a casual baseball fan could comprehend. These intermittent gatherings, in fact, have never worked for Atkins and Shapiro during their Toronto baseball years. I'm told that both men are decent and friendly. But, Atkins, in particular, couldn't talk a starving man to the kitchen table while blathering into a microphone.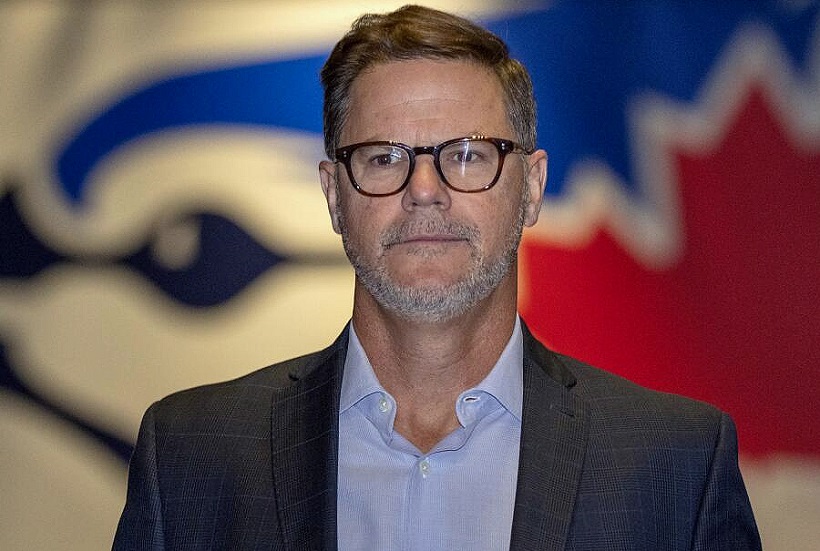 He may have been at his all–time worst on Saturday.
Clearly, after the latest wild card implosion, Atkins knew the Toronto baseball universe would be hanging onto his every word… even though the Blue Jays boorishly convened reporters on the Saturday morning of a long weekend (if the plan was to dissuade as many eyes and ears from paying attention, it backfired, too). As with the Maple Leafs every year after locker clean–out day, demoralized fans were hoping for a shred of humility. That maybe — just maybe — Atkins would morph into the everyman for a few minutes and somehow concede what the rest of baseball already knew: the grand scheme of management simply did not work in Game 2 at Target Field. Fat friggin' chance for that. Instead, Atkins astonishingly claimed he was "surprised" when Schneider walked to the mound in the fourth inning. "I don't know if I've ever seen that," said the GM about the season–ending strategy. Then, he uttered the most–preposterous words of his unfulfilling tenure with the Blue Jays: "I have 100% confidence that it was not front office pressure and I would love for you to talk to John Schneider about that."
Again, you could practically hear jaws dropping in the room.
Can you imagine Schneider holding a follow–up press gathering? "Hi folks. I know this wasn't planned, but I heard that Ross laid tire marks across my back. Truth is, he's fu**ing crazy. I was dying to stay in the dugout and watch José continue to deal. It was a manager's dream. But, I work for the Blue Jays and it was not in my authority to undermine a predetermined strategy. I don't know why Ross claimed he was surprised by the move. There was absolutely no reason for me to get Yusei (Kikuchi) up in the bullpen. I was simply following instructions from above. I felt sick to my stomach walking to the mound; I wanted to turn around and flip off Mark and Ross in their private box. It was rock–bottom for me when we gave up the two runs. Yusei is a starter; he hasn't pitched in early relief all season. Neither was he effective for us late in the schedule. So, honestly, what chance did we have?"
In the real world, the general manager's (or president's) handbook decries that no person gaze inward. At any juncture of this comical, seven–year playoff disaster, have we heard Brendan Shanahan accept a smidgen of responsibility for the plight of the Maple Leafs? Of course not. Ditto for Kyle Dubas… until he suddenly became mortal during an end–of–season chat with reporters and had the stones to mildly contradict those above him. He was gone within three days. If Schneider wants to keep his job, as promised on Saturday by Atkins, he'd be wise to take a vacation somewhere on the opposite side of the planet. Get out of Dodge and turn off his mobile device for a few days. Should ol' John, at any point, be moved to speak the truth, the Blue Jays will have a different puppet in the dugout next season. This isn't Pat Gillick and Bobby Cox. Or, Gillick and Cito Gaston. Not even close.
150 FOR THE ARGOS… AND COUNTING
To this point, late in the regular season, there has been an immaculate confluence of triumph and nostalgia with the Toronto Argonauts. The oldest professional sports team in North America is poised to defend its surprising Grey Cup victory, last November, over Winnipeg, making 2023, potentially, the greatest year in club annals.
Given the Argos are celebrating their 150th anniversary with a franchise–best record (13–2) after 15 games — equaling the 1997 standard of Don Matthews, Doug Flutie et al — this has been a special time for the comparatively small, yet rabid, contingent of Double Blue fans. Nearly 3,000 of which flooded to a large patio southeast of BMO Field late Friday afternoon for a meet–and–greet with franchise legends Condredge Holloway, Terry Greer, Damon Allen, Rocket Ismail, Ricky Ray and Chad Owens. Hours later, inside the stadium, the current Argonauts mauled the Edmonton Elks, 35–12, and remained in contention to equal the 1989 Edmonton Eskimos for the best record (16–2) in an 18–game schedule (the Matthews–Flutie teams of 1996/1997 were each 15–3 before winning the Canadian Football League championship). Prior to the opening kickoff; then at halftime, the Argo greybeards were paraded onto the grass field in front of an appreciative audience. All wearing the predominantly light–blue jersey adopted by the club for this milestone season. The passage of time, once more, seemed incomprehensible.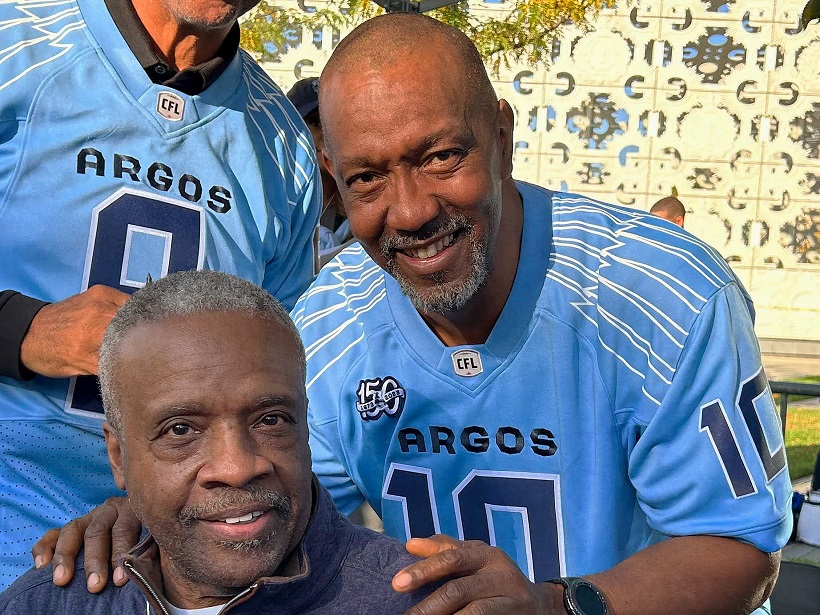 MY PHOTO (ABOVE), FRIDAY AFTERNOON, OF CONDREDGE HOLLOWAY (SEATED) AND TERRY GREER (10) — ARGUABLY THE BEST PASS–AND–CATCH COMBO IN TORONTO ARGONAUTS FRANCHISE HISTORY. HOLLOWAY, NOW 69, WON THE SCHENLEY AWARD AS THE CFL's MOST–VALUABLE PLAYER IN 1982. GREER, 66, BECAME (IN 1983) THE FIRST CFL RECEIVER TO ECLIPSE 2,000 YARDS. THE '83 ARGOS CAPTURED THE GREY CUP, ENDING AN ABSURD FAMINE OF 31 YEARS IN A NINE–TEAM LEAGUE. HOLLOWAY (7) AND GREER (BELOW) AS PLAYING TEAMMATES WITH THE ARGOS IN '83.

MORE FROM MY FRIDAY PHOTO COLLECTION…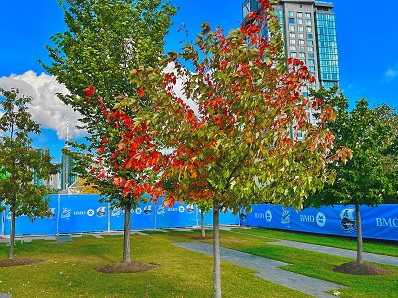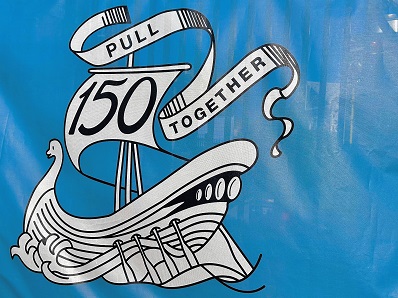 IT WAS A PERFECT, AUTUMN AFTERNOON (AND EVENING) FOR THE ARGOS TO HOLD THEIR 150th BIRTHDAY PARTY. THE MILESTONE LOGO (RIGHT) APPEARED ON THE PLAYERS' HELMETS FOR THE GAME AGAINST EDMONTON.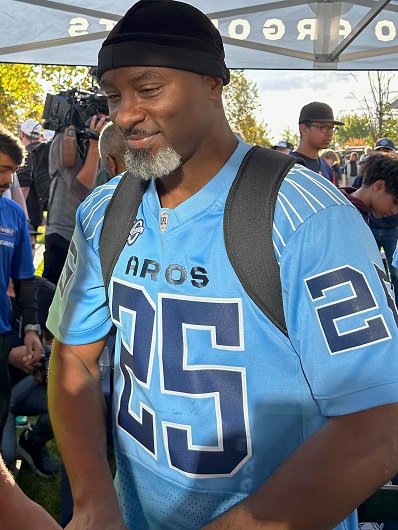 THERE WAS NO MIDDLE GROUND IN DAMON ALLEN'S CFL CAREER. HE WAS EITHER SPECTACULAR OR MADDENINGLY INCONSISTENT. THANKFULLY FOR THE ARGOS, ALLEN (LEFT) WAS ON TARGET IN 2004, LEADING THE CLUB TO ITS FIRST GREY CUP IN SEVEN YEARS. DAMON TURNED 60 ON JULY 29. NO PLAYER IN ARGONAUT HISTORY ARRIVED WITH THE FANFARE, IN 1991, OF RAGHIB (ROCKET) ISMAIL. PROJECTED TO BE THE FIRST PICK OF THE NFL DRAFT, THE NOTRE DAME PRODIGY (25, RIGHT) WAS LURED NORTH BY THE TORONTO OWNERSHIP TRIUMVERATE OF BRUCE McNALL, WAYNE GRETZKY AND THE LATE JOHN CANDY. ISMAIL'S MEMORABLE KICKOFF RETURN FOR A TOUCHDOWN IN THE FROSTY '91 GREY CUP AT WINNIPEG HELPED THE ARGOS DEFEAT CALGARY. TODAY, THE ROCKET IS A SPRY 53.

THE BOYS WERE BACK IN TOWN ON FRIDAY NIGHT. LEFT–TO–RIGHT: PINBALL CLEMONS, HANK ILESIC (8), ROCKET ISMAIL (25), LANCE CHOMYC (4), NOEL PREFONTAINE (1), STACEY CORAY (21, PRESIDENT OF THE ARGOS' ALUMNI) AND CHAD OWENS (2). ILESIC PUNTED FOR THE 1983 GREY CUP TEAM. CHOMYC KICKED FIELD GOALS AND CONVERTS FOR THE '91 CFL CHAMPION. PREFONTAINE HANDLED BOTH CHORES FOR THE 2004 AND 2014 ARGO GREY CUP EDITIONS.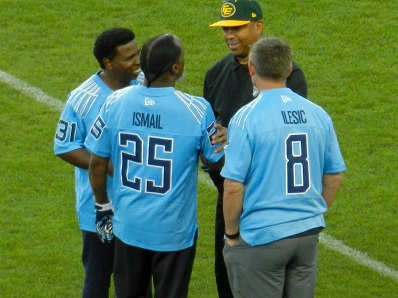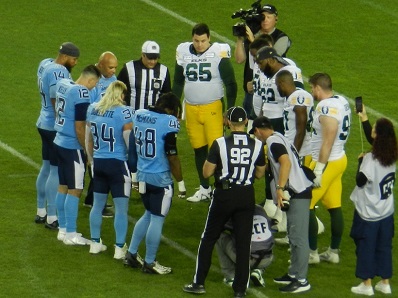 PINBALL, ROCKET AND HANK (LEFT) SPENT A FEW MOMENTS, PRIOR TO THE GAME, WITH EDMONTON'S ASSISTANT GM, GEROY SIMON, THE FORMER GREAT RECEIVER WITH B.C. AND WINNIPEG. THEN CAME THE COIN TOSS (RIGHT) AT MIDFIELD; ARGOS REPRESENTED BY BORIS BEDE (14), CHAD KELLY (12), A.J. OUELETTE (34) AND WYNTON McMANIS (48).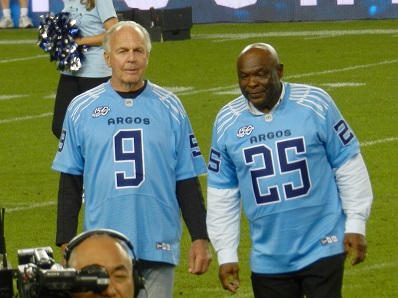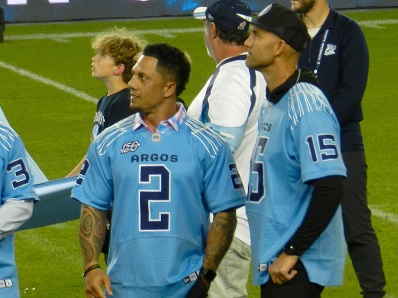 THE ARGO LEGENDS WERE PARADED ONTO THE FIELD AT HALFTIME. THEY INCLUDED (AT LEFT) MIKE EBEN (9) AND DOYLE ORANGE (25). EBEN PLAYED FLANKER FOR THE LEGENDARY TEAM OF 1971 (COACHED BY LEO CAHILL) THAT LOST THE GREY CUP TO CALGARY. ORANGE, IN 1975, JOINED BILL SYMONS AS THE ONLY ARGONAUT RUNNING BACKS (AT THE TIME) TO ECLIPSE THE 1,000–YARD MARK. SYMONS HAD DONE IT IN 1968. RIGHT: CHAD OWENS (2) AND RICKY RAY (15) WERE CORNERSTONES OF THE TEAM THAT WON THE 100th GREY CUP, AT HOME, IN 2012. RAY CAPTURED ANOTHER CFL TITLE IN 2017 AND RANKS AMONG THE ALL–TIME GREAT CFL QUARTERBACKS. OWENS, THE FLYIN' HAWAIIN, ELECTRIFIED CROWDS FOR SIX SEASONS (2010–15) AS THE BEST KICK RETURNER IN FRANCHISE HISTORY.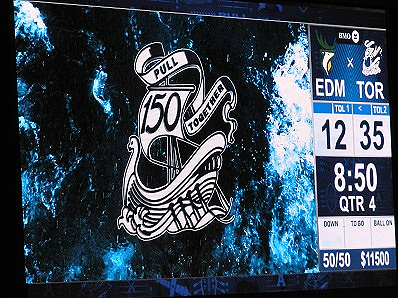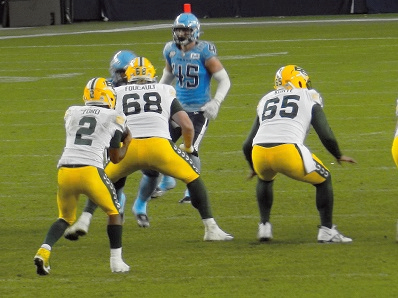 THE CURRENT ARGOS HAD EDMONTON ON THE ROPES AND APPLIED THE KILLER BLOW WHEN LINEBACKER WYNTON McMANIS INTERCEPTED TRE FORD (2, AT RIGHT) AND RETURNED THE BALL 83 YARDS FOR A TOUCHDOWN. IT BROKE A 21–11 GAME WIDE OPEN. BMO FIELD GLOWED (BELOW) AFTER A WONDERFULLY NOSTALGIC NIGHT.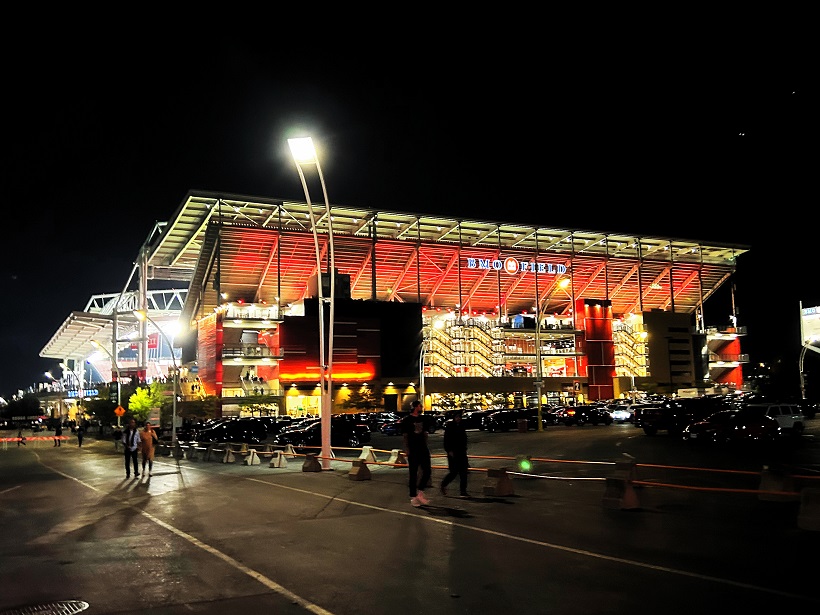 EMAIL: HOWARDLBERGER@GMAIL.COM