TORONTO (Nov. 9) — At least the Carey Price analogy has been silenced. Thank heaven for small mercies.
The wackiest sports city on Earth typically lost its mind when Joseph Woll had a couple of good games in the first two weeks of the National Hockey League schedule. That Woll easily outperformed incumbent No. 1 goalie, Ilya Samsonov, added to the hysteria. Within two weeks of puck drop, and with a mere 76 games to play, the boys on TSN Overdrive went "all in" (to quote another silly, misused term). As per my Tweet from Oct. 25 (below), Hayes, Noodles and the O'Dog were touting Woll for the Calder Trophy as the NHL's top rookie. Again, after two weeks.
Others (sigh) were comparing him to Price, the future Hall–of–Fame goalie from Montreal.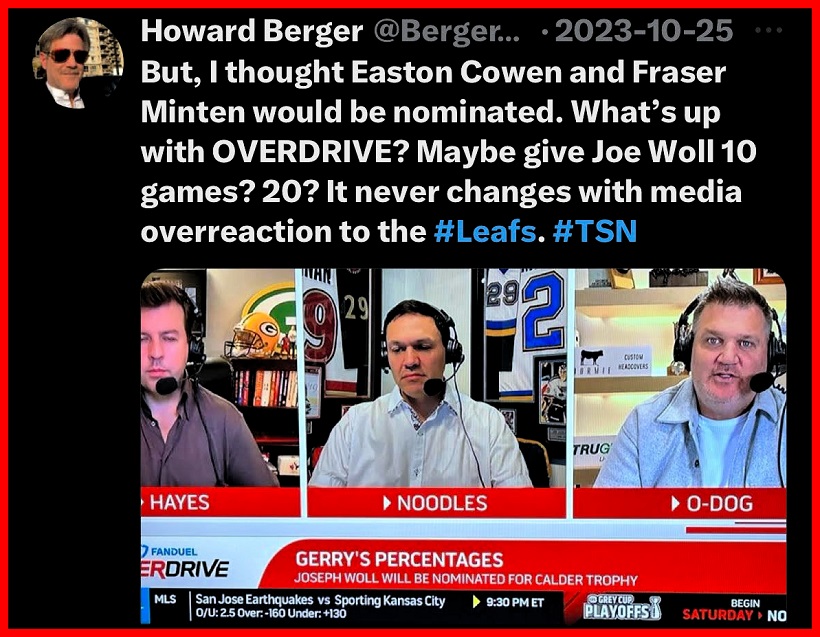 A fortnight later, the absurdly premature commendations are no more.
Instead, long–time observers are wondering if this version of the Toronto Maple Leafs could possess the most–inept blue line since the "gory days" of the early 1980's.
We remember the names… even if we try to forget: Vitezslav Duris, Barry Melrose (yes, that Barry Melrose, an infinitely better coach than defenseman), Dave Shand, Greg Hotham, Jim Benning, Fred Boimistruck, Bob McGill, Gaston Gingras, Dave Farrish, Bill Stewart. Veteran stop–gaps and young players rushed into the NHL; all results predictable. In the three seasons beginning with 1983–84, the Leafs yielded 387, 358 and 386 goals (the first figure equating to a 4.84 goals–against average). To accompany the 367 and 380 permitted in 1980–81 and 1981–82. All in 80 games. Compare that, for efficiency, to the 2003–04 New Jersey Devils, which gave up 164 goals in 82 games (1.96 average). Such were the porous, nearly comical Maple Leafs of the Harold Ballard/Punch Imlach/Gerry McNamara era. The current group is heading in a similar direction. Is anyone truly surprised?
Morgan Rielly. T.J. Brodie. John Klingberg. Mark Giordano. Tim Liljegren (before getting decimated by Brad Marchand). Jake McCabe. William Lagesson. Maxime Lajoie. Simon Benoit. This is the "Stanley Cup–contending" blue line pieced together by the Teflon Pres, Brendan Shanahan, and his latest managerial recruit, Brad Treliving. Not quite the "caliber" of the have–nots dressed in blue and white 40 years ago. But, getting closer. The 2023–24 Leafs have yielded 48 goals, the third–worst total in the NHL, behind only San Jose (51) and Minnesota (49). So, the highest number permitted in the Eastern Conference at 3.64 per match. Still 1.2 goals fewer than the bumbling, 1983–84 collection. But, hardly a figure that will allow easy access to the Stanley Cup playoffs. And, will surely result in another first–round disaster if the club qualifies. Nothing speaks more clearly of the Leafs than the interminable search for a blue line stalwart. Borje Salming, who made his final trip to our city one year ago this weekend (more below), was the last Toronto defenseman to be nominated for the Norris Trophy. Nearly a half–century in the past. It remains the most–crippling deficit in the history of the franchise. And, there's no end in sight.
You can blame Sheldon Keefe… just as we blamed Mike Babcock, Peter Horachek, Randy Carlyle, Ron Wilson, Paul Maurice, Pat Quinn, Mike Murphy, Pat Burns, Tom Watt, Doug Carpenter, John Brophy, Dan Maloney, Mike Nykoluk, Joe Crozier, Punch Imlach (twice), Roger Neilson, Red Kelly and John McLellan in the post–1967 era. It's always the coach's fault that performance behind center ice has been consistently poor since Toronto last played for the NHL title. Perhaps ownership should gaze elsewhere — to those running the team, who repeatedly fail in hiring a general manager capable of constructing defensive posture. Only Neilson and Burns have bucked the trend. Keefe was on the right track last season. But, the wheels have fallen off early in the current campaign.
By the way, including the playoffs last spring, the Leafs have five regulation wins in their past 24 games.
Another recipe for disaster.
SITTLER REMEMBERS SALMING… AND THAT WEEKEND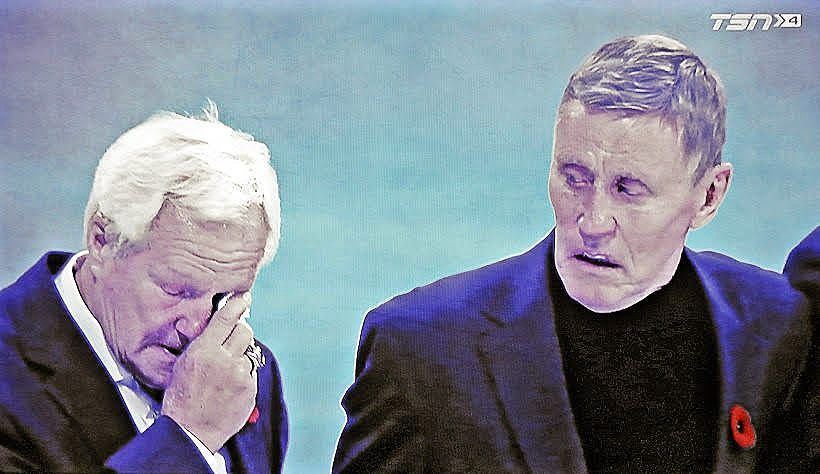 Hard to fathom that Hall of Fame Weekend is upon us once again here in Toronto… and that a year has passed since Borje Salming made his celebrated and highly emotional last visit to our city. The TSN image (above) of Salming looking at a distraught Darryl Sittler spoke volumes about that poignant weekend. The last great defenseman to wear a Leafs jersey was diagnosed with Amyotrophic Lateral Sclerosis (ALS, or Lou Gehrig's Disease) in July 2022. His condition deteriorated quite rapidly, yet he summoned every ounce of courage and energy to fly here from Sweden for the annual Hall of Fame commemoration (Borje was inducted in 1996). Knowing, full well, he would never again be surrounded by his closest friends on the 1970's Maple Leafs: Sittler, Lanny McDonald and Dave (Tiger) Williams. He died, rather unexpectedly, on Nov. 24 — just two weeks later — in Sweden.
"I was just saying to my wife, Luba, how crazy it is that an entire year has passed since that incredible weekend," mentioned Sittler over the phone today. "It still amazes me how Borje was able to make the trip. His health had really deteriorated (Salming could no longer swallow; he carried around a machine to remove saliva and phlegm from his throat). But, I wasn't overly surprised. He had the most fortitude of any teammate I played with. There was no way he would miss that final celebration. Most people aren't aware of the struggle he went through to make it here from his home country. I really miss knowing that he's around. And, I think about him every day."
Salming and Sittler were the fulcrum of the good (but not good–enough) Leaf teams from 1973–74 to 1978–79. The club won a total of six playoff rounds while twice pushing the elite Philadelphia Flyers to the distance in the Stanley Cup quarterfinals. In 1978, the Leafs knocked off Los Angeles in a best–of–three preliminary round, then upset the heavily favored New York Islanders after falling behind, 2–0, in the best–of–seven clash (McDonald won the series with an overtime goal in the finale at the Nassau Coliseum). Not until 1993 would the club get back to the NHL's final four. "As long as I live, I'll remember that weekend from a year ago," said Sittler. "It was almost surreal the way Borje reacted to the outporing of love from the fans at Scotiabank Arena. I cried because I knew how much being here meant to Borje. And, that I might never again see him. Which turned out to be the case."
After arriving back home, Salming's body deteriorated. "That trip here took so much out of him… and he knew it would," explained Sittler. "For me, Lanny, Tiger and the others to spend those days with him was very special."
Salming's life is commemorated in a six–part TV chronology — BORJE: THE JOURNEY OF A LEGEND — that premiers next week in Sweden and will soon be available to North American viewers.
"The movie idea was launched before Borje got diagnosed with ALS," said Sittler. "So, we had to shoot the scenes with him when he was already quite ill. On the Sunday of his last visit, me, Borje, Lanny and Tiger posed across the street from Maple Leaf Gardens. Borje was in a wheelchair. We were dressed in 1970's garb (below) and they parked old cars outside the arena. It's a good memory. But, a sad one just the same."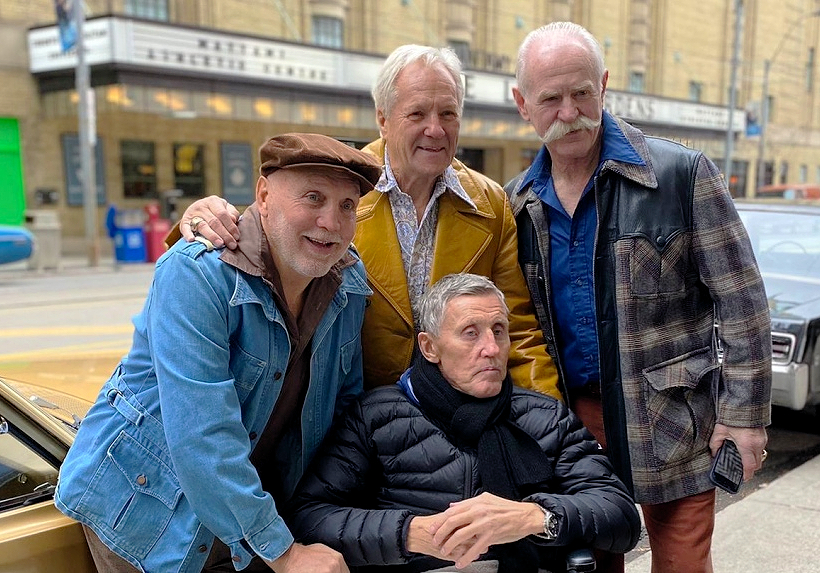 BROOKS BOMBSHELL
In case you didn't see the partial evisceration of Ryan Reaves in the New York Post, here's what veteran columnist Larry Brooks had to say, earlier in the week. To this point of the season, his observations are inarguable:
The concept of Ryan Reaves acting as either a deterrent or an avenger was once again exposed as one of the NHL's greatest myths when No. 75 sat idly by when Toronto teammate Timothy Liljegren was injured by Brad Marchand's patented can–opener move toward the end of the first period in Boston on Thursday. Oh, there was some yapping toward the Boston captain from the bench in the wake of the unpenalized, reckless play that sent the defenseman crashing into the boards and onto the long–term injury list. That, however, represented the sum and substance of the Maple Leafs' response that featured one–time Bruin rental and current Leafs winger Tyler Bertuzzi smirking or laughing at the end of the bench. Imagine how Brendan Shanahan, among the handful of greatest and most menacing power forwards in the history of the league, would have reacted if Bertuzzi had been his teammate in that instance. If only the Maple Leafs had someone like Shanahan running the hockey operation.
Oh.

Five-point-five million dollars to Bertuzzi for what? Well, at least the 37–year–old Reaves is in at just $1.35 million per on the first season of a three–year deal that can be swallowed whole by the AHL allowance at any time. Maybe Reaves does add a dollop of courage to more contact–adverse teammates. That's what I'm always told by folks on teams who hire the winger. I have a hard time believing there is tangible impact to that. I think that is just what people say because it's what people always say about players like that. Off his year–plus with the Rangers, Reaves is a huge, quite likable personality who adds charisma to the room but has little constructive impact on the game after the initial sugar rush of No. 75's presence. Reaves will fight … if he has been personally aggrieved. But teammates? Not so much. That should have been established for all time when Reaves did not deign to respond to P.K. Subban's reckless, slew–foot takedown of Sammy Blais at the Garden in mid–November 2021 that ruined the winger's nascent career. There is no such thing as deterrence in the NHL. There is only retribution.
For the Maple Leafs last week, there was neither.
EMAIL: HOWARDLBERGER@GMAIL.COM